KANSAS CITY — The market for foods free from genetically modified organisms, preservatives, dairy, gluten, grains and meat remains robust. As interest intensifies, ingredient suppliers and food processors are making strategic investments to keep pace.
"Currently, consumers are avoiding high-fructose corn syrup and G.M.O. products the most," said Carl Pennington, president and chief executive officer of the Impact Group, Boise, Idaho, a retail sales and marketing agency. "Lactose-, soy-, dairy- and gluten-free foods are all on the rise in the grocery aisle as well. Dairy-free and gluten-free products have shown the fastest year-on-year growth."
In January, Cargill, Minneapolis, signed a joint venture agreement with Puris, the largest North American producer of pea protein. Financial terms of the deal were not disclosed.
With Cargill's financial backing, Puris expects to add capacity, including a second plant, while maintaining focus on U.S. production, said Tyler Lorenzen, president of Puris.
"Cargill is investing in everything Puris stands for, from our vertically integrated non-G.M.O. pea seed development to our proprietary technologies and our commitment to U.S. Certified Organic pea farmers," he said. "With Cargill's support, our plant-based ingredients become available to customers and consumers on a global scale. Our founder set out to feed the world in 1986. Now it's coming true."
Formerly known as World Food Processing, Puris produces pea protein, starches, fibers and other non-G.M.O. ingredients from soy, pulses, lentils and corn for use in a range of applications, including powders, mixes, energy bars and cereals. All products are vegan, gluten-free, dairy-free and allergen-free.
"Puris is a game changer in terms of taste and vertical integration in pea protein," said David Henstrom, vice-president, Cargill Starches, Sweeteners and Texturizers. "Cargill is excited to expand into the emerging pea protein space while continuing to support our conventional agricultural crops. It's clear that Puris is in alignment with Cargill's vision to meet the growing demand for protein globally and to help customers deliver label-friendly products without sacrificing taste."
Cargill is not the only company investing in pea protein. This past September, Roquette, La Madeleine, France, broke ground on a new pea protein processing plant in Portage la Prairie, Man. The plant is expected to have a processing capacity of more than 120,000 tonnes per year. Roquette has said it plans to invest more than $303 million in the site.
"This represents a major step in our development strategy in North America and in the plant protein business, and we are looking forward to offering our pea-protein products from Portage la Prairie, at the heart of Manitoba, to customers and consumers in America and worldwide," said Jean-Marc Gilson, chief executive officer of Roquette.
The investment in pea protein production underscores the interest in free-from-foods, because the ingredient may be used in meat-, dairy- and grain-free alternatives. Beyond Meat, El Segundo, Calif., for example, uses it in its Beyond Burger, and Ripple Foods uses it in its dairy-alternative fluid and yogurt products.
Ripple recently received $65 million in venture capital from such investment firms as Goldman Sachs and S2G Ventures.
"Ripple Foods is at the helm of shaping the future of food and reinventing how we use plant proteins to make dairy alternatives," said Kathy Elsesser, global chair of Goldman Sachs' Consumer, Retail and Healthcare Groups in the Investment Banking Division.
The market for gluten-free applications remains of interest to ingredient suppliers as well. On Feb. 8, Nutriati, Inc., Richmond, Va., in conjunction with PLT Health Solutions, Morristown, N.J., introduced Artesa chickpea flour to the marketplace.
"Flours made from pulses and legumes have a great deal to offer consumers from a health standpoint, and yet they have failed to become mainstream, primarily because of organoleptic issues, chief of which is taste," said Devin Stagg, chief operating officer of PLT Health Solutions. "Today, taste, or sensory experience, continues its reign as the No. 1 driver of consumer food choice. The Artesa project has had as its goal bringing the nutrition and sustainability of pulse flours to a broad public by directly addressing the issues of taste and final product quality. Our initial work with leading companies in the food industry has demonstrated that we have achieved these goals."
Artesa flour can work as the principal ingredient in gluten-free bread, said Michael Spinelli, co-founder and chief technology officer for Nutriati. Gluten-free bread manufacturers tried the flour in bread and were pleased, he said. They could spread peanut butter on the bread without tearing the bread, he said.
Artesa chickpea flour has a fine particle size and a neutral taste, not earthy or beany. Nutriati cleaned up the flavor profile through fractionization, which removed much of the oil. The flour has a neutral, white color.
The gluten-free, non-G.M.O. flour has a protein content of 12% or more, which is twice the protein content of some other gluten-free flours. It contains resistant starch. Nutriati has filed to receive Non-G.M.O. Project verification.
Betting big on free from
In 2017, Maple Leaf Foods, Inc. made two significant investments in the free-from market. On Jan. 29, Maple Leaf Foods, Inc. closed on its $120 million acquisition of Field Roast Grain Meat Co., a manufacturer of meat- and cheese-alternative products made from plant-based proteins.
"The acquisition of Field Roast complements and expands our portfolio in the fast-growing North American market for alternative proteins," said Michael McCain, president and chief executive officer of Maple Leaf Foods, when the acquisition was announced in December 2017. "It also aligns with our vision to be a leader in sustainable protein and create shared value through making a positive social impact. Field Roast has built brand leadership through focusing on quality, craftsmanship and taste, and its acquisition will allow Maple Leaf to fuel growth in the category through investment, brand building and innovation."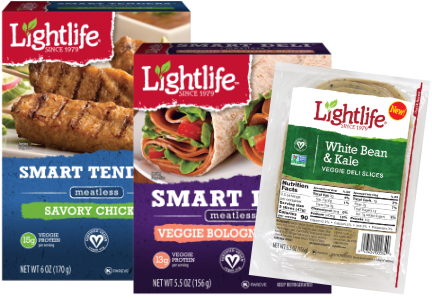 Earlier in 2017, Maple Leaf Foods acquired Lightlife Foods, Inc. for $140 million. Lightlife is a manufacturer of plant-based meat alternatives. The fact that in the span of a year one of Canada's largest food companies has invested $260 million in the free-from market highlights the level of interest.
"According to Mintel data, nearly 70% of consumers surveyed believed that the fewer ingredients a product contains, the healthier it is," Mr. Pennington said. "This overarching consumer interest in fresh, real and unprocessed foods, which they tend to regard as better for them and their households, is a driving force in the demand for free-from applications. Food allergies have certainly played a role in the request for free-from foods but the majority of people avoid certain food and ingredients as part of a healthy lifestyle."