HACKETTSTOWN, N.J. — Mars Chocolate North America, a division of Mars, Inc., is bringing back its M&M's Flavor Vote campaign, allowing consumers to vote for their favorite of three new limited-edition M&M's flavors: Crunchy Espresso, Crunchy Raspberry and Crunchy Mint.
Each new flavor is made with dark chocolate and wrapped in the signature M&M's crispy confectionery shell. The Crunchy Raspberry variety features a regular rice crisp center, and the Crunchy Espresso and Crunchy Mint varieties feature a cocoa rice crisp center.
M&M's launched its first Flavor Vote in 2016 to celebrate its 75th anniversary, giving consumers the choice between Honey Nut, Chili Nut and Coffee Nut M&M's. After more than one million votes were submitted, consumers selected Coffee Nut as their favor peanut flavor to join original peanut M&M's.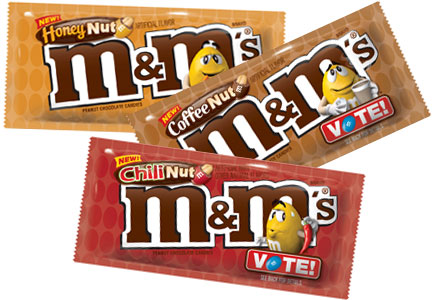 "Building off the success and popularity of the 2016 M&M's Flavor Vote, we wanted to engage our fans once again by empowering them to help decide the next crunchy flavor of M&M's," said Allison Miazga-Bedrick, brand director for M&M's. "We selected three new decadent flavors we believe our fans will enjoy, as they reflect the on-trend, unique and bold tastes growing in popularity across the U.S."
Crunchy Espresso, Crunchy Raspberry and Crunchy Mint M&M's will be available nationwide starting April 1, and the vote will be open until May 25. Consumers may vote for their favorite flavor once per day via flavorvote.mms.com, using the #VoteCrunchyEspresso, #VoteCrunchyRaspberry or #VoteCrunchyMint hashtags on social media or texting the word "VOTE" to 84444. The flavor with the most votes will be announced in August 2018 and continue to be sold at stores nationwide for an 18-month period.