ANAHEIM, CALIF. — Most Americans aren't eating enough vegetables. Data published by the Centers for Disease Control and Prevention, Atlanta, this past November showed that only 1 in 10 adults in the United States meets the federal recommendation of eating 2 to 3 cups of vegetables per day.
Companies like Bare Snacks are trying to help. The brand is expanding beyond apple, banana and coconut chips to offer crunchy baked beets, sweet potatoes and carrots. The new product line is debuting at Natural Products Expo West in Anaheim.
"People are focused on eating vegetables in different ways," Santosh Padki, chief executive officer of Bare Snacks, San Francisco, told Food Business News. "Our goal is to figure out how to make it easy and delicious for consumers to get more whole vegetables into their diets every day."
The vegetable line features six varieties, including sea salt carrot, ranch carrot, sea salt beet, salt and vinegar beet, sea salt sweet potato and barbecue sweet potato. Bare Snacks' take on the vegetable chip is a "naturally healthier alternative" in the fast-growing segment, Mr. Padki said.
"Everything we do is baked," he said. "The way we do it, the vegetables are harvested; after harvesting they are washed cleaned, sliced, and then we put them through our multi-stage proprietary baking process... By the time the product comes out, most of the moisture is taken out, and it leaves a product that is a very snackable crunchy chip format. All the seasonings we use, everything is real ingredients that you would see in your kitchen cupboard. We are not using chemicals or artificial anything in the products."
"Our goal is to figure out how to make it easy and delicious for consumers to get more whole vegetables into their diets every day." — Santosh Padki, Bare Snacks
Sourcing is key to achieving the desired taste without the use of fillers or flavors, he said. For its banana chips, the company uses a special varietal that is naturally sweeter than the more common cavendish banana "so we don't have to add sweeteners," Mr. Padki said.
"Most banana chips in the marketplace are fried, and they start with the cavendish or some other varieties, so once you fry it, it coats with fat and the consumer can't taste fruit, so then they add banana flavor back to it," he said. "We would never do those types of things. Even the leading vegetable chips contain canola oil, safflower oil, sunflower oil, vegetable powder, tomato paste … they add a lot of salt, potato flour, sugar and starch … when you have all these fillers, starches, powders, oils and all those things really masks the sensory experience for the consumer.
"Consumers want the sensation of having something savory or salty, but you end up eating stuff that's not really vegetable. Some of the leading brands don't even have true vegetables. They have coloring, and they shape it like vegetables. We would not fool the consumer in any way. We want to make sure we are giving them clean alternatives made with real vegetables, nothing extra."
Vegetables are cropping up in a number of new convenient snackable formats featured at Expo West. Rhythm Superfoods, Austin, Texas, is adding a range of dehydrated organic carrot sticks in original, sea salt and ranch flavors. The company offers an assortment of beet chips, kale chips and roasted kale snacks, too.
New from Gaea North America, Hollywood, Fla., is a line of shelf-stable vegetable snacks packaged in resealable, liquid-free pouches. Varieties include carrot, cauliflower and gherkin. The vegetables are lightly pickled and marinated in extra virgin olive oil and lemon essential oil or vinegar.
A first-of-its-kind refrigerated, vegetable-based nutrition bar is debuting at Expo West. Created by a plant-based chef, Phyter Bars contain pureed organic produce and coconut sugar. Flavors include beet and cocoa, cranberry and strawberry, sweet potato and coconut, and butternut squash and peanut butter. A kale and apple variety will be added later this year.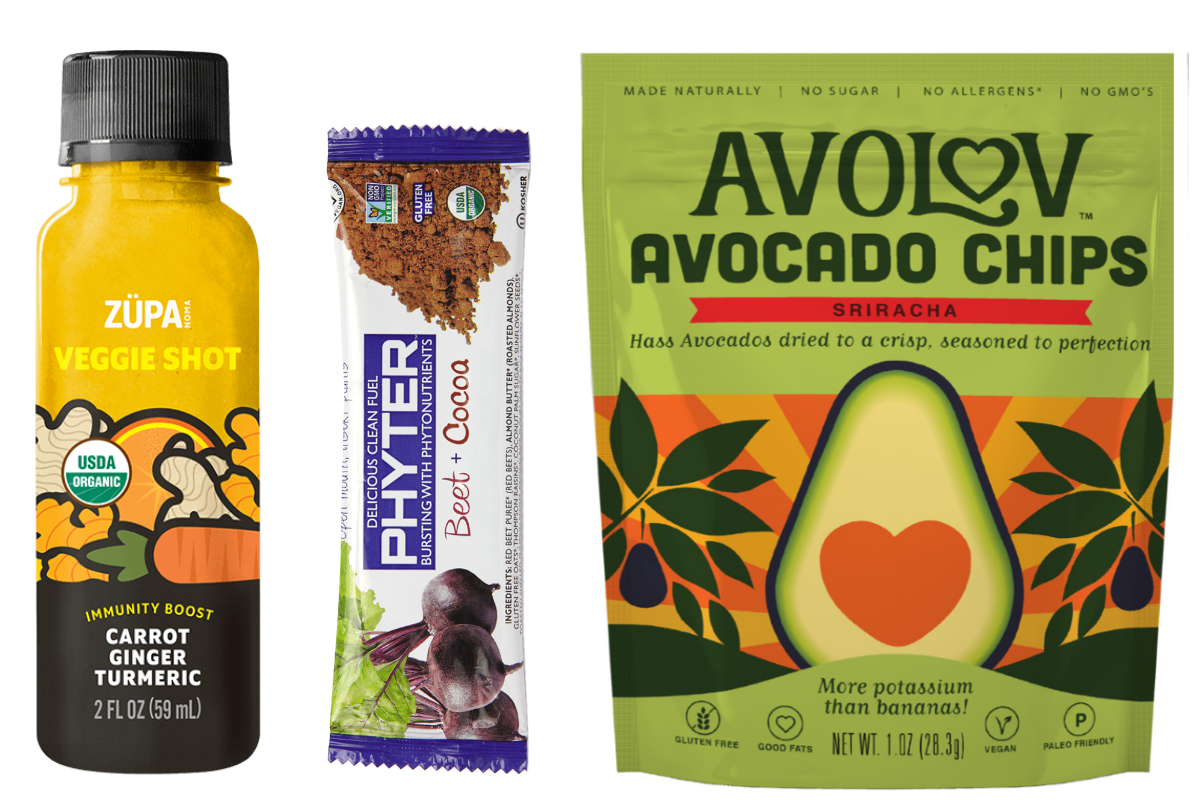 Zupa Noma, a Sonoma, Calif., brand of ready-to-drink soups, is launching a Veggie Shot line. Available in such flavors as carrot ginger turmeric, kale cucumber jalapeño, and tomato vinegar cucumber, each 2-oz shot is packed with nutrients, offering "a fresh new take on the wellness shot category," according to the company.
Cauliflower continues to gain steam as a stand-in for grains in several new products including snacks from From the Ground Up, a maker of "comfort products with a healthy twist," such as cheddar crackers and pretzels. Caulipower is debuting the first-of-its-kind cauliflower-based baking mixes, featuring cauliflower as the first ingredient. Cauli-Flour by Caulipower mixes may be used to make gluten-free pizza crust, cookies, muffins and more.
While not technically a vegetable, avocado is appearing in a number of new snacking formats, including chips. AvoLov, a Bend, Ore.-based manufacturer of avocado snacks, is debuting avocado chips in sea salt, chili lime, white cheddar and sriracha flavors. The products are made with Hass avocados that are mashed and dried at low temperatures to preserve nutrition and taste.