ANAHEIM, CALIF. — Consumer demand for milk and meat from grass-fed cattle is growing, driven mostly by perceived health benefits and concerns about animal welfare, according to a study published Feb. 28, 2018, in the Journal of Food Science & Nutrition.
In a U. S. analysis of 1,163 milk samples collected over three years, researchers quantified the fatty acid profile in milk from cows fed a nearly 100% forage‐based diet (grass-fed diet) and compared it to profiles from a similar nationwide study of milk from cows under conventional and organic management. The scientists also explored how much the observed differences might help reverse the large changes — in the unhealthful direction — of fatty acid intakes that have occurred in the U.S. over the last century.
Results from the study were unveiled by Organic Valley, La Farge, Wis., and Maple Hill Creamery L.L.C., Kinderhook, N.Y., at Natural Products Expo West, held March 8-11, 2018, in Anaheim. The two companies are working together to develop a 100% organic grass-fed seal to assist shoppers with their purchase decisions.
Researchers of the Journal of Food Science & Nutrition study showed that the more grass a cow eats, the more nutrient-rich are the foods made from their milk.
"Grass-fed whole milk has 147% more omega-3 fatty acids than conventional whole milk," said Hans Eisenbeis, director of media relations, Organic Valley. "The results show what farmers have always known, which is when cows eat well, so do we."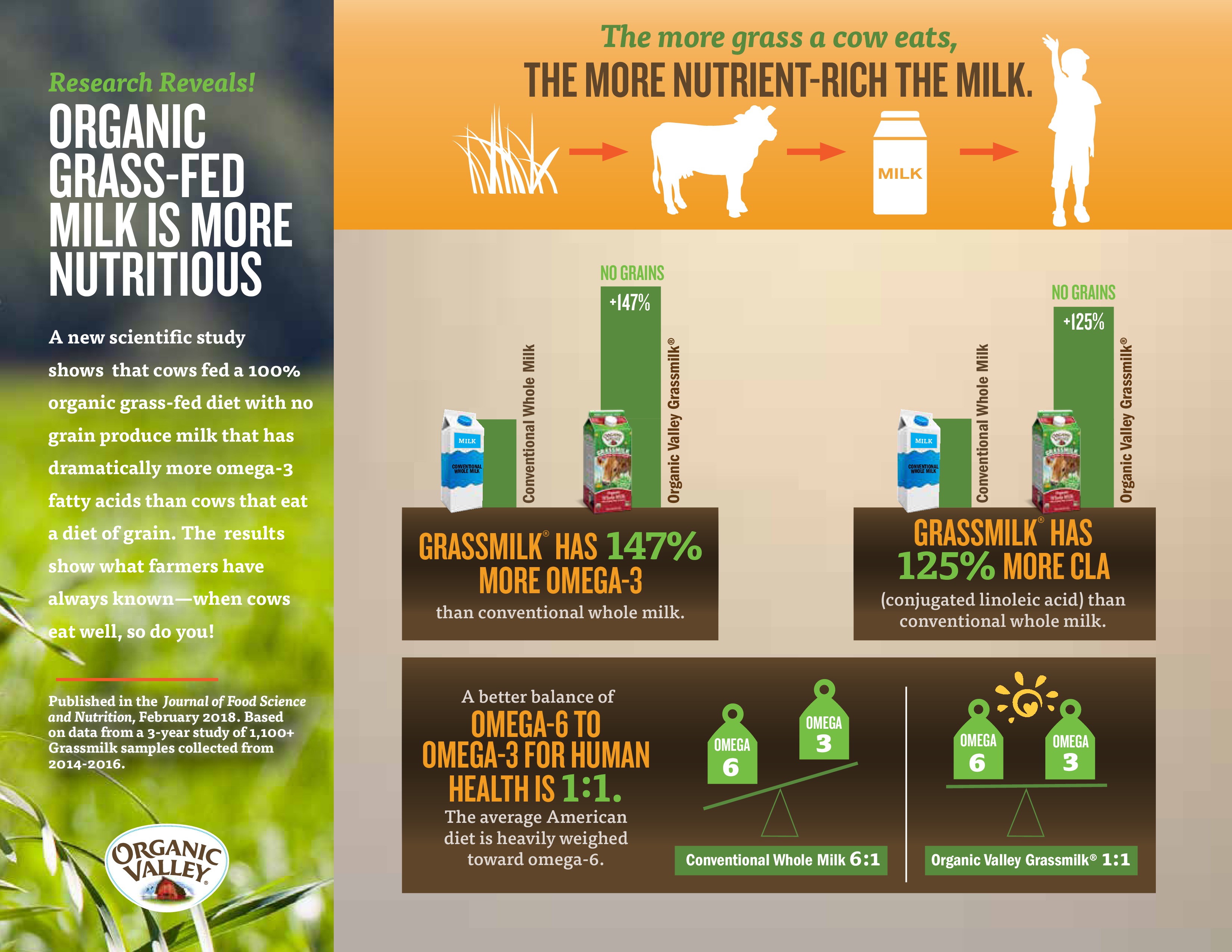 The American diet is heavily weighted towards omega-6 fatty acids. Both omega-3s and omega-6s are essential to the diet; however, research suggests that the ideal daily consumption for heart health — among other wellness benefits — is best at a one-to-one ratio.
This is what you find in Organic Valley Grassmilk, according to Mr. Eisenbeis. Conventional whole milk, on the other hand, is about six parts omega-6 to one part omega 3.
"The ultimate plant-based milk is the one that involves grazing on grass by the ultimate milk-making machine," said Mr.  Eisenbeis.
So how does organic milk differ from 100% organic grass-fed milk?
"All organic cows must receive a significant portion of their ration from fresh grass while grazing on pasture," said Becky Gretebeck, a grass-fed cow farmer based in nearby Cashton, Wis., and supplier to Organic Valley. "When we say 100% organic grass-fed, we mean cows that are never fed any grain, so that 95% of their diet comes from fresh or conserved forages. The other 5% is mineral supplements and sometimes molasses or beets. As an organization, we are working to establish this as an actual certifiable standard that all 100% organic grass-fed producers can use to make that claim. The new seal represents these efforts."
The U.S.D.A. National Organic Program includes the "pasture rule," which states that ruminant animals must graze pasture during the grazing season for their geographic region, which must be at least 120 days per year. Over the course of the grazing season, the animals must obtain an average of at least 30% dry matter intake by grazing.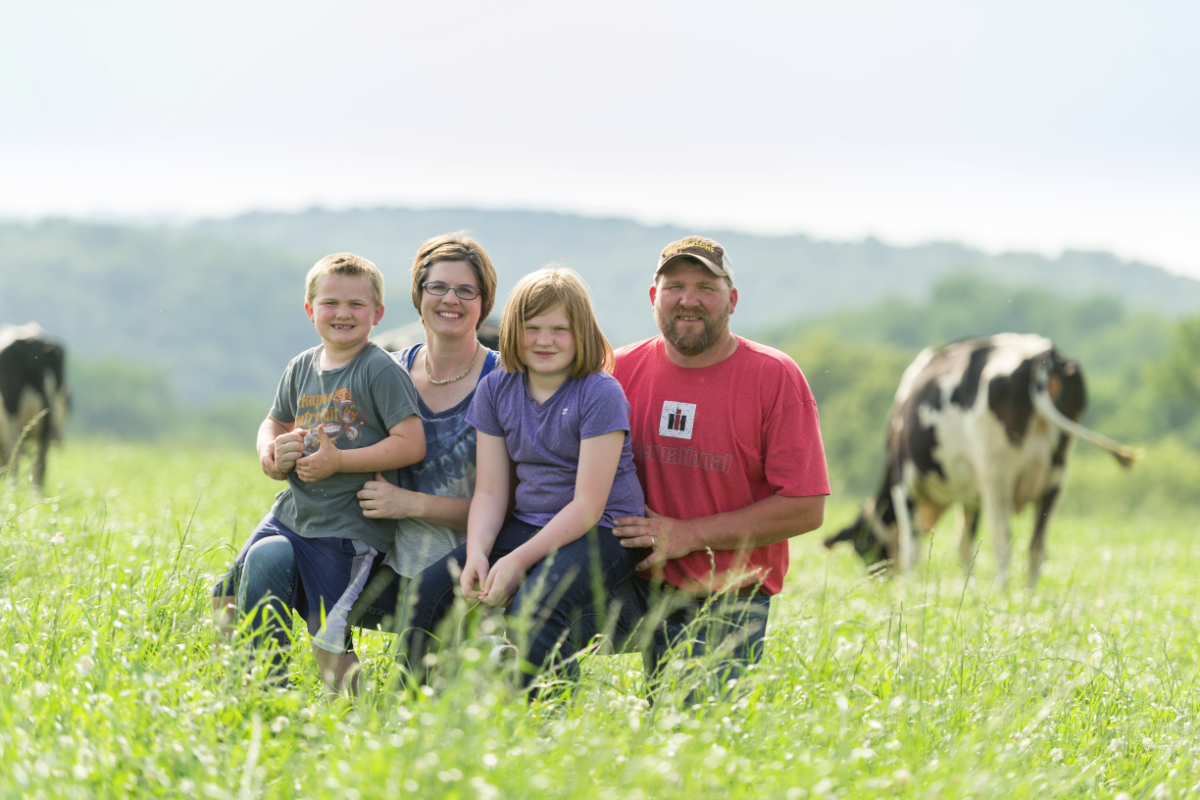 "Grass is what cows are built to eat, and they really love to be on fresh pasture," said Tucker Gretebeck, a family owner of the Cashton, Wis.-based farm. "There is nothing better than organic dairy that comes from cows eating fresh grass and clover.
"Grassmilk is the next evolution of organic," said Mr. Gretebeck.
Ms. Gretebeck explained why 100% grass-fed works for her family's farm.
"It is not the right choice for all farms, but it is for us," she said. "It is a more sustainable system for our farm. With the different types of forages used, we can grow almost all of our own feed, including grass, alfalfa, clover, fescue and more, rather than relying on purchasing significant off-farm feed, such as corn, when we were not a 100% grass-fed farm.
"By growing perennial grasses we have more resiliency to different weather patterns," said Ms. Gretebeck. "For example, in our 2017 season, we were overly wet, so local farmers had difficulty planting crops when needed. With the perennial grasses we have, we didn't have to worry about late planting."
The Gretebeck family also spends less time on the tractor and more time with the cows. The former translates to using less diesel fuel.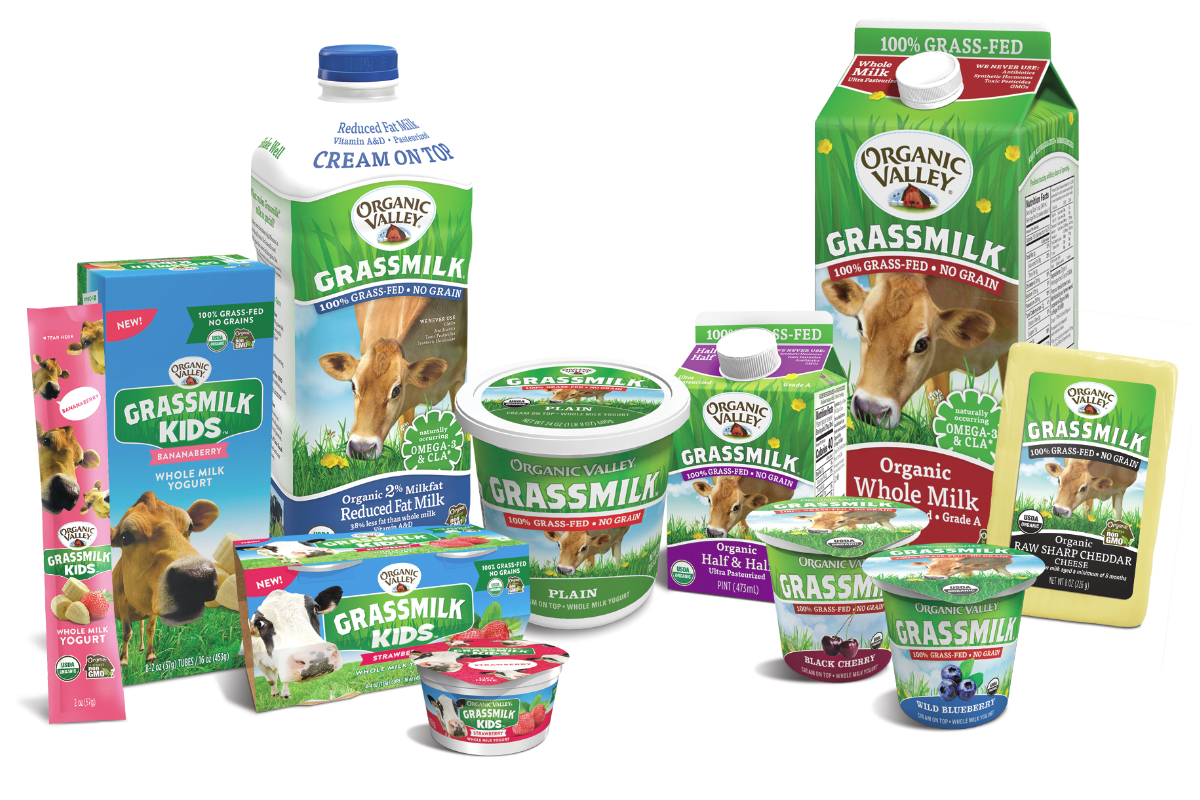 "This helps us reduce our fossil fuel footprint," said Ms. Gretebeck. "This system also allows us healthy animals with almost non-existent health issues that you typically see in dairy cattle. Like all systems, it's about what works for your needs, and this fits for us."
Because of the organic pasture rule, all organic requires significant perennial grass crops and pasture. She emphasized how all organic, but 100% organic grass-fed even more, supports regenerative agriculture.
"Grass-fed production obviously relies almost entirely on grass pasture and conserved forage from pastures," said Ms. Gretebeck. "Organic production requires healthy soil, in order to grow nutrient-rich forage for cows. Healthy soil is managed by diverse, deep-rooted grasses and legumes that are, in turn, naturally fertilized by the manure of the cows eating those forages. It's a cyclical system that builds soil health, improves drought and flood resistance, increases bio-diversity on the farm, and a whole host of other regenerative benefits."
Theresa Marquez, the mission ambassador at Organic Valley, explained the importance of the cooperative having an agronomist on staff in order to ensure the quality of soil on its partner farms.
"Really good soil produces really great grass," she said. "We need to continue to invest in research to learn about the best plants — including grasses — to grow and eat in order to help the environment."
Organic Valley has teamed up with Maple Hill to bring the 100% organic grass-fed certification program to the U.S. dairy industry.
"Maple Hill helped pioneer 100% grass-fed dairy, and we share the same commitment to the most rigorous standards," said Adam Warthesen, government relations coordinator at Organic Valley. "Together we make up the vast majority of 100% organic grass-fed farmers, so Maple Hill was a natural partner for us. We want to protect farmers and consumers alike with this standard, and we want it to be accessible to all producers — not just our two farmer groups."
Another grass-fed initiative from the American Grassfed Association, Denver, has been offering a producer-driven, third-party-on farm inspected grass-fed meat and dairy certification program in the U.S. since 2009. A.G.A. standards require that ruminant animals are fed a 100% forage diet from weaning to slaughter, live their lives on pasture with no feedlot confinement, are not administered antibiotics or hormones and are born and raised on U.S. family farms.
"Our standards and certified grass-fed program are built on top of the organic platform. You must be organic first to participate in our program and use our seal," said Mr. Warthesen. "That's not necessarily the case with the A.G.A. standard.
"We also baked in certification of the entire supply chain so not only are farms certified grass-fed but so are processing facilities of that milk," said Mr. Warthesen. "That's important in carrying forward integrity and assured segregation all the way to the consumer. The A.G.A. program stops at the farm gate." 
The other notable difference is the how Organic Valley and Maple Hill are establishing the governance structure. 
"We are relying on a model very similar to how it works in organic, where certifiers get accredited and certify operations and issue certificates," said Mr. Warthesen. "The oversight board audits certifiers and manages the standard content as well as licensing of the seal to interested brands and companies."