KANSAS CITY — Surviving as a dairy cooperative today means offering more than just milk, butter and cheese. Marketing items like lattes, nutritional beverages, protein shakes and indulgent treats may fit with consumer trends, said Randy Mooney, chairman of the board of directors for the Dairy Farmers of America and the operator of a dairy farm in Rogersville, Mo.
Such opinions on value-added items were the norm March 20 in presentations at the D.F.A.'s annual meeting in Kansas City. Siobhán Talbot, group managing director at Glanbia plc, also spoke about how her cooperative has diversified.
The D.F.A. has expanded its retail brand portfolio. Probiotic milk in 2% and fat-free varieties launched in 2017 under the Kemps brand. Frappuccinos continue to have a "phenomenal ride," said Rick Smith, president and chief executive officer of the D.F.A.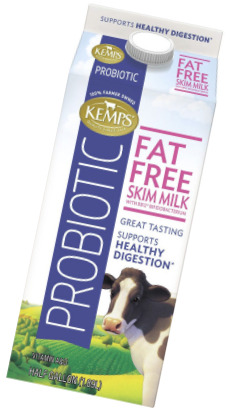 Whole string cheese launched under the D.F.A.'s Borden brand in 2017 to meet demand for full-fat dairy products. Colby Jack, pepper jack, mild cheddar and Gouda snack cheese bars were introduced under the Borden brand, too. The D.F.A. plans to "freshen it up" with the Borden brand this year, Mr. Smith said.
 "We might be rediscovering cottage cheese," he added of possible product introductions in 2018.
More than 14,000 farmer members belong to the D.F.A., which last year moved its headquarters to Kansas City, Kan., from Kansas City, Mo.
While people increasingly want to know how their food is made, Mr. Smith said dairy farmers may want to view that trend as an opportunity instead of an invasion of privacy.
"If the world could see what you do, they would be in awe," he said.
He pointed to Kibler Dairy Farm, Inc., in Warren, Ohio, using solar energy and the D.F.A.'s work with Newtrient, which seeks to improve sustainability by advancing technologies that transform manure into products like soil conditioners, fertilizers and energy.
"(People) want to feel good about how food is produced, and that takes transparency and education," Mr. Smith said.
The Dairy Farmers of America reported net sales of $14.7 billion in 2017, which was up 9% from $13.5 billion in 2016. The increase was due to unit sales growth as well as higher milk prices, which averaged $17.63 per cwt in 2017 compared to $16.30 in 2016.
The D.F.A. and Glanbia plc are part of the joint venture Southwest Cheese Co. L.L.C., a producer of cheddar cheese and whey ingredients based in Clovis, N.M. They also are part of a new joint venture building a cheese and whey production plant in Michigan, which is expected to be commissioned in 2020.
"A lot of Glanbia's dairy operations now are actually in strategic partnerships," Ms. Talbot said. "I think that is a model that has worked really well."
Glanbia plc, a cooperative with 14,000- members in Ireland, had revenues of €2,387.1 million ($2,947.4 million) in 2017, which was up 7% from €2,231.7 million. The company's Glanbia Performance Nutrition had revenues of €1,121.1 million, up 11% from €1,007.5 million. Glanbia Nutritionals had revenues of €1,266 million, up 3.4% from €1,224.2 million.
The company in 2017 acquired Grass Advantage, L.L.C., which is based in Newport Beach, Calif., and owns plant-based nutrition brands, and Body & Fit, an online, direct-to-consumer brand based in Heerenven, The Netherlands.

"We're quite willing to go out of our comfort zone at times," Ms. Talbot said.
As evidenced by the Body & Fit acquisition, Glanbia is increasing its digital presence.
"We will be investing significantly behind bringing new people into our organization, building out our technology platform, really building both from the ingredient side and from the branded side the capability to engage with consumers and bring it to a whole new level," Ms. Talbot said.
She pointed to four trends where Glanbia sees room for growth for dairy.
"There is a massive trend for health and wellness," Ms. Talbot said. "There is a massive trend for convenience. Technology has transformed how consumers engage with brands, how consumers engage with nutrition and how consumers engage with food. Last but not least, I think a trend that has become more dialed up in recent times is this whole area of clean labeling."