KANSAS CITY — Consumers are always searching and never settling. Yesterday's large indulgences are played out today. What was nutritional one week might be boring the next. Shoppers see the same items on store shelves every trip, and although their eyes are drawn to familiar brands and products, their hands need motivation — perhaps the promise of a new experience — to actually pick them up.

Baking and snack companies must get creative. More importantly, they must think ahead to stay ahead of evolving consumer preferences. But giving consumers a new experience is not always about creating a whole new product. Sometimes it's all about reinvention.

Forty-four per cent of U.S. snackers said their favorite brand is one of the most important aspects when picking a snack, according to the 2017 Mintel study, "Snacking Motivations & Attitudes." This means that when many consumers are looking for a new experience, they seek it out among the familiar, or a trusted brand or product.
"You don't always have to reinvent the wheel," said Lynn Dornblaser, director of innovation and insight at Mintel, at SNAC International's Executive Leadership Forum in September 2017. "When identifying snacking opportunities, look to your current portfolio for items that can be modified to be more on trend."

In 2015, Mondelez International, Inc. looked to its classic cookie for a product modification. The company reformatted the Oreo cookie into Oreo Thins, an option that includes fewer crumbs and calories than its original counterpart. The creation of this thin cookie followed what Ms. Dornblaser coined the "Minimize Me" trend. Then, in 2017, the company transformed its classic Teddy Grahams with the Teddy Soft Bakes variety, a soft-baked filled snack version, to make its product even more appealing for children.

Twinkies, the signature brand from Hostess Brands, L.L.C., has been around since 1930. But in 2016 the company reinvented the icon with Deep Fried Twinkies. Dipped in funnel cake batter and fried, this indulgence — which originally could only be found at state fairs — was launched as Hostess' first product in supermarket frozen food aisles.

Product reinvention isn't new, but as more and more traditional baked foods and snacks become too staid for consumers, it may be time for a modification that keeps people engaged and excited to stick with a brand.
Two methods of reinvention
Sally Lyons Wyatt, executive vice-president and practice leader for Information Resources, Inc. (I.R.I.), said innovation includes two types of reinvention: commercial innovation and new categories. Commercial innovation is the expansion of a current brand or product for emerging channels and includes channel-specific innovation to club stores, expansion into urban stores and distribution into c-stores.

Consumer patterns may help create new categories. Traditionally, oats were eaten as a type of cereal in the morning, Ms. Lyons Wyatt said. Due in part to oats' popularity, manufacturers decided to keep up with consumers' busy lifestyle by turning the breakfast food into a bar that could be eaten anytime and anywhere. From there, the reinvention of oat products expanded to breakfast biscuits, which took on new flavors and textures.

These areas of reinvention are parts of an innovation strategy that may result in either incremental sales or winning market share in existing categories.
However, Ms. Lyons Wyatt shared three factors that food manufacturers must consider before modifying a product: consumer needs, macro trends and convenience.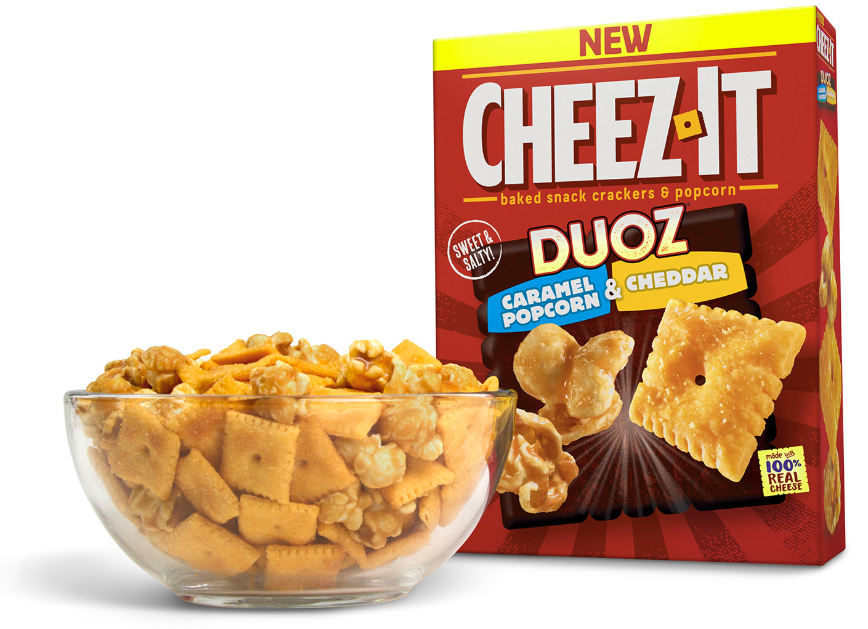 One of the most critical components in the decision to reinvent a product is keeping up with and understanding consumers' latest snacking demands. These can range from better-for-you to indulgent snacks. For example, Ms. Lyons Wyatt said she sees the trend of combining multiple types of snacks, fruits, vegetables and nuts happening across the board as manufacturers cross food groups to create snack packs and bars.

"There are so many these days because they deliver on many consumer needs: convenience, vitamins and minerals, other nutrients and micro-nutrients," she said.

Trends such as new flavors, indulgence and health and wellness are running through revolving doors: they can emerge quickly, disappear even faster and then come back again. The mash-up of textures and types of snacks — specifically the sweet with the salty or savory — isn't new, but it's a trend that iss maintaining momentum. And many companies are taking note.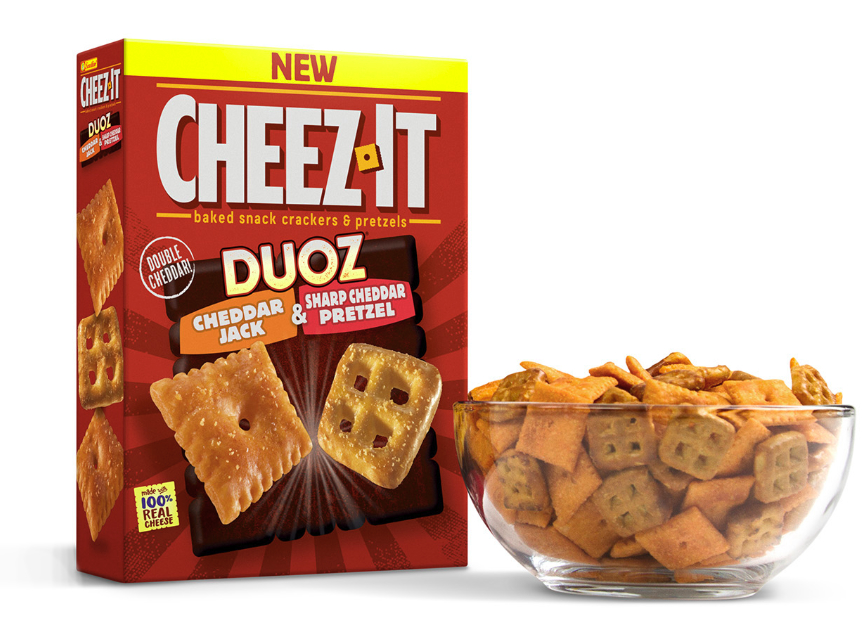 The Kellogg Co. evaluates its consumer feedback and looks at evolving trends when deciding which products to reinvent, how to develop them and when.

"We monitor trends across the food industry and noticed an increased demand for more food mash-ups along with the growing demand for popcorn and pretzel flavors," said Jeff Delonis, marketing director for Cheez-It. "With those two insights in mind, we decided it was time to offer something new to our consumers and reinvent our Duoz product line."

Cheez-It Duoz, a mash-up of two Cheez-It flavors, has been around since 2008, but to stay on trend, the company is adding another type of snack to the snacking experience. Featuring the familiar cheese crackers, the new Cheez-It Duoz will mix in salty cheddar pretzels within the Cheddar Jack and Sharp Cheddar Pretzel variety and sweet caramel popcorn in its Caramel Popcorn and Cheddar variety. From this line that's been very popular among millennial consumers, Kellogg expects its newest Duoz products to further increase that demand.

In November, the Frito-Lay division at PepsiCo, Inc. introduced Doritos Crunch Nuts, which consist of roasted peanuts wrapped in shells made from Doritos Nacho Cheese or Cool Ranch. From there, the company developed Doritos Crunch Mix, a new product for its Doritos Mix line that includes Crunch Nuts, pretzel bites, corn sticks and more. Snacks like these give consumers a multi-sensorial experience and include products they already enjoy with new ones to explore.
Deciding which products to change up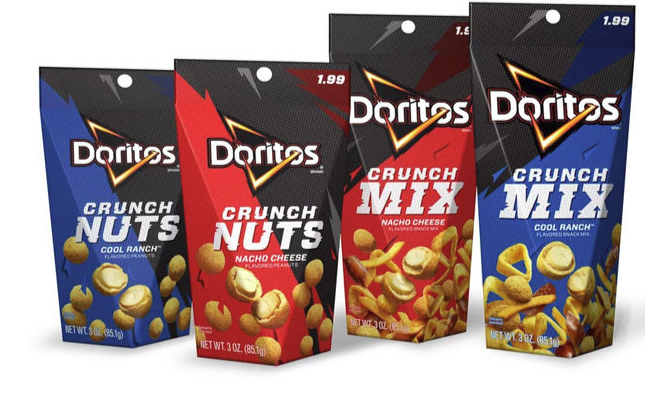 With consumers' preferences changing practically by the day, how do baking and snack companies decide which products to reinvent? How do they know it's time to modify a mainstay?

Sometimes product reinvention is an easy decision based on popularity and sales. Burke Raine, senior vice-president and chief marketing officer for Hostess, said the company's iconic HoHos brand was in decline for much of 2016. Hostess wanted to give the product some publicity and excitement among consumers.

"We looked at the intersection of sales and consumer trends data," Mr. Raine said. "The HoHo is an icon, and we didn't want to change the original flavor — which many consumers love — so we, instead, decided on a line extension to reinvigorate the brand." 

Last year, Hostess launched Peanut Butter HoHos, which include a chocolate cake coating with stripes of peanut butter and a peanut butter filling. Mr. Raine said the HoHo brand is growing again, and Hostess even converted one of its plants into a peanut-friendly facility to keep up with demand for the popular new product and other peanut butter-flavored items.
"Consumers are looking for real ingredients as well, so being able to say 'made with real peanut butter' was a nice bit of permission for people to enjoy a treat." — Burke Raine, Hostess
In addition to playing up the classic peanut butter and chocolate combination, Hostess took into account consumer demands when deciding which flavor direction to go.

"With Peanut Butter HoHos, it was consumer acceptance of the concept that got us most excited for the flavor," Mr. Raine said.

But the new product was more than just a change in flavor.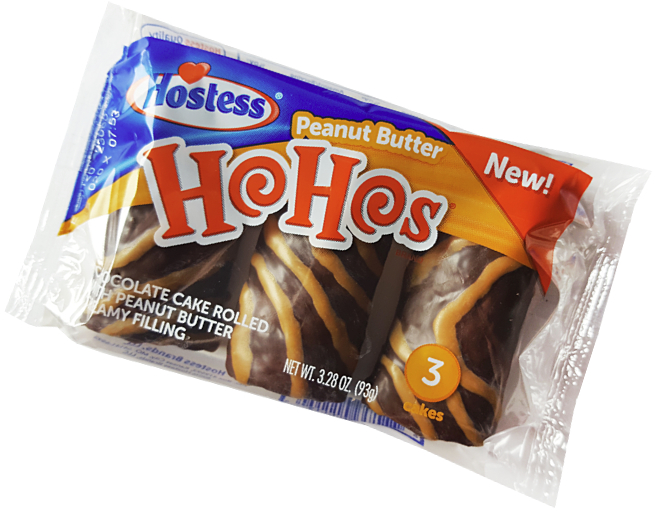 "Consumers are looking for real ingredients as well, so being able to say 'made with real peanut butter' was a nice bit of permission for people to enjoy a treat," he said.

To be successful with product reinvention, a company must know its consumers. Just as people's preferences constantly evolve, so should a company's engagement with their wants and needs. Ms. Lyons Wyatt stressed the importance of reinvention as "a part of an overall innovation strategy that companies look at to drive incremental growth and to evolve with consumers' ever-changing needs."

Shoppers' taste buds won't stop searching for something new. But by using brand loyalty and classic snacks to their advantage through product reinvention, companies can ensure curious consumers keep coming back to the brands that are keeping up with them.