ANAHEIM, CALIF. — Salty, crunchy snacks are some of the first foods eliminated in low-carbohydrate and ketogenic diets. It is not because of their sodium or fat content, rather, it's to avoid the starchy carbohydrates —namely corn, grains and potatoes — that the chips, crackers and curls contain.
Whereas many low-carb dieters tend to focus on increasing protein intake to reduce carbohydrates, those following a ketogenic diet — an increasingly popular type of low-carb diet — strive for a daily macronutrient intake of around 70% fat, 25% protein and 5% carbohydrate.
The one thing both types of dieters crave is crunch. Many have found baked or dehydrated 100% cheese snacks to satisfy. It is not surprising a plethora of such shelf-stable snacks made their debut at Natural Products Expo West March 8-11, 2018, in Anaheim, Calif.
One of the more inno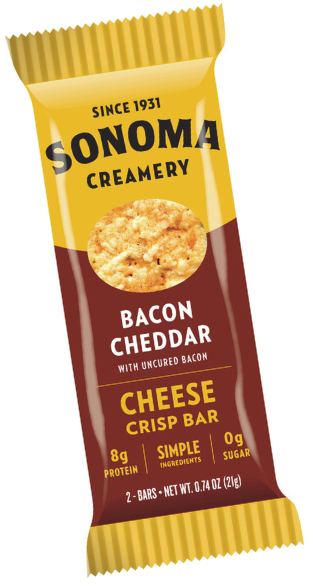 vative items came from Sonoma Creamery, Sonoma, Calif. New Sonoma Cheese Crisp Bars are crispy, savory baked snack bars made with a few simple ingredients, including cheese, organic brown rice, organic oat bran, seeds and seasonings. Varieties are: bacon cheddar, cheddar, Parmesan, pepper jack and savory seed. High in protein and low in carbs, there's zero grams of sugar and only 110 to 120 calories per two-bar pack.
"America's eating habits are now in rapid transition," said John Crean, president and chief executive officer. "As busy as people are, and as action-packed as our lives are in the digital age, fewer and fewer people have the time to prepare or eat three large sit-down meals. Increasingly, consumers are eating five to seven smaller meals throughout the day. This both fits their active lifestyles and, as some research suggests, may be healthier in the long run for our digestion and even promote weight loss.
"Our Cheese Crisp Bars are the perfect solution to satisfy those mid-day or afternoon cravings but without all that sugar or the long ingredient list which you find in most snack bars."
The shelf-stable bars are intended to be merchandised with other bars and snack foods. The vertical packaging emphasizes the flavors with strong color schemes, and each bar package has a window in the center of the package where the product is visible. One bar sells for about $1.99.
"We think the audience will be broad, starting with adults looking for an on-the-go healthy snack that is not sugary or loaded with whey, soy or other protein powders that make bars taste chalky and artificial," Mr. Crean said.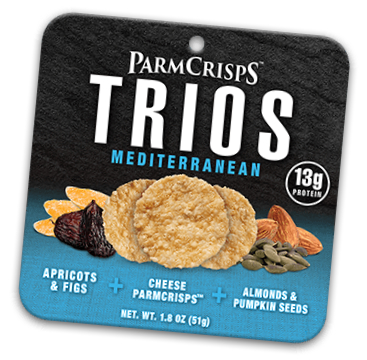 That's How We Roll L.L.C., Elmwood Park, N.J., one of the original players in the baked cheese snack category with ParmCrisps, introduced ParmCrisps Trios. ParmCrisps is a line of crunchy crisps made from aged Parmesan cheese, with or without herbs and seasonings. They are oven baked in small batches and come in cracker and chip shapes. The new Trios line is a shelf-stable, protein-rich blend of sweet dried fruit, crunchy nuts and seeds, and crispy ParmCrisps. All three varieties contain almond and pumpkin seeds. It is the fruit that varies. Original includes apricots and Craisins. Mediterranean contains apricots and figs, while the tropical variety includes mangoes and pineapple pieces. Each pack provides 240 to 260 calories, 14 grams of fat and 13 grams of protein. Each 1.8 oz pack has a suggested retail price of $3.99.
"ParmCrisps are a great snack on their own but supplementing them with fruit, nuts and seeds make them the perfect combination of sweet and savory for a satisfying mid-day snack craving without all the sugar or long ingredient list of other snack packs," said Sam Kestenbaum, president. "It's like having a premium cheese plate you can carry in your pocket."