VERSAILLES, KY. — At More Than A Bakery, every decision is made mindfully around safe food production … from the design of the plant and its production line, all the way down to writing, validating, modifying and training the standard operating procedures.

With S.Q.F. Level III certification, the facility also is fully kosher as well as peanut- and tree-nut free, something the bakery takes very seriously (there are never M&Ms in the vending machine or peanut butter and jelly sandwiches in lunchboxes at More Than A Bakery).

Protecting the cookies is everyone's job, and it begins upon crossing the main threshold, the building's only point of entry. Every day, all who enter — employees (Family Members), Raving Fan Customers or any other visitors — must change into a captive uniform consisting of an assigned shirt, pants and shoes before gaining access to the "clean" side, which includes the Family Space as well as the plant.
Once inside, hygienic zoning divides the building into two types of spaces: post-bake, where one set of captive uniform and shoes is worn, and pre-bake, which requires its own specific hair nets and shoe covers and a clean-room "bunny suit" over the uniform.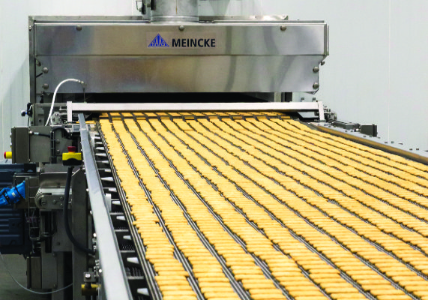 This separation goes beyond typical food production protocol that segregates the office side from the plant floor; the plant itself is divided, as well. For starters, a "walkable" ceiling is actually a platform that separates mechanical systems from the clean space below.

Hygienic zoning means that walking the entire plant floor requires two clothing changes and four bouts of hand washing. What's more, the only ones able to traverse directly from pre- to post-bake are the products — through the oven — because the line dead-ends before the discharge.

Of course, there are times when Family Members at the oven discharge must communicate with those on the pre-bake side, such as if a product is out of spec or the process needs to be checked. To address such situations, a window on the post-bake side allows people to communicate any immediate issues in the process and pass product samples as necessary.

Food safety considerations didn't stop with the facility design or even the overall process. The sanitary-designed production line has details like "floating" staircases in areas such as the blower room or the mixer stand.

"None of our stairs come down to the floor," said Felicia Quigg, vice-president of Family Pride at More Than a Bakery. "It's too hard to clean under them that way, so they're all supported from the back."


On the Franz Haas makeup line, sheeter rollers are driven independently with servo-driven motors, instead of a chain, for easier sanitation. And while dry-cleaning practices are used to an extent, "the use of compressed air for cleaning purposes is prohibited," said Bill Quigg, president of More Than a Bakery. Additionally, there are no brooms or mops in use at this facility because, as Mr. Quigg noted, these tools are just too hard to get truly clean. Instead, workers use squeegees and scrapers.

"We're doing things in food safety here that may not have been done before," said Bob Ramsey, chief financial officer of More Than a Bakery. "We've taken the obvious standards that all bakeries must attain, and we raised the bar, even on ourselves.

"Food safety is not going to become less strict — it's only getting stricter — so these practices help us stay ahead of the curve and allow us to easily react as the dial on food safety gets turned up. And it sends a message to current and prospective customers about how serious we are about it."