KANSAS CITY — The confectionery category is bursting with innovation as brands tap into trends such as edible glitter and 3-D technology or experiment in new categories with new flavors.
The Hershey Co. is sating the sparkle-seekers with its new Ice Breakers gum variety, which embraces the edible glitter trend. New Ice Breakers Ice Cubes Glitter Gum Summer Snow Cone features a cherry snow cone flavor and a dusting of edible glitter.
"Consumers are looking for extra sparkle in everyday items — whether it's what they're eating, drinking or wearing," said Nathan Johnson, brand manager of Ice Breakers. "Ice Breakers Glitter Gum gives consumers the added glittery flair to push their swagger over-the-top."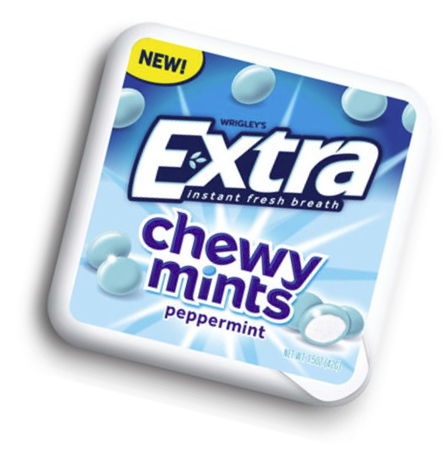 Mars, Inc.'s Extra brand is moving into the mint category for the first time with its new Extra Chewy Mints. The mints contain two layers — a thin, crispy outer shell and a chewy mint core — and are available in Peppermint and Polar Ice varieties.
"Mars Wrigley Confectionery has a successful history in mints, with beloved brands like Altoids and Life Savers already in our portfolio," said Steve Johnson, vice-president of gum and mints for Mars Wrigley Confectionery U.S. "With new Extra Chewy Mints, we'll be able to have a larger presence in the category and invite everyone to enjoy Extra in a gum or a mint form."
Tackling two trends at once, Bazooka Candy Brands, a division of The Topps Co., Inc., is launching a new product that features 3-D design and offers customization. Match-Ems are a new interlocking fruit-flavored gummy candy designed to be customized. Each bag contains a mix of eight flavors — blue raspberry, green apple, watermelon, banana, cherry, pear, orange and strawberry — that may be paired to create up to 28 combinations.
"Our consumers are always looking to maximize flavor options — and Match-Ems is the only gummy that lets them mix and match their favorite fruity flavors to create new ones," said Nicole Rivera, director of marketing at Bazooka Candy Brands. "We used new 3-D gummy technology and our flavor expertise to create fun interlocking shapes that taste great when combined."
Ford Gum & Machine Co. is adding a new flavor to its Big League Chew brand — something the brand hasn't done in years. Big Rally Blue Raspberry is the latest flavor to join the company's Big League Chew bubble gum lineup.
"Blue raspberry is a popular flavor in kids' candy," said Steve Green, senior vice-president of sales and marketing at Ford Gum. "It just made sense to bring this flavor to our top-selling brand."