ATLANTA — Investigating outbreaks of foodborne illnesses can play a key role in preventing future outbreaks and identifying unsuspected gaps in the food safety system, said a Center for Disease Control and Prevention (C.D.C.) investigator during a keynote address at the International Association of Operative Millers' (I.A.O.M.) Annual Conference & Expo.
Investigations also help people identify how and what went wrong, how the contamination occurred, identify new pathogens and new foods linked to outbreaks, said Karen Neil, Ph.D. epidemic intelligence service officer.
"The immediate aim of any foodborne outbreak investigation is to identify the cause of the outbreak so we can stop it," she said. "Overall, this can help reduce foodborne illness by stimulating better practices, potentially better regulations, and better consumer education and understanding."
This has been the case in investigations of Shiga toxin-producing Escherichia coli (STEC) infections found to be caused by flour.
Flour first got on the C.D.C.'s radar as a possible source of a 2009 outbreak with 77 illnesses across 30 states, Dr. Neil said. While flour was suspected, no root cause for contamination was identified.
"This outbreak really put flour on the map for us regarding STEC outbreaks," she said.
Flour was the suspect in two more outbreaks in 2012-13 and 2015, but it was first confirmed in a 2016 outbreak which made 56 people ill in 24 states, Dr. Neil said.
A General Mills facility in Kansas City was identified as the likely source of the outbreak. Overall, 45 million lbs of flour was recalled.
There were additional downstream recalls of products made using that flour, for a recall that included more than 200 products and 30 brands, Dr. Neil said.
As a result of the outbreak investigation, several steps were taken to reduce the risk of future illnesses.
"We identified that the risk of eating raw dough is not limited to Salmonella from raw eggs; it also includes flour," Dr. Neil said. "It highlighted behaviors of consumers and restaurants that could make it more likely to get sick."
It stimulated the food industry to modify package labeling to make warnings against consuming raw dough even more prominent and some moved toward the use of heat treated flour.
Addressing food safety concerns is also on the mind of several equipment suppliers exhibiting at the sold-out I.A.O.M. expo.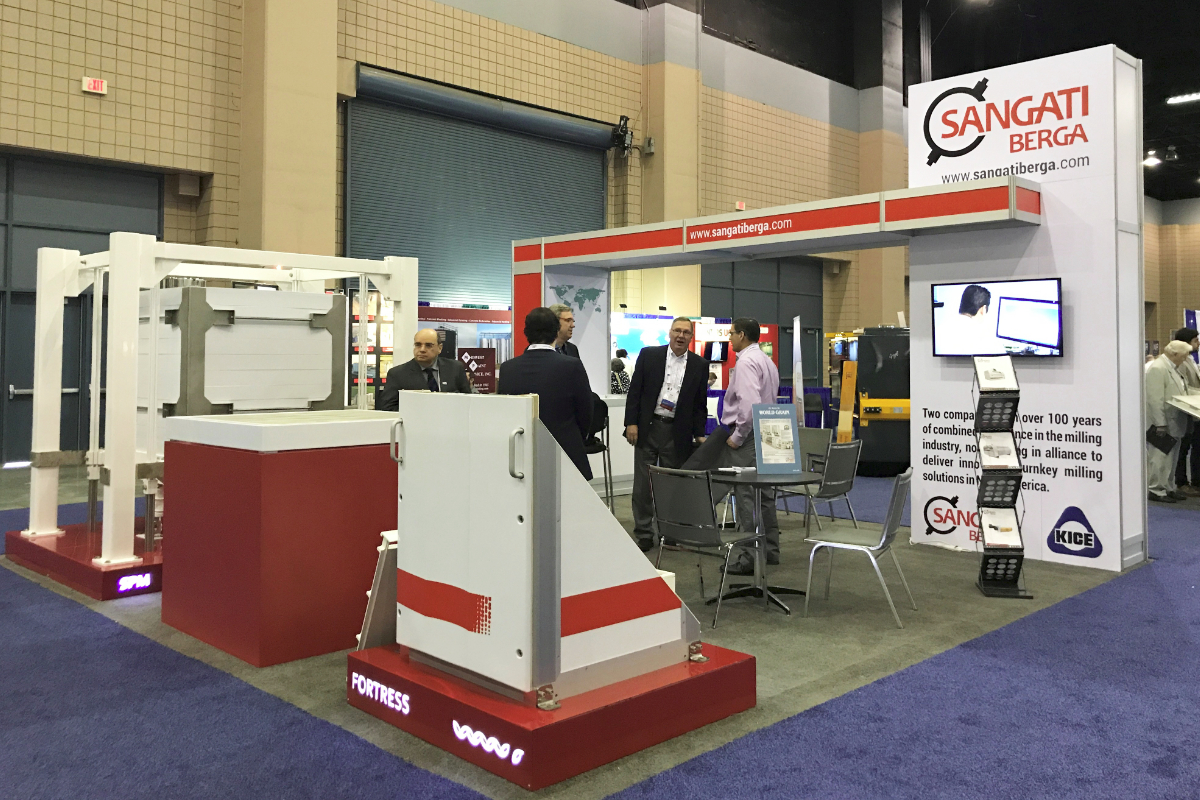 Food safety is the top request from customers, said Ricardo Fontenelle, technical sales adviser of Brazil-based Sangati Berga. The company is addressing that concern with plansifter sieves and frames made from polymer. The frames stack on top of each other without any connecting elements.
"Eliminating all those connecting elements like wood and rubber gaskets, which can be harmful, is a huge improvement for the industry," Mr. Fontenelle said.
Along with the plansifter technology, Sangati Berga also was highlighting its new alliance with Kice Industries, Inc., based in Wichita, Kas.
The businesses complement each other since Sangati Berga supplies milling equipment while Kice specializes in pneumatic conveying, dust control and filtration applications.
"The market needs someone local for anything related to support and spare parts," Mr. Fontenelle said. "Kice is a very high-quality company; they have the contacts and they have the established markets."
Together, the companies can offer a competitive, high tech turnkey mill, said Andy Forrester, director of sales, Kice.
"Our local support and service complements their manufacturing capabilities in Brazil," he said. "Culturally, the companies are the same and we have the same goals and values."
There's a big opportunity to modernize and update the grain and milling industries' aging infrastructure, Forrester said.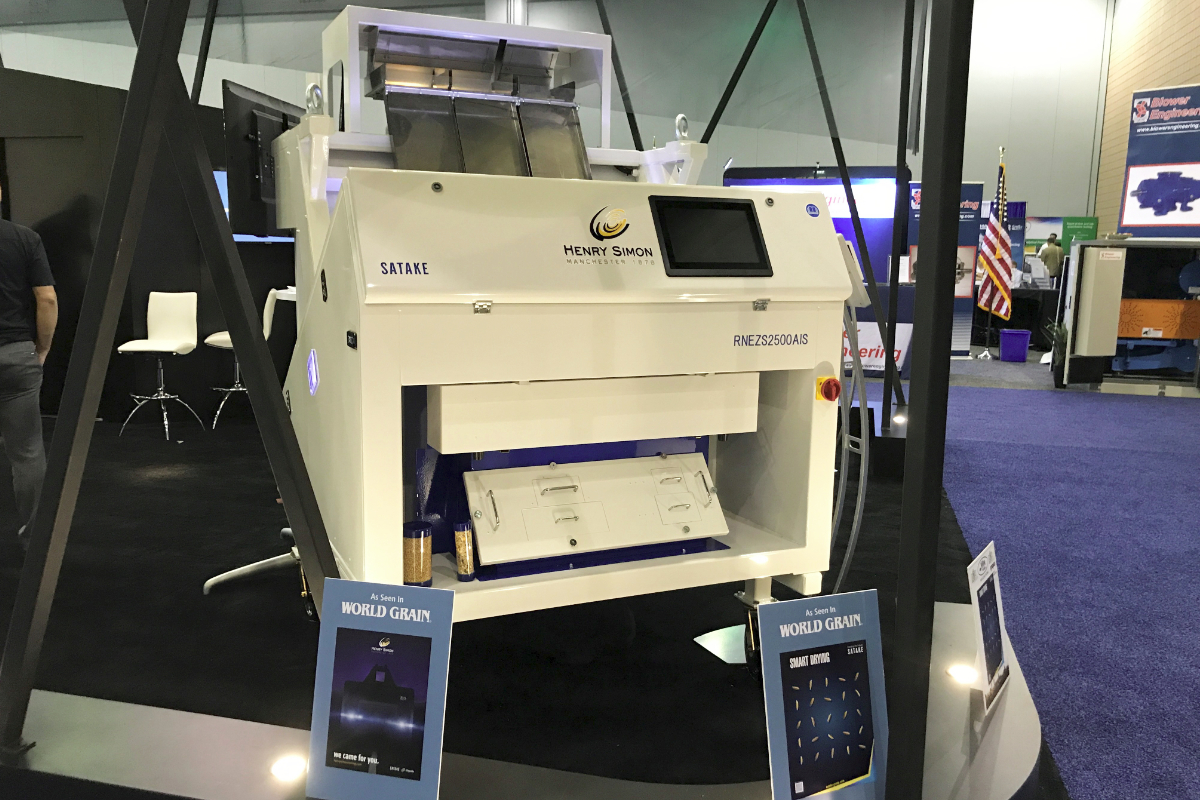 "There are a lot of requirements that are driving modernization in the mills," he said. "It's a great time to be starting a partnership like this."
Satake is seeing significant growth in Africa and Asia, said Peter Marriott, sales manager, Satake Europe.
Africa is experiencing dietary changes, with a move toward flour-based products. There is also demand from niche markets for products that answer allergy issues, and ancient grains.
"We're using some of the current day technology to mill the ancient grains into new old products," Mr. Marriott said.
New innovations are being introduced for remote access, he said. With that technology, Satake's engineers can tap into a machine and help with issues an operator is having.
"Rather than jumping on a plane, we can give advice from a distance," Mr. Marriott said. "It's about getting machines up and running."