REDWOOD CITY, CALIF. — The story behind the launch of Impossible Foods Inc., its founder's background, the savvy team he is building and the mission and vision that is the rallying flag for its 300-plus employees is perhaps as unconventional as its Impossible Burger, known as the plant-based "burger that bleeds." The company's goal is to replace animals as a "food technology" by 2035, and the vision includes feeding the world's burgeoning population delicious food in a more affordable and environmentally feasible manner than the current livestock system.
Patrick Brown, Ph.D., who worked as a biochemist for years in his lab at Stanford University, took an 18-month sabbatical in 2009. After contemplating his career path — which ultimately resulted in his hatching a preliminary business plan and raising about $9 million from one of the many Silicon Valley venture capital firms — Dr. Brown founded Impossible Foods in 2011. Dr. Brown's vision isn't to create an alternative to animal-based food; it's to replace it. He and many of the "Impossible-ites" frequently reference the challenge of feeding a global population projected to top 10 billion by 2050 by using the traditional, livestock-based system of producing protein.
Not completely surprising, Dr. Brown is a longtime vegetarian and a committed distance runner. His vision for the company isn't unlike the approach of a seasoned runner at the starting line of a marathon. Knowing the challenges facing the food industry in the coming years, Dr. Brown is systematically and methodically building momentum at Impossible Foods, his steady pace is calculated using the year of 2035 as a goal, and replacing meat with plant-based proteins is the finishing medal.
Mission: Impossible Burger
Dr. Brown's team's first foray into the food industry was to develop one of the most-consumed types of meat in U.S.-based restaurants: ground beef — specifically hamburgers. The Impossible Burger was launched commercially July 26, 2016, at New York's Momofuku Nishi. It is now on the menu of 840 restaurants across the country. It was the lowest-hanging carnivorous fruit, he said, and targeting the food service market seemed to make the most sense for the opportunistic entrepreneur. Word of Dr. Brown's endeavor has lured throngs of eco-minded employees who have joined the company, most with master's degrees and many with Ph.D.s and specialties ranging from biochemistry to food science to ecology and beyond. The Silicon Va
lley-based team is fueled by a shared passion to be a part of a solution to what they believe is the population equivalent of a devastating asteroid tracking toward Earth at an unrelenting speed and an E.T.A. that is uncertain.
This past December, officials from Impossible Foods opened the doors wide to provide a transparent tour of its Redwood City, Calif., headquarters, where it houses its offices, a state-of-the-art food lab (where cameras are prohibited) and a test kitchen, where scientists and researchers from all over the world collaborate on not only the Impossible Burger but also on developing other plant-based versions of pork, chicken, seafood and dairy products. The headquarters is about 35 miles south of the company's recently opened production plant in Oakland, where wannabe meat patties are churned out in a matter not unlike the company's animal-based counterparts — minus the slaughtering of any cattle. During the open house, a cozy room full of media members watched as Dr. Brown's team demonstrated and explained on a tabletop scale the process and technology behind creating its Impossible Burger. A cooking demonstration followed as did a tasting of the burgers, all while the history of the company, its mission and the vision of its founder was espoused by eager members of the team and later by a laidback, hoodie-clad Dr. Brown alongside his top executives.
Sustaining strategy
Rebekah Moses is the sustainability and agriculture manager at Impossible Foods. Her focus is assessing Impossible's environmental impact and sustainability strategy and comparing it with the traditional system used by the livestock-based industry. She also works on commercialization at the field level on the company's new protein feedstocks. With a background in agricultural ecology, Ms. Moses' experience includes conducting research focused on plants, birds and insects and working with farmers for about seven years before joining Impossible over a year ago. She points out how, while working toward a master's degree at U.C. Davis, she worked at a research ranch owned by the university where organic agriculture was the focus. During her time there she was exposed to the university's production of grass-fed cattle. That exposure to the raising and grazing side of the beef industry left her with one takeaway.
"This is not a system that lends itself to expansion very well at all," she said.
That's when she heard about the pursuits of Impossible Foods and Dr. Brown's search for scalable alternatives in the food system for delivering meat and dairy products.
"That was exactly what Pat was thinking six or seven years ago when he founded this company," Ms. Moses said.
She and many others at Impossible Foods were inspired by the fact that Dr. Brown left a prestigious career for his pursuits with the company.
"It speaks volumes about his belief in the endeavor of delivering a market solution," she said.
"Animal farming is not scalable and is going to create large environmental problems in the future, and he recognized the market solution was plant-based meat and dairy products," Ms. Moses said.
The team at Impossible Foods collectively focuses on the future and some daunting numbers and non-negotiable deadlines. Based on staggering projections for global population growth by 2050, an additional 75% more meat will be required and 60% more dairy will be needed to feed 10 billion mouths, which Ms. Moses said the current system cannot accommodate.
"Right now we're pretty constrained; we're pretty maxed out," she said, referring to the environmental impact of animal farming. She pointed out that, while transportation options include riding bicycles, driving hybrid or electric automobiles or using public transportation, "you can do that because you have these great alternatives. You can have this eco-conscious vote."
These alternatives don't exist for beef, though.
"If you go to a barbecue, there's not another thing you can eat that has this lower intensity," she said.
This was the goal of the R.&.D. team that created the Impossible Burger. It is marketed as 95% more efficient in terms of land, 75% more efficient in terms of water usage, and it generates 13% of the emissions of a traditional burger. Impossible Foods' philosophy maintains that going from plant to protein is much more efficient than translating anything through a cow.
"If you think about the system, it makes sense," Ms. Moses said. "Cows are alive for like tw
o years, they're very flatulent, they create a lot of waste; there's just a lot of them, so it's just not a very efficient system. Going directly to the plant was just a much better way of doing it."
The issue is not so much a local problem or a California-specific problem or even a U.S. problem, she said.
"Scaling up an animal farming system ... it's just not something that globally we can sustain," she said.
The expansion that is occurring is coming at the expense of land the global ecosystem can least afford to lose, Ms. Moses said, such as the Latin American tropics.
"The ecosystem trade-offs are not great," she said. "These are the areas that we need for planet regulation, we need it for oxygen provision ... as well as preserving that land for the unique animals that live there."
Planting a new burger
Celeste Holz-Schietinger, Ph.D., has been with Impossible Foods almost since the beginning, becoming a disciple of Dr. Brown's vision and mission about six years ago.
"I joined on the concept of 'what can I do to make the biggest difference in the world?'" 
— Celeste Holz-Schietinger, Ph.D., Impossible Foods
"I joined on the concept of 'what can I do to make the biggest difference in the world?'" she said.
Early on, Dr. Holz-Schietinger thought she could make that difference by becoming an ecologist, which she did.
"I caught alligators, I saved natural areas, but I really didn't see that making the impact that I wanted to make, so I went and got my Ph.D. in biochemistry, and in that time I met Pat Brown," she said.
After hearing about Dr. Brown's vision, she realized his passion and her own were a good fit.
"I could mix my love of food with my desire to be able to say we can make food that is sustainable, and we can all live in a more sustainable way," she said.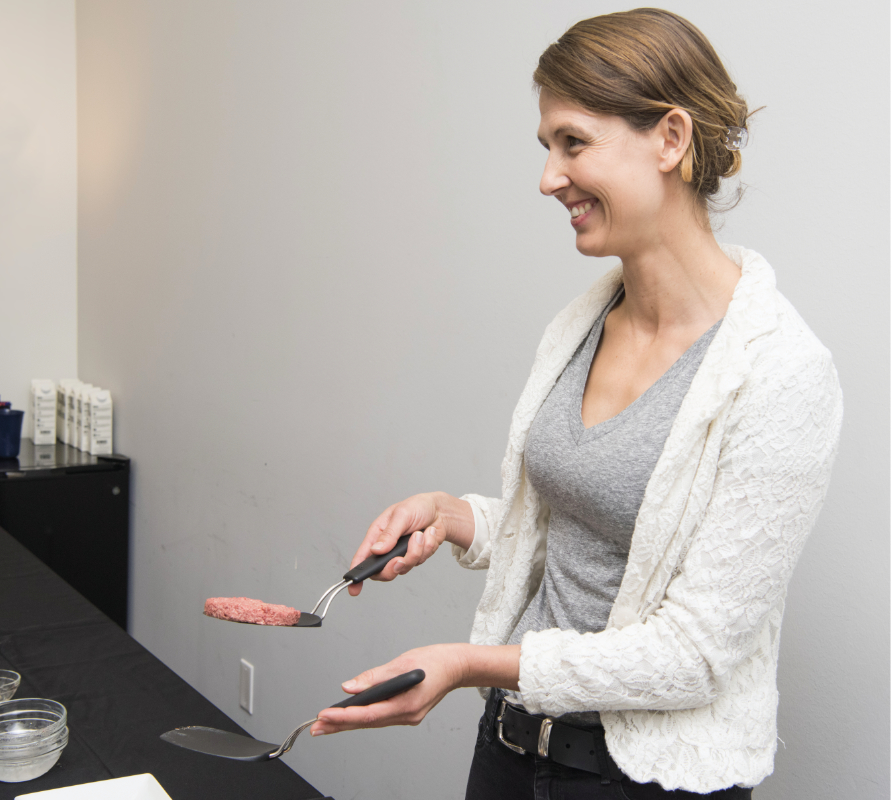 During the event, Dr. Holz-Schietinger explained the benefits of the product and demonstrated the formulation process with a few ingredients and a mixing bowl, blending them with a spatula. She prefaced her demo by saying the goal of the creation of an alternative burger was not always solely about the sustainability factor that Ms. Moses discussed earlier.
"There are also some negative safety concerns including dirty slaughter houses, cholesterol and antibiotics," she said. "So can we as scientists remove all of those inefficiencies?"
The scientific goal was to create a food similar to that produced from a cow while eliminating the inefficient part of the process of converting a diet of plants and going directly to the plants.
"Our first product is the Impossible Burger — this is just one of our many products to come," Dr. Holz-Schietinger said. "We are really wanting to replace the entire animal industry with delicious, sustainable, nutritional products that we can all eat."
Dr. Holz-Schietinger's demonstration stressed the simplicity and reasoning behind the burger's formulation and the function of the simple ingredients as they are combined. 
The first ingredients are pressure-cooked wheat proteins, which provide the nutritional and textural attributes. It provides firmness and the "chew-down" needed to simulate meat, she said. Protein extracted from potatoes is also part of the blend. In the company's Oakland processing facility, high-volume mixers similar to "giant Kitchen Aids" allow the facility to flex to a monthly capacity of 1 million lbs.
Making it bleed
Next comes the product's key ingredient, leghemoglobin, or heme (pronounced "heem").
"Heme is what we identified creates the flavors in meat," Dr. Holz-Schietinger said.
In its raw form, heme tastes metallic, like blood.
"This is like hemoglobin," she said. "It is found in soybeans; the molecule of heme is identical to the myoglobin that is in a cow that makes that metallic flavor and the same as the myoglobin that is in your blood. Heme is essential for all forms of life in plants and animals. What we discovered is it creates the flavor in raw and cooked product."
During the cooking process, heme is mixed in and reacts with the ingredients, including amino acids, sugars and vitamins.
"It creates the meaty aromas," Dr. Holz-Schietinger said. "Those caramelized, roasted, kind of char notes and beefy flavor are created from the heme protein."
The three proteins provide the beef texture and mouthfeel while the heme creates the "metallic, bloody meatiness," she said.
Not unlike animal-based meat's naturally occurring collagen, micro-amounts of carbohydrates are added as a binding agent, including konjac gum (a Japanese ingredient) and xanthan gum, produced by fermentation. These attributes allow the "raw" product to be formed for multiple products, from meatballs to burgers to meatloaf.
Sense minded
To simulate the look, feel and taste of animal-based burgers, formulators of the Impossible Burger add a substitute for the imitation fat tissue that consists of coconut oil, which provides the sizzle during cooking and the mouthfeel of fat during eating.
"As the heme reacts with the simple nutrients, it creates aromas, the beefy aromas that get trapped in the fat," Dr. Holz-Schietinger says.
Leghemoglobin is found in the root nodules of soybeans. Rather than extract those roots, and to ensure the sustainability of the process, a gene found in yeast is used as it possesses the same attributes as the soybean root and is produced by fermenting yeast.
Guests were invited to taste the "raw" product, including the blood-colored heme, while watching as patties were cooked on a flattop grill. The sights, sounds and aromas of the cooking Impossible Burger were all carefully engineered to mimic the cooking of a beef burger.
"What you really start to hear is the sizzling," Dr. Holz-Schietinger said. "That sizzling is the fat leaking out, and that release allows for a nice surface to develop and for the flavor to begin being generated. Browning occurs, like a beef burger, and you'll start to smell the aroma generation of the heme reacting with the simple nutrients to create all the aromas of beef."
The formulation process is still a work in progress, Dr. Holz-Schietinger said. Initial consumer testing of the Impossible Burger versus beef burgers showed an overwhelming preference for beef, as high as 92% in the early days. More recent tests have seen that shift dramatically, now hovering around a 50-50 preference.
Taste testing is conducted using between 100 and 200 consumer-based tasters throughout the U.S. The samples used in the tastings use the Impossible Burger alone, without buns, toppings or condiments.
"We just salt it," Dr. Holz-Schietinger said.
The company also contracts with sensory experts who provide feedback on factors including taste, texture and aroma, as well as appearance and how Impossible measures up against traditional beef burgers.
"We're not saying it's identical," Dr. Holz-Schietinger said. "But if you think about preference, there are aspects about this that people like better, and the taste tests don't reflect the sustainability aspects of the Impossible Burger."
R.&D. experts also rely on their culinary customers in the food service segment for feedback. The emphasis was first on supplying food service operators.
"We want to make sure those chefs are happy with the experience of cooking it, handling it and with the experience of serving it to all of their customers," Dr. Holz-Schietinger said.
As for the shelf life, logistics and handling of the "raw" product, Impossible recommends its food service customers treat it as if it is traditional ground beef. The patties are frozen after forming; cooking time is slightly less than that of a traditional burger, Dr. Holz-Schietinger said, and the cooking temperature is slightly lower. While the plant-based raw burger is less vulnerable from a food safety standpoint in the proce
ssing plant, it isn't risk-free going through processing.
"Even though it's cleaner to begin with, there are lots of microbes in the environment," she said.
Another important goal of the formulators is to match or exceed the nutritional aspects of beef. The Impossible Burger is higher in protein than traditional burgers and matches beef in terms of micronutrients and beef's bioavailable iron, Dr. Holz-Schietinger said.
Each time the R.&D. team rolls out a new version of the Impossible Burger, it is commemorated with an alphabetically based bird type (Avocet, Blackbird, Crow, etc…). In late December, the Oriole was the burger of the day.
The future plans for Impossible Foods go well beyond a hamburger substitute.
"We're not just a burger company," Dr. Holz-Schietinger said. "We're creating all these different meats. We understand all the different textures and flavors. Our focus right now is making ground 'beef', but we are also testing and understanding what drives the sensory experiences and how to make the prototypes for different meats, seafood, eggs and dairy products. This is the starting point, and the future is the idea that we can replace all these animal products on the fundamentals that people want to choose things that taste delicious. So, can we make things that are even more delicious and at the same time be good for you and be good for the planet?"