What makes a pet food a "specialty food"?  The definition of specialty pet foods can differ from a cross between commercial pet foods and homemade diets, to solely a functional food, to pet foods and treats offering unique attributes not found in traditional commercial pet foods. Global dry pet food production grew to 28.1 million tons according to the 2018 Alltech Global Feed Survey and market research firm Packaged Facts reports that U.S. pet food sales reached $29 billion in 2017. In a market so large, brands seek ways to differentiate products. Specialty pet foods can do that by featuring specific characteristics that most traditional foods don't offer. These characteristics may include its form, ingredients, proposed health benefits or the manufacturing process.
Alessandro Di Cerbo, Ph.D., reports in Research in Veterinary Science, June 2017, that functional pet foods can modify gastrointestinal physiology, improve brain function and promote changes in biochemical parameters. Increasingly, pet owners are trusting their veterinarians for food recommendations or are purchasing foods that are promoted as veterinarian recommended. The scientific information that provides the basis for many specialty diets and the sales of these foods is growing every year.
Packaged Facts predicts in the "Pet Market Outlook 2018-2019" report that this science-driven approach will assume a higher level of importance as pet food manufacturers, retailers and veterinarians work together to counter revenue strains presented by the growth of online sales and more super premium pet foods entering the mass market as Blue Buffalo did in August 2017. Collaboration between processors and veterinarians is crucial to maximize digestibility, minimize nutrient degradation and ensure the overall nutrition of the food, whether the specialty diet is made with limited ingredients, unique proteins, extruded, raw, fresh, freeze-dried, dehydrated or frozen ingredients. 
From good to better
In the push for limited, recognizable ingredients, processors are embracing unique ingredients to replace some long-standing, standard pet ingredients that may be highly processed. One example of this is the green lipped mussel, which is more commonly used in hip and joint diets, but is now being included in formulations for its unique protein content. Larry Blitz, president of Green Source Organics, Ventura, California, explains that the green lipped mussel is processed via freeze drying which stabilizes marine lipids and prevents denaturing of its protein, which contains all 18 amino acids, including taurine for cats. The freeze-drying process technically qualifies it for use as a raw food without the concern of high microbial-loads. Additionally, it is sustainably farmed in New Zealand making it an attractive clean-label option.
Another specialty ingredient gaining popularity is ground miscanthus grass (M-Fiber) as a fiber substitute for tomato pomace, beet pulp and powdered cellulose. It's promoted as sustainable, all natural, non-GMO and grown in the U.S. According to Dustin Dover, chief operating officer for Renew Biomass, Springfield, Missouri, "Miscanthus is purposefully grown with long-term contracts for the pet food industry. Typical fiber sources used today are either by-products or chemically produced. With M-Fiber you know that the product is the same quality every time. M-Fiber is also fully traceable."
An ingredient recently being utilized in specialty diets and treats is coconut glycerin. It is a new human-food-grade ingredient that replaces vegetable glycerin. Derived from coconut oil, it checks all the boxes: natural, non-GMO and made in the U.S. "Pet food manufacturers love having the ability to use coconut glycerin on their labels," says Andrew Cameron, vice president, food group at Hydrite Chemical Co., Brookfield, Wisconsin. "A clean label humectant is a nice addition to treat formulations as well."
Pet owners are also embracing freeze-dried and dehydrated fruits and vegetables. "People want their pets to eat as healthy as they do and with the clean label movement in both sectors, fruits and vegetables immediately are recognized as 'good for you' ingredients," says Darrel Hanson with Van Drunen Farms, Momence, Illinois. "In addition, there is new science to document that freeze drying is far superior to air drying and all other drying methods in terms of nutrient retention."
When foods are properly dried or dehydrated microorganisms such as yeast, mold and bacteria cannot grow and survive which prevents the food from spoiling explains Susan Mills-Gay, extension state specialist, University of Missouri Extension, Columbia, Missouri. Dehydration is effective for preserving food, but it does affect the nutritive value of the food. Mills-Gay says that while vitamins C and A can be destroyed by air, some vitamins can be kept intact by using a sulfite treatment. However, this sulfite treatment causes the destruction of thiamin. 
The process of dehydration needs to be well controlled to prevent microbial growth. She states that temperatures between 120°F and 140°F are recommended for fruits and vegetables. At the beginning of the dehydration process, temperatures of 150°F may be used but need to be lowered as the food begins to dry. During the last hour of the drying process, the temperature should not exceed 130°F.
Freeze drying keeps most pet food nutrients intact. The process technically is known as lyophilization or cryodesiccation and is a dehydration process which freezes the food. The surrounding pressure is then reduced, allowing the frozen water inside to sublime — phase transition — from the solid to the gas phase. The process offers a method of preserving the chemical and structural integrity of the food with little alteration to its structure by the avoidance of heat that occurs in more traditional processing methods. An added benefit is freeze-dried foods are lighter in weight, making them easier for pet owners to carry and store.
Fresh versus bagged
Industry disruptor, Freshpet broke into the market selling pet owners on the appeal of refrigerated pet food made with fresh, wholesome ingredients available at grocery and pet specialty stores. Honest Kitchen, Sojos, Open Farm and others offer dried foods that pet owners rehydrate before serving. Taking the Freshpet concept a step further, prepared, fresh, specialty diets, tailored specifically to each pet, can now be delivered directly to homes from PetPlate and Farmers Dog among others. Renaldo Webb, founder of PetPlate, New York, New York, says, "At PetPlate we decided, with the help of our veterinary nutritionist, Dr. Renee Streeter, that human-grade ingredients were the best way to ensure our pets are getting the proper nutrients while minimizing the impact of many aliments such as obesity, severe allergies and digestive issues."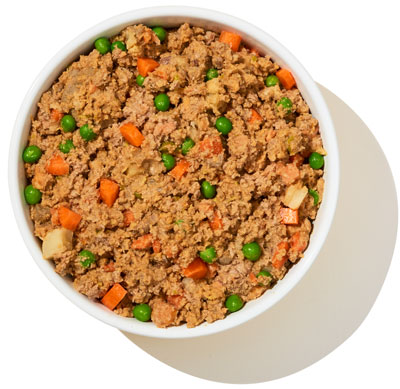 With all pet foods, pet safety is a priority and like any human food that is fresh, raw or minimally processed, spoilage and contamination can be issues. Unlike traditional dry, shelf-stable pet foods, these products have high moisture or are rehydrated at home and manufacturers need to educate pet owners on the proper storage and cleaning required for these diets similar to what humans are accustomed to doing for their own refrigerated, raw or frozen foods they handle at home.
While U.S. sales of raw diets continue to grow from $64 million in 2013 to $195 million in 2017, according to market research firm GfK, there is some risk that raw diets can present a higher risk of harmful bacteria than cooked or extruded products. The public should be aware that the U.S. Food and Drug Administration Center for Veterinary Medicine stated it "… does not believe raw meat foods for animals are consistent with the goal of protecting the public from significant health risks, particularly when such products are brought into the home and/or used to feed domestic pets; however, we understand that some people prefer to feed these types of diets to their pets."
Blake Hawley, Ph.D., president of Cedoga Consulting, Lawrence, Kansas, says recent advancements to ensure pet food safety with patented, natural processing aids have the potential to prevent contamination from Salmonella, Listeria, molds and mycotoxins. Many pet food producers, including raw food producers, test for E-bacteria, or Enterobacteriaceae, commonly called E bac, as an indicator of the presence of Salmonella or E. coli. There has been much written about deploying phages, a form of E bac, to combat Salmonella in raw meat proteins. Frank Monteleone, president of Food Safe Technologies, Charlotte, North Carolina, explains, "While many species of E bac will overwhelm Salmonella, the thought of contributing to a bacteria battle ground on their pet food is somewhat disturbing for most pet food producers. The best practice is to use processing aids to eliminate the bacteria as much as possible and as soon as possible after harvesting the raw proteins before water, temperature and time help them grow."
A call to innovate
Some of the standard ingredients available for years in specialty diets are glucosamine, chondroitin sulfate, inulin, fruits high in antioxidants or oils added to the formulations for the omegas. New ingredients are emerging that promise improved immune function, dental benefits, hip and joint health, relief for pets with food hypersensitivities and allergies, products designed to increase water consumption in cats or naturally improve atopic dermatitis in dogs, Hawley remarks. Processors should take an active role in investigating these new options.
Pet foods specifically formulated by knowledgeable veterinarians targeting specific health attributes and common pet owner concerns began in the mid-forties with Mark Morris, Ph.D., who later developed Hills Prescription Diet formulas. Work has continued in these areas but is no longer confined to the veterinary clinic. Hawley says, today these specialty foods target pets predisposed to common ailments such as kidney disease, liver disease, feline lower urinary tract disease/feline urinary syndrome (FLUTD/FUS), dental health, joint health and even cancer.
"Today's pet owners have greater access to information than at any time, and while the Internet is littered with fallacies around pet foods, our industry owes them the latest novel and scientifically proven functional ingredients," explains Hawley in an impassioned plea for the industry to innovate. "This is a huge opportunity for specialty food and treat processors to launch new products in which the level of actives present in the products are at truly efficacious levels, resulting in a functional benefit the pet owner can see in their pets." While geared toward animal supplements primarily, the guidelines provided by the National Animal Supplement Counsel are a great place to start, Hawley recommends, but the industry needs to look at the leading edge of human nutritional science as well for novel opportunities.
Many specialty-diet formulations include omega fatty acids for the broad benefits they can deliver. Omegas can be beneficial in treating flea allergy dermatitis, skin conditions, arthritis, kidney disease, feline immune deficiency virus (FIV), feline leukemia virus (FeLV) and cancer. New methods in both the human and pet arenas deliver the functionality of increased omega fatty acids to foods by being inherent in the muscle meat, milk and eggs. A new concept of delivering omegas 3 into pet foods comes from XFE Products, Des Moines, Iowa. Managing director of XFE Products James Ball says, "Our fully processed, proprietary, flax and canola product is added as a supplement to the feed of hogs, cows and chickens which enhances the omega 3 levels 200 to 400% in the resulting meat, milk and egg products." Nutritionist Dennis Nuttleman has worked with XFE Products for the past 15 years and partnered with Kansas State University to verify the omega 3 levels and the quality of the resulting products. XFE Products and Kansas State University shared product testing results in the American Society of Animal Science, March 2017.
Processing partners
Specialty pet foods can be a challenge to process for many reasons. Finding the right industry expert or services can be key to producing a safe, consistent and effective product. For low temperature, minimally processed or raw products, high pressure pasteurization (HPP) reduces the risk of microbial growth. HPP is a cold pasteurization technique which subjects finished product, already sealed in its final package, to a high level of isostatic pressure (300–600MPa/43,500-87,000psi) transmitted by water. This method of processing food has been used in human foods for some time and is now gaining popularity in pet foods. Pressures above 400 MPa/58,000 psi at a cold (+4°C to 10°C) or ambient temperature inactivate vegetative flora such as yeast, mold, bacteria, viruses and parasites that may be present in food. HPP not only improves food safety but also extends shelf life and maintains the textural and nutritional properties of the food.
High-protein pet food and pet treat formulas can be difficult to process efficiently and effectively in high volumes. Brands looking to meet the market demand for high-protein products can benefit from working with suppliers experienced in delivering meat inclusion at exceptionally high levels. "As the consumer demand for these specialty meat-add foods, supplements and treats continue to require higher meat inclusion levels — upwards of 100% as a percent to the dry feed rate — we have found a unique approach using the basis of our original single-screw design that has been extremely adaptable to these evolving product genres from high fresh meat to limited ingredient to grain free," says Will Henry, research and development at Extru-Tech, Inc., Sabetha, Kansas. "This helps our client-producers to provide the high-protein product consumers want at a manufacturing cost not achievable with most other processing methods."
For brands entering the specialty pet food and treat market, a co-manufacturer can be an important partner vested in the brand's success. Co-manufacturers such as Ballard Manufacturing, Pro-Pet, C.J. Foods and Barrett Ag invest in equipment and bulk ingredients and often help formulate new products at no charge to help bring a product to market. "Pet product brands use co-manufacturers because of the very high costs of equipment, the mountain of regulatory requirements, the savings on ingredients purchased in large quantities, the high cost of research equipment and the expertise required for research and production," says Frank Ballard, CEO, Ballard Manufacturing, Springville, Utah. "A brand can focus on marketing and sales and let the highly specialized co-manufacturer focus on product quality and production."
Standard versus ideal
Pet food today is well-balanced in that the essential nutritional requirements are established for pets, Johnathan Stockman, Ph.D., head of Clinical Nutrition Services at Colorado State University says, "…where we still need to improve is in finding the ideal level for each nutrient in each pet." New alternative protein sources from crickets, beans, fungi and bacterial sources are receiving attention. Stockman says, "The challenge we have is that we need to assess the safety of a new protein and figure out how to make sure all the necessary amino acids are bioavailable for pets that consume it." 
"The challenge we have is that we need to assess the safety of a new protein and figure out how to make sure all the necessary amino acids are bioavailable for pets that consume it," Johnathan Stockman, Ph.D., says. 
New ingredients, efficacious supplementation and new processing will continue to change in the future. Understanding the overall diet will improve as well. Stockman suggests long-term, well-controlled, feeding trials using new technologies will likely make it possible to assess the impact of the change in a diet. These would include "food-omics" a research technique allowing an extremely large number of nutrition-related measurements to be taken over a short period of time. In this instance, he believes it may take the form of a microbiome assessment in the gut and fecal matter that could reveal how feeding various diets impact the canine metabolism differently. 
As the science and technologies used in formulation and producing food for both humans and pet foods continue to become more advanced, the resulting outcome will be reflected in what is consumed and why. Many of these changes will come under scrutiny and pet owners will ultimately choose what specialty diet, functional food or treat is best for their pet.
As a consultant to the pet food and treat industry, author  Deena Krestel-Rickert, Ph.D., works with clients on ingredient introductions, palatability opportunities, brand development and pet food innovations.
Find more articles related to the pet food and treat industry on the new Pet Food Processing landing page.