NEW YORK — What is it like to develop products for cult-favorite gourmet burger chain Shake Shack? Since day one, the restaurant has developed a loyal following with its Angus beef burgers, crinkle cut fries and frozen custards. Today, Shake Shack is known for its high quality classics as much as it is for its limited-time offerings and buzzworthy collaborations, so R.&D. members such as Allison Oesterle, Shake Shack's senior director of product development and quality assurance, are central to its ongoing success.
Hired as senior manager of culinary R.&D. in 2015, Ms. Oesterle was promoted to director, leading the product development team for the rapidly expanding fast-casual chain.
"I was looking to find a company with an ethos I believed in, and both Shake Shack's and Danny Meyer's views on hospitality resonated with me."
Ms. Oesterle has played an integral part in developing new menu items including Chick'n Bites, which are hand-breaded, sous-vide cooked chicken breast. She creates processes for how items are developed, tested and implemented, and ensures quality assurance at a domestic and international level.
The chain started in 2004 as an actual shack — a kiosk by Chef Danny Meyer in Madison Square Park — and today has 148 domestic and 77 international locations, as well as a new Innovation Kitchen in Manhattan. Ms. Oesterle shared with Food Business News insights on working for the famed chef, scaling up culinary innovations and helping make burger history.
Food Business News: What does your job entail on a daily basis?
Allison Oesterle: My job title encompasses a lot; my job means a lot of different things to me. The quality assurance side of my job title means that I am responsible for all food safety and quality related to our food. The product development side means that I am responsible for any commercialized or manufactured product, so I work closely with our suppliers to take our in-house recipes and scale them up to something that can be produced in a manufacturing setting.
There isn't necessarily a typical day. I divide my time between quality assurance tasks and product development. Typically, I spend the first couple of hours of the day reviewing any food safety audits that our locations received the day before. We have a regularly scheduled Thursday morning meeting for tasting any new items that we have in the works, so my week will be geared towards getting products in line for those meetings.
Which innovations are you most proud of? How do you ensure a smooth introduction to market?
Ms. Oesterle: From a product standpoint, I'm especially proud of our recent national menu innovation, Chick'n Bites. This is a project that was really my baby from day one — taking on the responsibility to both develop the flavor profile and find a way to work in a new and procedure-intensive product into our cooking line. It was also an incredibly long process as the development of Chick'n Bites was about 12 months, and that was just the beginning process of determining if we could make this work everywhere.
Setting up processes for how we develop and test items has been one of my main focuses since starting at Shake Shack. It is critical to have good processes in place so that the introduction of a new menu item can go smoothly.
What is your role in the new NYC Innovation Kitchen?
Ms. Oesterle: I work alongside our culinary innovation team in the Innovation Kitchen [opened last fall] to support their development of new items and concepts. With the new kitchen in the basement, we are able to do preliminary tests of menu items in the West Village Shake Shack located just above us. [The home office is on the third floor.] This allows us the flexibility to quickly change the menu when a new idea is created and also for us to gauge customer interest. Once we've done a preliminary test at the West Village, we will determine if the item has legs to be expanded to other locations and we start the process of doing a scale-up and full-on test of the item.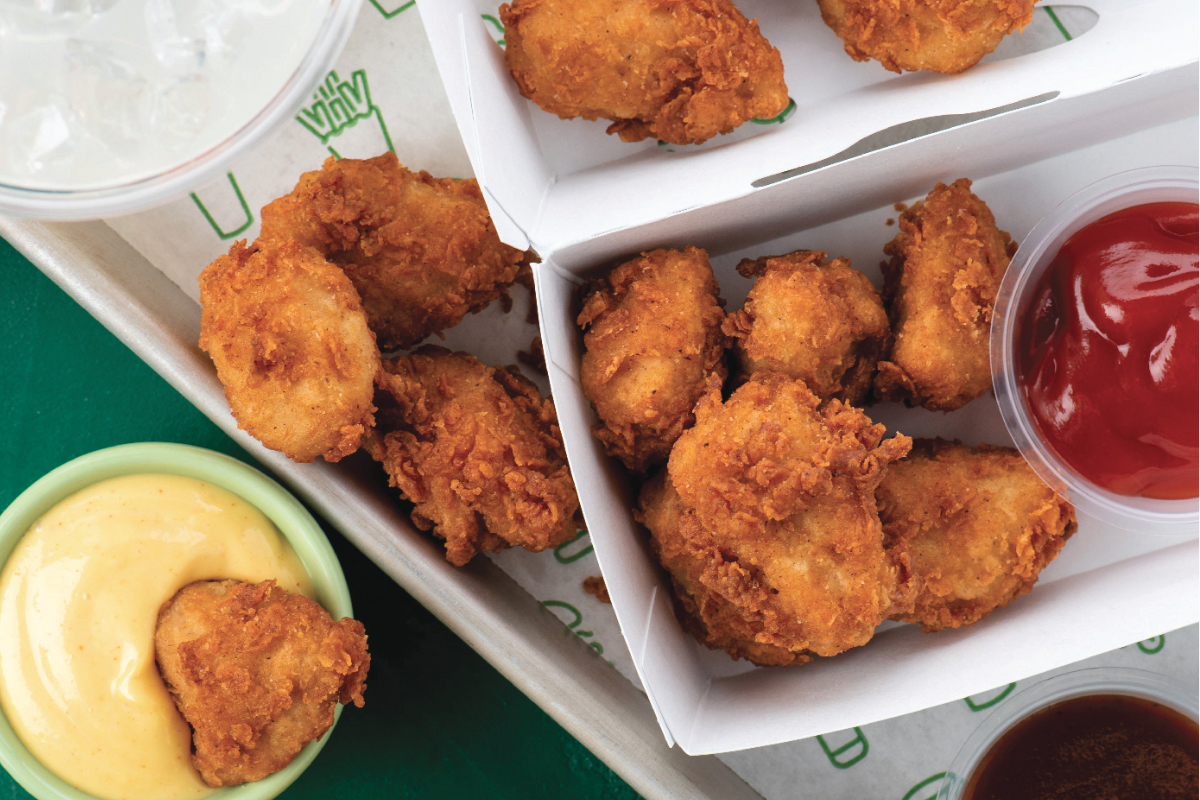 What role do you play in creating a limited-time offer?
Ms. Oesterle: Our team consists of culinary, product development and quality assurance, with executive chef John Karangis and culinary director Mark Rosati leading the innovation side of development. Prior to our move to the Innovation Kitchen and the addition of John to the team, the innovation and commercialization aspects of what we do were less delineated; while we were pushing for creativity and innovation, we were always working with the guardrails of feasibility of cost and operations in mind. By separating the functions, John and Mark are able to innovate with fewer guardrails in the way of creativity. Once they have developed a concept or idea and it has been vetted from a flavor and appeal perspective, it is up to me and my team to turn it into something that can be executed consistently and with excellence.
How critical is standardization of flavor and presentation to the success of the brand?
Ms. Oesterle: Consistency of product and product quality is critically important to us. We want our guests to be able to travel worldwide to our locations and have a true Shake Shack experience, so we work hard to make sure our signature products are as similar as they possibly can be from location to location. I'm responsible for working with our supplier partners to commercialize recipes, ensure that those products are consistently produced to our specification and ensure that those facilities meet our quality and food safety standards.
What have you learned from working for/with Chef Danny Meyer?
Ms. Oesterle: I think the main thing I have learned is the importance of hospitality and company culture. Having a strong culture defines the success of both employees and the company as a whole so it's been so great to take part in that success at a culinary level.