KANSAS CITY  —Potassium may be added to food applications from baked foods to beef jerky. Americans could consume more potassium, especially since it assists in reducing sodium, which Americans tend to consume at levels that are too high.
Adding potassium to many applications, however, may bring taste issues.
"Potassium helps offset the negative effects of high blood pressure," said Janice Johnson, Ph.D., food science lead for Cargill Salt, Minneapolis. "Using potassium chloride as a substitute for salt helps increase potassium while decreasing sodium, thereby working in tandem to offset the negative effects of high blood pressure."
Potassium typically is added to food as a salt with potassium chloride, dipotassium phosphate and tripotassium citrate being the most common, said Patricia Catauro, principal food scientist for Watson L.L.C., West Haven, Conn., a business of Glanbia P.L.C. The ingredients tend to impact the sensory quality of a product since they may add metallic off-notes, saltiness, soapiness or acidity that carries through to the final product.
"To manage the sensory effects of adding these salts into foods, Watson offers thin layer encapsulations of many of them," she said.
The perception of saltiness or off-flavor is minimized in most applications by coating each potassium chloride salt with a thin (5% to 15%) layer of ethylcellulose or other encapsulant.
"The thin-layer coat can also improve shelf stability as it also provides a physical barrier to slow moisture uptake from some of the hygroscopic salts," she said.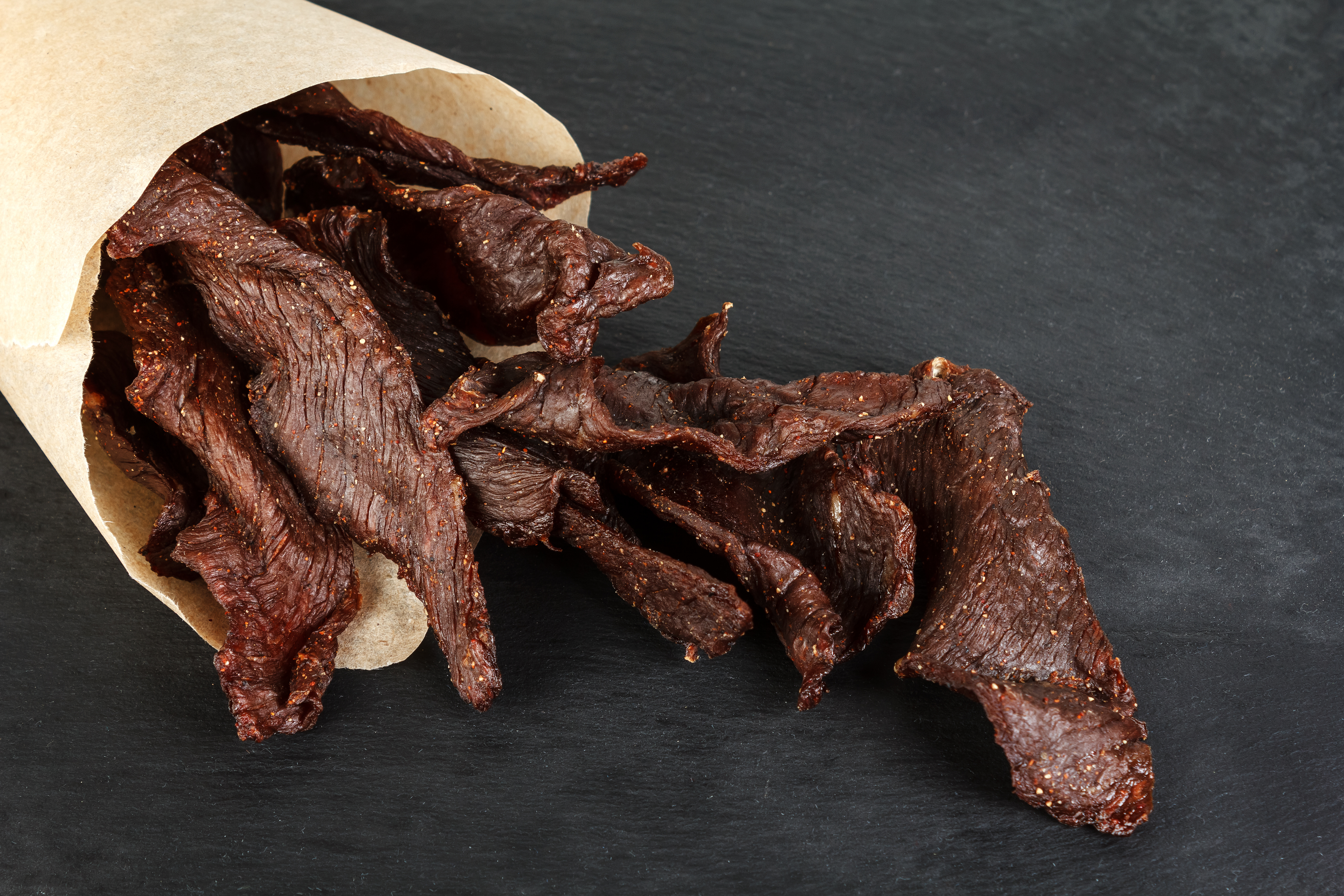 Opportunity exists in beef jerky, said Dr. Johnson. Typical beef jerky may have sodium content of 230 mg per 1 oz and potassium content of 85 mg per 1 oz.
"When we replaced salt with potassium chloride in one of our recent prototypes, the nutrient content changed to 110 mg of sodium and 220 mg of potassium per 1 oz, resulting in a 52% sodium reduction and 294% increase in potassium," she said.
Potassium chloride has been shown to reduce sodium by up to 50% in certain applications, Dr. Johnson said. Salt plays several functional roles, including microbial management by minimizing the growth of undesirable organisms, protein modification to produce desired textural properties, and flavor (both salty and flavor enhancement).
"No other single ingredient can perform all the functional roles of salt," Dr. Johnson said. "The ingredient that comes closest is potassium chloride. It performs all the functional roles of salt, with the exception of flavor at higher levels of salt replacement."
Potassium chloride can be a 1-to-1 replacement of salt, but it may have a bitter taste if added at levels that are too high, she said.
Companies may consider baked foods for potassium inclusion as well. Church & Dwight, Inc., Ewing, N.J., offers Flow-K potassium bicarbonate, a food-grade potassium bicarbonate composed of a proprietary flow aid system that assures excellent storage and handling properties, according to the company. The product commonly is used in leavening systems for cakes, muffins and cookies.
The Food and Drug Administration beginning in January will make it mandatory for companies with $10 million or more in annual sales to list potassium on the Nutrition Facts Label. Smaller companies will have until 2021. Adequate potassium intake is beneficial in lowering blood pressure, according to the F.D.A., and intakes of the nutrient also are low among some population groups.
The Dietary Guidelines for Americans 2015-2020 considers potassium a nutrient of public health concern because low intakes are associated with health issues. The Dietary Guidelines also recommend people consume less than 2,300 mg per day of sodium. A Dietary Guidelines Advisory Committee has been established to assist in creating the Dietary Guidelines for Americans 2020. A fourth meeting of the D.G.A.C. is set for Jan. 23-24 in Houston.
"We expect the interest and importance of potassium to still be key in the upcoming D.G.A.s since it is so widely under-consumed and difficult to get from the diet," Ms. Catauro said.