CHICAGO — David Dafoe, founder of Louisville, Ky.-based Flavorman, a beverage development company, predicts "better-for-you" beverages emphasizing bright and refreshing flavors are poised to take center stage in 2020. Many will include the floral and herbal profiles of botanicals. This group includes the subtly sweet, aromatic flavors of basil, cilantro, lavender and elderflower, as well as the sour, tart flavors of sorrel and orange peel. Flavors highlighting wood and pine notes — think fir needle, balsam and cedar — will add another dimension of freshness and complexity to the next generation of beverages.
Many of the functional flavors provide mood-altering properties. Others deliver concentrated sources of antioxidants. Some are associated with improved productivity or sleep, while others simply carry a healthful halo. Tasting is believing.
While the taste profile of kombucha is not for everyone, it is precisely that effervescent, tart and slightly sweet flavor that assures the consumer they are drinking the ancient Chinese fermented probiotic tea drink. And rather than masking what some might consider too sour of a taste, kombucha manufacturers build on that profile, often adding layers of flavors with known functional benefits.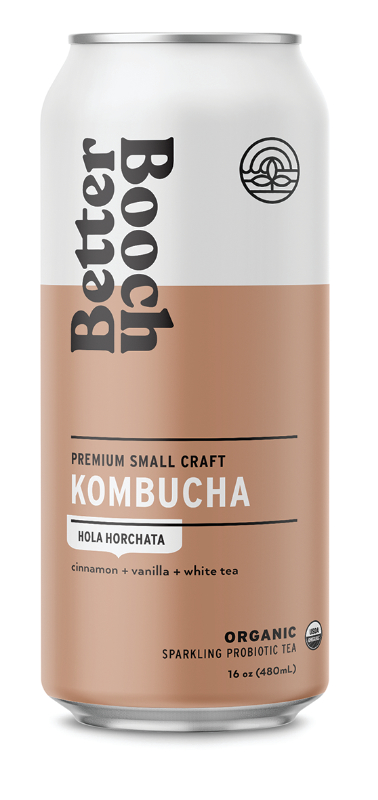 Los Angeles-based Better Booch, a maker of kombucha tea, for example, recently released its eighth flavor: Hola Horchata. This take on the classic Mexican treat contains notes of cinnamon, star anise and creamy rice with oolong tea. The cinnamon within the brew has anti-inflammatory properties and may help support blood sugar levels, while the oolong tea base is full of antioxidants and may boost metabolism.
Irvine, Calif.-based Good Culture L.L.C. is rolling out Wellness Probiotic Gut Shots. To set itself apart from other probiotic shots in the market, the company is relying on traditional flavors like vanilla, chocolate, chai and pineapple and combining them with functional ingredients. The chai matcha variety is designed to create calm, focused energy, while pineapple turmeric supports brain function and joint health. Chocolate chaga is said to boost energy and deepen immunity.
Chaga mushroom is a fungus recognized for its wellness benefits. It does not taste like a typical mushroom; rather it has an earthy flavor with slight bitterness and contributes a richness to beverages unlike any other ingredient. Tasting that richness is an assurance to consumers who want to reap the benefits of chaga.
Laird Superfood, Sisters, Ore., now offers a hot chocolate mix with functional mushrooms. In addition to chaga, the mix contains reishi and maitake mushrooms. Described as adaptogenic mushrooms, the blend adds a distinct smooth, velvety layer to the prepared cocoa's flavor profile, according to the company.
Many flavorful functional ingredients are categorized as adaptogens. This term describes compounds perceived to boost the immune system. Whether a dose is sufficient for consumers to reap any of the adaptogen's purported benefits is unclear, but tasting the adaptogen may have a psychological effect, and for some, that's all they need.
The concept may be categorized as holistic wellness, one of the top beverage trends for 2020, as identified by Imbibe, Niles, Ill. These are beverages that support physical and emotional health. The beverage innovation company expects brands to "go back to the basics" by incorporating essential nutrients into beverages as well as novel ingredients that may improve relaxation and temperament. Tasting the ingredients helps consumers believe in their effect.
This fueled Darmstadt, Germany-headquartered Dohler to develop a cannabis flavor intended to add authenticity to cannabis-infused products. It is a grassy, skunky, musty, sweet, acidic taste that many consumers would likely find offensive. Dohler anticipates that when added to the growing number of hemp, cannabidiol and tetrahydrocannabinol beverages entering the market, it will subconsciously validate the alleged benefit.
Currently several manufacturers of such beverages are attempting to differentiate through the inclusion of flavorful adaptogens. Santa Monica, Calif.-based mood33 has launched a line of hemp-infused herbal teas that include six mood-specific flavors, each providing a blend of herbs and botanicals designed to work synergistically to deliver different mood-based "states," said Eric Schnell, co-founder.
The company uses microencapsulation to ensure the hemp extracts are water soluble and bioavailable, so there's no waiting to feel the effect, Mr. Schnell said. But it is the flavors that likely reassure the consumer that there is action. The calm variety is flavored with lavender and chamomile, while the well-being formulation includes blueberries, reishi mushrooms and hops.
Jen Berliner, chief executive officer, Medlie Inc., Sonoma, Calif., said today's health and wellness consumer is looking at ingredient statements and nutritional information. What's inside the beverage matters. And often, tasting is believing.
Medlie takes a back-to-basics approach with its line of Wellness Shots made with whole fruits and vegetables, not just their juice. They are blended drinks containing all the inherent nutrition of the fruits and vegetables, including the seeds and skin. Medlie relies on high pressure processing (H.P.P.), a food safety technique that eliminates pathogens and extends shelf life, to preserve the straight-from-the-garden flavor the company celebrates.
"We hero fruits and vegetables," Ms. Berliner said. "They are loaded with flavonoids, powerful phytonutrients with antioxidant properties."
The shots contain a "medley" of identifiable fruits and vegetables. The digestion variety has the taste of antioxidant-rich tomatoes, cucumber and apple cider vinegar.
Ms. Berliner said apple cider vinegar is a gut health superhero. It is rich in enzymes that reduce bloat and enhance digestion, complementing the fiber from whole tomatoes and cucumbers to keep the gut happy.
The sweet taste of carrot and orange juices, the base of the immunity shot, is suggestive of a heavy dose of cold-thwarting vitamin C. The spiciness from ginger and turmeric assures the consumer that the shot contains adaptogens. The two have antioxidant and anti-inflammatory properties, and when combined with the vitamin C, may help balance and restore the immune system.
Turmeric is mildly aromatic with hints of orange and ginger and a slight bitter finish. With turmeric-enhanced beverages, it's tasting and seeing to believe, as turmeric has a brilliant yellow color.
The taste and color comes through in LivTru Wellness Turmeric Water. The Los Angeles-based company makes curcumin — the active ingredient in turmeric — the star in its line of natural beverages formulated to fight inflammation.
Remedy Organics, New York, makes turmeric the prominent flavor in the Golden Mind functional wellness beverage. It also includes the (flavorless) omega-3 fatty acid docosahexaenoic acid, which has been shown to support brain, heart and eye health.
LovePlantz, Hollywood, Fla., amplifies the taste of plants in its namesake line of H.P.P. beverages by including peels, pulp and seeds, giving the beverages a more earthy taste profile. They are described as "blended fruits, vegetables, nuts and seeds that is not a juice, rather whole foods that you drink."
Matcha tea is another whole food-style beverage. Matcha is the finely ground powder of green tea leaves. It is loaded with antioxidants and many other health and wellness compounds. Matcha has an earthy, slightly bitter flavor and is recognizable by its creamy green appearance. Tasting and seeing is believing when it comes to matcha.
Seattle-based Jade Leaf Matcha developed Matcha Latte Infusions in four functional formulations. "Balance," for example, includes probiotics, prebiotics and ginger root to support digestive and immune health, while "Protect" brings together ayurvedic herbs, including turmeric, ginger, cardamom, cinnamon and black pepper to support digestion.
Even coffee has become a beverage flavor. The tastes of both coffee and tea are suggestive of natural energy through their inherent caffeine content. Such natural energy complements the "less is more" trend that is driving the growth of clean label drinks, Mr. Dafoe said.
"Consumers are becoming more attentive to what they put into their bodies, and they're also demanding more from what's deemed 'sip worthy," Mr. Dafoe said. "As consumers become more health conscious, flavor trends will reflect a market shift toward beverages that maximize on quality and functionality, all while packing a flavor punch."