VEVEY, SWITZERLAND — The past year has been a flurry of product development and innovation for Nestle S.A., partly because the company has accelerated to match the pace of innovation from emerging brands.
"I think the biggest surprise to everyone, whether you're new to the industry or whether you're an old hand, is simply for the last three years the amount of change that has occurred in this industry and in particular the amount of innovation that has been brought to the market by small and mid-sized focused companies," said Ulf Mark Schneider, chief executive officer of Nestle, during a July 26, 2019, earnings call to discuss first-half results. "And the challenge was very clear. We had to rise to this level and basically meet that rate of innovation; hence, the changes we've done to our research and development organization.
"And also when it comes to launching products faster and learning on the fly and working with versions 2.0, 3.0, to learn as we go as opposed to answering all the questions first and then launching maybe too late, that sort of approach, I think, spreading back in the organization, a business where we responded well, and where, I think, we are much nimbler now and doing well. And this is where the industry is going, continues to go, and hence, you'll see more efforts in that regard."
These efforts are evident in Nestle's partnership with Starbucks Corp., which began in August 2018 and has produced a slew of new products in the last year.
"We … unveiled a product line with 24 s.k.u.s in mid-February," Mr. Schneider said. "By mid-March, we're on the store shelves. Now you just saw the launch of the creamers. I'm already telling you that there's a second wave of markets coming from October and there's a new wave of s.k.u.s coming from January. So it's a constant flow of new products coming to the markets, and this will be no different in approach from what any start-up would do. And I think this is where we had to up our game, and we did successfully."
Today, Nestle announced the newest Starbucks products hitting shelves in 2020, including Cold Brew Concentrate, Fresh Brew Coffee, Starbucks Coffee with Essential Vitamins, Starbucks Coffee with Golden Turmeric and Starbucks Coffee with 2x the Caffeine.
New Starbucks Cold Brew Concentrate is available in Signature Black and Caramel Dolce flavors in both multi-serve and single-serve formats. To make cold-brew coffee, consumers need only mix water and ice with the concentrate.
Starbucks Fresh Brew is packaged in pre-portioned, airtight cans that "lock in the peak flavor" of the coffee, Starbucks said. Available in Pike Place Roast, French Roast and Breakfast Blend, the grounds brew 4-6 cups of coffee.
Starbucks Coffee with Essential Vitamins is made with five B vitamins and comes in roast, ground and K-Cup pod formats.
Starbucks Coffee with Golden Turmeric combines coffee with turmeric, ginger and cinnamon and is available in roast, ground and K-Cup pod formats.
Starbucks with 2x the Caffeine contains twice the caffeine when compared to one Starbucks K-Cup pod of black coffee. The coffee is available in the K-Cup pod format.
In February 2019, Nestle launched its first range of global coffee products under the Starbucks brand. The lineup comprises 24 products, including whole bean, roast and ground coffee, as well as the first Starbucks capsules developed using Nespresso and Nescafe Dolce Gusto coffee and system technologies. Other offerings include a variety of signature Starbucks blends and single-origin coffees as well as a selection of classic beverages such as caramel macchiato and cappuccino. All products are made with ethically sourced, 100% arabica coffee.
"Our two teams have done an outstanding job in just six months developing a range of new and exciting premium coffees, crafted with care and passion, combining Nestle's coffee and system know-how with the Starbucks coffee, roasting and blending expertise," said Patrice Bula, executive vice-president, head of strategic business units, marketing, sales and president of Nespresso. "With Nescafe, Nespresso and Starbucks, Nestle now has the best coffee portfolio to delight consumers around the world."
In August 2019, Nestle expanded the Starbucks brand into the retail refrigerated creamer category.
Starbucks Creamers initially were launched in caramel, white chocolate and cinnamon dolce flavors. The products are inspired by three popular beverages served at Starbucks cafes: caramel macchiato, white chocolate mocha and cinnamon dolce latte. In the fall, Nestle debuted a pumpkin spice variety and, in December 2019, the company introduced a toffeenut creamer.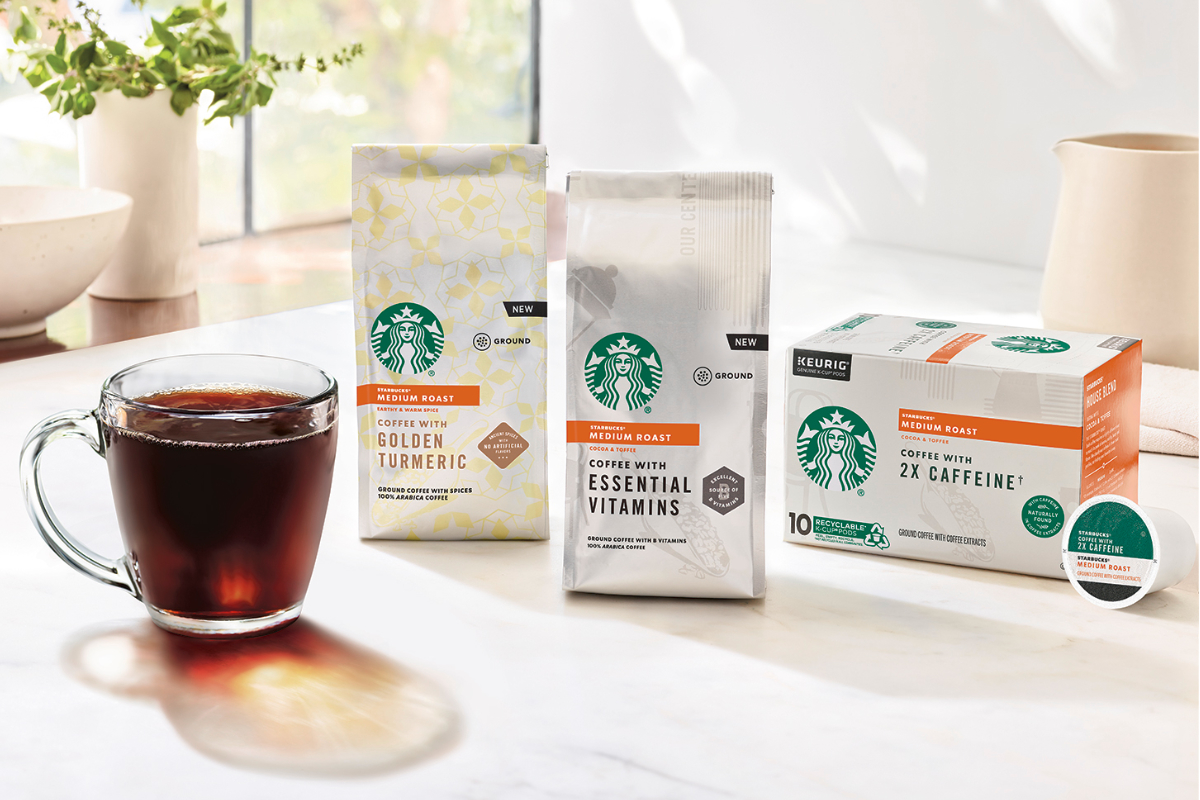 "The global coffee alliance has allowed us to develop and launch new Starbucks products at an unprecedented speed," said David Rennie, head of the beverages strategic business unit for Nestle, at the time of the creamers launch. "We are very pleased to expand the Starbucks brand into the creamers category less than a year after we closed the deal. We will continue to move fast to deliver great Starbucks coffee experiences to our consumers around the world."
Plant-based foods have represented another big opportunity for Nestle.
"This plant-based arena is ideal to showcase the speed and the depth of our research and development organization," Mr. Schneider said. "We believe that plant-based products should not only be delicious but that they should also offer a superior nutritional profile. Right for you, right for the planet. This credo summarizes the potential health benefits as well as the lower environmental burden, in particular lower CO2 emissions and water usage.
"I understand that there's a lot of media buzz in this space right now, and at times, it is hard to put all the details in the proper context. I just wanted you to know that we have the ambition and the perseverance to be a major player in this area. Initial results and growth rates are very encouraging, and we see all the elements of a significant long-term trend in the market."
In September 2019, Nestle threw its hat in the ring of the growing plant-based burger segment in the United States with the launch of the Sweet Earth Awesome Burger.
Developed by Sweet Earth Foods' culinary team with Nestle R.&D. support, the Awesome Burger is made with U.S.-sourced yellow pea protein, resulting in a patty that provides 26 grams of protein and 6 grams of fiber. The burgers are Non-GMO Project verified and come in packs of two quarter-lb patties.
"The Sweet Earth Awesome Burger has a delicious, grilled beefy flavor, great texture and juiciness, with the added benefit of plant-based fiber and protein," said Kelly Swette, c.e.o. of Sweet Earth Foods. "We've been making delicious plant-based proteins for more than eight years, so the Awesome Burger is a natural evolution of our work in this space."
Alongside the Awesome Burger, Nestle is offering Sweet Earth Awesome Grounds, a ground version of the plant-based protein. Also Non-GMO Project verified, the grounds contain 16 grams of protein and 4 grams of fiber per serving and come in 12-oz packages.
In December 2019, Nestle announced the launch of meatless Digiorno and Stouffer's offerings made with Sweet Earth Awesome Grounds.
The new Digiorno Rising Crust Meatless Supreme pizza is topped with Sweet Earth Awesome Grounds plant-based protein, mozzarella cheese, green and red bell peppers, onions and black olives. The Stouffer's Meatless Lasagna features Sweet Earth Awesome Grounds, herb-seasoned tomato sauce and mozzarella cheese.
"There's no denying the current modern food movement is revolutionizing the plant-based space," said John Carmichael, president of the Nestle foods division. "By adding Sweet Earth Awesome Grounds to Stouffer's and Digiorno offerings, we're able to offer our customers the chance to incorporate plant-based meals into their diets while still enjoying the same convenience and delicious flavor of brands they know and trust."
Beyond plant-based meat alternatives, Nestle also has invested in plant-based milk alternative innovation.
This month, the company is launching GoodNes chocolate oat milk, the first non-dairy product line under the Nesquik brand. The new product "was inspired by recent trends of consumers seeking plant-based options with more protein and less sugar," Nestle said.
Nesquik GoodNes provides 6 grams of plant-based protein per cup from a blend of oat and pea protein and contains 40% less sugar than regular chocolate almond milk, according to the company. GoodNes contains 130 calories and 12 grams of sugar per cup and is dairy-free, gluten-free and made with non-G.M.O. ingredients.
In October 2019, Nestle's Garden of Life brand of vitamins and supplements entered the ready-to-drink segment with Garden of Life Organic Protein Plant-Based Drinks. The beverages provide 21 grams of protein, 5 grams of MCTs, 190 calories, 0 grams of sugar and 1 gram of net carbs per 11-oz bottle. The drinks contain no dairy, soy or gluten and are available in chocolate and vanilla flavors.
"Today's health-minded consumers are looking for a quick source of clean protein — but they also want products made with ingredients they can trust," said Brian Ray, president of Garden of Life. "We have a passion for helping people achieve extraordinary health, and we're proud to offer products that are made with traceable ingredients and offer the assurance of respected third-party certifications, including certified U.S.D.A. organic, Non-GMO Project verified and NSF Certified for Sport."
Nestle's Chameleon Cold-Brew brand in July 2019 introduced cold-brew coffee blended with organic oat milk. Sweetened with organic cane sugar, the dairy-free beverage is nut-free, non-G.M.O. and U.S.D.A. certified organic. Varieties include original and dark chocolate.