KANSAS CITY — One of the leading flavor trends in the new year is a mystery. Brands are challenging consumers to guess the correct flavor of cookies, candy, chips, beverages and more — in some instances, for a prize. In the past year, products featuring "mystery" flavors have debuted from Oreo, Mountain Dew, Dannon and Pringles, among others.
"To continue to meet consumers' desires for unique snacking opportunities, we strive to create new, innovative flavors that excite fans and introduce even more flavor stacking combinations," said AnneMarie Suarez-Davis, vice-president of marketing for Pringles. "The mystery flavor will bring a new insanely accurate Pringles flavor to shelves and reward one lucky fan who can guess the flavor correctly."
Guesses submitted on social media included mustard, honey mustard, chicken and waffles, and peanut butter. The correct answer was ham and cheese.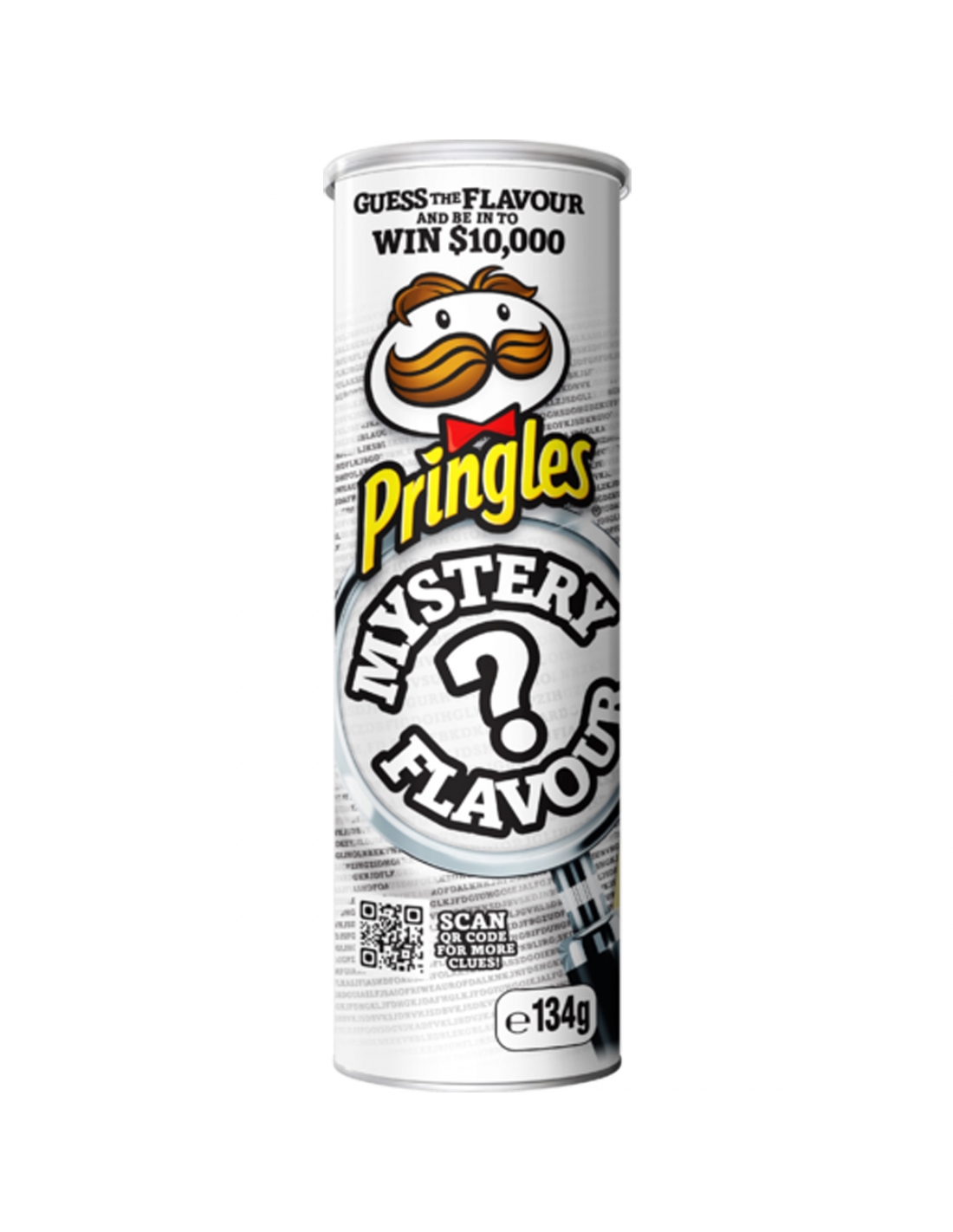 "We strove to create the mystery flavor in a way that all components fit together to make a cohesive, flavorful taste," said Becky Wolfe, product development scientist at Kellogg Co., Battle Creek, Mich., owner of the Pringles brand. "The flavor was especially fun to develop because it needs to be spot on in order for fans to guess the taste."
Product developers are using mystery flavors to generate brand buzz and drive engagement, said Pamela Ocarson, consumer insights manager at FONA International Inc., Geneva, Ill.
"We have to know what it is," she said. "We can't not try it."
Similarly, limited-edition and seasonal flavors tap into the consumer's fear of missing out. "New discoveries" was listed as a top flavor trend by Innova Market Insights, Arnhem, The Netherlands. Two out of three respondents to a survey said they love to discover new flavors.
"An example of a chocolate bar that might appeal to this group is a barbecue potato chip 70% dark chocolate bar," said Lu Ann Williams, director of insights and innovation at Innova Market Insights. "That represents this whole idea of flavor excitement.
"Another example is ready-to-eat lobster meat with 'secret' seasonings, so you don't know exactly what it is. Seventy-two per cent of Americans found this exciting."
While a quest for adventure is driving flavor innovation forward, traditional tastes will resonate with consumers in the coming year, Ms. Ocarson said. She cited white peach, key lime, hibiscus and elderflower as flavors to watch in 2020, based on an analysis of restaurant menus, new product introductions and print media data.
"We're seeing florals in a lot of different things," she said, indicating an orange blossom crème brûlée in a fine dining restaurant and a canned cocktail of sparkling vodka, pear and elderflower as examples.
Baharat, a Middle Eastern spice blend, is an "up-and-coming" flavor trend. Ms. Ocarson described it as a more complex, savory take on the seasonally trendy pumpkin spice.
"The name might be new to consumers, but what's included definitely isn't," she said. "It's black pepper, paprika, cardamom, cumin, coriander, nutmeg, cinnamon and clove."
Examples on restaurant menus include crispy lemon baharat fried chicken, Greek yogurt topped with baharat granola, and butternut squash soup with a sprinkle of baharat pistachios.
"It's very familiar but providing a unique offering," Ms. Ocarson said. "It will probably be coming out in a Trader Joe's spice mix very shortly."
Another emerging flavor is rosé wine, which is appearing in gummy candies, jelly beans and non-alcoholic beverages.
"It's no longer just a trendy sparkling wine," Ms. Ocarson said. "It's translating into different categories."
Traditional is trendy
Classic blueberry was named the flavor of the year by Firmenich, Geneva, Switzerland, as a perennially popular and enduring taste that is associated with health and wellness.
"This choice of a more traditional flavor as our 'flavor of the year' actually represents a more significant shift in the food industry toward more intentional and emotional design," said Jeffrey Schmoyer, vice-president of global insights for Firmenich. "Consumers are more inclined to try something unfamiliar to them, such as kombucha or a cashew yogurt, if it's flavored in a way they can connect with on an emotional level. We see blueberry playing a bigger role in the coming years in helping product developers introduce new food concepts around the world."
Blueberry has floral notes and a "distinct tanginess" with green and sweet elements, said Eric Tang, a flavorist at Firmenich.
"Besides the classic pairings you find with blueberry, I'm also drawn to pairing it with less obvious matches, such as black tea or habanero," he said.
Additionally, blueberries are used in savory dishes, including pizza, grain bowls and meat, and may be incorporated in noodles to add nutrition and color, according to the company.
Previously, Firmenich awarded the "flavor of the year" distinction to hibiscus, fig, cool cucumber and coconut. After years of searching for the next big thing, the food and beverage industry may bet on basic flavors as a new decade begins, the company said.
Flavor evolution
Over the past decade, trending flavors have endured and evolved. Trend forecasters more than 10 years ago predicted the popularity of pomegranate, lavender and chimichurri. Bacon was named a top flavor to watch in 2010.
"Indulgence is always top of mind for consumers," Ms. Ocarson said. "They give themselves permission to indulge. They're most interested in classic indulgence, and with that comes chocolate, s'mores and even donuts. We've seen a huge rise in expanding donuts from your traditional glazed to things like green tea and bacon. I never thought we'd see maple bacon on a donut 10 or 12 years ago."
Sweet and salty combinations continue to shine, according to FONA International; recent examples include a salted caramel coffee creamer and pretzel-inspired Pop-Tarts. Using regional salts such as Himalayan or volcanic delivers on consumer desire for authenticity, while calling out browned, stout or smoked caramel notes offers a point of differentiation.
"People will be pushing the limits to create the next maple bacon, the next salted caramel … those are the ones consumers already love, so how do we create that next great thing?" Ms. Ocarson said.
An emerging flavor combination poised to gain traction in the years ahead is sweet and umami, said Boulder, Colo.-based food trends forecaster Elizabeth Moskow. Already embraced in several dubious pairings — apple pie with cheddar cheese and the Chicago-style cheese and caramel popcorn mix, as examples — what Ms. Moskow dubbed "sexy-ugly flavor mash-ups" are appearing on more menus. An ice cream flavor at Salt & Straw, Portland, Ore., combines fish sauce caramel with palm sugar. A dessert served at Fat Rice in Chicago features a crispy rice treat infused with pork floss, nori and fish sauce caramel.
"If you're looking for a flavor pow and interesting dining experience, it's definitely a space chefs will start exploring a bit more," Ms. Moskow said.
Much of the interest in unusual flavor pairings is driven by younger consumers, who also enjoy products offering multiple textures and surprising sensations. An example developed for this demographic comes from Mars Wrigley Confectionery, a division of McLean, Va.-based Mars, Inc., which debuted Zombie Skittles for the Halloween season. The product featured an assortment of fruit-flavored candies with a hidden "rotten zombie" flavor mixed into each package. The research and development team was tasked with creating a "disgusting but enjoyable" flavor, according to the company.
Consumers craving an experience will continue to enjoy the safe experimentation offered by mystery flavors that most likely resemble a familiar profile. The latest Oreo cookie mystery flavor had a churro-inspired crème. Mountain Dew VooDew was created to taste like candy corn. A Dannon Danimals smoothie developed for children featured a yet-to-be-identified flavor that prompted such guesses on social media as cookie dough, cinnamon roll, french toast and salted caramel.