KANSAS CITY — Many breakthroughs have occurred since Justus von Liebig, a chemist, combined cow's milk, wheat flour, malt flour and potassium bicarbonate to create an infant food in 1865. Innovation in infant formula has not stopped since, nor does it appear likely to do so.
Nearly a century and a half later, Nestle SA and Danone SA are investing millions of dollars in infant formula research. Bunge Loders Croklaan, the edible oils business of St. Louis-based Bunge Ltd., won an innovation award for its infant formula ingredient at Food Ingredients Europe last year. Abbott Nutrition, meanwhile, has made strides in human milk oligosaccharides.
Marketing opportunities for infant formula could arise later this year as the US Department of Agriculture and the US Department of Health and Human Services are scheduled to release updated Dietary Guidelines for Americans. For the first time the Guidelines will include recommendations for pregnant and lactating mothers as well as infants up to age 2 (see related story on Page 30).
An infant feeding survey released in September 2019 by the Infant Nutrition Council of America, Atlanta, found 70% of infants are fed infant formula at some point in their first year. The bipartisan polling firms Greenberg Quinlan Rosner Research and Public Opinion Strategies conducted the survey of 802 mothers and 400 caregivers from Feb. 27 to March 11, 2019. The survey revealed 61% of mothers and 51% of caregivers oppose health care professionals or the government restricting infant feeding information to breastfeeding only.
"While breastfeeding rates continue to increase, a significant number of mothers and caregivers use some combination of breast milk and infant formula," said Mardi Mountford, president of the Infant Nutrition Council of America, an association of manufacturers of infant formulas, follow-up formulas and growing-up milks. "Thus, there is a need to provide accurate information about both options, and the DGAs should be supportive of the families who use one or both of these options."
MarketsandMarkets, Inc., Northbrook, Ill., forecast the global infant formula ingredients market to grow to $25.5 billion in 2025 from an estimated $16.7 billion in 2019.
Companies are investing in infant formula.
Danone SA, Paris, invested €240 million in a Nutricia Cuijk facility in The Netherlands that primarily will produce specialized infant formula that meets the needs of infants diagnosed with specific medical conditions, including those allergic to cow's milk, as well as standard infant formula. The plant employs a manufacturing process called hydrolyzation that breaks down the cow's milk protein into smaller protein fragments, making it less likely for the cow's milk protein to trigger an allergic reaction in babies with such a milk allergy.
The facility will produce more than 600 different products for customers in over 90 countries, but that does not include the North American market, said Gemma Hart, vice president of communications and community affairs for Danone.
Bunge Loders Croklaan won its Food Ingredients Europe award in December 2019 in Paris for its new Betapol Plus oleic-palmitic-oleic (OPO or SN-2 palmitate) lipids for infant formula. The blend for infant formula offers an OPO or SN-2 palmitate level of 60%. Betapol's benefits include improved energy intake, increased bone mineral density, reduced constipation, healthy gut bacteria, less crying and better sleep, according to the company.
"As lipids are essential for nutrient requirements and they contribute almost half of a baby's energy intake, the correct lipid structure is key for proper digestion and absorption," said Emiliano Rial Verde, PhD, vice president of nutrition at Bunge Loders Croklaan. "OPO is naturally present in mother's milk, with 60% to 75% palmitic acid levels in the middle, or SN-2, position, and oleic acid in the outer SN-1 and SN-3 positions. This unique OPO lipid structure allows babies to absorb more nutrients."
Betapol Plus was created through 25 years of clinical research, he said.
"Until now, no ingredient supplier could commercially provide an OPO or SN-2 palmitate level that surpassed 40% to 45%, and most commercial infant formulas have mainly POP (palmitic-oleic-palmitic) fats," Dr. Verde said. "Betapol Plus is the first commercially available product that reaches an OPO or SN-2 palmitate level of 60%."
He added further personalization of infant formula could involve specifying demographic ethnicities, providing age-specific composition according to the age of the infant/child and addressing diverse nutritional needs through innovative functional ingredients.
A bright future for HMOs
Human milk oligosaccharides (HMOs) are the focus of other infant formula discoveries. Grand View Research, Inc., San Francisco, forecasts a compound annual growth rate of 23% for the global HMO market from 2020 to 2027, reaching $101.5 million. Health benefits associated with HMOs will fuel demand for their use in foods, beverages and supplements. Infant formula is the largest and fastest-growing segment for HMOs, which fight infections and are responsible for proper development of the brain and the gut, according to Grand View Research.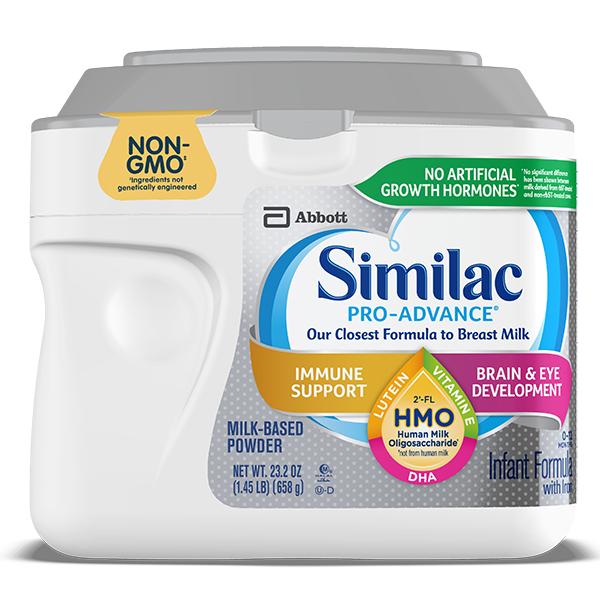 Nestle, Vevey, Switzerland, has entered a partnership with the University of California San Diego Center for Microbiome Innovation to investigate the impact of the microbiome, which includes microbes like bacteria, fungi and viruses that live on and inside the body, on human health. Nestle's research on HMOs, which are components of breast milk shown to influence early life microbiome establishment and development of the immune system, could lead to the launch of new infant formulas that include HMOs.
A specific HMO called 2'-FL or 2'-Fucosyllactose has been shown to provide health benefits to babies and plays a role in the development of a strong immune system, according to Abbott Nutrition, Abbott Park, Ill. The company has added 2'-FL to its Similac formula.
The 2'-FL in Similac helps support the baby's developing immune system by narrowing the gaps in immune function between formula-fed and breastfed infants, said Rachael Buck, PhD, director of preclinical research at Abbott.
"2'-FL HMO is the most abundant human milk oligosaccharide in most human milk," she said. "Approximately 80% of women have 2'-FL in their breast milk. So adding 2'-FL brings Similac closer to breast milk than ever before. For those parents who need or choose to use formula, being as close to breast milk as possible is really important."
Breast milk provides the best nutrition for babies, Dr. Buck said.
"For those parents who need or choose to use formula for any reason, being as close to breast milk is really important," she said. "Formula provides feeding options to mothers who may not be able to breastfeed for whatever reason, and there are many, including but not limited to: babies are unable to latch, clogged milk ducts, insufficient eating or adequate weight gain challenges for babies, or mothers who change their mind about breastfeeding, or adoptive mothers who have no other choice, just to name a few."