CHICAGO — Retail sales of plant-based foods in the United States reached a record $5 billion in 2019, up 11% from the prior year, according to the Plant Based Foods Association. Milk alternatives led the category with $2 billion in sales, up 5%, while ready-to-drink beverages, valued as $122 million, grew 18%.
While desirable sensory attributes are paramount for most consumers in their decision whether to repeat the purchase of a product, nutritional value is increasingly a consideration. When it comes to plant-based products marketed as sources of protein, conscientious consumers may want to be assured the protein is complete, meaning it contains the nine essential amino acids that the body cannot produce on its own. "High quality" protein is another desirable attribute. This refers to a complete protein with an amino acid profile balanced in a way best suited for the body to digest and put to work.
All animal proteins are complete, as are some plant proteins. Plant proteins that are not complete, meaning they are lacking one or more essential amino acids, in some cases are blended with another plant protein that contains the amino acids but is missing others. These are referred to as complementary proteins.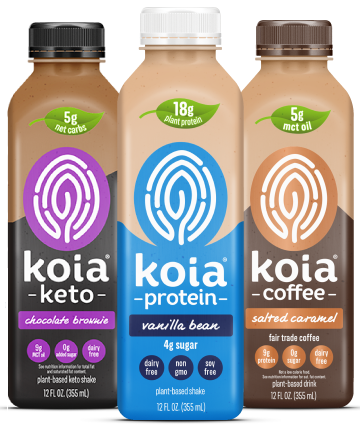 The effort of blending plant proteins to provide all essential amino acids often produces a more desirable sensory experience than using one plant protein alone. In beverages formulated as milk replacements, blending proteins may help with delivering the creamy texture associated with dairy milk, which is a protein and fat emulsion. To compensate for the loss in mouthfeel, formulators often choose texturizers to build back the dairy-like consistency consumers expect.
Soy protein is complete, which is why it has been a popular choice for dairy substitutes. The challenge it presents is its inherent beany taste, which was a major driver to identify other plant proteins for beverages. Other complete plant protein options include amaranth, buckwheat, chia seed, hemp seed, quinoa and spirulina. Nuts and other legumes and grains are foods with incomplete proteins. Some may contain all nine essential amino acids, but the levels of one or more are miniscule and deemed incomplete.
A new plant-based protein now available to beverage formulators is an extract from green coffee beans. Coffee protein's sensory profile makes it suited for beverages. Its value-added proposition is it also contains the phytonutrients, antioxidants and fiber found in green coffee beans without the caffeine, so it may be used in non-caffeinated beverages. It is approximately 30% protein and 20% fiber.
Mixing it up
Consumer interest in protein diversity is growing. That's why blending makes sense. A bonus with using more than one type of plant protein is each plant is a source of additional beneficial nutrients, such as fiber, vitamins, minerals and phytonutrients. Inclusion may enhance the nutrition profile, with the healthy halo of the plant transferring to the beverage.
Oats serve as the base of the new Oath organic plant protein beverage line from Oath Life, New York. The company uses almond protein and pumpkin seed protein to deliver 15 to 16 grams of protein per 12-oz bottle, along with 6 to 10 grams of fiber. Functional spices and botanical ingredients are added to assist with boosting metabolism, enhancing mood and restoring balance, according to the company.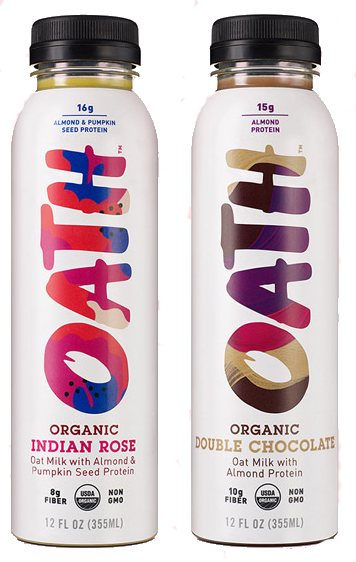 Naked Juice from PepsiCo, Inc., Purchase, NY, now offers blueberry banana and peach mango plant protein fruit smoothies. Each 15.2-oz refrigerated bottle delivers 18 grams of soy and pea protein. The brand also offers fruit smoothies with 30 grams of protein, which is achieved by mixing soy with whey.
Elk Grove Village, Ill.-based Protein2O, a manufacturer of whey protein-enhanced clear water beverages, will soon be launching the first plant-based protein water, an innovation that has been a challenge for product developers because of solubility and opacity issues. Each 11-oz can contains 15 grams of a proprietary pea protein isolate.
Elma, NY-based Elmhurst 1925 is introducing Elmhurst Superfood Smoothie Bases, which deliver 10 grams of plant protein per serving. The bases make smoothie routines simple. The consumer adds fruit or ice with the mix in a blender or shaker. The kale blend is made with oats and hemp and provides 25 grams of whole grains along with being an excellent source of omega-3 fatty acids. The cacao blend contains hazelnut and almond milks and delivers 50 mg of natural caffeine. The turmeric ginger blend incorporates oats and hemp to offer 25 grams of whole grains and is marketed for its anti-inflammatory properties.
Elmhurst's new oat lattes are more about the whole grains and caffeinated energy than the protein, yet the company does claim they contain about twice the amount of protein of most other oat lattes on the market. Coffee and tea varieties are available.
Like all Elmhurst products, the smoothie bases and oat lattes are formulated through a process that uses water to separate the components of the nut, grain or seed before reassembling into a creamy, beverage-ready emulsion, maintaining the full nutrition of the source ingredient without added gums or emulsifiers.
Benexia Group, Santiago, Chile, is demonstrating how chia seed is a natural fit for plant-based beverages. The company is rolling out Seeds of Wellness Chia Beverage to the US market. It is marketed as a complete-protein milk alternative that is made with chia, which provides omega-3 fatty acids, protein, fiber and flavor, along with water and a little salt. The shelf-stable beverage is available in original unsweetened, original sweetened and vanilla unsweetened varieties.
Carlsbad, Calif.-based Mamma Chia is moving into the plant-based milk alternative market with the launch of Mamma Chia Organic Chiamilk. While chia seeds are a complete protein, the beverage is not being marketed for its protein content. Its amount of omega-3 fatty acids is the differentiator, according to the company. Benefits of chia include that it is a rich source of fiber, calcium, iron, magnesium, manganese, phosphorus, zinc and vitamins B1 and B3, as well as a good source of vitamins B2 and B9. Additionally, about 75% of the fats in chia seeds consist of the omega-3 alpha-linoleic acid. Available in unsweetened original and unsweetened vanilla varieties, chia milk contains 60 to 70 calories per 8-oz serving, no sugar and more calcium than a glass of traditional milk, the company said.
Los Angeles-based Koia is introducing Koia Coffee in three flavors: mocha latte, salted caramel and vanilla latte. Each 12-oz bottle has only 110 calories and is made with organic, fair trade coffee that is infused with nine grams of complete plant-based protein derived from a proprietary blend of brown rice, peas and chickpeas. The product provides additional functional ingredients in the form of medium chain triglyceride oil and coconut milk. Both deliver healthy fats that aid with cognitive enhancement, sharpened focus and sustained energy, according to the company. With zero sugar content, it's a keto diet-friendly energy beverage, as it provides 200 mg of caffeine from both coffee and green coffee bean extract.
Sweden's Sproud pea protein milk will now be sold in the United States. The brand differentiates itself with its planet-friendly messaging of being made from peas, which use less water than traditional dairy or almonds while packing in five times the protein of almond milk and three times the protein from oat milk per serving.
Shelf-stable Sproud will be launched in four varieties: chocolate, original, unsweetened and a "professional barista" formula that is creamy and froths for use in coffee drinks. The 1-liter cartons have a 365-day shelf life, a value-added benefit that eliminates the need to use the traditional chilled supply chain for milk, reducing its carbon footprint by a third as well as unnecessary waste.
The protein powder category is experiencing value-added innovation, too. Four Sigmatic, Los Angeles, is rolling out a mix line that delivers 18 grams of organic plant-based protein per serving. The protein blend is sustainably sourced from various regions around the world, including peas grown in America, hemp and pumpkin seeds picked in Europe, chia from Canada, coconuts harvested in the Philippines and pumpkin from Germany. Each serving also has an effective dose of 1,000 mg of mushroom extracts and 500 mg of adaptogens for health and wellness benefits. The protein powder comes in single-serve packets as well as 15-serving canisters in creamy cacao, peanut butter and unflavored varieties.
Huel Inc., New York, offers plant protein powders and single-serve beverages that are described as being complete meals. A serving delivers all 27 essential vitamins and minerals, carbohydrates, protein, fat, fiber and phytonutrients.
The most recent powder is Huel Black Edition, which was developed in response to customer requests for a lower-carbohydrate, higher-protein product. One serving provides 4 grams of sugar along with 40 grams of protein from a blend of pea protein, flaxseed and brown rice protein for a complete amino acid profile. The powder also contains sunflower and coconut for a good balance of essential fats. The value-added formula boasts probiotics and prebiotics along with kombucha and green tea extract for additional natural nutrients. The formula comes in chocolate and vanilla flavors.