KANSAS CITY — Developing and rolling out new menu items can be a risky business. Add a pandemic to the process, and foodservice operators are navigating an entirely new system.
 "It's been an unprecedented, incredible impact to our industry," said Edithann Ramey, chief marketing officer for On the Border Mexican Grill & Cantina. "Overnight we've had to change our service model from having a dining room restaurant with alcohol and food and service to shutting all that down and preparing for a very different way to take care of our guests. There's been an adjustment from a menu perspective — we've had to edit our menu. We've brought some new things to the table, like pre-made drinks that we now offer to-go and adjusting our labor model to this new normal. Every day there's something new, because we're constantly thinking about new offers, new relevant bundles and new ways in which to serve the community better."
On the Border recently launched a new Queso Fest menu, featuring Cheesy Queso Enchiladas, Texas Queso Fries, Melted Queso Fundido and Cheese-Smothered Steak Fajitas. The innovation is part of the restaurant's strategy to revitalize its brand — a strategy that has been put on hold in the wake of the coronavirus, but has not been derailed, Ms. Ramey said.
"We have really good momentum going into this storm," she said. "So in part of our strategy, we had designed these innovation mini windows throughout the year. So we have a couple things that On the Border is known for like endless enchiladas, endless tacos and value platforms with some level of new innovation. But we've also been working on new platforms that are new food, new innovation … On the Border like never before. Queso Fest was one of our biggest new ones — we had planned a couple more, but those are paused. We still expect them to come, because they're part of our strategy to stay relevant in a very competitive environment. Now there's other platforms coming throughout the year that are also around new food platforms that are inspired by our point of view of food, which is border-style Mexican. So for now, they're paused, but we fully intend that, when this is over, we'll be back with new menus and the new food that comes next. So from a big platform perspective maybe we're paused, but as we navigate this madness we are trying to still stay a little bit innovative."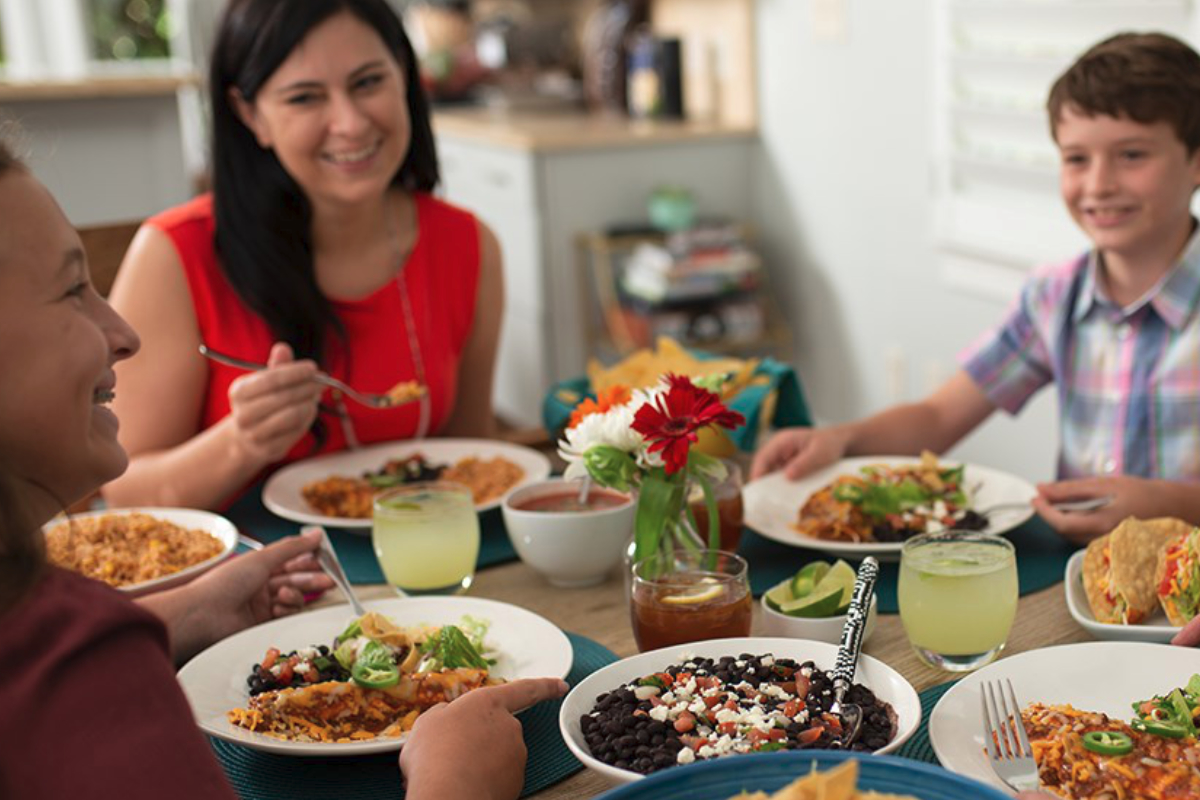 To stay innovative in meeting consumer needs during this time, On the Border has introduced box lunches and Family Meals available for takeout only. The box lunches include wraps and salads paired with chips, salsa and a cookie, while the Family Meals serve four to five people and feature entrees like enchiladas, tacos or fajitas served with chips and salsa, Mexican rice and a choice of beans.
"Obviously everyone's gone to the same model of 'come pick up your food,' so those that can offer something interesting will probably succeed better than those who do not," Ms. Ramey said. "So we rolled out new lunch box bundles, new family bundles where there's enchiladas and fajitas and they're all bundled with a dessert and appetizer. And then we're working on some cold-prep food that maybe you can call and buy and you can take it home and put it away for the week and maybe even make it on Friday. So even in this short-term environment, we still have our chefs thinking about what else we can do to stay relevant while we wait to go back to our full calendar of activity."
The restaurant also is exploring possible bundles that include pantry staples such as rice and beans that are currently difficult to find in grocery stores as well as DIY meal kits.
"One of the things you can't get your hands on is rice … it's been impossible to get that staple because people have hoarded," Ms. Ramey said. "So rice and beans are a potential element of a bundle, and then we're looking at bundles that are more around food that you don't pick up hot, but that you can maybe bake later. One of the things we were talking about was a make-your-own enchilada kit. And I think for the most part people want us to make the food for them, but how do we make it so it's very simple, so it feels fresh two or three days from now vs. when it comes to you hot? We're just thinking through different ways for people to enjoy the brand and making customers' lives easier."
In developing these new offerings, Ms. Ramey has sought insight from some of her peers: working moms.
"We also have a focus group of four or five working moms that helps me think a lot about what we do next," Ms. Ramey said. "I'm a working mom, my husband is working from home and we have children we're homeschooling. I've been doing social happy hours and talking to a whole bunch of working moms who said they're not used to cooking this much and they're sick of it. They are SICK of it. And they discuss how hard it is to be a working mom and have to school their children. Even as On the Border has changed our service model and how we take care of people, the way moms are having to take care of themselves is also very different. These moms aren't used to having to cook so much, so we want to help them."
In the midst of the "madness," Ms. Ramey said the company's pivoting efforts, including innovation and focus on takeout, have been keeping On the Border afloat.
"To-go and delivery has gone up as a percent of our total business … whereas it used to be a much smaller piece of our business, now it's our sole business," she said. "But it is much higher than what it used to be. That's given us the confidence that we're going to be OK, because we're actually doing better than what we thought."
As On the Border looks to the future, the company is optimistic about serving its customers while the pandemic persists and getting its strategy back on track in the months to come.
"We're very dedicated to continuing to keep the brand alive, to innovate in special ways so we can weather this storm, and we still plan on opening our doors when this is over," Ms. Ramey said. "And then when that happens, you can count on new appetizers, new Border Bites, new flavors in the pipeline … tacos are a big part of our DNA and combos, and we've been working on making those new and exciting with new flavors. You can fully expect our innovation pipeline to kick back up and have a lot of new fun flavors so people can come back and visit us inside the restaurant."