KANSAS CITY — Pizza's blank canvas of potential is creating opportunities for bakers and entrepreneurs to put their artistic touch on a classic food. A splash of a new sauce, a sprinkle of some premium cheese dotted with meat alternatives or classic pepperoni, and a masterpiece materializes. The markets for all types of pizzas seem endless, and everybody seems to want a slice.
Market data reveals a clear picture: People love pizza. Technomic reports that 43% of Americans eat pizza at least once a week. With more than 95,000 pizza outlets across the country, new frozen varieties at grocery stores and prepared offerings in c-stores, consumers have plenty of pizza choices.
Dewey Warner, senior research analyst at Euromonitor International, said several trends are impacting the current pizza market — one that reached $154.8 billion in global sales in 2019, with the United States market reaching $46.3 billion. Mr. Warner said the driving factors are continuations of trends building in recent years.
Take the increase of healthy attributes in pizza.
 "This has been a focus within frozen ready meals in recent years and should mainly come in the form of replacing artificial ingredients and the use of preservatives with more natural ones, as well as offering reduced-carb alternatives for consumers conscious of this, most notably in the form of pizzas with bases/crusts made from cauliflower," Mr. Warner explained.
Additionally, taste will define the landscape, especially bold ethnic flavors.
"Beyond traditional varieties such as pepperoni or sausage, look for non-conventional combinations, particularly those featuring spicier foods and ingredients sourced from a variety of global cuisines," he said.
There also will be an ongoing emphasis on smaller and new formats as younger consumers, who increasingly live alone, look for individual options for any part of the day, Mr. Warner added.
Considering these factors, among others like new delivery technologies, the picture of the pizza market is populated with a world of new ingredients and flavors limited only by the imagination.
Planting a flag
The rise of the plant-based ingredient market has made an immediate impact on everything from alternative pizza crusts to non-meat toppings. And it doesn't look like the trend will be leaving anytime soon.
Frozen pizza is a natural fit for this craze, Mr. Warner said, and signs of the shift have already sprung up. Nestle, Vevey, Switzerland, launched a meatless line of DiGiorno frozen pizzas that includes Sweet Earth's Awesome Ground plant-based alternative to ground beef. Awesome Grounds are made from textured yellow pea protein, wheat gluten, canola oil and coconut oil and provide 16 grams of protein and 4 grams of fiber per serving.
Foodservice locations also are buying in. Pizza Hut, Plano, Texas, partnered with MorningStar Farms to use the veggie burger brand's plant-based sausage in its Garden Specialty pizza. And fast-casual chain Piology Pizzeria, Rancho Santa Margarita, Calif., has introduced three plant-based protein toppings to replace Italian sausage, beef meatballs and diced chicken. Little Caesars, Detroit, announced a partnership with Impossible Foods in 2019 to sell a pizza topped with plant-based sausage crumbles. It was the first time a national pizza chain had used a vegan meat substitute.
Beyond toppings, there are even more examples of better-for-you alternatives in pizza crusts.
Molinaro's Fine Italian Foods, Mississauga, Canada, which primarily makes private label frozen pizzas, is expanding its footprint in the United States. Joe Delduco, vice president of sales and marketing for Molinaro's, said trends have shifted from organic to gluten-free and now to plant-based crusts. So, Molinaro's developed cauliflower, zucchini, sweet potato and broccoli-cheddar crusts over the past year. Sales picked up quickly, and the momentum could be felt in production at the plant.
"We used to run gluten-free in our bakery on Mondays," said Vince Molinaro, president of Molinaro's. "Now we have weeks where we not only run on a Monday, but we do 48 hours on Monday and Tuesday. It started out with a half-day of production, now some weeks we're running two full days."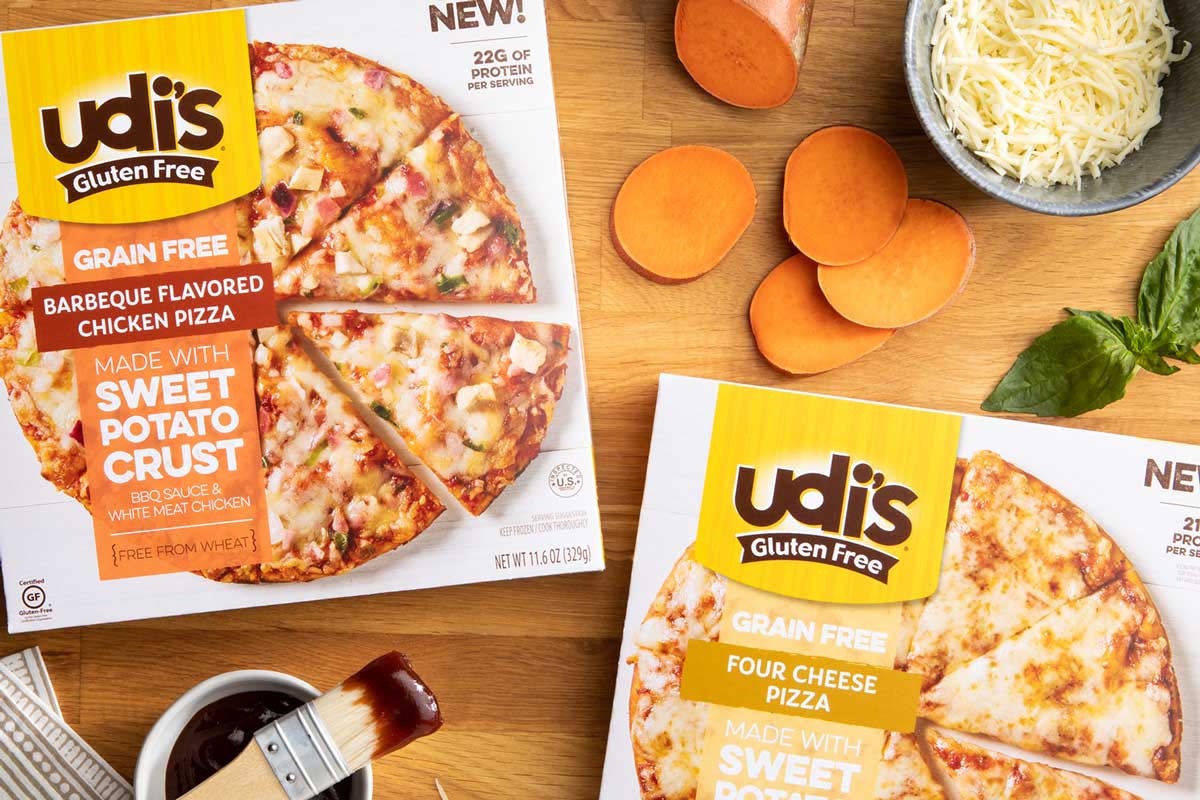 Molinaro's is known for its crust, so developing a gluten-free, plant-based alternative was a challenge to ensure consumers could expect the same quality. Mr. Molinaro said the company collaborated with chefs to deliver a crust that wasn't too gummy or cardboardy.
"With our product, we feel like we've established a product that's got some crisp to it, a really nice flavor, and is not gummy," he said. "When they bite into it, people are surprised that it's gluten-free."
But what's the next big trend to hit pizza? It may already be here.
"The race is on right now for keto," Mr. Molinaro said. "Low- and zero-carb types of crust."
Many other innovative plant-based gluten-free crusts also limit carb intake. Udi's Pizza, Boulder, Colo., a Conagra Brands company, recently launched Udi's Sweet Potato Crust Four Cheese Pizza and BBQ Chicken Sweet Potato Crust Pizza.
"We knew we wanted to offer a vegetable crust pizza, but we specifically chose to formulate with sweet potatoes because they provide flavor and sweetness to the crust and add an extra dimension to the pizza," said Caitlin Davy, manager of brand communications, Conagra Brands. "We've seen people seeking alternatives like sweet potato and cauliflower crusts, grain- and gluten-free options, and more premium ingredients to meet lifestyle and dietary needs."
According to Nielsen, the plant-based product category grew 17% in 2019. And the growth isn't attributed to just the proliferation of strict diets; there's also a general trend toward better-for-you foods.
TNT Crust, Green Bay, Wis., a manufacturer and distributor of pizza crusts, recently expanded its product line to offer organic, gluten-free and plant-based offerings.
"We have been experiencing tremendous growth across our business and have seen substantial increases in customer demand for better-for-you pizza crust alternatives," said Scott McNair, chief executive officer of TNT.
Serving up authenticity
Pizza makers are offering greater transparency — being honest with consumers about ingredients — or connecting with consumers where they are, either in a c-store, at the grocery store, on the internet or in a corner restaurant. Either way, consumers crave it. And according to a Technomic study, 49% of all shoppers want more authenticity in pizza offerings.
Euromonitor research also establishes that transparency adds to the sense of authenticity.
"As diets continue to change and demand for fresh and transparently sourced ingredients increases, pizza companies are having to adapt their menus to accommodate consumers while maintaining profit margins," said Matt Godinsky, research associate at Euromonitor.
For example, Schlotzsky's, Austin, Texas, is taking its famous sandwiches and turning them into pizzas. The new pies feature crust made from the same sourdough bread on which the chain serves its sandwiches and are topped with the identical blend of ingredients as their sandwich counterparts. For example, the Original Pizza, a new take on Schlotzsky's Original Sandwich, features sesame seeded sourdough crust stacked with Genoa and cotto salamis, mozzarella and Parmesan cheeses, black olives, red onion, tomato and the company's signature sauce.
"Our new recipes combine tradition with innovation to create a unique take on our most beloved menu items," said Beto Guajardo, president of Schlotzsky's. "By transforming our most popular sandwiches into pizzas, guests can enjoy a new version of their favorite sandwiches."
Sunrise to sunset
Pizza is no longer limited to the dinner daypart. Topping varieties now range from eggs on breakfast pizzas to chocolate on dessert pizzas.
Such innovation allows 7-Eleven, Dallas, like other c-store chains, to make pizza a staple across all day parts. Recently it introduced a 5-inch biscuit-crust breakfast pizza topped with white gravy, scrambled eggs, sausage crumbles, bacon, ham, and a blend of mozzarella and cheddar cheese. The ready-to-eat, on-the-go, single-serve pizza is available for $2.
"We took our busiest time of day and [one of] our customers' favorite hot foods — pizza — to create what we think will become a breakfast favorite that is delicious and easy to eat on the go," said Robin Murphy, fresh foods product director for 7-Eleven.
Creating personal-sized pizzas, either frozen or for foodservice, is big business for Molinaro's. The company's bakery can make more than 20 different-sized pizzas. Mr. Delduco said the top seller is still a 10-inch frozen pizza in the United States. In deli and foodservice, the size grows to 14 to 16 inches. He said 10-inch pizzas are purchased primarily by families planning to eat the pizza sometime soon. Fresher deli options are purchased to eat that night. And other options like flatbreads are increasingly purchased for entertaining purposes.
But, Mr. Delduco said, flatbreads are also creating another opportunity for pizza manufacturers pursuing additional dayparts. And Molinaro's has created an 8-inch personal flatbread to target people looking to use it as an appetizer for a larger meal.
"It's wherever your imagination can take you," Mr. Delduco said. "Newer trends are now looking at dessert pizzas with Nutella and chocolate chips."
Some pizzas might be shrinking to target younger, single consumers, but the market is expanding. Connecting to consumers through ingredients, flavors and delivery technology is an art, but if it involves pizza, people will be happy.