KANSAS CITY — Ancient grains remain popular in categories outside of grain-based foods. They add texture, nutrition and marketing appeal to drinks, especially thicker beverages such as smoothies. On the food side, ancient grain bowls may be found at retail now as well as at foodservice establishments.
Many ancient grains work well in beverages, but applicability depends on the texture, flavor and nutritional profile the product developer wishes to achieve, said Weston Heide, vice president – trade group for The Andersons, Maumee, Ohio.
"Ancient grain milk alternatives can be made from cereals such as spelt and barley and from pseudo-cereals such as millet, quinoa and buckwheat," he said. "Spelt is high in protein and fiber. It is more water soluble than modern forms of wheat and helps aid digestion. Millet offers a gluten-free ancient grain alternative to traditional dairy milk that boasts a variety of health benefits. Millet milk is high in fiber, rich in antioxidants and offers a good source of potassium."
Ancient grains fit in the plant-based milk category, which grew 5% in the United States in 2019 to reach $2 billion in sales, according to the Plant Based Foods Association. A 2019 global report from HealthFocus International, St. Petersburg, Fla., showed 37% of respondents said they drink plant-based beverages once a week or more. The percentage was highest for consumers between the ages 18 to 29, at 46%. Forty-six percent of households with children said they drank plant-based beverages once a week or more, which compared to 27% of households without children.
"Whole cooked quinoa, amaranth or teff could be used as a boost or mix-in for texture in smoothies or yogurt drinks." — Elizabeth Arndt, Panhandle Milling Co.
Mr. Heide said The Andersons produces ancient grain pre-gelatinized powder by using a proprietary process that swells the starches of the grain or seed to enhance texture, mouthfeel and moisture retention, making them ideal for use as a functional ingredient in beverages such as smoothies and shakes.
Dairy-based beverages, drinkable yogurts or juices with pulp tend to work best as they pair well with grain ingredients, said Joni Huffman, senior vice president of sales and marketing for Healthy Food Ingredients, Fargo, ND.
"These thicker beverages usually require shaking, which can help the grain ingredients stay in suspension rather than settling out at the bottom of the bottle," she said.
Any grain may work well in a beverage application, whether included in whole seed form or as a fine flour, she said.
"The most important consideration for beverages is whether or not the beverage is going through a kill step of some type," Ms. Huffman said. "If not, it is essential to partner with a supplier who can provide ingredients that have been treated for pathogens to prevent the risk of consumption of raw grains. A good example would be chia or flax seed that has been micro-reduced using our IntegriPure process."
Smoothies and yogurt drinks are two potential applications for ancient grains, said Elizabeth Arndt, PhD, R&D lead for Panhandle Milling Co., a business of Denver-based PHM Brands.
"Whole cooked quinoa, amaranth or teff could be used as a boost or mix-in for texture in smoothies or yogurt drinks," she said, adding the grains must be cooked or otherwise ready-to-eat for food safety reasons.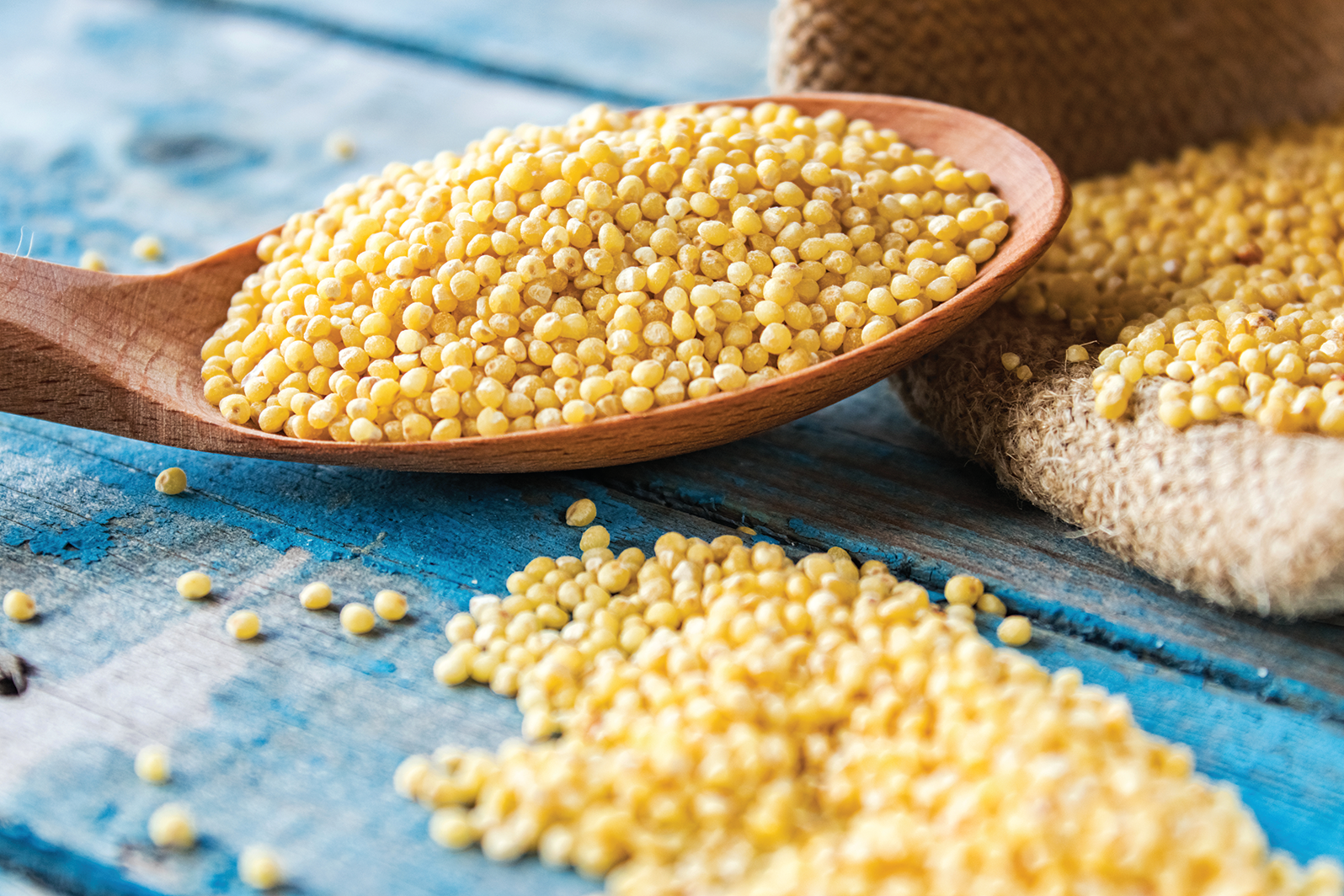 Particle size and solubility affect functionality in beverage applications, said Don Trouba, senior director, Go-To Market for the Annex by Ardent Mills, a business of Ardent Mills, Denver.
"Ardent Mills has a proprietary grinding system that can produce a super fine particle size, which will lessen gritty mouthfeel in beverage applications," he said. "Ardent Mills has done some work on fruit smoothies using quinoa, teff and millet flour. The key is to create a blend of ancient grain flours to balance the flavor and create consistent mouthfeel.
"The challenge is in delivering acceptable taste, as most ancient grains have a unique taste that consumers may not be familiar with. However, flavors can potentially be toned down through heat treatment, which we are actively exploring."
Bay State Milling Co., Quincy, Mass., mills grains into extra fine flours so they are easily suspended and deliver a smooth mouthfeel, said Ross Fenderson, product manager.
"Sprouted whole grains that are finely milled deliver additional benefits of superior flavor as starches are converted to sugars, which provide a natural sweetness with no added sugars," he said. "Millet is an interesting ancient grain for beverages given its mild flavor profile and protein digestibility."
Ancient grain flours work well in plant-based milk alternatives, he said.
"By their nature, whole grain flours work best in opaque beverages where they can be suspended to provide a smooth and creamy mouthfeel," Mr. Fenderson said. "Teff works well in this type of beverage as it contributes chocolate-like flavor notes."
New Kraft Heinz bowls
Ancient grains have appeared in bowls served at restaurants for several years. The National Restaurant Association, Washington, in its "What's hot; 2020 culinary forecast" ranked healthy bowls as its No. 1 trend in new menu items. The online survey of 602 members of the American Culinary Federation took place last November and December.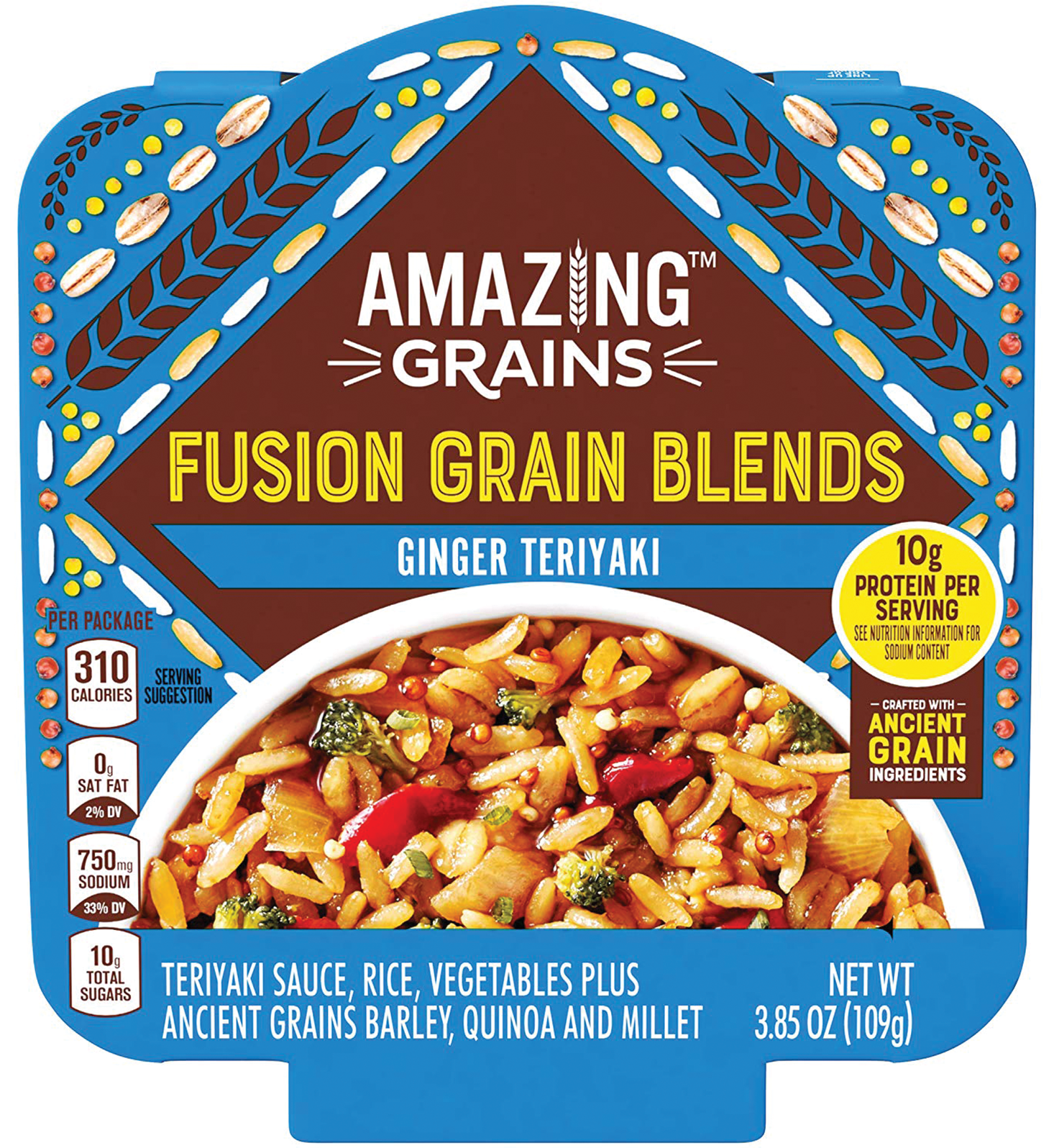 The coronavirus (COVID-19) pandemic has cut into foodservice sales this year, but the Kraft Heinz Co., Chicago, has introduced a grain bowl for sale at retail. Amazing Grains Fusion Grain Blends feature vegetables, sauces and ancient grains, including barley, red quinoa and millet. Each bowl contains 280 to 330 calories and 8 to 10 grams of protein. Kraft Heinz also introduced Amazing Grains Overnight Oats that contain a combination of fruits, spices and an ancient grain blend consisting of whole grain oats, whole grain barley, whole grain quinoa, whole grain red wheat and flax.
Mr. Fenderson of Bay State Milling said he sees growth potential for ancient grains in grain bowls, salad kits and prepared meals in general.
"Quinoa is often used in grain bowls for its mild, nutty flavor and chewy textures, but we are also seeing interest from customers in millet for the same reasons," he said. "Additionally, millet tends to be less expensive than other ancient grains so it can be a cost-effective way to achieve the healthy and nutritional properties customers desire. Oats are also gaining traction as consumers start to appreciate the versatility of their flavor and texture for more savory applications."
All of the ancient grains in a bowl need to cook in a similar amount of time, Ms. Huffman of HFI said. Pairing quinoa with millet works well, and flake inclusions that hydrate more quickly are other options, she said.
Kamut khorasan wheat and buckwheat both have a hearty, chewy texture that stands up well to cooking and foodservice hold times, Dr. Arndt of Panhandle Milling said. She added amaranth and teff are small grains that may both be used in bowls alone or blended with other grains.
Spelt (farro) works particularly well in bowls, Mr. Heide of The Andersons said.
"Although it contains gluten, it is thought to be more easily digested than modern wheat due to its lower number of chromosomes and higher fiber content and water solubility, which helps aid digestion," he said. "The texture is similar to that of rice, but the flavor profile is more robust and nutty, which can enhance the bowl's overall taste."