KANSAS CITY — The burgeoning plant-based movement may accelerate in a marketplace radically altered by pandemic, as meat processing plants temporarily shutter due to worker illness, spurring shortages of beef, pork and poultry. Alternatives derived from oats, chickpeas, lentils and other emerging sources of protein are being used to meet demand in the meat category and beyond.
"The current pandemic we are all experiencing will only magnify the importance of securing and keeping a healthy and sustainable food supply, not only here in the US, but globally," said Ody Maningat, PhD, chief science officer and vice president of research and development at MGP Ingredients, Inc., an Atchison, Kan., supplier of textured wheat, soy and pea protein. "The demand for plant-based proteins will most likely increase due to the events of the day, especially as labor-intensive meat processing facilities are experiencing higher levels of employee illnesses."
Michael Buttshaw, vice president of ingredient sales, marketing and R&D at MGP Ingredients, added, "Furthermore, the genesis of past global health emergencies is typically from animal origin like the swine flu and bird flu and possibly the current COVID-19 pandemic. Because of this animal-virus association and the vulnerability of the meat supply, consumers will naturally tend to gravitate to consuming plant-based foods."
Retail sales of plant-based alternatives formulated to replace conventional meat, dairy, eggs and seafood products reached $5 billion in 2019, an 11.4% increase from the year before, according to the Plant Based Foods Association and the Good Food Institute.
"Because of... the vulnerability of the meat supply, consumers will naturally tend to gravitate to consuming plant-based foods." 
— Michael Buttshaw, MGP Ingredients 
Plant-based milk alternative sales were approximately $2 billion in 2019, up 5% from the year before, accounting for 14% of the entire milk category. The plant-based meat category had $939 million in sales in 2019, up 18% during the past year. The data show plant-based meats make up 2% of retail packaged meat sales. Sales of refrigerated plant-based meats rose 63% during the year.
Sales of plant-based alternatives also made inroads into several other categories. Plant-based yogurt sales rose 31% in 2019, cheeses rose 18%, and creamers accounted for $300 million in sales, growing 34% and capturing a 6% share of the overall creamer category.
"Many consumers want to adopt a more healthy and varied diet by including more plant-based products," said Mindy Leveille, strategic marketing manager of proteins for Kerry Taste & Nutrition, a business unit of Kerry, which has a US office in Beloit, Wis. "The 'flexitarian' consumer group who are open to consuming some plant-based is quite significant and growing as they try and find new tasty items. Taste is king, and product developers are improving the taste and texture all the time. The feel-good factor also plays a role, and if you can eat something that's tasty while also helping the environment, that's a good thing."
Thirty-eight percent of US consumers want to add more plant-based foods to their diets, according to Kerry research, which projected the US plant-based food market will hit $6.43 billion in sales by 2023. A wider acceptance of plant-based foods and new category expansion and innovation are propelling the category forward.
More than 1,000 new plant-based products have launched across 17 food categories since 2017, half of which were introduced last year alone. On US restaurant menus, plant-based items have grown 328% since 2018, and more than 20 major restaurant chains added a plant-based meat option to the menu in 2019, according to Kerry research.
"Plant-based foods will likely come under increasing scrutiny and competitive pressure from traditional food sources and from each other," Ms. Leveille said. "The emerging competitive differentiators appear to be taste, nutrition, protein quality and clean label. Plant proteins will need to greatly improve protein quality, and this will become a key differentiator once taste quality is much closer."
From 'tried and true' to new
Before the Butcher, San Diego, produces plant-based meat alternatives, including chicken- and turkey-style burgers and breakfast sausage-style patties, for restaurants and retail. The company is launching plant-based grounds and crumbles based on soy.
"We believe soy is the best protein," said Danny O'Malley, founder and president of Before the Butcher. "It's been tried and true and tested for hundreds of years, and it's a complete protein. It also offers a base product that is more neutral than some other plant-based proteins like pea or lentil, where you find you have to mask a flavor or color or make adjustments. You don't have to do that with soy."
Other promising sources of protein include mung bean and quinoa, he said.
"Quinoa is a fantastic protein, and it's a complete protein," Mr. O'Malley said. "There's only a handful of complete proteins in the plant-based world. Hemp is another one."
Dr. Maningat of MGP Ingredients named lentils, chickpea and fava bean as "showing great promise."
"We also see other specialty high-protein flours emerging and showing growth as healthy ingredients in a number of food applications," he said. "Other emerging sources of plant-based proteins are those from potato, leafy greens, canola, lupin and algae."
Cropping up in formulations
Oats are a rising star in plant-based product development, adding a dairy-like creaminess and subtle flavor in substitutes for milk, frozen desserts and yogurt. It is also the primary ingredient in a new meat alternative offered by foodservice distributor Sysco Corp., Houston. Sysco Simply Plant Based Protein Pulled Oats was developed by a Finnish company and combines oats, fava beans, yellow peas, cold-pressed canola oil and salt. The product has a meaty texture and may be used in a number of dishes, from Thai curry to pomodoro rigatoni, according to Sysco.
Miyoko's Creamery, Sonoma, Calif., recently launched spreadable oat milk butter and a line of cheddar and pepper jack slices and spreads made with oats, potatoes and legumes. The company planned to debut the items at Natural Products Expo West in March, prior to the show's cancellation due to the coronavirus pandemic.
"We're at a pivotal moment in the plant-based movement, where we need to start appealing more to flexitarians by creating products that give them the taste satisfaction of the dairy cheeses they are used to," said Miyoko Schinner, founder and chief executive officer of Miyoko's Creamery. "These new cheeses we're launching have a taste and price that make them competitive with traditional dairy and will help us cross that chasm to reach omnivores."
Potato protein is used as an emulsifier in vegan mayonnaise from Primal Kitchen, a subsidiary of Kraft Heinz Co., Chicago.
"This unique differentiator makes our line paleo-friendly and Whole30 Approved, without using a legume-based emulsifier like pea protein or chickpea water," said Mark Sisson, founder of Primal Kitchen. "There really isn't another vegan mayo out there that checks all the boxes and has a creamy, uncompromisingly delicious flavor."
Product developers continue to discover new possibilities for chickpeas. Aquafaba, or chickpea soaking water, is used in plant-based formulations for baked foods and creamy spreads. The Little Bean in Portland, Ore., serves frozen dessert based on chickpeas. A new sour cream alternative from Kite Hill, Hayward, Calif., combines almonds, coconut milk and chickpea protein.
Daiya Foods, Vancouver, BC, recently revamped the recipe for its dairy-free cheese-like shreds to include chickpea protein. The product has a similar melt and stretch of dairy cheese, according to the company.
Chickpeas, along with beets, tomatoes and a blend of spices, also are featured in the formulation for a plant-based take on corned beef from Mrs. Goldfarb's Unreal Deli, Los Angeles. Unreal Corned Beef was tested in a sandwich at Denver-area Quiznos restaurants last November.
"Given consumers' growing desire for meatless options and the rise of plant-based foods, we wanted to test this modern twist on a deli classic here in Denver where sustainable green lifestyles are thriving," said Sheila Zimmerman, vice president of marketing at Rego Restaurant Group, owner of Quiznos.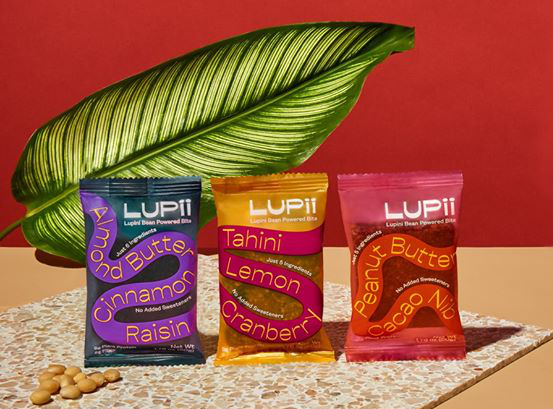 Lupin or lupini beans, high in protein, fiber and potassium, are popping up in new products, too. Two New York-based startups showcase the legume in nutritious snacks and spreads. Brami's products include snacking lupini beans that are marinated in savory seasonings and packaged fresh. The company recently added a range of lupini bean hummus with fewer carbs and calories than regular chickpea hummus, according to the company.
Allibelle Foods Inc. offers Lupii, a line of plant-based protein bars in such varieties as almond butter cinnamon raisin, tahini lemon cranberry and peanut butter cacao nib. The snacks contain only dates, lupini beans, fruits, nuts and other flavors, and provide 10 grams of protein and 8 grams of fiber.
The lupini bean is a complete, whole food protein that contains the nine essential amino acids, according to the company.
Growing acceptance
To gain broader appeal, plant-based formulations will need to offer more than a similar taste and texture to meat, eggs and dairy products. Nutrition and price matter, too.
"The game-changing advances in plant-based ingredients involve the nutritional quality of the protein ingredients moving up to match that of animal-base protein," Ms. Leveille said. "Aside from soy, most plant proteins are deficient in essential amino acids. You can combine plant proteins to increase the protein quality."
Kerry offers a combination of pea and rice protein that is equivalent in protein quality to dairy, egg or meat, Ms. Leveille said. The ingredient was developed using proprietary processing and flavor masking technology to deliver a neutral taste and reduced grittiness in application, she said.
Ingredion, Inc., Westchester, Ill., has an extensive portfolio of plant-protein ingredients, including flours, concentrates and isolates from non-wheat and non-soy-based ingredients, including peas, lentils, fava beans, chickpeas and more, said Kristen Germana, senior manager of marketing and business development of plant-based proteins for Ingredion.
"This comprehensive range of solutions helps formulators find the right protein to meet consumer demand and application requirements," Ms. Germana said. "To support, our broad range of multi-functional flours, starches and hydrocolloids enable just-right texture and functionality to help keep consumers coming back for more of your product. From expert nutrition and regulatory guidance to consumer insights, rapid prototyping and sensory mapping, we put our capabilities to work to help formulators create consumer winning products in plant-based bakery, snacks, pet food and other applications. And our centers of excellence for plant-based dairy and meat products help accelerate the development of ideas from concept to launch."
Affordability will become a more critical factor during a post-pandemic recession in the months and years ahead. Developers of plant-based products should consider price sensitivities as consumers may not be willing or able to trade up from traditional proteins.
"New additional price pressures will continue to emerge, and this will have an ongoing impact on the plant protein ingredients market," Ms. Leveille said. "The end winner will be the consumer, who will end up with more nutritious, more tasty and clean label plant-protein products."