KANSAS CITY — Food startups and early-stage brands are adapting to today's environment by delaying product innovation, pivoting to online retail and fine-tuning marketing messages for the newly homebound, unemployed or anxious consumer. Many who began the year with big plans for new product launches or expanded distribution have shifted into survival mode.
"You might as well throw everything out the window, right?" said Stephen Williamson, co-founder and chief executive officer of Forager Project, San Francisco. "It's a completely different business environment."
In February, Forager Project announced an ambitious lineup of product launches, including organic oat milk, plant-based yogurt, dairy-free butter, grain-free cereal and grain-free tortilla-style chips, with plans to present them to retail buyers at Natural Products Expo West, the so-called Super Bowl of the natural and specialty foods industry. The event, scheduled for early March in Anaheim, Calif., with an anticipated 90,000 attendees, was canceled as the coronavirus emerged stateside.
"All in-store visits are effectively over," Mr. Williamson said. "We're no longer having in-person meetings with buyers for presenting new products and new ideas. It's all via conference call or web call. And the presentation of new products is no longer in front of somebody. You send it and hope it doesn't get messed up."
Changing course
Tara Bosch, the founder and CEO of Vancouver, BC-based SmartSweets, was set to debut Sweet Chews, the brand's first non-gummy candy and an innovation more than two years in development. Like Forager Project and hundreds of other brands, SmartSweets expected to unveil the new product at Expo West. For her business, however, with its robust online following, the show's cancellation had a minimal impact on launch plans, Ms. Bosch said.
"Because we are so digital heavy, Expo West was always a pretty small piece of the puzzle for how we planned to introduce the product to our tribe," she said. "We were excited to drive trial and awareness, …but we had always planned to have our primary focus of the launch be digital and social to drive the awareness."
A bigger adjustment was needed in the product's marketing strategy. Sweet Chews, which are low-sugar, plant-based, chewy, fruity candies, initially were to be introduced with a "Chews your adventure" tagline to promote the portability of the individually wrapped confections.
"It's great for on-the-go snacking, but now that we're all inside, that message is not relevant," Ms. Bosch said.
The brand instead announced the product with a "Daily dose of sweetness" campaign, which Ms. Bosch said was designed to "bring a smile during this really heavy time."
"How we're looking at things is adapting versus putting on hold," Ms. Bosch said. "We're certainly pivoting to adapt to the world and how COVID-19 is unfolding and how SmartSweets can best serve consumers during this time as a moment of comfort."
The new product was slated to launch in 10,000 stores in June, but as retailers delayed merchandising resets to prioritize restocking shelves, that number has been reduced to about half as many outlets. SmartSweets turned its attention to driving sales through its website and online retailers like Amazon.com.
"Those with direct-to-consumer operations in place have a huge built-in advantage for the next two years," said James Richardson, PhD, founder of Premium Growth Solutions, a consultancy for early-stage packaged food brands, and author of "Ramping Your Brand: How to Ride the Killer CPG Growth Curve."
In grocery stores, he added, "shoppers are now in stress mode, not looking for new things to try. Your options to work the store are way down."
As consumers remain gripped by fear and economic instability, brands should aim to increase sales among its current shopper base, "converting light users to heavy users," instead of attempting to attract new ones, Dr. Richardson said, adding that "marketing dollars to drive trial will go down the sink."
"Loyalty marketing is one of the open channels you have because your current and repeat customers are going to open your email, and even if they don't, they're not offended you sent it," Dr. Richardson said during a webinar in late March.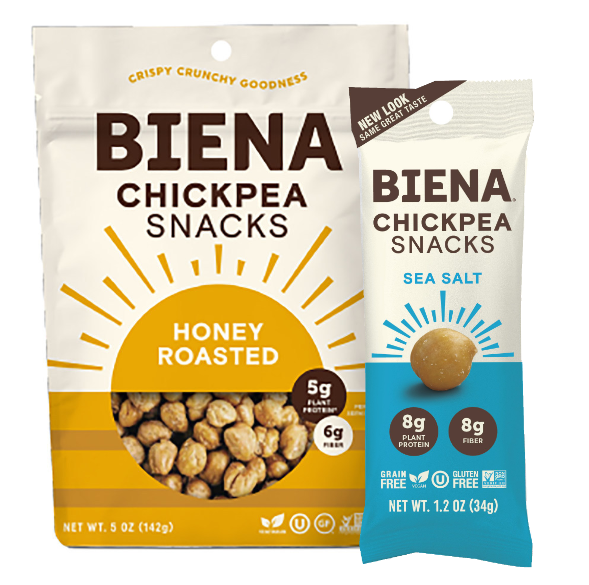 Biena Snacks, a Boston-based maker of roasted chickpeas and puffs, revised its communications to consumers as the virus swept in and rattled the country.
"We wanted to make sure our content we were putting out was in tune with the environment," said Poorvi Patodia, founder and CEO. "Basically, we went through all content on social media and advertising with a fine-tooth comb."
The brand also began donating product to health care workers and hospitals in New York through a program called Founders Give, which by late April had collected and distributed more than 2 million products from 271 brands, including Chobani and Kind Healthy Snacks.
Like many packaged food companies, Biena Snacks experienced a surge in sales in March, when shoppers nationwide stockpiled supplies in preparation for stay-at-home measures to slow the spread of the illness. The company provided a transparent dialogue with retailers, consumers and other stakeholders to explain how it was responding to the spike in demand.
"We immediately ramped up production of our snacks," Ms. Patodia said. "Our snacks are produced in multiple plants and locations around the country, so lots of communication with the teams on ground there to understand what policies they were putting into place to be able to secure both the production lines inside plants as well as the employees and team members that were working to produce our food.
"We increased our production both in order to meet the surge in demand but also to build up more of what we call 'safety stock' in case there are outages in the future. Luckily from an operations and supply chain and manufacturing standpoint, everyone acted very quickly, at least in our network, to secure things, and it's been really helpful that food production has been carved out as being essential by various governments at the federal and state levels, so that was critical in terms of us being able to maintain that supply."
Into the unknown
Numerous small brands may face disruptions in production and manufacturing as inventories are depleted, said Phil Kafarakis, president of the Specialty Food Association, New York.
"Most depend on outsourced manufacturing, and that could be problematic depending on their co-packer and any proprietary co-packer brands that could become a priority for the co-packer," Mr. Kafarakis said. "Making decisions on workforce reductions and how to keep the operation running to meet the demand that they could be experiencing will immediately become the next round of priorities, including the impact of work-from-home orders in several states."
SmartSweets has remained in close contact with partners in supply chain and manufacturing "to have daily visibility into what's happening on the ground and if there's anything around the bend we need to plan for," Ms. Bosch said. "We've been planning for all scenarios, including possibilities out of our control that could happen to make sure we're prepared, including anything from manufacturing disruption to consumer shift to purchasing behavior to being more permanently online."
Mr. Kafarakis said more established brands will need to balance relationships in serving key customers while satisfying banks, investors and entities that they have a business continuity plan — one that mitigates risk.
Longer-term effects may include a pause on product innovation as founders focus on maintaining liquidity.
"The buying community will continue its primary focus on keeping up with demand and ultimately will have to manage replacing suppliers that cannot keep up, or who cannot assure long-term supply or go out of business," Mr. Kafarakis said.
The Specialty Food Association, which has canceled the Summer Fancy Food Show in June after its venue was converted into a makeshift hospital, is providing outreach and education to members as they navigate unprecedented challenges.
"Align to and gather as many available resources as possible from your closest supporters, including leveraging membership in any organizations that provide free and fast services," Mr. Kafarakis said.
He also recommended brands maintain contact and support for key retail customers as they require assistance stocking shelves or fulfilling home delivery programs.
"Most important, put your business into a pause mode if you can't keep up with demand or can't keep supply promises or services," he said." It's best to be as transparent as you can be so that you come out of this with a high degree of credibility and integrity."
An untold number of startups and small businesses may not survive the crisis. Three Twins Ice Cream, Petaluma, Calif., an organic ice cream brand, announced in mid-April it was ceasing operations following a series of financial hurdles punctuated by the global pandemic.
"We were always working toward a scale where we could have sustained profitability, but in more recent years we saw the business contract and margins get squeezed further," Neal Gottlieb, founder and CEO, wrote in a social media post. "The result was that the business had been unsustainable, and a capital infusion was necessary, but proved to be impossible. Any chances of a last-minute solution were erased by the pandemic. As a result, we have no choice but to shut down the business. It is possible that somebody will revive the brand in the future, but unknown how likely that may be."
The indomitable, intrepid spirit of entrepreneurs is being tested by an unseen force. Adapt or pause? Survive or thrive?
"I've always operated under the simple question of 'where are we?'" said Forager Project's Mr. Williamson. "And really that's a daily, weekly, quarterly, yearly, longer-term question you need to be able to answer accurately before you embark on anything. And today, I don't think it's possible to answer that question with a great deal of confidence.
"Where are we?"
During a prolonged period of disruption and uncertainty, Forager Project is accelerating research and development, building a pipeline of products with no clear view of when and how to launch them, Mr. Williamson said.
"I've got a long product development list underway, and our R&D team is fully functioning and we're going at it," he said. "Lots going on. It's just that I don't know when it's going to come to market."