KANSAS CITY — Millions of Americans gobbled popcorn, potato chips and crackers to cope as the coronavirus pandemic unleashed economic and social turmoil across the globe. Demand for brands including Cheetos and Cheez-It exploded in March, contributing to a short-term boom in the salty snacks category, which was set for a slowdown, said Beth Bloom, associate director of food and drink reports for Mintel, Chicago.
Total US sales of salty snacks increased by nearly 7% in 2019, surpassing $19 billion, but the rate of growth was expected to decelerate with shoppers opting for healthier snack alternatives. Research suggests the ongoing crisis has momentarily disrupted an expanding consumer desire to discover new flavors, ingredients and brands.
"Consumers are stocking up on shelf-stable goods in general and seeking affordable, familiar, comforting foods, such as their favorite salty snacks," Ms. Bloom said.
Prior to the pandemic, snacks formulated with ingredients such as cassava and chickpeas were gaining popularity, promising a premium or more healthful experience than traditional offerings based on corn or potatoes. Flavors such as basil, avocado and sweet chili drew high levels of interest from mainstream shoppers, according to Mintel.
As the virus spread, consumers, in pursuit of comfort and familiarity, scooped up extraordinary volumes of conventional snacks produced by the leading consumer packaged goods companies. Kellogg Co., Battle Creek, Mich., saw cracker sales jump nearly 40% in March over the prior year. PepsiCo, Inc., Purchase, NY, tracked strong double-digit growth of brands, including Lay's and Tostitos, up 32% and 42%, respectively.
While consumers stayed home to stem the spread of the virus, demand for on-the-go snacks eased. General Mills, Inc., Minneapolis, indicated sales of the company's nutrition bars were soft in the most recent quarter.
Such dynamics in consumer snacking behavior are temporary and will continue to evolve in the foreseeable future. Over the coming months, consumers are expected to return to a wider variety of snack options, including those that are more health focused, according to Mintel. Longer term, an economic downturn may prompt consumers to curb non-essential purchases, such as snacks. However, a post-recession period will spark demand for more premium, innovative options, Ms. Bloom said.
"Snackers primarily do so to satisfy cravings, meaning salty snack brands will need to continue to deliver on — and even bolster, for some segments — indulgence," Ms. Bloom noted. "At the same time, consumers are looking for lower-guilt snack options that can contribute to health. Both don't need to be achieved in one catchall snack."
Sally Lyons Wyatt, executive vice president and practice leader at Information Resources, Inc. (IRI), said convenience will continue to be important to consumers post-pandemic, noting strong preferences by younger generations and Hispanic consumers. Price will be critical to success going forward, too, as 72% of consumers look at the price before choosing a snack, according to IRI data.
Ms. Lyons Wyatt also cited interest in snacks that offer health benefits. Fifty-four percent of consumers said they want snacks that contain vitamins and minerals, and 38% seek snacks containing probiotics, according to IRI. Forty-eight percent of consumers are looking for snack products that are high in fiber to benefit digestion. Products featuring a collagen claim grew 46% last year, and snacks containing cannabidiol also are surging in a variety of forms and channels, Ms. Lyons Wyatt said.
Form and function
New snack launches in recent months boast functional claims. A granola brand debuted that blends beautifying ingredients like biotin and marine collagen baked with almonds, oats and coconut oil. Uplift Food, a New York startup backed by Mondelez International, Inc. unveiled Gut Happy Cookies, made with resistant starches and prebiotic-rich ingredients such as lupin beans, tigernuts, tapioca fiber and kiwifruit to aid digestive health.
Beyond Better Foods, New York, introduced Enlightened Fruit Infusions, which are frozen fruit bars infused with adaptogens associated with reducing inflammation and promoting stress relief. Varieties include watermelon with turmeric, black pepper and rosemary; strawberry with lavender, chamomile and lemon balm; pineapple with dandelion root, turmeric and ginger root; and coconut with elderberry, hibiscus and aloe.
"Consumers have a growing array of snack options to choose from, meaning the competition for inclusion in snack occasions is stronger than ever," Ms. Bloom said. "Satiety, indulgence, health and portability will be key factors of focus to ensure relevance."
Vegetable inclusions add a healthful appeal to crackers, chips and even crispy rice treats. The Campbell Soup Co., Camden, NJ, introduced Goldfish Veggie Crackers, which provide a one-third serving of vegetables and are made with colors sourced from plants. Flavors include cheesy tomato and sweet carrot.
"Veggie Goldfish serves as a new option for today's consumer who is looking to fulfill the trifecta need of a convenient, delicious and nutritious snack," said Janda Lukin, chief marketing officer for Campbell's Snacks.
Los Angeles-based This Saves Lives debuted Kids Krispy Kritter Treats, a line of snacks for children that provide one full serving of fruits and vegetables per serving. The marshmallow crispy rice treats contain a blend of apple, onion, broccoli, kale, cranberry and raspberry.
Simple Mills, Chicago, is introducing Veggie Pita Crackers, formulated with a blend of sweet potato, parsnip and celery root, and available in Himalayan salt, Mediterranean herb and roasted red pepper varieties.
A recent introduction from San Francisco-based startup The Naked Market is Avo Crazy, a puffed snack formulated with avocado. Varieties include vegan cheddar, vegan ranch and barbecue salsa.
"Avocados are one of Americas favorite foods … yet, aside from avocado toast and in salads, there has been very little innovation in how we enjoy avocados," said Harrison Fugman, chief executive officer of The Naked Market. "Avo Crazy will fill that void with avocado puffs that are delicious and nutritious."
Flavor inspiration
Flavor remains the leading driver of snack choice, followed by treating oneself as a top motivation for snacking, according to Mintel research. Seventy-nine percent of consumers surveyed by Mintel said flavor is more important than brand when choosing a snack, and 52% said taste is more important than health when eating snacks.
Nearly half of snack consumers surveyed by Mintel said they like to experiment with new flavors in snacks. Mainstream mainstays such as barbecue, salt, ranch and garlic remain the most popular, but pickle, rosemary, bourbon and Nashville hot are among emerging snack flavors that appealed to survey participants.
Flavor innovation featuring unique combinations such as sour-spicy or spicy-sweet and "next-level herbal, vegetable and spicy flavors" may accelerate demand in growing categories and reenergize lagging segments, Mintel said.
The specialty retailer Trader Joe's, Monrovia, Calif., recently debuted Synergistically Seasoned Popcorn, which combines tangy, salty, smoky, spicy and slightly sweet kernels. Trader Joe's, which previously has offered such popcorn varieties as dill pickle, maple sea salt, and cheddar and caramel, said the product features a seasoning blend of white vinegar powder, sea salt, natural smoke flavor, cayenne pepper and cane sugar to create a one-of-a-kind snacking experience.
Herr Foods Inc., Nottingham, Pa., has launched Herr's Flavor Mix, a snack concept featuring two potato chip flavors in one chip. Varieties include cheddar and sour cream and onion; barbecue and salt and vinegar; and red hot and honey barbecue.
"It's a lot of fun to take two classic Herr's flavors and put them together to create a great new flavor," said Bob Clark, vice president of marketing at Herr Foods. "Loyal Herr's fans and new flavor seekers alike will enjoy the unique, flavorful combinations."
From Utz Quality Foods, LLC, Hanover, Pa., Zapp's Evil Eye kettle-style potato chips have an underlying mild heat and are described by the company as "a conundrum of flavors that lives up to the sights, sounds and soul of New Orleans."
Meal-inspired flavors are showing up in snack offerings, too.
Whole Foods Market, Austin, Texas, introduced a limited-edition range of potato chips in sandwich-themed flavors, including Italian hoagie, Cuban press and pastrami on rye. The sweet-and-savory breakfast pairing chicken and waffles has appeared in several new snack launches, including a Kellogg's Pringles variety. Other recent Pringles additions include sweet corn, Parmesan and roasted garlic, and rotisserie chicken.
Sriracha no longer stands alone as a popular hot sauce flavor for snacks. PepsiCo recently unveiled Lay's potato chips flavored with Frank's RedHot sauce, and Mondelez International, Deerfield, Ill., launched Ritz Crisp and Thins baked crackers seasoned with Tabasco pepper sauce flavor. Tajin, a Mexican seasoning with a chile lime flavor, is featured in popcorn, peanuts, tortilla chips and frozen fruit bars.
Mexican street corn, or elote, an emerging flavor profile in recently launched snacks, is characterized by hints of cotija-style cheese, chile powder and lime juice. Other globally inspired snack flavors include chimichurri and churro.
The everything bagel seasoning, which combines sesame seeds, garlic, onion, salt and poppy seeds, adds complexity and crunch to popcorn, nuts and crackers spotted on retail shelves.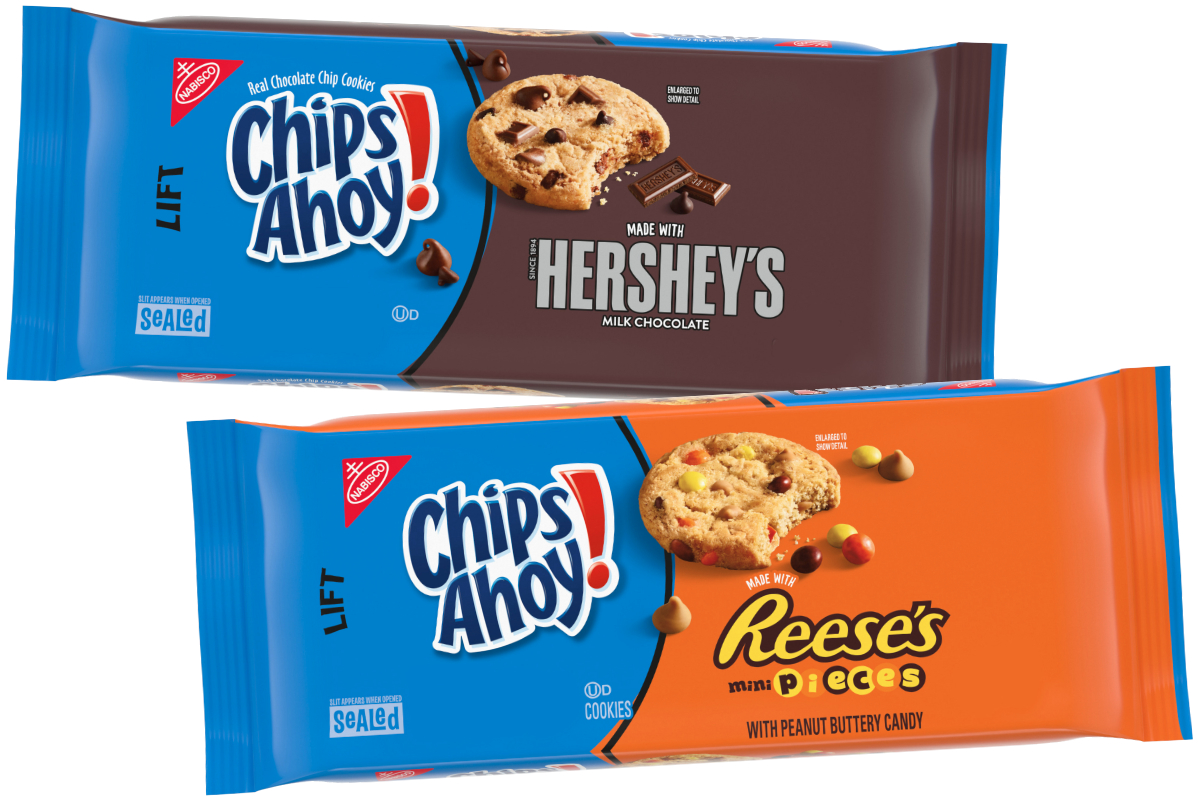 On the sweet side, nostalgic flavors like peanut butter and jelly, birthday cake, breakfast cereal and soda pop remain popular across a variety of categories, including cookies, chocolate, bites and bars. Classic ice cream flavors such as hot fudge sundae, orange creamsicle and root beer floats are gaining traction in sweet snacks.
Beverage flavors like matcha tea, rosé wine and cold-brew coffee also appear in an assortment of snacks. LesserEvil Healthy Brands, LLC, Danbury, Conn., has introduced a collection of ready-to-eat popcorn featuring fruity flavors inspired by sparkling water, including lemonade, pink grapefruit and watermelon hibiscus.
Hybrids remain popular in new product development as brands collaborate to bring familiar flavors to new aisles of the grocery store. Candy and cookie brands are combined with popcorn as an indulgent snack. Herr's has partnered with the Dippin' Dots ice cream brand to create cookies and cream and birthday cake flavored crunchy corn snacks.
Two Mondelez International brands combine in new Chips Ahoy! Sour Patch Kids cookies, which include sweet and sour gummy candy bits. The co-branded cookie follows the launch of Chips Ahoy! varieties made with miniature Reese's Pieces or Hershey's Milk Chocolate chunks, developed in partnership with the Hershey Co.
"With Chips Ahoy!, we're always looking for new delicious flavors to bring to life in a chocolate chip cookie that will provide consumers with the variety they crave in their sweet snacks," said Sabrina Sierant, associate director for the Chips Ahoy! brand.