CHICAGO – Warmer weather and longer days are the tell-tale sign for ice cream processors to increase production for the summer months of licking and dripping. Unfortunately, this year was a little different.
The stay-at-home response to the coronavirus (COVID-19) pandemic prompted a rare "pre-season" surge in ice cream sales at grocery and convenience stores across the country, said Luconda Dager, president, Velvet Ice Cream, Utica, Ohio,  family-owned ice cream maker. While the company's foodservice sales came to an almost virtual halt, its retail sales nearly doubled.
The growth came from both consumer demand for ice cream, as it's a welcome familiar, comfort food during uncertain times, as well as increased distribution. To keep supermarkets stocked, Velvet stepped up and was able to expand sales of its ice cream, sherbet and novelty products at new grocery and convenience stores across Indiana, Kentucky and West Virginia.
"We're excited to launch new partnerships in these markets neighboring our home state and look forward to serving loyal customers across the Midwest as our distribution continues to grow," Ms. Dager said. "As consumer demand increases, we are able to serve our customers wherever they choose to purchase their favorite frozen treats."
Retail sales continue to boom; however, they have slowed as the country begins to reopen. At its peak, retail sales of ice cream and frozen novelties were up 34% and 35
%, respectively, for the week ended May 3, 2020, as compared to the same week a year ago, according to Information Resources Inc. (IRI), Chicago. Prior to the quarantine, the figures were -0.2% and 6% for the week ended March 1.
Ms. Dager said Velvet's sales growth and expansion are being driven by the company's focus on service and direct-store delivery (DSD). The sales team regularly enters stores, rotates products, checks freshness and makes sure the proper point-of-sale information is in place. Velvet's approach is helpful for the many grocery warehouses having difficulty keeping ice cream in stock.
"We have picked up a lot of new business, including Walmart, because of the DSD model and the ability to maintain products during periods of unpredictability," Ms. Dager said. "The perfect mix of new technology and old-fashioned customer service have created a ripple effect in our sales and brand loyalty."
Velvet's sales in West Virginia have grown by 85% over the past year and Velvet expects continued robust growth of 35% through the remainder of 2020. Business in Fort Wayne, Ind., is expected to grow by 12% to 15% this year.
Amidst this growth, Velvet added some items to its line. There are two new fruit-forward dessert flavors that celebrate the tastes of summer, including blackberry cobbler and blueberry cheesecake. The company also added two ice cream sandwiches to its novelty line. Either mint or chocolate ice cream gets packed between two chocolate wafers.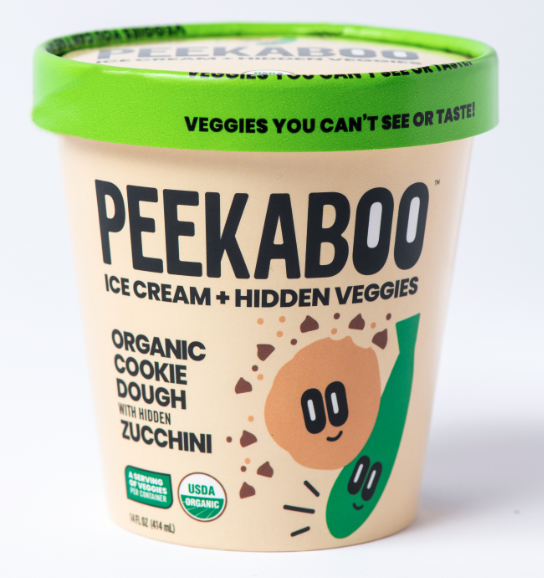 Better-for-you ice cream brands have also benefited during these uncertain times. Peekaboo Ice Cream, Surfside, Fla., just launched unicorn swirl and cookie dough flavors, both with hidden zucchini, at Target stores throughout the United States. With the new flavors comes a packaging makeover with eye-catching graphics to better appeal to youngsters. The two new flavors join the original five, which debuted two years ago. They include chocolate with hidden cauliflower, cotton candy with hidden beets, mint chip with hidden spinach, strawberry with hidden carrot and vanilla with hidden zucchini.
"We have benefited from incredible timing," said Jessica Weiss Levison, founder and chief executive officer. "We launched a better-for-you product that serves two needs: veggies and ice cream. With Peekaboo, a consumer can justify spending a little more for a higher-quality organic product that crosses two items off of their shopping list.
"During this stressful time, consumers are seeking to maximize their health, boost their immunity while seeking moments of comfort. Peekaboo provides the comfort and nostalgia of a tried and true favorite. It's indulgent ice cream that also delivers vitamins and minerals from immunity-boosting organic veggies. Particularly during COVID-19, when parents are prioritizing the happiness of their kids over all else, myself included, arguing over veggies just isn't worth the mental energy. We have received hundreds of messages from parents grateful for an option that brings joy to their kids and serves as a vehicle to deliver veggies, without any unnecessary drama."
For startups like Cloud & Joy, Miami, which debuted its better-for-you ice cream at The NGA Show (National Grocers Association) at the end of February in San Diego, the past few months have been challenging.
"We are currently working on securing distribution and are making some progress, as things seem to be starting-up again after a period during the pandemic when distributors and stores weren't looking to onboard new brands or have category reviews from frozen dairy," said Selina Tepoot, co-founder and product creator. "For online availability, we are aiming for it to ship direct-to-consumer in late summer or early fall."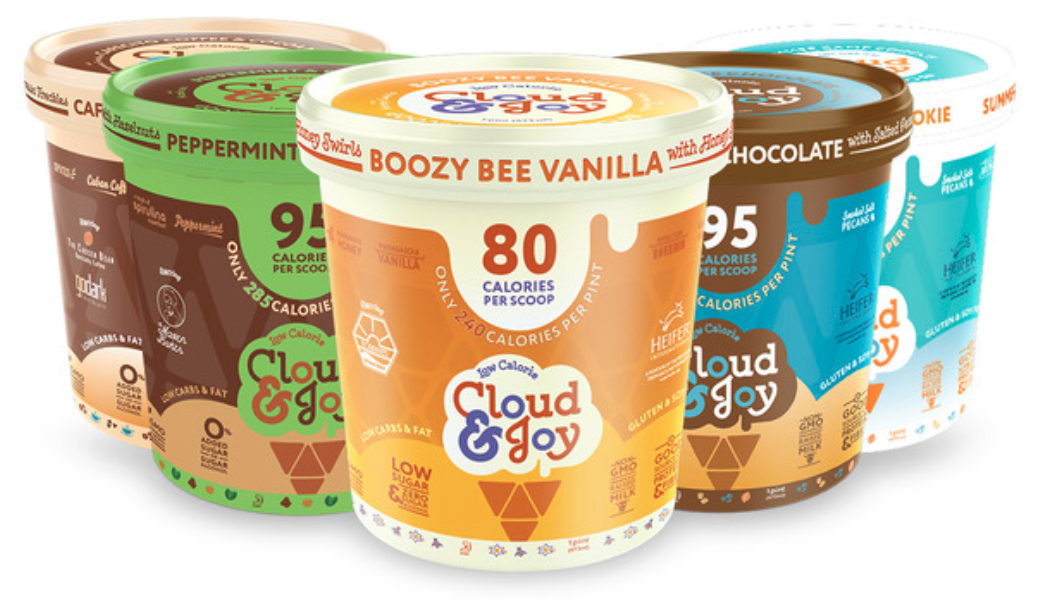 Ms. Tepoot developed four ice cream varieties, all of which emphasize the low sugar content, and with some varieties, no added sugars. None of them contain sugar alcohols. The innovative base starts with organic non-fat milk with sweetness coming from a unique blend of allulose, organic agave inulin fiber, stevia leaf extract, monkfruit and mushroom extract. Boozy Bee Vanilla is vanilla with bourbon and honey swirls. Cafecito Coffee & Cocoa Nibs is reminiscent of thick, sweet Cuban coffee with added cocoa flakes. Peppermint & Brownies is peppermint ice cream with hazelnut-infused dark chocolate brownies with hazelnut slices. This variety also contains spirulina superfruit for a health benefit. Sea & Smoke Chocolate is dark chocolate ice cream with cherrywood smoke flavor, sea salt and roasted, glazed, salted pecans.
"It's been a long road to startup because we basically announced our debut right as there was an unprecedented crisis and it's definitely been a challenge to launch since we weren't already in-channel when it hit," Ms. Tepoot said. "We had to establish a new brand from the ground-up during the pandemic. However, despite some setbacks, we are making progress and looking forward to truly hitting the market.
"We believe in our product and it's extraordinary potential as a truly healthy and ethical ice cream. We've been using some of the extra delay time to tweak the formula to make it even better based on feedback."
Online ice cream sales fared well for many players during quarantine. Consumers sent a cooler (with dry ice) to family or friends for a birthday, graduation or simply for encouragement.
Before the outbreak, Eugene, Ore.-based Alden's Organic had started working with Healthy Goodness, a frozen food fulfillment service specializing in natural foods. Alden's planned to use the online channel to launch its new dairy-free line. When the pandemic hit, instead of pausing, Alden's knew they needed to go all in and added its almost 50-item line to the e-commerce platform.
"Even during these challenging times we knew we needed to push ourselves to make this happen if we could," said Eric Eddings, president and CEO of Alden's. "E-comm frozen sales are up 31% since the COVID crisis, and we think this is a trend that will continue even after we recover from it."
Alden's Organic expects e-commerce to supplement its national grocery distribution, which remains and will continue to be the mainstay of the business. The company also has plans to launch new products through both channels.
Crystal Creamery, Modesto, Calif., was in the midst of phasing in its new and improved ice cream formulations that also come in updated packaging when the pandemic hit. Consumers noticed and the enhancements were well received by retailers and shoppers alike. Sales have exceeded expectations the past few months.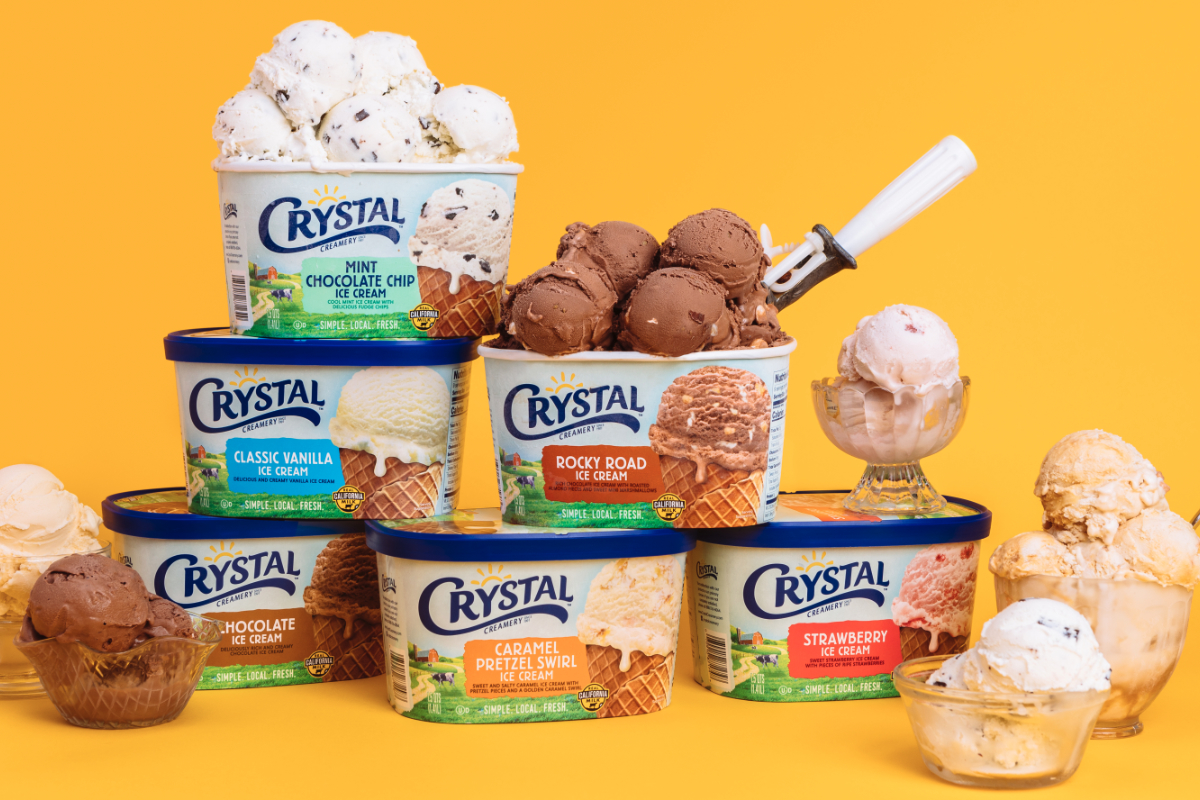 The new recipe uses simple ingredients, such as cream, sugar and milk sourced from local family farms, while excluding artificial flavors, coloring, sweeteners, high-fructose corn syrup, synthetic gums or mono and diglycerides. There are 29 flavors of premium ice cream available including classics like vanilla and rocky road but also newer and indulgent flavors like caramel pretzel and chocolate avalanche.
"We spent a tremendous amount of time and care listening very carefully to consumers through marketing research and learned more about their desire for transparency and clean ingredients," said Brian Carden, senior director of sales.