CHICAGO — Sweet, tangy and sour all are attributes used to describe drinking vinegars, a beverage category accelerating in the wellness space as consumers become more mindful about building immunity and improving their digestive health. Also referred to as vinegar tonics, most are based on apple cider vinegar, which has a history as a home remedy for common ailments and improving overall health. Consumption may be traced back to the ancient Greeks and Romans who developed it from apple wine and believed it had anti-aging and longevity-promoting benefits.
Apple cider vinegar often is referred to simply as ACV. It has a more palatable flavor profile, as compared to most vinegars; however, as today's health-conscious consumer embraces better-for-you beverages, other fruit vinegars are being explored by craft manufacturers.
Fruit vinegars are made through a two-step fermentation process. First yeast converts the inherent sugar into alcohol, then bacteria turns the alcohol into acetic acid, the sour component of all vinegars. Vinegar with the "mother" is unfiltered and retains the yeast, bacteria and byproducts of fermentation. The "mother" also refers to beneficial bacteria that remain alive in the vinegar, which are recognized as having probiotic function. The bacteria make the vinegar appear cloudy.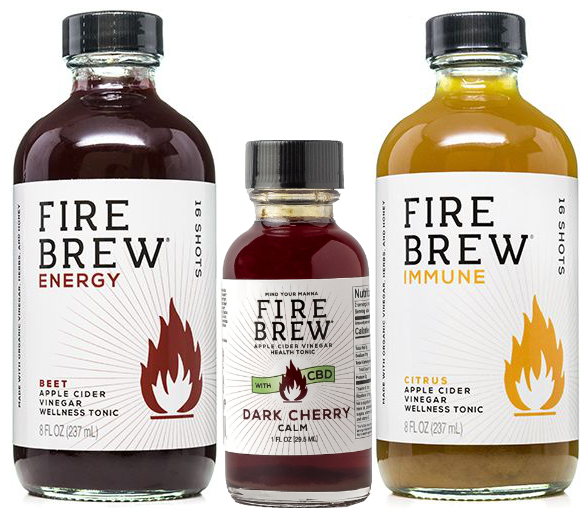 Vinegar also contains polyphenols. The antioxidants are associated with reducing cellular damage that may lead to chronic disease. Sports enthusiasts appreciate the high levels of potassium in ACV. The electrolytes assist with hydration and recovery.
Drinking vinegars build on these benefits through the addition of other better-for-you ingredients. Some are sold as super-strength tonics, intended to be consumed as a shot or diluted through another beverage. Others are weakened with water and juices and sold as ready-to-drink beverages.
Valerie Roth, founder, Mind Your Manna, Portland, Ore., believes nourishing plant-based foods may reduce the effects of chronic, systemic issues and directly impact overall wellness. She collaborated with herbalists to craft tradition-inspired holistic wellness tonics.
"All of our products are a unique combination of raw ACV with the mother, saturated in nutrient-rich fruits, vegetables, herbs and spices," she said. "Each of our lines has its own unique benefits. The most critical aspect of our products is to take them daily, one tablespoon minimum. When and how is your call."
The Fire Brew line is a concentrated, all-natural, multivitamin-in-a-bottle drinking vinegar. Varieties include energy beet, immune citrus, renewal hibiscus, vitality chai and dark cherry with CBD.
"The line is designed to 'activate' and keep your entire system cleansed and running at optimal speed," Ms. Roth said. "The yin to Fire Brew's yang is the Moon Brew line. It offers a dose of alkaline-oriented vegetables, along with fruits, herbs and spices to support your system naturally and encourage peace of mind. The ingredients are healing, toning and hydrating."
Varieties include calm pear, sleep blueberry and uplift strawberry. Both lines come in 2-oz shots and 8-oz multi-serve bottles.
Los Angeles-based Vina comes in 12-oz cans. With the tagline of "A new way to ACV," the drink combines fruit with sparkling water and nearly three tablespoons of ACV (with the mother) in every can. Varieties are: honey, lemon ginger, orange turmeric, raspberry lime and tart cherry rooibos.
Poppi soft drinks, from the Dallas-based namesake company, have one tablespoon of ACV in every 12-oz can. The carbonated beverages are sweetened with cane sugar, stevia and fruit juice and contain 15 to 20 calories and 4 to 5 grams of sugar, depending on flavor, of which there are seven. They are blueberry, lime ginger, orange, pineapple mango, peach tea, raspberry rose and strawberry lemon.
Probucha is the most recent offering from Neuro Brands LLC, Santa Monica, Calif. The digestive health beverage's name is derived from its two main ingredients: probiotics and kombucha. It is a lightly carbonated shelf-stable beverage naturally flavored with Meyer lemon and ginger. While Probucha is formulated in the style of kombucha, its probiotic benefits are derived from a single culture, Bacillus subtilis, which is a spore-forming culture. This allows the beverage to be distributed and stored at ambient temperature.
Each ingredient plays a role in restoring, rebuilding or promoting better digestive function, according to the company. The formulation includes ginger, curcumin and one tablespoon of ACV.
A 15.2-oz bottle of KeVita Apple Cider Vinegar Tonic from PepsiCo, Inc., Purchase, NY, contains two tablespoons of ACV. The refrigerated beverage is fermented with water kefir culture and provides billions of live probiotics. Sweetened with stevia, a bottle contains 40 calories. Varieties are: elderberry, ginseng Mandarin, Meyer lemon and turmeric ginger.
Suja Juice Co., Oceanside, Calif., which is owned by The Coca-Cola Co., Atlanta, rolled out a drinking vinegar line a few years ago. The lemon cayenne variety now is marketed as part of the company's organic juice cleanse. Sold online, the cleanse includes seven 13.5-oz bottles intended to be consumed over three days while following a specified diet. The cold-pressed, high-pressure processed organic fruit and vegetable juice blend contains organic ACV and probiotics and is the first variety to be consumed during the cleanse.
Stonewall Kitchen, York, Maine, markets the Vermont Village brand of drinking vinegars. In addition to 8-oz multi-serve bottles, the company offers 1-oz on-the-go single-use pouches. Made with raw, organic ACV and sweetened with a touch of honey and stevia, the pouches come in blueberry, ginger and turmeric flavors.
The company's most recent addition is being marketed as a functional vinegar. The Beauty Boost formulation contains collagen and is described as "a tonic that will help you to feel gorgeous from the inside out."
In the adult beverage category, mixologists appreciate the acidity drinking vinegars bring to cocktails. They typically will work with concentrated, sweetened vinegar tonics known as shrubs, which have the consistency of a syrup. The mixers come in fruity and herbal flavors and are marketed as a healthful mixer for sodas and cocktails, as well as a culinary tool for everything from dressings to marinades to sauces.
McClary Bros., Detroit, markets a line of shrubs in eight varieties, with Michigan apple pie the most popular. The other flavors are beet carrot, cranberry, lemon ginger, pineapple fennel, Saskatoon berry (locally grown in nearby Canada), strawberry and watermelon.
The Stevens Point, Wis.-based Siren Shrub Co.'s Door County tart cherry shrub is made with Montmorency tart cherries from local supplier Seaquist Orchards, Sister Bay, Wis. The maple ginger variety taps into the sap collected from sugarbush grown near Neva, Wis.
The company offers three limited-run, seasonal flavors — basil, currant and rhubarb — all made with locally harvested crops. The shrubs contain three ingredients: the characterizing plant, organic ACV and organic cane sugar. Soon the company will enter the RTD category with 12-oz cans of carbonated tart cherry. The beverage is made with water and tart cherry shrub.
Som is a take on shrubs. Developed by Andy Ricker, a chef based in Portland, Ore., Som is a zero-proof cane vinegar cordial made from organic cane vinegar, cane sugar and whole fruits, spices and botanicals. Som comes in 16.9-oz bottles and is marketed as a tart and sweet mixer, especially suited for mocktails. With more than a dozen handcrafted offerings, some of Mr. Ricker's signature flavors are pineapple Szechuan pepper, strawberry Thai basil and tamarind sea salt.
"More and more, people are looking for diversity in drink options that are complex, experiential and deliver a wide array of flavors, without alcohol," Mr. Ricker said. "They don't want to compromise taste, atmosphere or experience, whether they are choosing to drink alcohol or not."
RTD beverage manufacturers using ACV as an ingredient typically purchase the vinegar in bulk tankers. The concentrated products often are made with apple juice fermented in-house.
Vinegar ingredients are also available in powder form, making it possible to include them in dry mixes. Orgain, Irvine, Calif., for example, is introducing Orgain Organic Sport Recovery Powder. It's a lemonade-type mix that includes ACV for electrolyte replenishment, along with amla fruit for vitamin C, turmeric and ginger to reduce inflammation, and an adaptogenic blend of reishi mushrooms and ashwagandha to help reduce stress. Together the ingredients aid in post-workout muscle recovery and help to reduce muscle soreness, according to the company.
"I noticed varied product offerings within the sports nutrition market and knew we could design a more elevated option with unique ingredients that would provide a clean way to aid performance," said Andrew Abraham, founder and chief executive officer at Orgain. "We began working with ingredients that were less common in sports performance products (such as ACV)."