KANSAS CITY — Chickpeas, sunflower seeds and cauliflower star in recent innovations in the dressings and marinades category. Such products deliver more than flavor; they offer nutritional benefits, too.
88 Acres, a Boston-based snack food company, recently expanded into the dressings category with a line of shelf-stable offerings featuring a base of sunflower, pumpkin or watermelon seeds. The plant-based dressings provide up to 5 grams of protein per serving. Varieties include lemon poppy seed, green goddess, garden ranch, smoky chipotle and Southwest turmeric.
"Most shelf-stable salad dressings are filled with gums, preservatives and a bunch of things that are not real food … and on top of that, they are nutritionally devoid," said Nicole Ledoux, co-founder and chief executive officer of 88 Acres. "We saw an opportunity to create something with seeds as the No. 1 ingredient that was packed with nutrients and real food."
88 Acres dressings feature spices such as cardamom and cumin, which are among trending ingredients in the category, said Robert Murphy, research chef and innovation specialist at Illes Foods, Carrollton, Texas.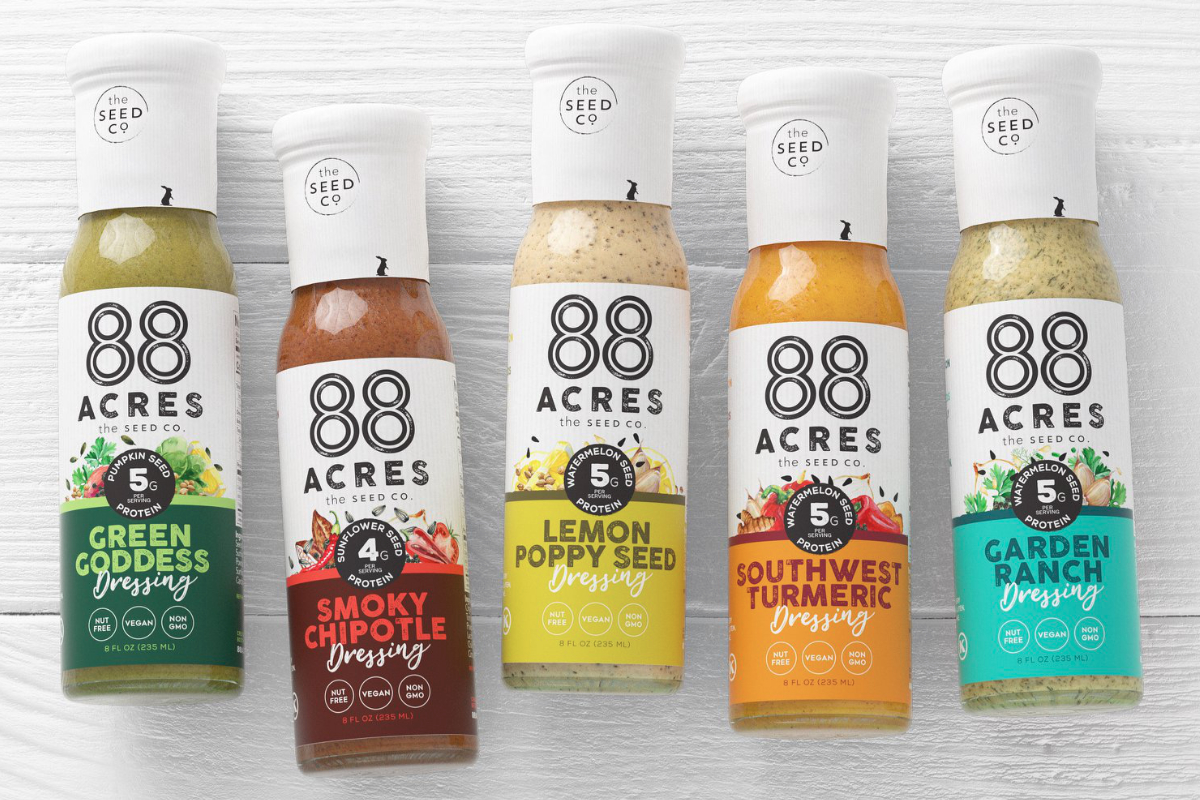 "From a culinary standpoint I'm seeing a lot more citrus; lemon is being used a lot more," he said. "I'm seeing ginger, cardamom, those types of sweeter spices are going with those flavor pairings. Also, I'm seeing a lot of chili peppers being added to citrus, or even tropical fruit, mango or passionfruit being paired with a spice such as habanero and jalapeño or some kind of pepper."
Consumers are seeking dressings and marinades made with simple ingredients, premium fats such as avocado oil, and alternative sweeteners such as honey and agave, Mr. Murphy said. Demand for gluten-free and plant-based dressings is on the rise, too.
He also cited increased interest in fermented flavors, such as a kimchi vinaigrette. A recent addition to the category, developed by Cleveland Kitchen, Cleveland, is formulated with fermented cabbage. Inspired by the brand's popular sauerkraut varieties, Cleveland Kitchen's dressings and marinades are made with organic sunflower oil and sweetened with date syrup.
The Hail Caesar dressing is made with Dijon mustard, red onion, green onion, basil, thyme and fermented cabbage, garlic, caraway seed, salt and black pepper. The Sweet Beet offering is made with Dijon mustard, lime, black pepper, ginger and fermented red cabbage, beets, carrots and salt. The Gnarly Miso Jalapeño dressing and marinade is made with roasted jalapeño, fermented miso paste, salt, smoked paprika, black pepper and fermented cabbage, bell pepper, jalapeño, leeks, chili sauce, garlic and red chili. The Roasted Garlic variety is made with Dijon mustard and fermented cabbage, garlic, salt and black pepper.
Another new collection of plant-based dressings comes from O'dang Foods, Orlando, Fla. Featuring a base of chickpeas, O'Dang dressings contain 20 to 40 calories per serving. Flavors include lemon Caesar, roasted red pepper, honey mustard, garden herb ranch, southwest ranch, balsamic feta, Greek tzatziki and classic Mediterranean.
"We have spent time updating and perfecting the flavor offerings to bring the consumer a plant-based, low-calorie, good-for-you dressing collection like no other in the market, "said Jerry Bello, co-founder and managing partner of Keen Growth Capital, an investor in O'dang Foods.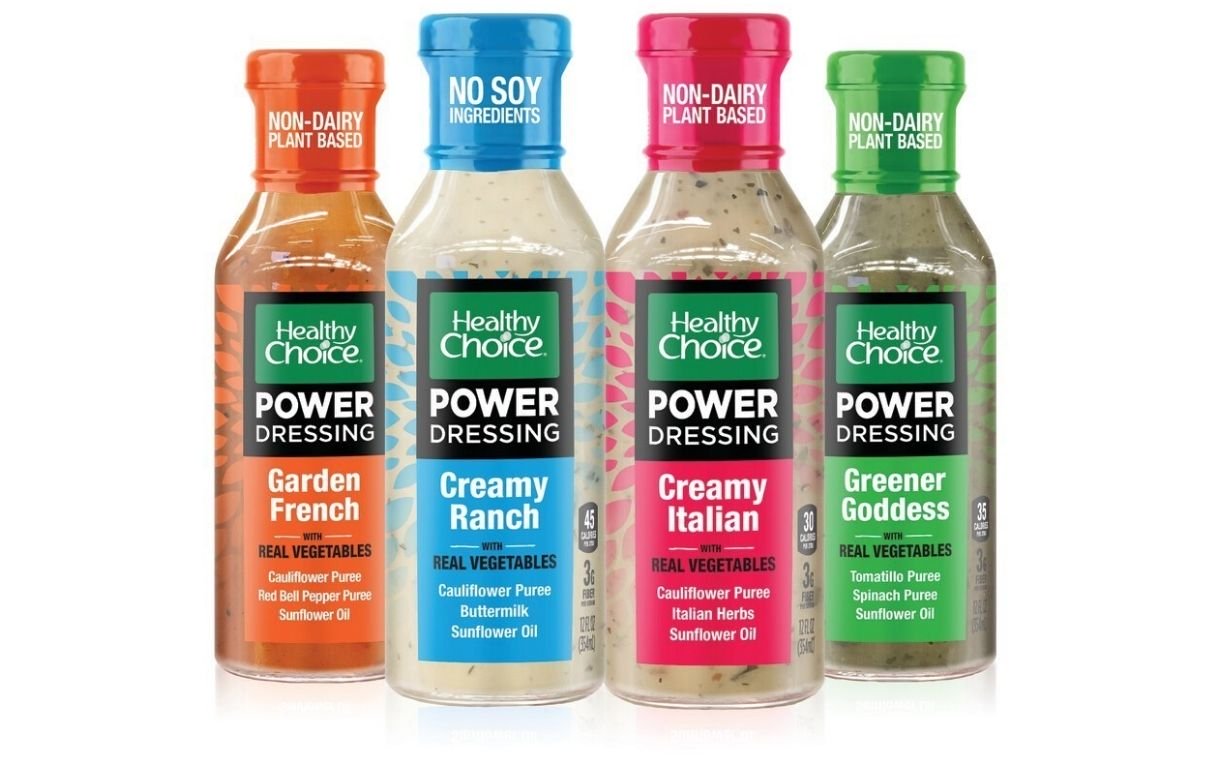 From Conagra Brands, Inc., Chicago, Healthy Choice Power Dressings are made with cauliflower puree, sunflower oil, herbs and spices. Each serving contains 45 calories or fewer and 3 grams of fiber. Varieties include creamy ranch, creamy Italian, garden French and Greener Goddess, which has tomatillo and spinach purees.
Sean M. Connolly, president and CEO of Conagra Brands, said the product line was "the most disruptive thing we're doing in our staples business this year."
"Salad dressing is a big category," Mr. Connolly said during a presentation at the Consumer Analyst Group of New York conference in February. "It hasn't had a lot of disruptive news in a long, long time. There certainly hasn't been a lot of better-for-you news in salad dressing in a long time. And I don't know if there's ever been better-for-you news in salad dressing that actually tasted good, until this product."