KANSAS CITY — Even in the best of times, starting up is hard to do. In the worst of times, it's almost impossible for incubators to get their emerging brands to market. That's especially true in today's Darwinian environment where a lockdown followed by a recession has resulted in clear winners and losers — and everyone else is stuck in between.
Simply put, it's not the best time to sell something new, but there are always exceptions to the rule.
Fortunately, HighKey got off to a running start since it launched its keto-friendly cookies in early 2019. In fact, Joe Ens, co-chief executive officer, noted that HighKey Mini Cookies has been the No. 1 chocolate chip cookie on Amazon for 16 consecutive months. More recently, the Orlando, Fla.-based company rolled out a Snickerdoodle variety that has become a top-seller on Amazon as well as Brownie Bites followed by ready-to-eat cereal in March. And it's also expanded the brand into traditional retailers.
Mr. Ens acknowledged that the response to coronavirus(COVID-19) has brought upon a "seismic shift" as retailers focused on merchandising core items and tightened the spigot for new products and upstart brands. He added it took a little time for everyone to figure out "how the new world" works and how to keep the shelves full.
"The biggest change for a startup, and to some degree big companies, is a slowdown by traditional retailers in bringing on new businesses because there has been so much uncertainty in managing the existing stock as well a shift, albeit short-term, in consumer behavior," Mr. Ens said.
As people settled into a new routine, including online shopping for some, HighKey began to reexperience growth.
"Few things change, but one thing hasn't: giving consumers what they want and exceeding their expectations," he said. "That wins pre-pandemic, and that will win post-pandemic, and actually, that wins in the midst of a pandemic."
Getting ready for the return
Mr. Ens predicted that within the next 12 months retailers will reopen access to their shelves to emerging brands and new products. "Forward-facing retailers are starting to think ahead to this spring and say, 'Look. I'm going to have a difficult fall managing through the uncertainty and managing inventory as we did in the initial phase of this pandemic, but I also recognize that this too shall pass,' and they're already thinking ahead," he explained.
That's a sentiment shared by Tom Vierhile, vice president of strategic insights, North America, Innova Market Insights, who anticipates a pent-up demand for innovation in 2021 from consumers and packaged goods companies. Those incubators that survive may see new opportunities to thrive.
"Consumers are going to tire of the same dinnertime routine and will hunger for products that can shake things up," he observed. "Food makers may see new virgin territory to conquer in supermarkets that have suddenly been freed of marginal brands that may have taken up space and delivered little on the sales front."
Linsey Herman, vice president, product development for Factory LLC, suggested the retail pullback will be short-lived because innovation is vital to attracting consumers back to stores. The Bethlehem, Pa.-based firm invests in and helps scale up high-potential food, beverage and pet food brands that have achieved more than $2 million in sales along with proof of consumer and retailer traction. Currently, its portfolio includes Honey Stinger sports nutrition waffles and chews, Mikey's gluten- free and dairy free, English muffins, pockets, and Pipcorn Heirloom Snacks, among others.
"We remember what it was like in 2008 when large food companies abandoned new product development," she said. "Small, disruptive companies moved in to take advantage of the gap in new product offerings. People get bored. And while they will always eat what is familiar and comfortable, variety-seeking will never go away."
For the immediate future, the pathway to innovation contains several roadblocks. Mr. Vierhile pointed out supermarkets are still recovering from the supply-chain shock from earlier this spring.
"The new product story so far in 2020 is SKU rationalization," he said. "'Big food' is taking a hatchet to marginal brands to focus time, energy and resources on brands that can impact the bottom line."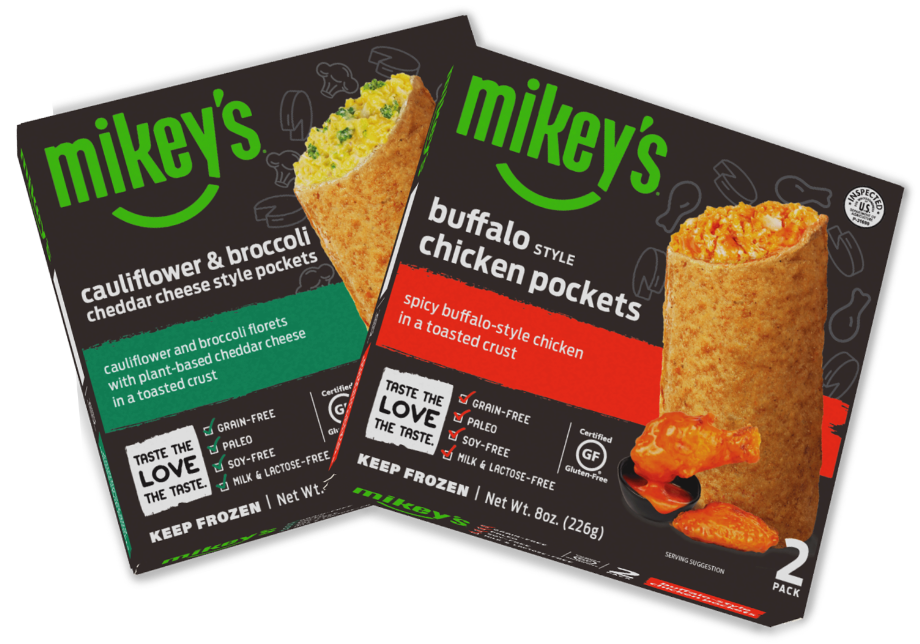 Mr. Vierhile added that trimming slower-selling products is a healthy practice that should be done fromtime-to-time. However, COVID-19 turned a pruning process that should occur gradually and made it happen almost overnight.
Then large food companies curtailed innovation. In the United States, launches of food and beverage products have tumbled about 16% for the first six months of 2020 vs. the same period in 2019, according to Innova Market Insights.
"That decline is unlikely to be reversed this year as companies may be more inclined to delay new product launch plans to 2021 to ensure that supply chain issues get sorted," Mr. Vierhile said.
As stores stocked shelves with core products, some startup brands found their supply chain contracts invalidated due to changing circumstances, and subsequently they were shut out of the market, noted Steffen Weck, president of Food Business Consulting.
"A lot of the brands that had started to show up on the horizon have literally evaporated. We will not see them again," he said. "We've seen lower-level, volume 'cutesy' brands stop getting distribution as retailers focused on toilet paper and ground beef. Their trucks can hold only so much volume. They couldn't ship everybody's quinoa chips."
Filling the big void
Mr. Vierhile suggested the current reaction by retailers and major food companies is short-sighted.
"You really cannot cut your way to prosperity," he said. "'Big food' may undoubtedly achieve some efficiencies that can help improve profit margins as a result of COVID-19-forced changes, but growth must be achieved over the long term and much of that growth is likely to come from new products. The good news for smaller companies is that this pruning process may make things easier for companies that survive this mess since large food companies' focus on big sales and big brands will likely leave more breathing space in the market."
Ms. Herman noted that COVID-19 pumped new life into some brands, especially traditional standbys, as consumers sought predictability while hunkering down.
"The pandemic gave familiar brands oxygen, but it did not make them more relevant. As COVID-19 recedes, they will, too," she said. "Over the past decade, consumers have shown a genuine attraction for new, different and better-for-you foods and beverages. Optimizing health and wellness through food is a trend, not a fad, and we think the pandemic will only heighten interest in better-for-you and wellness brands, as consumers seek to fortify their bodies against whatever comes next."
Moreover, the fundamental drift toward shopping online and direct-to-consumer should not be underestimated. Ms. Herman noted it created another opening that can best be seized by agile companies.
"That's good news for new brands, who are struggling right now to get attention from retailers," she said. "It isn't a wholesale power shift, but it is a change and an opportunity for entrepreneurs who are skillful in leveraging social media digital marketing."
Mr. Weck predicted the loss of smaller brands offering undifferentiated products will unlock potential growth options from incubators that have been vetted to withstand unanticipated swings in the market.
"There is a new emergence with this massive loading of store shelves from brands that were just lingering out there and not creating any true interest," he said. "As we start to open up again, we're going to see this amazing entrepreneurial revitalization. Hopefully, this next wave capitalizes on some of the previous mistakes that some brands made and allows new brands to be more prepared for future growth."
Jessica Cristadoro, Mr. Weck's business partner, preaches patience for burgeoning brands and urges entrepreneurs to take advantage of the lull in new products to better position themselves before their next launch.
"Marketwise, we're seeing 'Let's prepare for post-COVID,'" she said. "There's not a lot of 'Let's hop in this market right this minute.' Rather, it's about 'Let's get all of our ducks in a row and when things rebound, we're ready to go.'"
Hitting the accelerator
That's exactly what HighKey is doing to leverage its established position both online and more recently in brick and mortar.
"If anything, we have only accelerated our new product pipeline work," Mr. Ens said. "If you think of our business model, once we roll out something on dotcom, we can bring that across to our traditional retailers."
HighKey, he added, can go to market quickly with new products because of its direct-to-consumer and e-commerce model. If others slow down on innovation, that just makes it easier for the company to expand its presence in the overall market.
"The biggest challenge is creating new products with relevant differentiation," Ms. Herman said. "Factory is a multidisciplinary team of industry veterans who work with entrepreneurs to develop innovative brands and strategies underpinned by market research and consumer insight. We are creating a culture that meshes big company resources and experience with passionate, risk-taking entrepreneurism."
She said many incubators' products are often launched because of feedback from friends and neighbors who encourage them to launch a company.
"Very few achieve any scale, because building a brand and a business is really hard and scaling a brand that is solely differentiated by its taste is nearly impossible," Ms. Herman said. "It is very difficult to stand out online and almost impossible to gain retail placement. Even finding an affordable co-manufacturer is a monumental challenge. The good ones barely have the capacity or time to fill current orders, let alone take on fledgling businesses that may have trouble moving minimum order quantities."
Prior to the pandemic, many incubators could launch a new product with minimal investment.
"You could throw it in your car, drive it around, demo it, set up a table at a farmer's market, go to a trade show, and get it into people's hands personally," Ms. Herman explained. "Now, you don't have that option. The sell-in is longer, harder and more expensive. Sampling is more diffuse; you can't be where the consumer is. A lot of businesses simply don't have the capital to sustain themselves during this time."
That's why Mr. Weck divides startups into incubators and more established accelerators that have an emerging brand with critical mass and actual sales. The former may need a shared-use kitchen and assistance with the fundamentals for developing a business.
"An accelerator has already done its proof of concept and selling its products at a local Whole Foods and needs a higher level of expertise," Mr. Weck said. "The company has graduated in some ways to the next level. The business is not a part-time hobby or someone who does jams and jellies in their garage and needs a more legitimate place to produce."
Working with accelerator brands, Ms. Cristadoro added, means selecting startups that are stakeholders in their companies and providing dedicated resources to boost their presence in the market and attract additional financing to take the business to another level.
"We determine what the right mix of services are and the funding and vetting of the client ahead of time to ensure when the accelerated brands get to the finish line and people want to invest in them for the long run," she said. "It's not about throwing cash at a product concept.
It's about education and pulling everything together, including the brand and the company, and ensuring that the products and their ingredients are value-added and novel. If you have just a good product, you will not succeed. You need a lot more behind it than that."
With $250 million in investible capital, Ms. Herman noted, Factory acquires meaningful equity stakes in smaller brands and collaborates with founders to innovate and scale them more rapidly than most could do on their own.
Ideally, she added, the firm requires at least a senior member of a partner company, and hopefully the whole founding team, to work at its 40,000-square-foot facility in Bethlehem to be part of its collaborative community.
"It's like college," Ms. Herman said. "You're in residence for four years, learning and growing, but instead of earning a diploma, you hopefully 'graduate' with asuccessful exit."
Picking up the pace
While the pandemic and subsequent recession have pushed many consumers into comfort and value-added baked goods, HighKey's long-term focus hasn't changed.
"Our job is to continue to help consumers evolve their eating habits and drive carbohydrates and sugar out of their diets," Mr. Ens said. "We are increasing our pace of innovation because we see ourselves as an ally to consumers pre-, during and post-COVID."
Shopping habits will also change, such as buying direct-to-consumer, using click-and-collect and exploring a greater number of online options beyond Amazon.
Online selling has also become easier and more affordable. Ms. Herman routinely relies on Instagram to scout out the latest in new product activity from incubators and emerging brands.
"If you're a startup and not burdened with a ton of debt or not worried about co-manufacturing, you can buy an ad on Instagram, rent some commercial space and sell direct to consumer," she said. "There's obviously a lot less of that than there was 12 months ago, but it's there. It's exciting to see that there are still entrepreneurs with energy who are creating opportunity even during this time."
Eventually, old-fashioned trade shows will return where buyers can meet and sample products in person.
"This face-to-face interaction is vital for smaller companies trying to gain a foothold in the market, and this has been wiped out due to COVID-19," Mr. Vierhile said. "Virtual trade shows have become a substitute, but this substitute does not seem to be nearly as effective in closing sales."
Mr. Weck suggested that entrepreneurs do a little soul searching before plunging into the market.
"If you're happy selling your product at a farmers market and to friends and family, that's one thing," he said. "If you really want to penetrate the market, that's a completely different scenario. We want to make sure the key principals are ready for what they are about to undertake."
That's one way new brands can take the time today to prepare for the best of times — when they return.