KANSAS CITY — Recent sales figures show a need to invigorate the bar category. US retail sales of snack bars and granola bars declined 0.4% for the 52-week period ended July 12 when compared with the previous 52-week period, according to Information Resources, Inc., a Chicago-based market research firm. The declines included 1.5% for nutritional/intrinsic health value bars and 4.8% for granola bars.
Nuts, fruit and protein all may serve as sources of sparks for the category. In new products, almonds increasingly are adding flavor and nutrition to bars. The multifunctionality of honey and prunes may shorten ingredient lists, and whey protein offers flavor advantages, including in the cereal/ snack/breakfast bar category, which registered a sales increase of 7% in the 52 weeks ended July 12.
Almonds in big brands
Several bar launches this year featured almonds. They are the first item on the ingredient list of new Nature Valley Packed bars from General Mills, Inc., Minneapolis. Justin's, Boulder, Colo., a Hormel Foods Corp. brand, entered the refrigerated bar category by launching Almond Butter Protein Bars. New RXBAR Layers from Kellogg Co., Battle Creek, Mich., feature chocolate almond and peanut butter flavors.
In 2019, almonds were in 24% of new bar products in North America, according to Innova Market Insights, Arnhem, The Netherlands.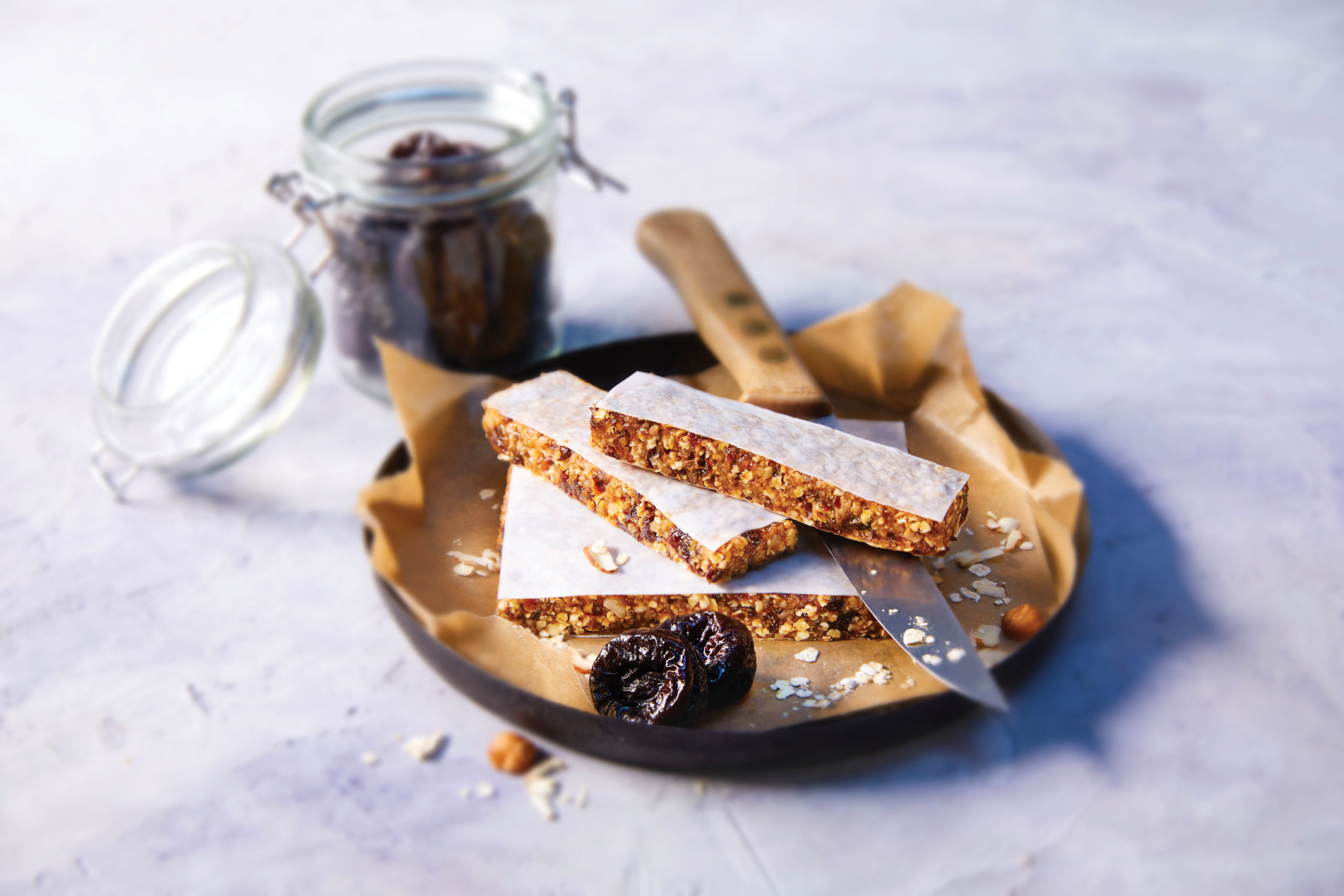 "Almonds bring nutty and slightly buttery flavor to bars," said Laura Gerhard, director of strategy and marketing for Blue Diamond Almonds Global Ingredients Division, part of Blue Diamond Growers and based in Sacramento, Calif. "Almonds also have the ability to carry a wide range of seasonings and coatings, which makes them customizable to any flavor combination or recipe. For example, almonds lend themselves naturally to sweet and savory combinations as their nutty flavor provides an excellent contrast to chocolate, caramel or fruity flavors."
Nutritionally, almonds contain 6 grams of protein and 4 grams of fiber per oz. They provide an excellent source of vitamin E and magnesium as well as a good source of calcium, riboflavin, potassium and phosphorous.
"Sliced, diced, slivered and split almonds are ideal for adding texture within bars," Ms. Gerhard said. "They can be used as either an inclusion or a topping. Almond butter can serve as a creamy, smooth filling or coating that complements the crunch of other ingredients. Almond butter also has a sweet nutty flavor profile, which may reduce the need for added sugars or sweeteners."
Across all food and beverage categories, almonds were in 12,206 new products introduced globally in 2019, which was up 13% from 2018, according to Innova Market Insights.
"If you're making a shortlist of ingredients to include in product development and you see these numbers, they should give you a lot of confidence," said Lu Ann Williams, director of innovation at Innova Market Insights. "Almonds continue to show growth and expansion into new markets because they have undeniable consumer appeal and align with desirable health and texture claims."
Walnuts are another nut bringing multiple benefits to bars. Their subtle nutty taste complements sweet, spicy and savory bars, said Jennifer Williams, marketing director for the California Walnut Board and Commission, Folsom, Calif. The commission has worked with the Davis Sensory Institute LLC in Davis, Calif., to explore what flavors work best with walnuts.
"The results were diverse, ranging from dark chocolate and vanilla to sesame cayenne and cinnamon chai spice," Ms. Williams said.
Nutritionally, walnuts contain 2.5 grams of alpha-linolenic acid, an omega-3 fatty acid, per oz.
"The beauty of using walnuts in food bars comes from their versatility," Ms. Williams said. "Walnuts are available in multiple piece sizes, ranging from large halves to small pieces to walnut meal. This piece-size diversity gives manufacturers the ability to create the perfect bite in any bar."
Pecans found their way into a new product launch in September when RXBAR launched Pecan RXBAR to remind consumers of the pecan pie holiday flavor. The bar features 12 grams of protein and no added sugar.
The taste of protein
Minneapolis-based Cargill included snack bars in proprietary research on the overall snack category fielded in October 2019 and released in March 2020. The top five snack bar attributes were high in protein at 72%, contains protein at 68%, contains fiber at 57%, natural at 57% and made with whole grains at 56%.
"Dairy proteins generally offer the cleanest flavor in bars and pair well with added flavors," said Steve Adolphson, research manager for bar applications for Chicago-based Glanbia Nutritionals, a business of Glanbia PLC. "They typically impart creamy, dairy notes to a bar. A lot of plant proteins such as pea, soy and rice contribute some beany and earthy notes that can be difficult to cover up."
When consuming protein bars, 28% of consumers said the protein bar consumed on their last occasion contained whey protein, according to a January study from Glanbia Nutritionals and the Natural Marketing Institute, Harleysville, Pa. Other top percentages were milk protein at 16%, rice protein at 12%, soy protein at 10% and pea protein at 7%.
"However, a significant portion of the population (32%) reported they do not know what type of protein was used in the last protein bar they ate — most likely coming from the inactive and healthy lifestyle segments — indicating a lack of awareness when it comes to protein type in bars," said Emily Hallock, primary research manager for Glanbia Nutritionals.
The NMI/Glanbia Nutritionals study divided consumers into four groups: inactive (centered on basic nutritional needs), healthy lifestyle (centered on overall health needs), active lifestyle (centered on everyday needs) and sports performance (centered on workout needs).
"When our consumer segments are rebalanced based on percentage of the population they represent, protein bars gain importance to the healthy lifestyle and active lifestyle segments," Ms. Hallock said. "This goes hand-in-hand with protein bars being a convenient, better-for-you snack option as these consumers are looking for products that will fit their healthy lifestyle, not just products to support an active lifestyle."
Specific ingredients work better in the breakfast/cereal/snack bar category, which had US retail sales of $1.35 billion in the 52 weeks ended July 12.
"Ingredients such as protein crisps work very well in these types of bars," Mr. Adolphson said. "They provide a unique texture and work well with other nuts, grains and seeds that are commonly found in these bars. A wide range of protein crisps are available for use in bars, including milk protein crisps for a unique bite and clean flavor.
"Consumers focus on flavor in all types of bars. Chocolate and peanut butter have consistently been the preferred flavors. Breakfast bars would gravitate more to fruit and oatmeal flavors than other bars. As with most foods taste is the most important attribute for repeat purchases."
Multifunctional favorites
Other ingredients bring attributes such as binding and sweetening to bars.
"Honey represents a single, consumer friendly ingredient that plays so many roles in bars," said Catherine Barry, director of marketing for the National Honey Board, Frederick, Colo. "By just using honey, bar manufacturers can eliminate other ingredients from their formulations and trim down the length of their ingredient listings."
Since more than 3,000 varieties of honey are found in the world, food bar manufacturers have countless options to create custom-flavored bars based on the type of honey used.
"This sort of personalization is trending across the food and beverage industry and represents one way bar manufacturers can stand out," she said. "When choosing varietals, it's important to consider the quantities needed. Because varietals are determined by where bees forage for food, available quantities range from a couple hundred pounds to millions of pounds.
"For commercial bar producers, varieties like orange blossom, buckwheat, alfalfa, wildflower, clover and blackberry all provide unique flavor and aroma attributes and are available in significant quantities. Generally, the darker the color of honey the more robust the flavor. So a bar manufacturer could use a dark honey like buckwheat to impart a strong flavor or a light honey like orange blossom to give bars a more delicate, citrus-tinged sweetness."
She added honey's viscosity helps bar manufacturers create bars dense in nuts, seeds and fruit.
"In these formulations, honey plays multiple roles, from binding ingredients to imparting sweetness to providing a clean label ingredient that performs both functional and flavor roles," Ms. Barry said.
Prunes work well with other flavors, assist in binding and hold moisture.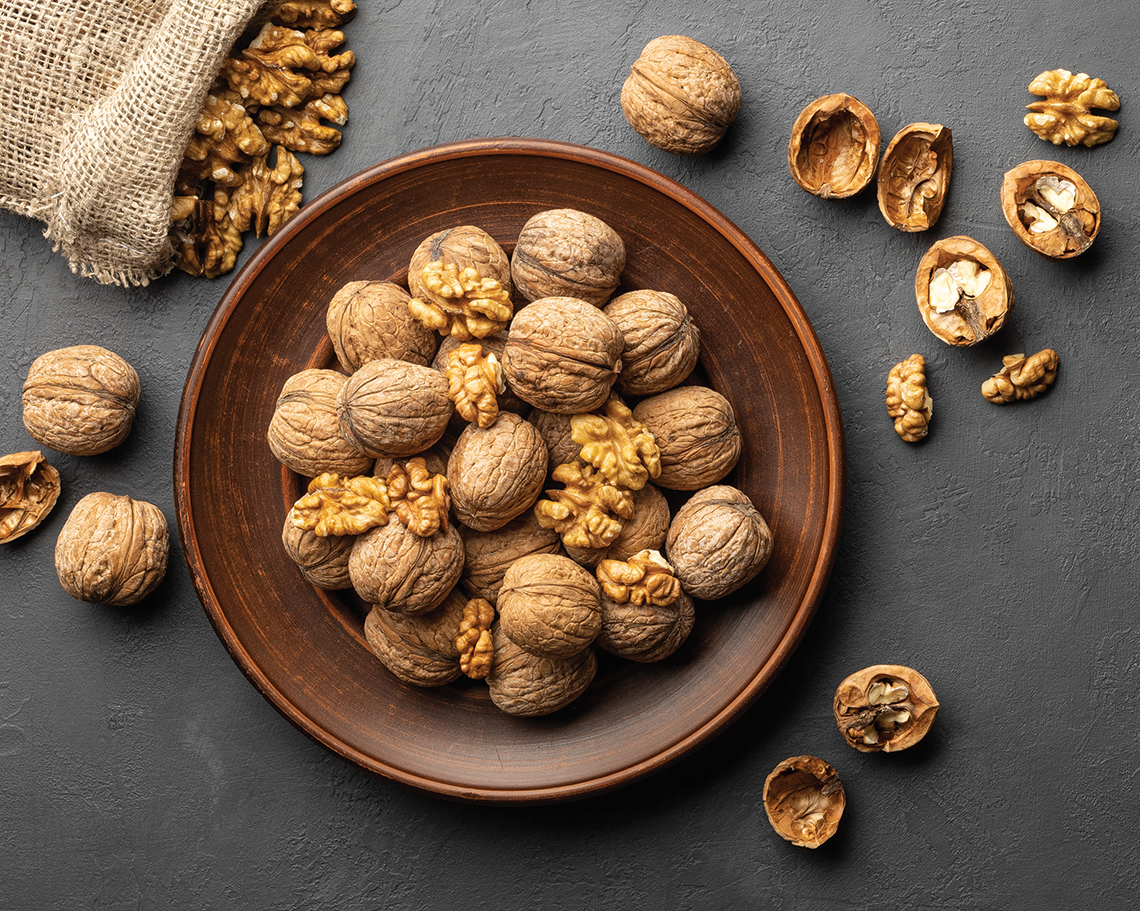 Prunes, as well as prune juice concentrate and puree, add a "jammy," tangy, molasses flavor that may accent dominant flavors in bars, said Kate Leahy, a spokesperson for Sunsweet Ingredients, which is part of Sunsweet Growers, Yuba City, Calif.
"When used as a syrup, they can make a bar softer or chewier and a little more fruit-forward," she said of prunes. "When used in small quantities as a sweetener or binder, they add notes of caramel and toffee."
Prunes match well with common bar varieties such as apple cinnamon, chocolate and cherry, oatmeal raisin, and almond and coconut. Since prunes are hygroscopic, they work well in binding and holding onto moisture.
"A prune concentrate or puree can be used as a binding agent to hold ingredients together and improve texture," Ms. Leahy said.
Consider the time of day
When people eat bars during the day may affect ingredient choice. Cargill's research, which took place before the COVID-19 pandemic struck North America, found people were most likely to say they eat bars between lunch and dinner at 60%, which compared to between breakfast and lunch at 52%, after dinner at 31% and before breakfast at 25%.
"Consumers are not just choosing bars for a mid-day energy boost or a pre-workout snack," said Ms. Gerhard of Blue Diamond. "They're also consuming bars at breakfast, as a meal replacement or as a permissible indulgence for dessert. Bar manufacturers are continuing to innovate with new flavor and ingredient combinations that can satisfy these different snacking occasions and provide consumers with a healthier snack option at any time of day."