CARLSBAD, CALIF. — Almonds, nutritional yeast and liquid aminos are the key ingredients in Bitchin' Sauce, a brand of creamy, savory plant-based dips sold in more than 6,500 retailers nationwide. Starr Edwards created the recipe that became a staple in her raw, vegan diet more than 15 years ago.
"It ended up being a family favorite, and I kept making it over the years and adding things to change the flavor and keep it fun and fresh, and that's how it came to be," Ms. Edwards said.
Then an aspiring personal chef, she began selling the sauce at an area farmers' market alongside vegan pies and cupcakes, which she believed were the main draw of her business.
"I had spent all night making pies, and no one bought them, but the sauce sold out," Ms. Edwards said of her first farmers' market. "I basically shifted gears quickly."
In the years that followed, Bitchin' Sauce has expanded to more farmers' markets, then to local independent grocery stores, and then to a handful of Whole Foods Market locations in San Diego. Today, the product is sold at retailers including Costco, Walmart, Target, Albertsons and, recently, 7-Eleven. The brand has added an assortment of flavors, including pesto, chipotle and cilantro chili, plus organic and sweet varieties. The products are packaged in tubs suitable for dipping but also may be used as a marinade, dressing or spread.
Ms. Edwards credits the quirky branding for catching consumer attention.
"We're able to appeal to a much larger crowd, and I think that's really fun." — Starr Edwards, Bitchin' Sauce
"People who are not vegan or gluten-free but are just like, 'That's hilarious. That says "bitchin'"…'" she said. "We're able to appeal to a much larger crowd, and I think that's really fun."
The brand historically has relied on in-store sampling, a practice that has been halted by the pandemic. Merchandising matters in helping shoppers make sense of the sauce, Ms. Edwards said.
"For us, if you put us next to salsa and guacamole and hummus, where it's a high-consumption party product, that's where we really thrive," she said. "We have had challenges in trying to get into some stores where buyers are like, 'Well, this is vegan,' so they put us in the dark hole of the vegan abyss where we're surrounded by the funniest things … a little bit of sauerkraut, (plant-based) sausages, some random other thing… That's when people are like, 'What am I supposed to do with this?'"
As dietary trends have emerged in the past decade, the brand hasn't strayed from what Ms. Edwards believes makes the sauce special. The product remains minimally processed with simple ingredients and no dairy, gluten, preservatives, genetically modified organisms, "MSG, weird sugars or gums," according to the company.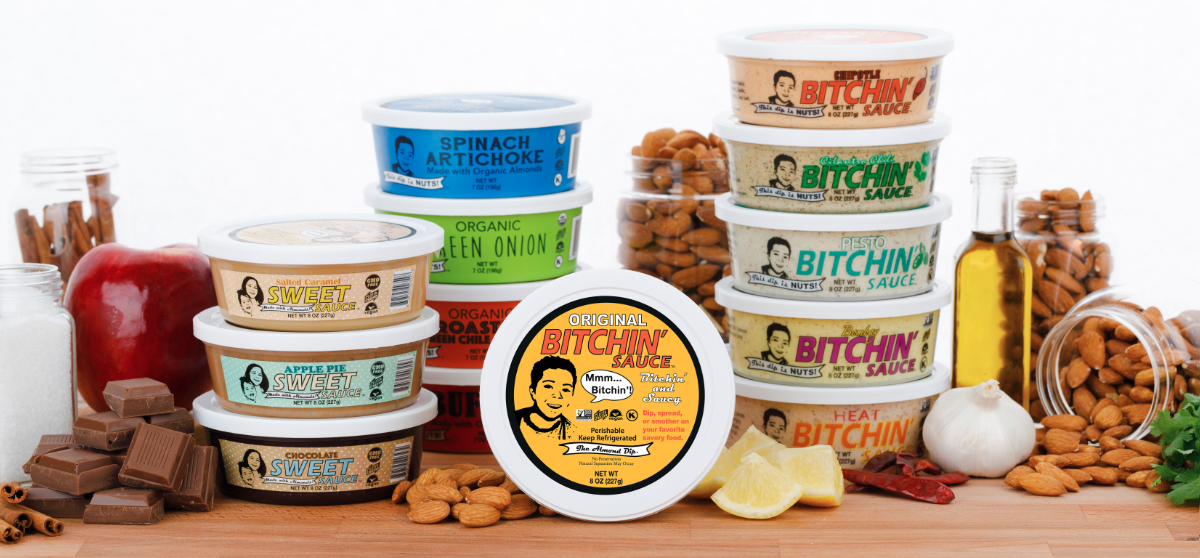 "We've seen so many trends pop up even in just these past 10 years," Ms. Edwards said. "When we started it was paleo, and then keto popped up, and gluten-free and other diets associated with it have risen in popularity during our tenure, and honestly I feel like one of the best things we did is we did not cater to those necessarily. We saw a lot of our peers say, 'Oh, my thing is keto,' and they throw that on the package. I really think having that integrity of the ingredients has allowed us to transition from fad to fad seamlessly."
Over the past three years, Bitchin' Sauce has received multiple honors as part of the Specialty Food Association's annual sofi Awards, which celebrates the top innovations in the $158 billion specialty food industry. The company scored gold and bronze awards this year in the salsa and dips category for its roasted green chile and pepita dip and its spinach artichoke dip, respectively.
"I think you just need to find a recipe that you love and like the taste of," Ms. Edwards said. "As I've seen peers come and go, it's been when they tried to cater to profit margins, so much so that they lost the integrity of their product… Don't sacrifice when it comes to taste because that's how people will come back and buy your product a second time."