TORONTO — Mother Raw, a maker of plant-based dressings, marinades, dips and condiments, closed a $6.1 million Series A funding round led by new investor Forage Capital Partners, with participation from Export Development Canada and existing investor Whitecap Venture Partners.
Built on the initial Canadian startup RawFoodz, Mother Raw launched last year following a significant rebranding and reformulation effort led by chief executive officer Kristi Knowles.
Ms. Knowles first joined the brand in 2017 as a consultant, bringing 25 years of experience at major food companies, including Unilever PLC, Campbell Soup Co. and Molson Coors.
"What I concluded was that the proposition of plant-based, clean, minimally processed is spot on from a trends perspective, but we should bring in some professional branding and product development to bear," Ms. Knowles said. "We took the proposition of raw food and we articulated it as Mother Raw, which had a much broader ability to innovate off of."
Ms. Knowles stepped in as CEO early in the rebranding process after Michelle Kopman, founder of RawFooz, died unexpectantly in 2018. She continued to lead the brand through a reformulation effort, broadening its focus from the vegan market to healthy eaters, while being mindful about the ingredient choices to honor Ms. Kopman's vision.
Part of that process was creating a sensory panel to gain feedback about the delivery of the products.
"They loved the ingredients, but the varieties were a little bit too much like each other," Ms. Knowles said. "There was flavor work as well as making sure the products were delivering on the experience of shaking really well and pouring really well."
The revamp was a success. Mother Raw has expanded into more than 3,700 stores since launching in January 2019. It secured more than 1,600 new retailers, including Meijer, Pavilions, Sprouts, Target, Walmart Canada and Whole Foods, during the pandemic, and sales have increased nearly 250% in 2020.
"Once we rebranded and reformulated, retailers started to pay attention," Ms. Knowles said. "Success breeds success, so once we got a few retailers interested and listening, we were able to really leverage that story and go across the country to achieve that 3,700 stores we have today."
Self-manufacturing has helped the company remain flexible during the pandemic, Ms. Knowles said. The biggest challenge is forecasting the timing of activities, including new distribution.
"We're navigating it largely by our ability to make choices about what we ship, when we ship and what we make," Ms. Knowles said. "It's also about managing our spend when the distribution isn't there yet, making sure we're not committed to a campaign that is built to be national, for example, when we don't have the distribution we anticipated. Having the flexibility to leave in and pull back accordingly is really important."
The company also benefited from two seemingly contradictory trends this year. Consumer demand for indulgence and comfort foods has risen with the pandemic, along with interest in plant-based products and general concern for health and wellness.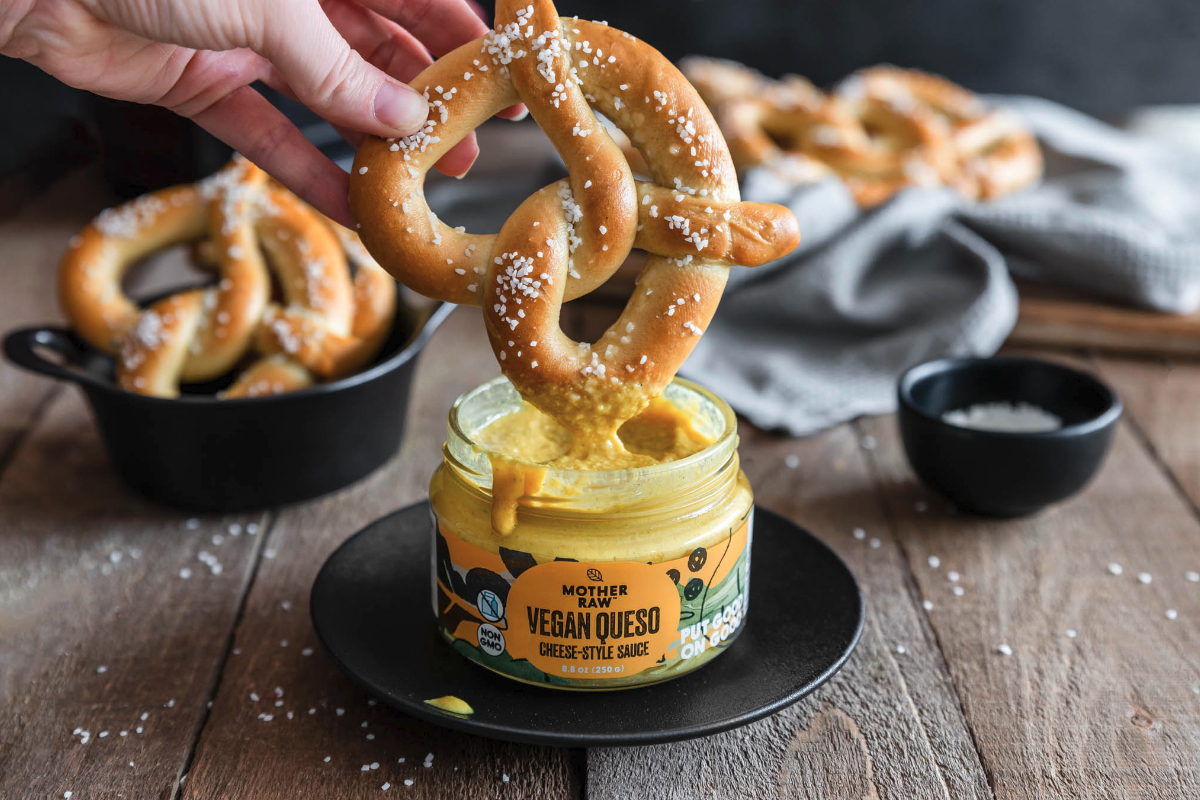 "We're definitely seeing that through the engagement on our content," Ms. Knowles said. "When we create content that is around comfort, whether that's broccoli and cheese dip or a Buffalo cauliflower wings recipe, they do very well. I think the sweet spot is comfort food that is plant-based but also healthful, because people are recognizing the importance of what they put in their body, and plant-based doesn't always mean healthier."
Along with growing its distribution footprint and increasing sales and marketing initiatives, Mother Raw will use funds from the Series A round to increase R&D efforts for new product innovation.
The brand is "just beginning to scratch the surface" of the $1.1 billion refrigerated dip category, Ms. Knowles said. It currently offers plant-based French onion and ranch dips, along with two vegan queso dips.
"A lot of plant-based sips are nut-based, but we are free from the top eight common allergens, so that's a big point of difference," she said.
The company also is vetting several ideas across new categories.
"Mother Raw was built to be very stretchy, so the world is wide open to us," Ms. Knowles said. "We started our rebranding with the intention of not just building a salad dressing or a dip company, but a company with a purpose. It's all about encouraging people to eat more plants."