CHICAGO — Comfort foods and caffeine were among the most popular items ordered on Grubhub this year, according to the delivery platform's annual Year in Food report.
The company analyzed data from more than 30 million diners and found orders of spicy chicken sandwiches increased 318%, making it the top item of the year. Chicken also took the second and third slots, with orders of chicken burrito bowls growing 299% and orders of chicken wings growing 287%. Other meat-centric favorites, like steak quesadillas, fish and chips and roast beef sandwiches, were among the year's most popular dishes.
Vegan and vegetarian items stalled in 2020, with the popularity of vegan-friendly dishes growing 13%, compared with 27% in 2019. Top plant-based dishes included tofu spring rolls, burger alternatives, black bean tacos, vegan chocolate cakes and vegan ramen.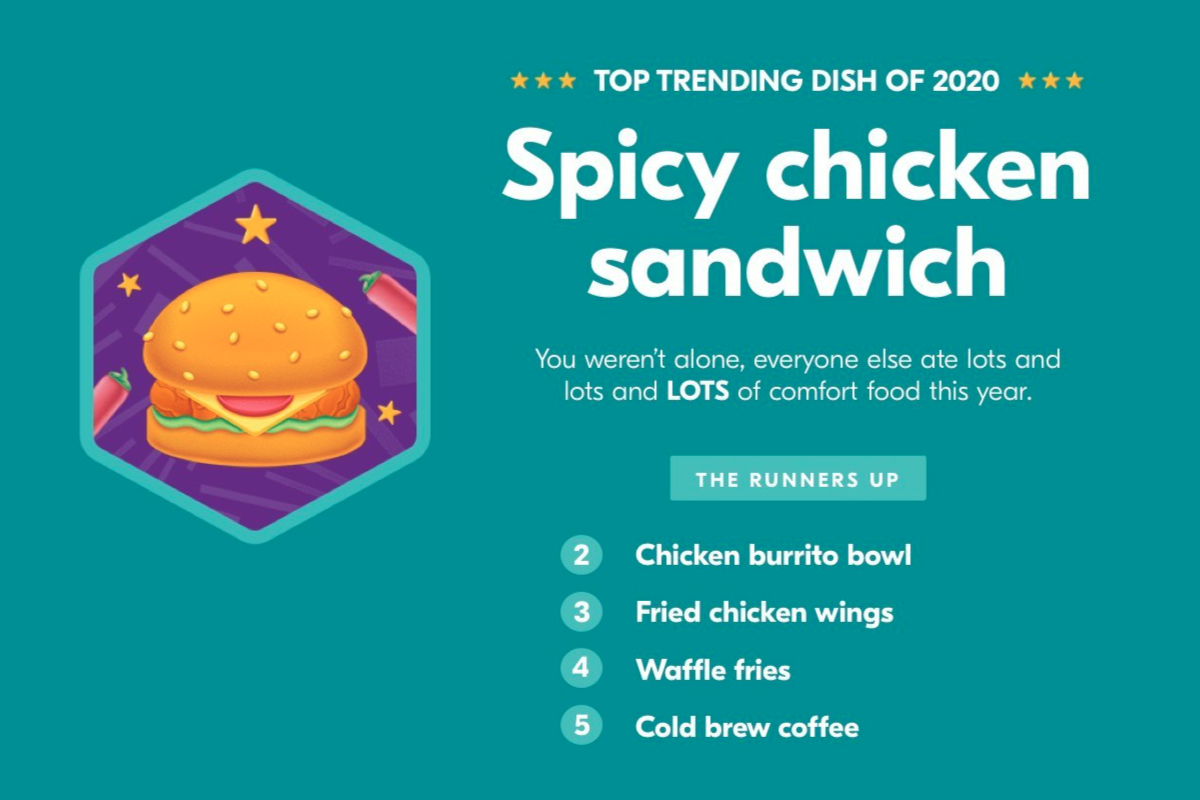 More consumers ordered coffee on Grubhub this year, with cold-brew coffee growing 206% to become the fifth most popular item and iced lattes growing 157% to become the seventh most popular item. Orders of ready-to-drink coffee beverages grew 30%, driven by pumpkin spiced lattes and vanilla lattes, which grew 487% and 249%, respectively.
With more cities allowing restaurants to deliver alcoholic beverages, orders of cocktails, beer and wine grew nearly 300%. Mangonada, a spiked frozen mango beverage, grew 278% to become the top alcoholic beverage, followed by piña coladas (223%), hard seltzer (196%), Mexican beer (161%) and rosé wine (150%).