KANSAS CITY — As the coronavirus pandemic spread throughout North America in late March, Toronto-based serial entrepreneur Frank Sinopoli dispatched the following message to a group of friends.
"Let's jump on a conference call tomorrow to discuss what type of opportunities have surfaced as a result of COVID-19 and/or what opportunities will arise thereafter. Companies will crumble; someone needs to be there to pick up the pieces. Mindsets and buying habits will change; someone needs to service that."
He proposed several ideas, then concluded, "I personally believe that an unprecedented global crisis will unveil tons of opportunities and this is a once-in-a-lifetime chance to leapfrog forward."
As millions in quarantine baked bread, assembled puzzles, binged television shows and dabbled in other mindless pursuits (TikTok, anyone?), some unearthed the inspiration and courage to launch a new business. Job loss or extra free time motivated aspiring founders to spin a passion project into a full-fledged startup.
For Mr. Sinopoli, the effects of the outbreak exposed fundamental flaws in traditional grocery retail.
"Time is the most precious thing on earth, and we invest so much time into grocery shopping," he said. "Online grocery shopping is great, but we all still love to pick our strawberries."
His solution is Grocery Neighbour, a franchised fleet of trucks-turned-supermarkets selling fresh produce, meat, bread, beverages, frozen foods, dairy products and more. Shoppers receive notifications through a mobile app when the truck arrives within walking distance. Scan-and-go technology creates a contactless experience (think Amazon Go on wheels). The concept eliminates crowds and checkout lines. The assortment is curated and driven by data.
"The beautiful thing about it is each unit is dedicated to a neighborhood and grows and evolves with the neighborhood, meaning the inventory evolves to the neighborhood's demand," Mr. Sinopoli said. "Rather than having a brick-and-mortar store located in the middle of a central hub where all walks of life come from all angles, we're able to be much more personal."
Grocery Neighbour not only offers convenience to time-strapped consumers; it also may provide relief to food-insecure communities. Mr. Sinopoli also hopes to elevate up-and-coming entrepreneurs by including an emerging brands section on each truck.
Two units are slated to hit the road in the weeks ahead, one in Canada and one in the United States, on tours to test the idea and gather feedback. Mr. Sinopoli hopes to scale and develop 1,000 units "as quickly as possible."
"We're quite confident that once you walk through this thing, it will be hard to jump in your car and drive 10 or 15 minutes away (to a brick-and-mortar store)," he said. "However, I don't think it makes sense to launch with 100 stores without proving out the model."
Scaling a side hustle
A side gig selling Afghan-style chutneys at Minneapolis-area farmers markets became a full-time business for Yasameen Sajady last spring. She was nearly finished earning her master's degree in business administration and contemplating her next move when the virus began ravaging the nation.
Six years prior, she and her sister Sheilla began bottling their mother's recipe for the vibrant, versatile condiment. Producing chutney became an excuse to gather and gossip with family on the weekends when commercial kitchen space was available. Bright and bold, the original flavor combines cilantro, ginger, lemon, apple cider vinegar and jalapeño. The sisters have since added two additional varieties, a chutney aioli and a spicy chutney.
"When COVID happened, nobody knew what they were going to do," Ms. Sajady said. "As an entrepreneur you are disciplined to find solutions not just for today but long term, thinking about what will make you successful down the line, given all of the crazy circumstances and how fast everything can change."
The onset of the pandemic prompted Ms. Sajady to reconsider how her brand, Maazah, was manufactured, distributed and sold. Social distancing guidelines issued by the Centers for Disease Control and Prevention snarled the startup's production capabilities.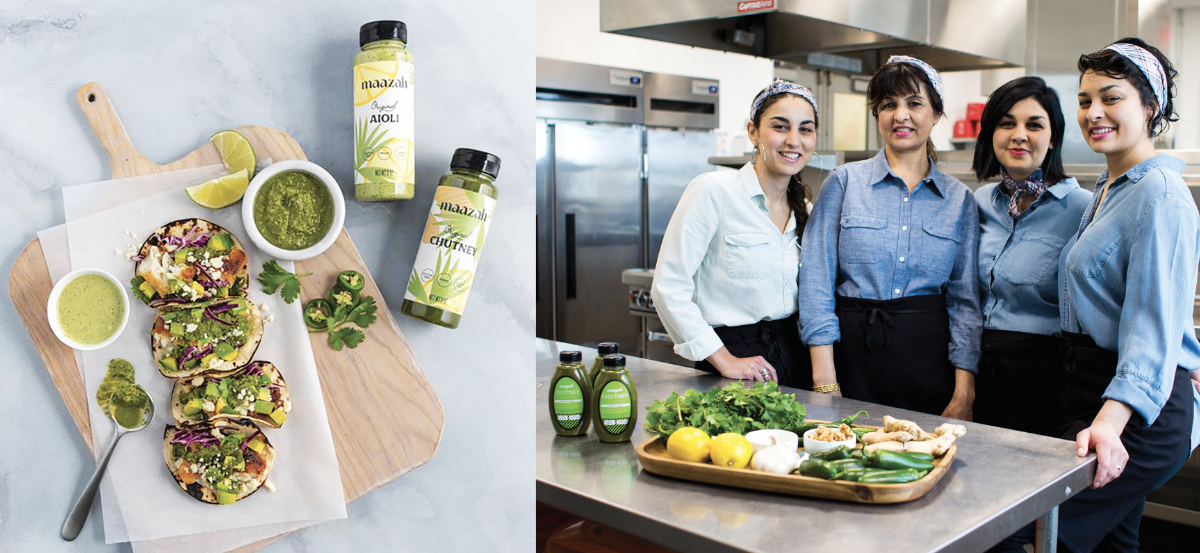 "It was just me producing sometimes in the kitchen by myself during COVID just to be safe and not harm anyone else, and you cannot produce that much chutney by yourself," Ms. Sajady said. "It was very clear we needed to make some changes… And I think that's what made us take the leap to scale the company in March and April."
In the months that followed, Maazah initiated production at a co-packing facility and began mapping a go-to-market strategy in retail stores. Ms. Sajady expects the business to benefit from consumers cooking and eating at home more for the foreseeable future. Longer term, she hopes to expand the brand beyond chutneys into other condiments and prepared meals honoring her heritage while introducing more Americans to Afghan cuisine.
In November, the company was granted a four-week partnership with General Mills, Inc. through its Pro Bono for Small Business Program, which was established to support local, minority-led small businesses in the consumer packaged goods industry. Through the program, General Mills offers resources in food safety and quality assurance, marketing, packaging, capital and asset management and more. Ms. Sajady hoped to tap the company's expertise to increase brand awareness in the absence of in-store demos and other sampling events.
"We worked with our heads down all of 2020," she said. "We had to do a rebrand. We had to resource all of our bottles and lids."
Ms. Sajady also called numerous banks in a quest for cash to build out the business. In October, Maazah received a loan from area group WomenVenture "to get things off the ground," she said.
"In the future, we would love to see what it would look like to find a VC or some type of program that took a stake but also supported our mission and vision and what we want to do as a company, just knowing how tough it was to go through a bank," Ms. Sajady said. "We know at this stage we're really not looking to do it alone. We want to find the right partners that value diversity, value good food. We know we're going to need the extra muscle for sure."
A year of firsts
Last February, Najwa Khan quit her job at an oral care company to focus on launching a food startup. Weeks later, she was thrust into the chaos catalyzed by COVID-19.
As much of the world descended into lockdown, Ms. Khan began researching and developing recipes for her dessert business in preparation for a soft launch in the summer. She hired a small team of bakers, newly unemployed as a result of many foodservice outlets shuttering, to help produce the treats in small batches at a commercial kitchen.
"Because we weren't tied to an original business plan, we were able to modify what we did and build it through the pandemic," Ms. Khan said. "We weren't stuck in a kitchen where we weren't prepared to be safe, to be socially distant. We had to plan our business out that way. We didn't know any different, and I think that helped, not knowing another way of doing it."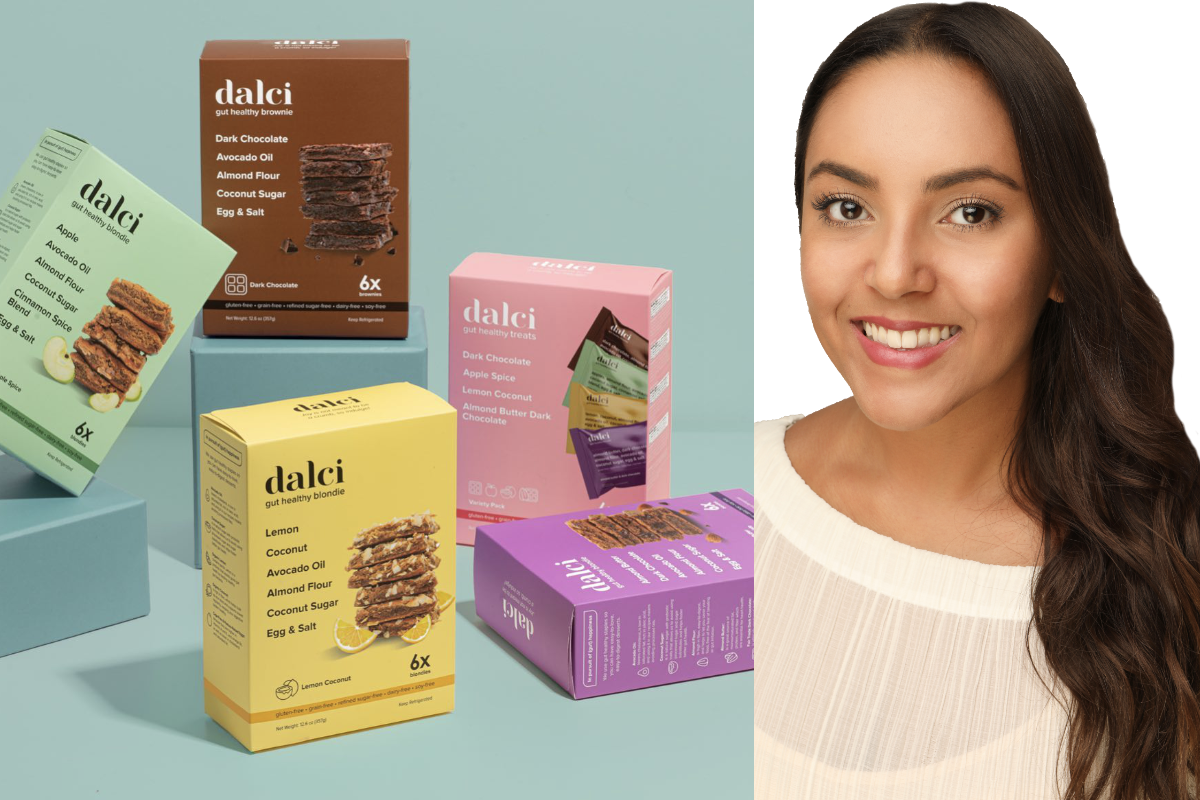 Several months later, she unveiled the brand Dalci online at dalci.com. The initial products are packaged brownies and blondies formulated with anti-inflammatory ingredients such as avocado oil, coconut sugar and almond flour. Ms. Khan was inspired to start the company after adopting a diet that helped her resolve multiple health conditions without medication. She discovered a gap in the marketplace for products that aligned with her new lifestyle while conquering her sweets cravings.
"I actually was the customer looking for this product and couldn't find it," she said.
Ms. Khan is planning an official launch for Dalci in early 2021. She expects to continue focusing primarily on direct-to-consumer sales and gradually may expand to specialty grocery retailers. Long term, she hopes to build a "gut-healthy lifestyle brand," providing content and education in addition to manufacturing desserts and other packaged foods.
This past fall, she began meeting virtually with investors and raising capital in her first funding round.
"We are looking for strong partners in this first round," she said. "We're not doing a typical friends-and-family round. We're going to sophisticated individuals who are in the food space."
In the meantime, Ms. Khan continues navigating the pandemonium precipitated by the pandemic as a first-time entrepreneur who "knew absolutely nothing about food before this."
She also is preparing for the birth of her first child. Two days before Dalci debuted, she discovered she was pregnant.
"Again, I don't know any different," she said, laughing. "And I think that's been the saving grace."
A savior to startups
A seasoned packaged food industry professional, Daniel Scharff created a volunteer organization to support early-stage startup founders a few months prior to the onset of the outbreak. The initiative, Startup CPG, launched as a series of events in the San Francisco area to shine a spotlight on emerging brands bringing innovative concepts to the market.
In March, as tradeshows and similar opportunities were promptly canceled, Mr. Scharff reimagined Startup CPG as an online, national community offering free networking, resources and services to food and beverage entrepreneurs.
"We were planning a pretty aggressive schedule of in-person events, and then the lockdown hit," Mr. Scharff said. "We had to cancel this massive event we were about to do. We immediately looked at what we are trying to do and what are the opportunities here.
"We had the benefit of not being so big at that point where it wasn't hard to switch gears."
He built a channel on the business communication platform Slack, where founders, investors, retail buyers, service providers and others interact and share information.
"My favorite is when you get one of those obscure questions, like, 'Does anybody know a vendor who can provide three-inch white caps and is based on the West Coast?' and three people respond and say, 'Yeah, I can connect you,'" Mr. Scharff said.
As the pandemic raged on, Mr. Scharff brainstormed more ways to help startup founders enduring the added challenges of the new reality. Startup CPG began hosting virtual mixers on Zoom, using the application's "breakout rooms" feature to assemble small groups and encourage participants to create new connections.
"We started growing so quickly once we started doing that because the feedback was actually these are better than in-person networking events," Mr. Scharff said. "At in-person events you just talk to who you know or who you might naturally talk to. This thing, you're just thrown into a four-person room and just start talking … People are meeting their co-founders and finding major business connections, and it's fun."
Weeks passed, and more tradeshows were canceled. Startup CPG expanded once more, introducing a virtual pitch program. Boxes of samples from a selection of emerging brands were shipped to buyers, investors and members of the media in July and November. An accompanying digital presentation provided a stage for the founders to demonstrate the passion and inspiration behind their innovations. Over $100,000 in prizes donated to the winners of the pitch included marketing campaigns, shelf-life testing, supply chain assessments and more.
More events and opportunities are in the works. There's also a podcast that highlights brands and provides expert takes on various issues. One episode tackles the fundamentals of co-manufacturing.
The team behind Startup CPG has grown to a couple dozen volunteers who contribute to the effort in their spare time, a once-fleeting resource that has accumulated for so many during the pandemic.
"I mean… it's COVID," Mr. Scharff said with a modest shrug. "What else am I going to do?"