KANSAS CITY — The chicken sandwich wars waged in 2019 between Popeyes and Chick-fil-A have been reignited as a new batch of restaurants launch their own takes on the offering.
Popeyes' chicken sandwich debuted in August 2019, featuring a buttermilk battered and breaded chicken fillet, pickles and mayo or spicy Cajun spread on a toasted brioche bun. The runaway success of the sandwich sparked the so-called chicken sandwich wars among fast-food chains, including Chick-fil-A, which has a tagline that claims its chicken sandwich is the "original chicken sandwich."
The most recent restaurant to enter a contender is McDonald's, which is launching a trio of new chicken sandwiches beginning Feb. 24. All three options — crispy, spicy and deluxe — feature a new crispy all-white meat chicken fillet and are served on a new toasted, buttered potato roll.
"We've heard our customers loud and clear, and we know they're craving more chicken options," said Linda VanGosen, vice president of menu innovation at McDonald's. "We're confident all chicken fans — from traditionalists to spice enthusiasts — will discover a new menu favorite they'll come back for time and time again."
KFC kicked off 2021 with the new KFC Chicken Sandwich, featuring a quarter-pound, all-white meat, double-breaded Extra Crispy chicken breast fillet, pickles and mayo or spicy sauce on a toasted brioche bun.
"We tested the new KFC Chicken Sandwich in Orlando last spring, and we nearly doubled our sales expectations, so we knew that we had a winner," said Andrea Zahumensky, chief marketing officer for KFC US, a subsidiary of Yum! Brands, Inc. "Many customers hadn't considered KFC as a part of the chicken sandwich conversation, but anyone who tastes this sandwich will know, without a doubt, that we're playing to win."
While KFC already had a chicken sandwich on its menu, the restaurant chain decided to reformulate the offering in May 2020 to contend with the "steep competition" from Popeyes and Chick-fil-A, KFC said.
"We wanted a chicken sandwich that really lives up to our legacy as the fried chicken experts, and let's face it, ours wasn't the one to beat," Ms. Zahumensky said. "We knew an upgrade was necessary, so we painstakingly selected each ingredient to create a bigger, better and more premium sandwich than ever."
The final recipe for the KFC Chicken Sandwich, which took a year to develop, features an "upgrade of every single component," Ms. Zahumensky said. The brand worked with 6 different bakeries to try at least 10 variations of buns and went through 10 different pickles, eventually deciding on one that is 10 times more expensive than KFC's other pickles. The final product includes a crispier chicken fillet that is 20% larger, three thicker and crunchier pickles and a buttered brioche bun.
"I think we've unlocked a chicken sandwich that won't just compete — it'll win with fried chicken lovers everywhere," Ms. Zahumensky said.
Also this month, Shake Shack introduced an Asian spin on the chicken sandwich. The chain's new Korean-Style Fried Chick'n Sandwich features a spicy-sweet gochujang-glazed crispy chicken breast on a bed of white kimchi slaw.
Golden Chick is rolling out a new Cholula Mac and Chicken Sandwich, featuring a 5-oz crispy chicken breast dunked in a butter and Cholula hot sauce blend topped with pickles slices and Cholula macaroni and cheese atop a yeast roll.
Golden Chick first threw its hat in the chicken sandwich wars ring when it introduced the Big & Golden Chicken Sandwich in May 2020. The handheld features a 5-oz, breaded and deep-fried chicken breast with five pickles and the brand's Lotta Zing sauce served on a hot yeast roll bun.
"We've been working on introducing a great chicken breast sandwich for some time," said Jim Stevens, president of Golden Chick. "As a Texas-born brand with a 50-plus year heritage, we are thrilled to finally give our loyal and future guests a taste of what we are confident to be the best chicken sandwich on the market. It's everything our loyal Golden Chick fans would expect from us and more … it's extremely high quality, it's big, it features our marinated chicken breast with our one-of-a-kind breading … it's delicious. There's nothing else like it."
In December 2020, Jack in the Box launched The Cluck Sandwich, made with a crispy chicken fillet topped with pickles and a mystery sauce served on a warm brioche bun.
Whataburger in December 2020 brought back its Spicy Chicken Sandwich — which it first introduced as a limited-time-offer in September 2020 — and added a brioche bun. The sandwich features a marinated, crispy chicken fillet topped with lettuce, tomatoes, pickles and mayo.
"Spicy chicken is a trend we love and one our customers have really embraced — that's why we decided to keep the sandwich on the menu a little while longer," said Rich Scheffler, vice president of marketing and innovation at Whataburger. "But this time, it's even better, complete with a new brioche bun. We spent a lot of time working to get this right, and hope our fans continue to enjoy this flavor-filled sandwich in the new year."
In October 2020, Wendy's introduced the Classic Chicken Sandwich, featuring a crispy all-white meat chicken breast fillet layered with mayo, tomato, lettuce and pickles served on a toasted bun.
"We can't wait for our fans to get their hands on the New Classic Chicken Sandwich, which has the perfect crunch from breading and pickles paired with the juiciness and flavor of the fillet," said Carl Loredo, chief marketing officer for Wendy's. "The Classic joins what customers have already come to know and love in spice and taste from Wendy's via our Spicy Chicken and Pretzel Bacon Pub Chicken Sandwiches."
Church's Chicken in October 2020 launched Church's Chicken Sandwich, featuring pickles, mayo and an all-white meat chicken breast fillet breaded with Church's proprietary homestyle seasoning and buttermilk all served on a toasted brioche bun that is brushed with honey butter. The chain also began offering a spicy version.
"We are experts in bone-in chicken, but the fan demand for that same level of quality and flavor in a boneless fried chicken sandwich from Church's was emphatic and persistent, so we got to work and delivered," said Brian Gies, global chief marketing officer for Church's Chicken. "Our culinary team truly outdid themselves on this masterpiece, which combines everything great about Church's, between two buns. It's a culmination of 70 years of down-home flavor and fried chicken expertise brought into every bite."
In October 2020, Zaxby's debuted Zaxby's Signature Sandwich, featuring a double breaded 100% white breast chicken fillet with three thick-sliced pickle chips and a choice of Zax Sauce or Spicy Zax Sauce on a buttery toasted split-top bun.
"Zaxby's new Signature Sandwich has been 30 years in the making," said Joel Bulger, chief marketing officer for Zaxby's. "It's a natural brand evolution for us, perfecting the size, taste and flavor profile of this indescribably delicious chicken sandwich. We know the competition is fierce, but we're also confident that once you try it, there's no going back."
BurgerFi heated up its menu in October 2020 with the new Spicy Fi'ed Chicken Sandwich. Made with a cage-free breaded boneless chicken breast from Spring Mountain Farms, the sandwich features ghost pepper honey, jalapeño-infused pickle chips, spicy mayo and sliced jalapeños layered inside a potato bun.
"We may be known for our burgers, but we believe our new Spicy Fi'ed Chicken Sandwich can go head-to-head with even the most popular spicy chicken sandwiches out there," said Paul Griffin, BurgerFi's chief culinary officer. "Our commitment to quality through our NAE program is what sets us apart from competitors. The Spicy Fi'ed Chicken Sandwich is made with cage-free chicken that is American Humane Certified, sourced from family-owned Springer Mountain Farms and raised with no hormones and no antibiotics, ever."
Fatburger in July 2020 unveiled its new King's Hawaiian Crispy Chicken Sandwich, featuring breaded crispy chicken, fried avocado slices, Buffalo's medium sauce and pickles served on a King's Hawaiian bun.
"There's been a lot of talk about chicken sandwiches, and with the launch of our King's Hawaiian Crispy Chicken Sandwich, we'll let our customers judge who has the tastiest crispy chicken sandwich," said Andy Wiederhorn, chief executive officer of parent company FAT Brands. "We are confident our sandwich will speak for itself."
Also in July 2020, Big Boy Restaurants introduced the Dolly Chicken Sandwich, featuring a 5-oz breaded and fried chicken breast with pickles and Signature Big Boy tartar sauce on a grilled brioche bun.
In June 2020, Checkers and Rally's restaurants launched new Mother Cruncher chicken sandwiches, featuring an all-white meat chicken breast coated and deep fried in a "mega crunch" breading.
"The chicken sandwich has certainly gained popularity in the quick-serve segment in the last year, but Checkers & Rally's has an unparalleled history of taking typical fast-food fare up a notch — and the Mother Cruncher is no exception," said Dwayne Chambers, chief marketing officer of Checkers & Rally's Restaurants, Inc. "Our fries have consistently been deemed the most craveable by the media and best-tasting by our guests, and we fully expect the Mother Cruncher to carry on the tradition and hold the No. 1 spot in the hearts of chicken sandwich lovers across the country."
Sonic recently brought back its Chicken Slingers, which it debuted in June 2020. The classic version features all-white meat crispy chicken, mayo and pickles on a brioche slider bun. The sandwich also comes in a spicy version, which adds Sonic's spicy ranch sauce.
"The measure of any tasty chicken sandwich is the fillet itself, so we took the time to nail down the flavors our guests have come to crave with the right seasoning, creating an irresistible, crispy bite," said Scott Uehlein, vice president of product innovation and development for Sonic. "We perfected the classic burger, so it was time we create a chicken sandwich that rivals in undeniable flavor."
Lee's Famous Recipe Chicken got in on the chicken sandwich craze in June 2020 with its own entry. The chain's new Chicken Sandwich features a 4-oz, battered and honey-dipped white meat chicken fillet topped with dill pickles and chipotle ranch dressing served on a warm brioche bun. The sandwich may be ordered spicy or original.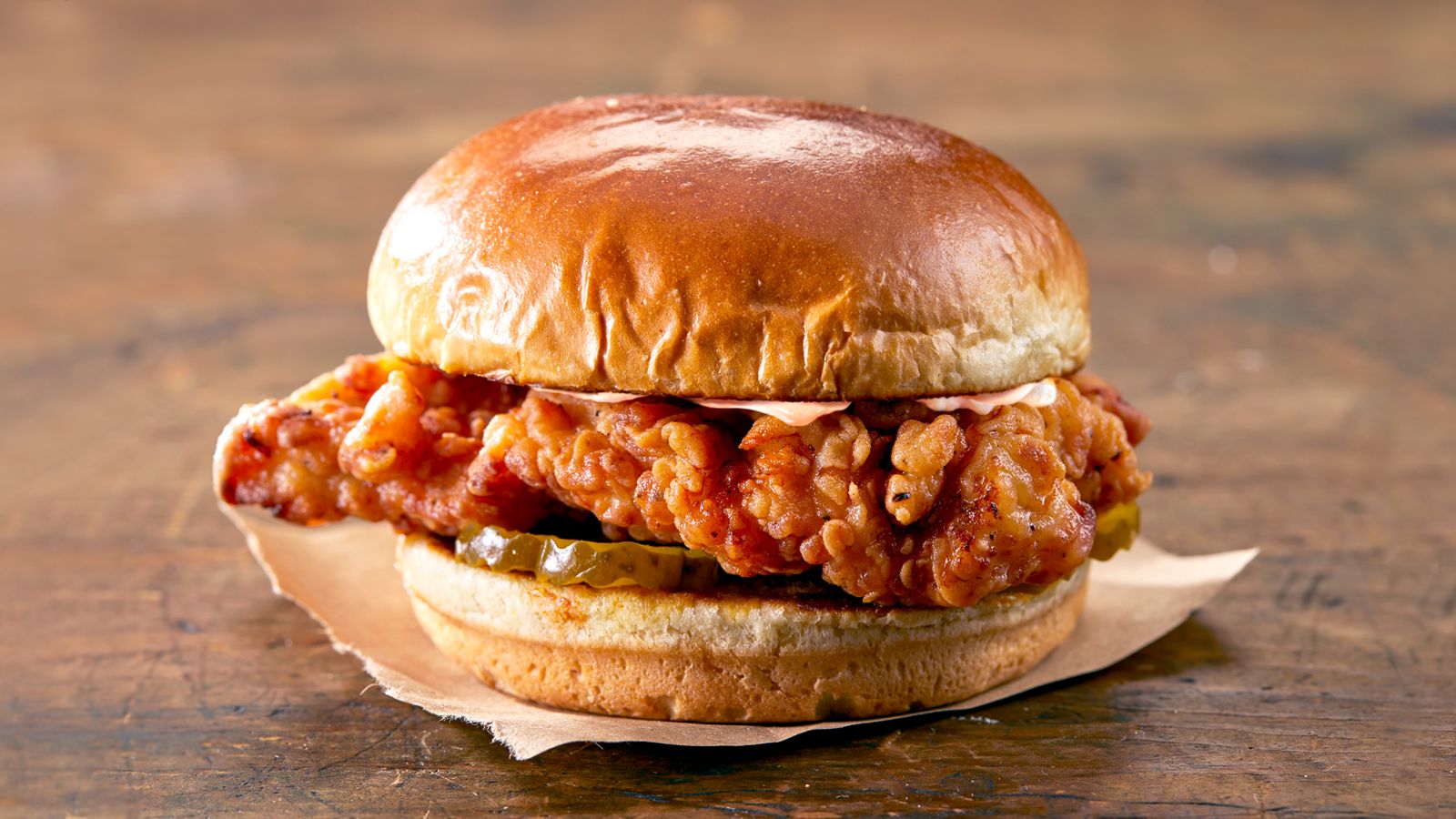 "We're excited to bring a chicken sandwich to our customers," said Chuck Cooper, president and CEO of Lee's Famous Recipe Chicken. "With all the news about chicken sandwiches, our fans have been clamoring to see a chicken sandwich on our menu and we're happy to be able to bring the famous flavor and quality to them in a sandwich form. If our test markets are any indication, our operators across the country are going to be even busier than they are now."
In February 2020, Famous Dave's debuted Iris' Comeback Chicken Sandwich, made with a pan-fried chicken breast, spicy-sweet pickles and Dave's Zesty Comeback Sauce on a brioche bun.
"Everything had to be just right, from the right cast iron frying pan to the right fresh-ground seasonings and the freshest chicken," said Dave Anderson, founder of Famous Dave's. "My mom perfected her pan-fried chicken recipe, which features a crispy golden-brown crust with tender, juicy, mouthwatering chicken. I grew up eating real, honest fried chicken, honey buttered cornbread and BBQ ribs and learned from an early age the importance of southern home cooking and hospitality. Iris' Comeback Chicken Sandwich is the clear winner in the chicken sandwich wars — everyone knows that Famous Dave's is the best in the world of barbecue, and now, our $5 chicken sandwich will also be known as the best of the best and have the competition retreating and surrendering. One bite and you'll be coming back for more, too."