ATLANTA – Chick-fil-A's spicy chicken sandwich is undergoing a grilled transformation. The chicken chain is launching the new Grilled Spicy Chicken Deluxe Sandwich, available for a limited time. 
Chick-fil-A first developed the sandwich and tested it in select markets in 2017. The offering received positive feedback from consumers, the company said, and will be now the first limited-time entree featured on the national menu since Summer 2019.
"While our guests already love our spicy menu, we wanted to offer a grilled twist that allows them to enjoy the layers of bold flavors," said Chef Angela Wadlington, one of Chick-fil-A's senior culinary developers. "Our Grilled Spicy Deluxe Sandwich got great feedback from guests in our test markets, so we knew we needed to expand the offering to Chick-fil-A restaurants nationwide."
The spicy sandwich features grilled marinated chicken in a spicy seasoning with Colby-Jack cheese, lettuce and tomato served on a toasted multigrain bun. The spicy marinade is inspired by the chain's recipe for its original Spicy Chicken Sandwich but layers in additional flavors and spices, Ms. Wadlington said.
"The Grilled Spicy Deluxe marinade offers a bigger and bolder flavor while not adding additional heat," she said. "With the addition of the multigrain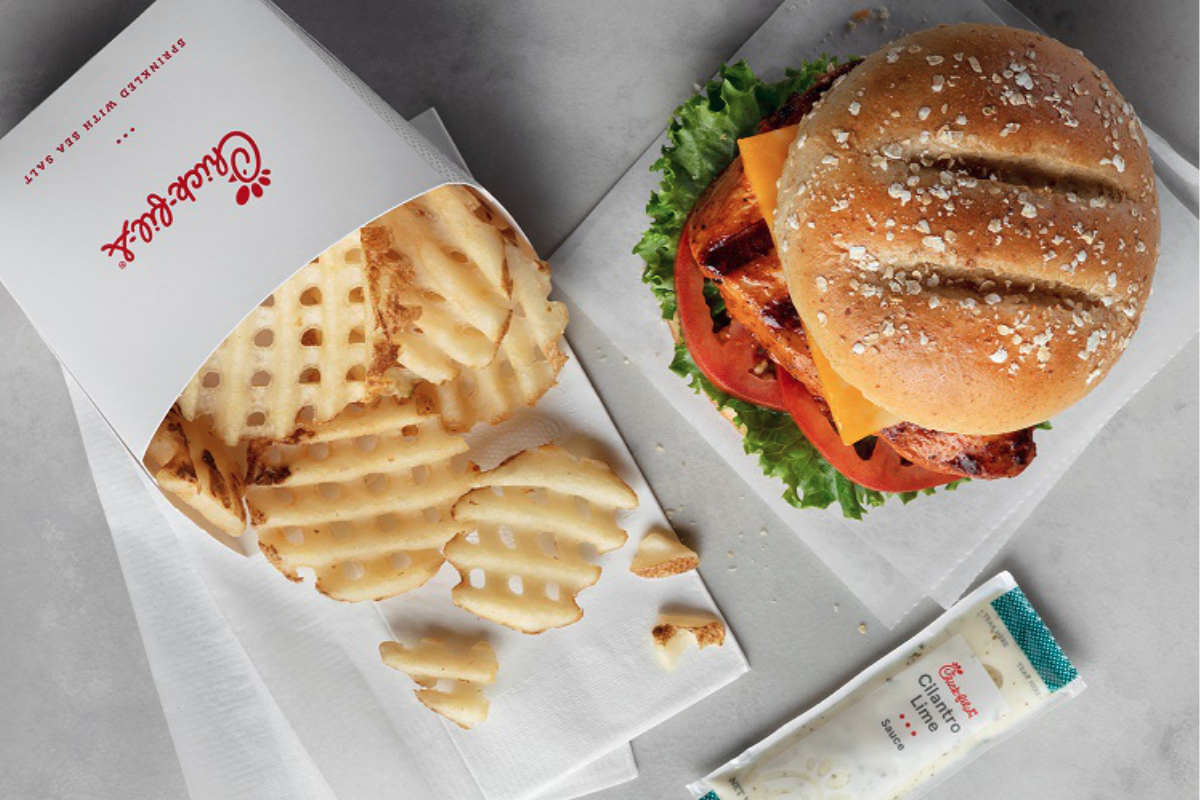 brioche bun, our grilled sandwiches offer a unique element that guests won't typically experience elsewhere. We also incorporated Colby-Jack cheese into the recipe to complement the bold flavors."
Chick-fil-A also created a new Cilantro Lime Sauce specifically for the sandwich. The cool and creamy sauce packet is available for a limited time.
"The Cilantro Lime Sauce helps to take the edge off the heat while adding a final layer of flavor that brings all the ingredients together," Ms. Wadlington said.
"We know guests are looking to add more variety to their meals, especially after a year where new food experiences were limited," said Leslie Neslage, director of menu and packaging at Chick-fil-A, Inc. "The Grilled Spicy Chicken Deluxe Sandwich is a flavorful twist on our current grilled offerings that we have been testing in select markets since 2017, and it provides a bold break from the standard lunch and dinner routines. We dedicate an average of eighteen months to testing a new item before adding it to the national menu, which allows us time to ensure we can best support our restaurant team members while delivering a taste guests will love."