KANSAS CITY — The COVID-19 pandemic has changed a lot of things in the past year, but the role of chocolate and candy in Valentine's Day is not one of them. According to a report from the National Confectioners Association, 86% of Americans say they will share a gift of chocolate or candy this Valentine's Day.
"Throughout the pandemic, one thing that has remained consistent is that Americans appreciate chocolate and candy for the sense of comfort they bring during challenging times," said John Downs, president and chief executive officer of the National Confectioners Association. "The confectionery category remains resilient as people find new and creative ways to incorporate chocolate and candy into their celebrations of holidays and special moments like Valentine's Day."
While consumers still plan to exchange confectionery for the holiday, Valentine's Day has nonetheless been altered by the restrictions of coronavirus. In light of this, CPG manufacturers and foodservice operators alike are releasing new offerings driven by three trends that emerged in the midst of the pandemic: experimental products, inclusive products and mindful products.
One experimental product debuting for Valentine's Day is Candy Kraft Mac & Cheese from Kraft Heinz Co. The pasta includes a candy flavor packet to turn the macaroni and cheese pink and add hints of sweet candy flavor.
"Pre-COVID-19 brought us pink chocolate — a revolutionary innovation that took the industry by storm — and now, after an unconventional year to say the least, Kraft Heinz introduces us to pink mac and cheese," said Carmen Bryan, consumer analyst at GlobalData. "Adding a sweet twist to this traditional dish has certainly raised some eyebrows worldwide, but the novelty may just be what some people are looking for after a tough year of strict lockdowns."
Sugar Lab is getting in on the experimental trend with a new line of 3D printed truffles, bonbons and candies for Valentine's Day. The Valentine's Day line features candies, cupcake décor, cocktail garnishes and pastry shells.
"According to GlobalData's latest survey, nearly two thirds (61%) of US consumers' purchasing choices are always or often influenced by how enjoyable or unique a product is, five percentile points higher than the global average (56%)," Ms. Bryan said. "Other manufacturers would be wise to emulate similar launches that leverage this 'Instagrammability' factor that can be achieved within the home space."
Inclusive products that celebrate more than just romantic relationships also are trending for Valentine's Day.
For example, Insomnia Cookies is launching a Galentine's Day menu for women to celebrate their friendship — with a new limited-time menu. The offerings include red velvet and chocolate covered strawberry classic and mini cookies, red velvet and chocolate covered strawberry cookie dipper packs, heart-shaped cookie cakes and more.
"Valentine's Day is no longer just for significant others, with the concept increasingly expanding to friendship groups and family," Ms. Bryan said." The rise in Galentine's Day is just one example of this."
The Hershey Co. is introducing the Milk Chocolate Bear, a limited-edition, 5-oz hollow chocolate bear holding a heart that reads "beary best friends."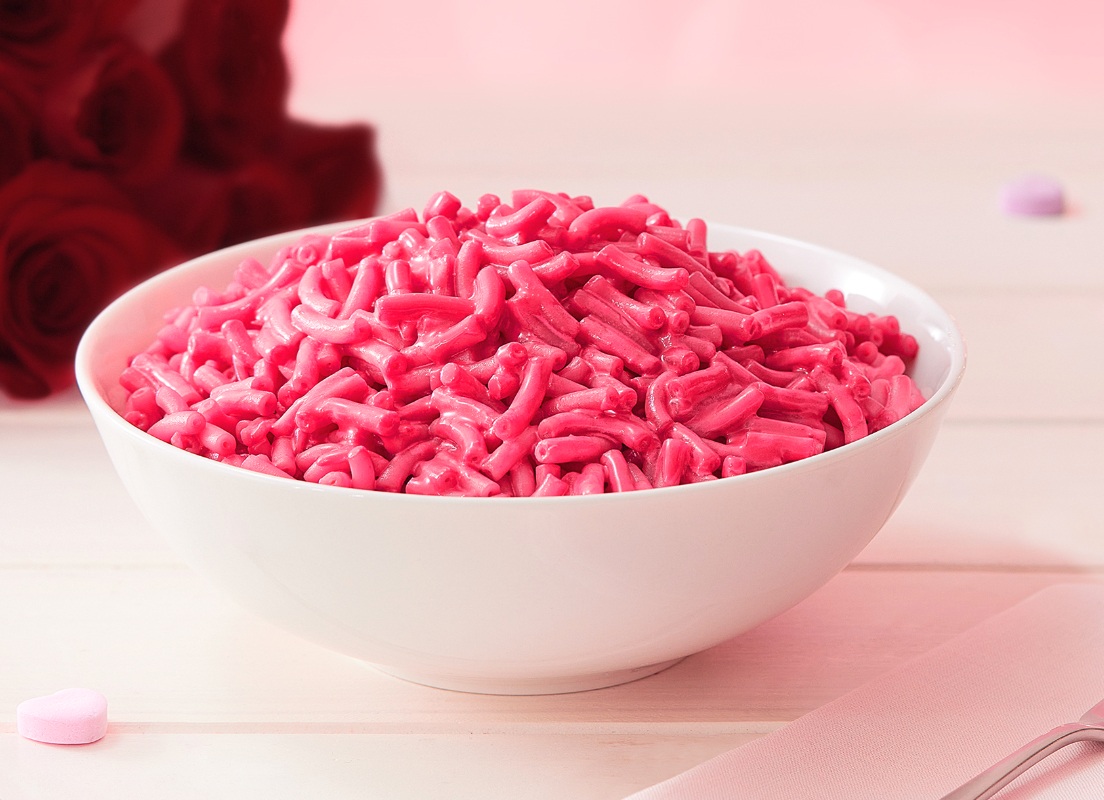 "Two in five (40%) UK millennials — who largely grew up with the iconic love candy — are always or often influenced by how well a product aligns to their needs and personality," Ms. Bryan said. "Leveraging the 'limited edition' appeal, while marketing beyond significant others, makes the launch both exclusive and more inclusive, tapping into consumers' fear of missing out (FOMO) and a wider target base."
Also popular for Valentine's Day this year are mindful products focused on health and wellness.
Fortum & Mason brewed a special calming tea for Valentine's Day. St Valentine's Tea is a loose-leaf tea that marries soft white tea buds with scented rose petals and hibiscus.
"For those looking for a break from traditional tipsy celebrations, Fortnum & Mason St Valentine's Tea will make for a great sophisticated and calming occasion," Ms. Bryan said. "Consumers are increasingly demanding products that cater to both the body and mind, with holistic health trends now more prominent within the industry. With approximately one fifth (20%) of the US population feeling stressed or anxious, and with health and well-being claims being an influential factor for 282% of US consumers, this premium tea, which contains hibiscus — known for its beneficial health properties — and rose petals for a touch of opulence, should appeal to those that prefer simplicity and relaxation."