BERKELEY, CALIF. — Plant-based eating continues to gain momentum, but many popular alternatives on the market are offered at a premium price point, noted Trishna Saigal, PhD, co-founder and chief executive officer of Berkeley-based Down to Cook, Inc. She launched her business two years ago to provide affordable, nutritious options to a broader population, including lower-income families.
The first product line, Adda Veggie, features shelf-stable mixes of pea protein, fiber and seasonings that are paired with a prepared vegetable and olive oil to create patties or crumbles for burgers, tacos, stir-fries and more. Flavors include original, Indian masala, chipotle adobo and herb roasted garlic. The versatile blends may be combined with various vegetables, including broccoli, mushroom, spinach or cauliflower.
"Our mix adds a nice crisp and chew and holds in the moisture of the veggie and the healthy fats that you add in," Dr. Saigal said. "The texture plus the protein are what make vegetables stand up as a center-of-plate item."
Dr. Saigal is an industry fellow at the Sutardja Center for Entrepreneurship & Technology at the University of California, Berkeley. She began her career formulating reduced-fat ranch dressing. Later, she led product development at a startup specializing in plant-based milk, yogurt and cheese products. She also served as a research and development consultant for an early-stage maker of seafood alternatives.
"A lot of products I worked on are very expensive, and if you look at some of the marketing, it was definitely not catering to a diverse set of consumers," Dr. Saigal said. "With the rise of cardiovascular disease and diabetes, there are a lot of people looking for healthy food, and I wanted to create something that was accessible."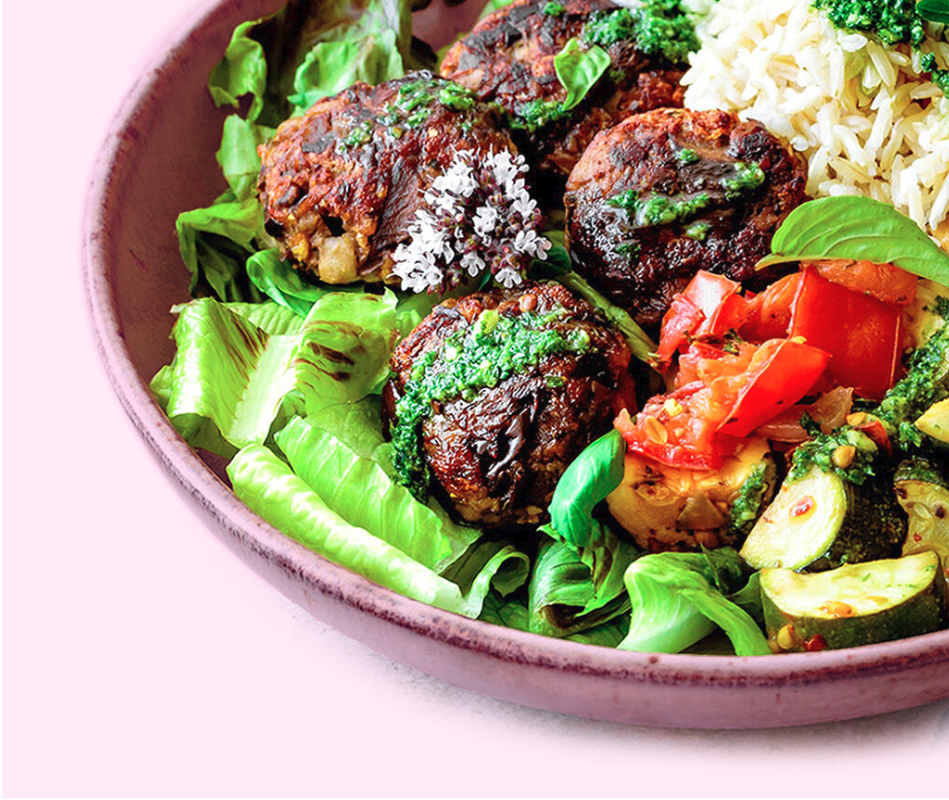 She selected peas as the protein source because soy- and wheat-based products contain allergens. After testing the concept at local farmers' markets, Dr. Saigal planned to debut a retail-ready product early last year, initially targeting restaurants and corporate catering companies. The brand has since shifted focus to online grocery retailers, including Vegan Essentials and Good Eggs, an organic grocery delivery service in San Francisco, which introduced an Adda Veggie meal kit in January. The brand also sells its products on Amazon.com and at downtocookfoods.com.
"When we started in farmers' markets, we would talk to people every week and see what messaging resonated," Dr. Saigal said. "It's a hard product to communicate because there's really nothing to compare it to."
Future product development will tap into breakfast flavors, additional global cuisines and other meal components incorporating vegetables.
"I'd love for it to be a pantry item people keep on hand so when they want to have a veggie-based meal they can just pull it off the shelf," Dr. Saigal said. "For one, it helps reduce food waste, but it also helps stretch people's budget and makes it possible to eat produce and vegetables regularly."
"I didn't start off wanting to be an entrepreneur necessarily. But I felt like I had this talent and wanted to use it for something I feel really passionate about." — Trishna Saigal, PhD, Down to Cook, Inc.
Her partner in the venture, co-founder and chief operating officer Joseph Richards, PhD, has experience in data and analytics. Previously, he co-founded a machine learning startup that was acquired by General Electric.
"He knows the startup world and how to hustle in the early stages, but he's not from CPG, so I think that's where we complement each other well," Dr. Saigal said. "He handles a lot of operations, and I handle all the food product development and marketing."
Dr. Saigal, a longtime health-conscious cook and "super budget shopper," hopes ultimately to eliminate barriers and provide more education and access to nutrition in underserved communities.
"I didn't start off wanting to be an entrepreneur necessarily," she said. "But I felt like I had this talent and wanted to use it for something I feel really passionate about."