KANSAS CITY — To cope with the impact of the coronavirus (COVID-19) and at-home lifestyles, people turned to nostalgic treats, which drove sales of packaged cookies over the past year. Last December, TOP Data reported that American cookie consumption increased by more than 25% during the pandemic with 1 in 5 Americans admitting to consuming three or more cookies on an average day.
"Variety was the recipe for success last year, making packaged brands King of Cookies," said Sally Lyons Wyatt, executive vice president and practice leader, client insights, IRI. "The cookie category finished the year strong with 7% growth, despite perimeter cookie offerings taking a hit as in-store bakeries remained closed or had limited service."
Consumers not only bought packaged cookies, which make up the majority of cookie sales, but they also drove triple-digit sales growth of frozen cookie dough. Deerfield, Ill.-based Mondelez International noted the rise in at-home baking as many of its snack products were being used as ingredients in recipes.
Innovation breeds success
Retail cookie sales are expected to reach nearly $13 billion by 2024, according to the Packaged Facts "US Food Market Outlook 2020" report. Consumers are looking for decadent products with distinctive flavors and combinations, and it seems cookie companies received that message loud and clear. Established producers got busy innovating their longstanding iconic staple brands, creating cookie products that are resonating and stimulating growth.
Brands like Norwalk, Conn.-based Campbell Snacks' Pepperidge Farm Milano cookies increased dollar sales by 14.9% for the 52 weeks ending Jan. 21, 2021, according to IRI's quarterly retail sales data for the category. Mondelez International's Nabisco Oreo and Chips Ahoy! brands saw double-digit growth as well (17.1% and 18.7%, respectively).
Overall, Nabisco brands, primarily Oreo and Chips Ahoy!, control about 40% of the market, according to Packaged Facts. The company has discovered that new flavor innovation excites Oreo cookie fans and engages new customers. In February, Oreo added Java Chip to its permanent lineup featuring coffee-flavored creme with chocolate chips sandwiched between the two chocolate wafers.
"Packaged cookies continue to do well in 2021," Ms. Lyons Wyatt said. "Again, diversity of choices are what consumers want, such as limited time offers, experience, fun flavor combinations and co-branding creating a retro or exciting twist on old favorites."
Since the acquisition of Keebler brand, Chicago-based Ferrara Candy Co., a subsidiary of The Ferrero Group, has revamped the iconic cookies, creating new formulations, packaging and marketing strategies. The brand overhaul included new recipes for Chips Deluxe, Fudge Stripes and Sandies cookies, removing high fructose corn syrup and adding ingredients like 'more real chocolate' to the Chips Deluxe and 'real Madagascar vanilla' to the Sandies.
"Prior to the pandemic, there were some consumers who would only buy fresh-baked, less-processed items, and they will continue to do so," Ms. Lyons Wyatt said. "However, packaged cookie producers can respond by cleaning up ingredient labels, removing artificial preservatives, and using only wholesome, quality ingredients for their cookie brands."
In February, Product of the Year USA, a consumer-voted award for product innovation, recognized 41 items as part of its 2021 Product of the Year Awards, including Ferrara Candy Co.'s Keebler Chips Deluxe Original in the cookie category.
"When we set out to revitalize the brand and improve the quality and freshness of our cookies, like adding more real chocolate to Chips Deluxe Original, we did it for our customers, and we're so happy to see that they are enjoying the changes to our cookie portfolio," said Daniel Vera, head of cookies R&D at Ferrara, responding to the Product of the Year recognition.
Proliferating eating occasions
While pantry stocking drove snack and cookie sales in 2020, it is not the primary driver this year. Eating occasions for cookies are creating opportunity.
"Traditionally, cookies were enjoyed in the afternoon or evening, but today consumers are eating them during all day parts, and especially as people have been confined to their homes," Ms. Lyons Wyatt said. "Producers are responding with cookies that appeal to consumer needs throughout the day, whether an indulgent pleasure or a BFY cookie with health benefits."
Pepperidge Farm now offers more than 50 cookie varieties, including sweet classics and decadent new flavors, like Pepperidge Farm Thin & Crispy Butter Pecan cookies. The cookies claim a 'fresh-from-the-oven taste,' made with real butter, crunchy pecans, real eggs and vanilla extract. From virtual happy hours to watching television with the family, Pepperidge Farm is working to create a cookie for every occasion.
Such a return to more "real" ingredients also dovetails nicely into the trend toward a return to comfort foods, like cookies, and this has continued into 2021. However, many consumers want to lose weight and improve nutrition and fitness, so cookies with functional claims may resonate.
While free from dairy, grain and gluten claims persist, emerging concerns about eating too much sugar is driving interest in alternative sweeteners or sugar substitutes, according to Packaged Facts. However, those consumers who are trying to reduce sugar intake from treats typically do not want sugar-free products. Most prefer products with less sugar or those sweetened with natural, non-sugar ingredients.
"Consumers are realizing that sugar is the enemy, and we're trying to make it easier to reduce sugar by making amazing tasting products without sugar," said Joe Ens, co-chief executive officer, HighKey, Bellingham, Wash. Mr. Ens cited research reporting that 51% of Americans are looking to reduce sugar from their diet, more than fat, sodium and gluten. As a result, HighKey launched the "Cancel Sugar. Not Cookies" campaign so consumers can enjoy their favorites guilt-free.
The type of health claim preferred varies from person to person. While weight loss is important for many, some may seek an energy boost from a sweet, high-protein snack or low-carb, gluten-free options. Still others may be looking for a clean label.
Ms. Lyons Wyatt emphasized that most consumers sought comfort foods and nostalgia to cope with the pandemic and stress, but those who always eat gluten-free or low-carb did not stop that eating behavior but merely paused it. Those innate food preferences will continue going forward.
HighKey recently expanded its portfolio of low-carb products with 10 new baked snacks and confections. The company's new cookie offerings feature Chocolate Chip Mini Biscotti, Wafer Cookies, Vanilla Shortbread Mini Cookies and Salted Caramel Mini Cookies.
"When consumers go on diets, they have FOMO or the fear of missing out," Mr. Ens said. "On our packaging, we say FOMO NO MO, meaning you don't have to miss out anymore, because our foodie R&D team has found ways to make low-carb, sugar-sucks comfort food taste as good as the original."
HighKey's new products are keto-friendly and contain up to 4 grams of net carbohydrates per serving. The items are also free from gluten, grains and added sugars. Mondelez International jumped on the gluten-free trend with its launch of Oreo Gluten-Free cookies and Oreo Double Stuf Gluten-Free cookies, which became permanent additions to the Oreo portfolio in January. The packaging declares a GFCO (Gluten-Free Certification Organization) certification. The company maintains that the new recipe was comparable to the snacking experience of the original recipe.
It appears that while immunity and energy benefits will likely continue to resonate in 2021, preferences for health-conscious consumers will evolve, impacted by herd immunity and a return to normalcy. Again, variety is key, and the emphasis on health claims will be different for different people.
Decadent flavors reign supreme
While health is a consideration, great taste remains important to consumers. Indulgence and flavor innovation are primary drivers in the cookie market, according to the Packaged Facts' report. Taste and texture impact consumer choice, especially younger demographics who seek more decadent and differentiated offerings.
"Taste is everything in food, and the challenge with eating healthy is that most of the healthy stuff doesn't taste good," Mr. Ens said. "However, when consumers eat our top-selling Chocolate Chip Cookie, they say it's as good as any they've tried."
Darker chocolates, double and triple chocolate, stuffed cookies, richer cream fillings, and frostings all resonate for cookies. To respond, Mondelez Nabisco's Oreo The Most Stuf cookie is filled with more than triple the original vanilla-flavored creme than the average Oreo. Cookie producers also can take advantage of consumer interest in exciting flavors. The Packaged Facts' report suggests innovation that blends the tastes and textures of favorite products, like cookies with well-known candy, snack and dessert flavors.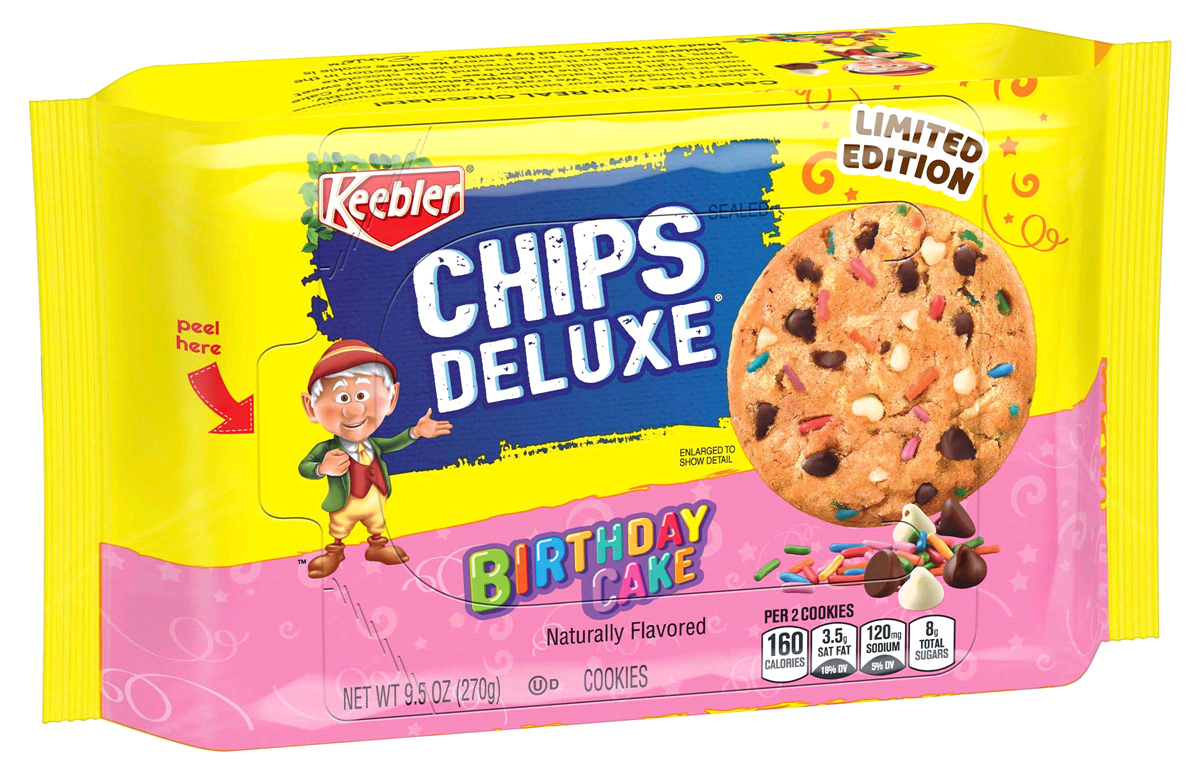 Last fall, the Keebler brand rolled out Keebler Chips Deluxe Birthday Cake cookies made with milk chocolate and white chocolate chips and colorful sprinkles and Keebler Fudge Stripes Cinnamon Fudge Swirl cookies, which were inspired by cinnamon rolls and pair white cinnamon fudge with shortbread cookies.
"Ferrara is the No. 1 leading manufacturer in seasonal sugar confections, and we're now bringing our expertise into the cookie category and have bigger plans for 2021 and beyond," said Ryan Nolan, brand manager, Keebler. "For all future Keebler limited-time offers, we're looking to continue to connect with families and create magical experiences that tie to seasonal moments."
Mondelez International created a limited-edition Oreo mash-up variety inspired by a cookie-brownie hybrid. The Brookie-O Oreo features a triple-layered creme of brownie, original Oreo Stuf and cookie dough flavors sandwiched between two chocolate wafers. Another trend, experiential eating, considers the senses when consumers are looking for a snack.
"There are four considerations when determining how consumers purchase and consume snacks, like cookies: list, impulse, on demand and experiential," Ms. Lyons Wyatt said. "During 2020, experiential snacking gave consumers something to do to be creative, while also fulfilling a need for a tasty, indulgent snack, like baked or refrigerated cookies packaged with colorful icing or decorative candies."
Keebler debuted its first DIY product offering during the holidays last year. Keebler Make-a- Wreath Cookie Decorating Kits featured unadorned cookies with fudge on the bottom paired with green frosting and an assortment of candies for decorating, including red, white and green Frosty Nerds, Chewy Lemonheads and Sprees.
Taking the path to success
As consumer lifestyles return to normal, in-store bakeries will see gains as customers seek fresh bakery items for special events such as in-person parties and events.
Ms. Lyons Wyatt explained that a return to the perimeter doesn't necessarily mean the demise of center store cookie sales. Both segments may thrive serving different needs, as long as packaged cookie producers remain focused on innovation with variety, flavors, experiences and engagement.
Another factor to consider is price. Perimeter baked goods tend to be more expensive than packaged varieties. There remains room for premiumization. Many products, like cookies, are purchased as a splurge despite value, and as people get out more, they will seek an out-of-home food experience, Ms. Lyons Wyatt observed. However, as families watch their food dollars, producers that can provide a clean high-quality cookie for less money and more value will compete.
"Consumers will opt for packaged cookie options that offer convenience, shelf stability and a better ingredient profile," she added.
The Packaged Facts' report suggests producers can develop a health halo by merchandising better-for-you packaged cookies in grocery store perimeters near inhouse bakery and deli departments.
Products purchased on-demand and those that provide an experience will see gains, Ms. Lyons Wyatt observed. Planned purchases and lists impact online sales, but in 2020 consumers remained more brand loyal online. Once they purchased a product, it remained on their lists and in their shopping carts, which resulted in huge growth.
"Cookie producers must act like a potato chip company and ensure that their products are within an arm's reach of every consumer; and if they accomplish this, cookies will continue to grow in the coming years and beyond," Ms. Lyons Wyatt said.