CHICAGO — The 2005 nonfiction book written by Tom Standage "The History of the World in Six Glasses" explores the evolution of human culture through the lens of beer, wine, spirits, coffee, tea and cola. It is 15-plus years later, and Ben Larson, chief executive officer of Vertosa, Oakland, Calif., believes cannabis may be the seventh glass.
"We're well on our way," Mr. Larson said during The Future of Food @ SXSW event, which took place virtually March 18-21. "If we look at how much money is waiting or going into the cannabis space just to help build beverages, there's definitely going to be a future there."
Vertosa is a technology company focused on creating cannabis-derived ingredients for food and beverage manufacturers, with the latter its primary focus at this time. Mr. Larson said the cannabis and hemp industry is arguably the most exciting growth opportunity since the internet. It also is one of the most important public health policy shifts of current times.
The COVID-19 pandemic exposed the epidemic of mental health issues in the United States and the need to bring wellness to the forefront, said Mario Rodriguez, owner, Bootleg Avocado LLC, New York, and moderator of the SXSW session "Cannabis: The catalyst for new food culture." He believes cannabis is part of the solution and that now is the time to debunk cannabis' stigma and uncover innovative food and beverage applications.
Innoviom, Stamford, Conn., for example, markets Tranquini Wowie, a line of relaxation beverages infused with 20 mg of hemp combined with adaptogens such as lemon balm, lavender, chamomile and L-theanine (from green tea). One 12-oz can contains 20 calories.
"Wowie helps take you from hectic to 'hanging loose' without making you drowsy," said Ahmed ElAzizi, CEO.
Wowie was created for fast and effective stress relief and to reduce anxiety. This supports Mr. Rodriguez's belief that many cannabis food and beverage innovators are leaning toward being a wellness product company, not a cannabis company.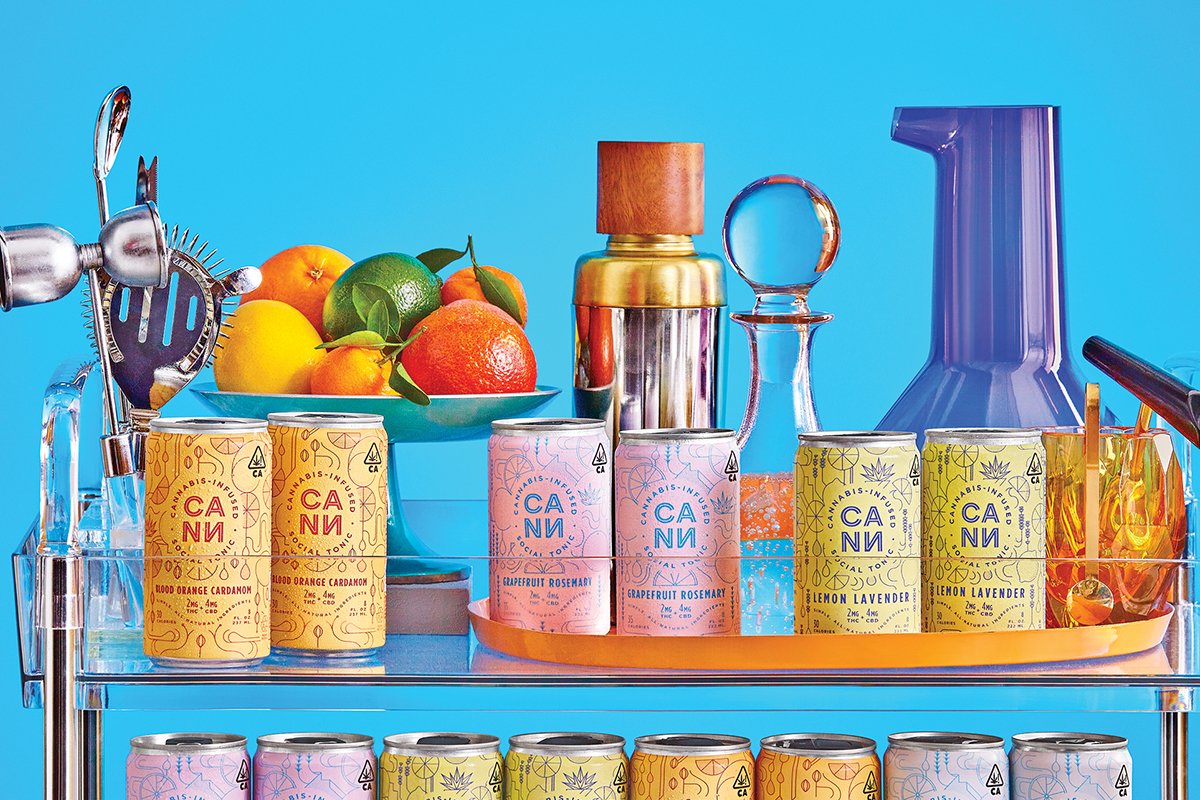 Venice, Calif.-based Cann & Botl Co.'s cannabis proposition is being a social tonic. It is a non-alcoholic beverage formulated to give you "a feeling of vigor or well-being" along with a light buzz. The beverage line comes in various formulations, all with tetrahydrocannabinol (THC) and cannabidiol (CBD).
The CBD compounds are non-psychoactive and associated with relaxation, pain relief, improved sleep, positive mood, better memory and stress response. It is not to be confused with THC, the compound responsible for the feeling commonly referred to as "stoned."  The compounds are just two of the more than 100 cannabinoids found in the herbaceous species known as Cannabis sativa. Both hemp plants and marijuana plants are of this same species.
Verde Juice Co., Santa Fe, NM, is adding a CBD-infused cold-pressed and high-pressure processed functional tea and juice beverage to its line. Made with whole leaf hemp juice, each 10-oz bottle contains 35 calories with no added sugars. Bottles have 12 mg of CBD and less than 1 mg THC.
"When you talk cannabis, it's more than hemp," said Ben Richardson, director, 7Thirty Capital, New York, a venture capital company invested in about 10 cannabis-related businesses. "It's more than THC. It's more than CBD."
He cited businesses such as hemp paper and hempcrete. The latter is used in construction as insulation.
"The best ideas in cannabis are in somebody's head, somebody sitting in their apartment somewhere in this country," Mr. Richardson said. "And that really necessitates that we develop the system of incubating and accelerating (innovation)."
Mr. Larson said, "Cannabis can live in many different realms: health and wellness, pet care, athletics, you know, places you never even expected it. I think that is inherently the big opportunity."
Before that opportunity becomes reality, it's paramount the world understand, cannabis is hemp and hemp is cannabis, Mr. Larson said.
In food and beverage, it's the different combinations of cannabinoids, terpenes and flavonoids that allow formulators to add a new dynamic to the experience. Beverages are leading the way.
Coventry, Conn.-based Harbor Hemp Co. recently added CBD-infused lemonade to its line of CBD products. The non-alcoholic drink contains 150 calories, 15 mg CBD per 12-oz bottle and has no THC. The lemonade is made with a proprietary water-soluble CBD nano-emulsion.
Mr. Larson believes the future is bright for cannabis beverage innovation.
"Beverage is great from a biological standpoint," Mr. Larson said. "It provides rapid absorption because of the soft tissues in the mouth, which can get the (functional) droplets into the bloodstream faster. It's taking a viscous oil extracted from a plant, dispersing it in water and trying to get it to stay there. But it's like the most complicated salad dressing you've ever made. But we are doing it."
He encourages formulators to take the "experience-first" approach with cannabis. It's paramount that marketing identify the target customer and what the product should be formulated to deliver. Getting it right requires determining the promise and the talking points.
As with other products, it's key to decide upfront any limitations on allergens and product claims, such as plant-based or organic. This decision will impact the toolbox of cannabinoids, terpenes, flavonoids and the carrier oils available.