LOS ANGELES — Tea Drops, the maker of bagless tea blends, has closed a $5 million Series A funding round led by BrandProject, with participation from Siddhi Capital and existing investors AF Ventures, Cue Ball Capital and Halogen Ventures.
The brand, which counts among its fans supermodel Chrissy Teigen and former first lady Michelle Obama, markets an assortment of organic, fair trade whole-leaf tea pressed into single-serving shapes that dissolve in water. To date, Tea Drops has raised a total of $8.4 million.
Founder and chief executive officer Sashee Chandran created the concept in her home kitchen as part of a personal mission to eliminate the tradeoffs of traditional tea. She preferred the flavor and aroma of loose-leaf tea, but a demanding corporate job provided little time to properly steep and enjoy a cup. Bagged styles, meanwhile, lacked taste and created waste, she found.
"Even though it's thousands of years old, the tea industry hasn't changed," she said. "There hasn't been much innovation since the introduction of the tea bag in the early 1900s."
Tea is central to Ms. Chandran's heritage and upbringing. The child of a Chinese mother and a Sri Lankan father, she has a profound cultural connection and views tea as a ritual of self-care, linked to many special moments over her lifetime.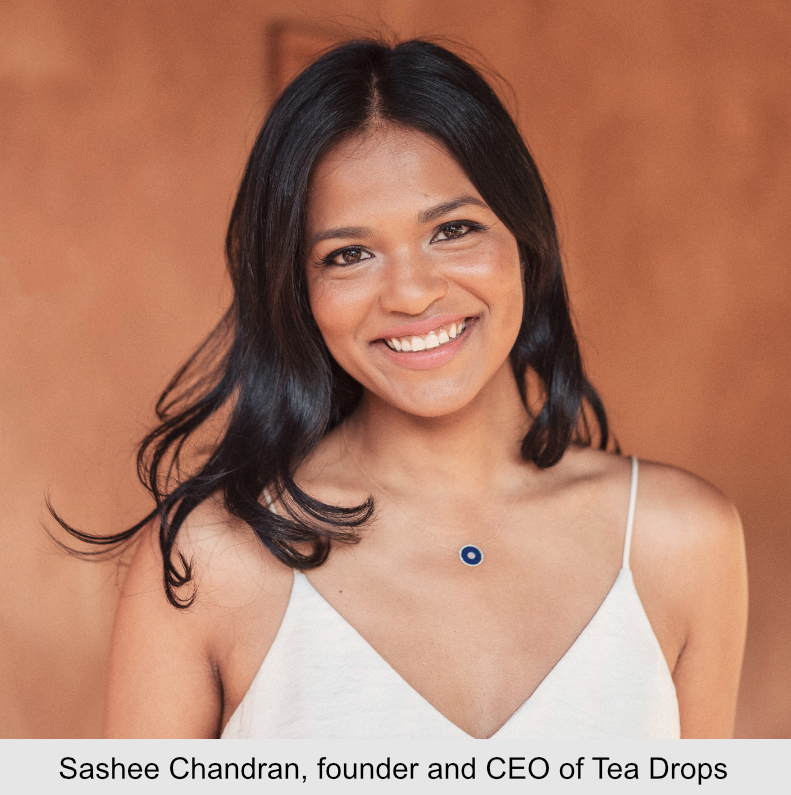 A year and a half of experimentation led to the invention of Tea Drops, which she patented and launched in late 2015. The core product collection features varieties ranging from citrus ginger and sweet peppermint to chocolate earl grey and matcha green tea, lightly sweetened with organic cane sugar. The products generate an estimated 15% to 20% less waste than traditional tea packaging, Ms. Chandran said.
The brand also offers latte kits, which include creamer packs produced by fellow female-led, Los Angeles-based startup Copper Cow Coffee. Last year, Tea Drops added bubble tea kits based on consumer insights uncovered at the onset of the pandemic.
"I started researching what people were searching on Google and Amazon as it related to tea," Ms. Chandran said. "What was the need? I knew there was a huge emotional need we could see of people feeling distraught and anxious. But what were people doing in terms of behavior, and what they were drinking and looking for?"
Turns out, it was bubble tea, also known as boba tea, a sweetened, sometimes creamy cold tea beverage featuring chewy pearls of tapioca. As the virus shuttered specialty tea shops across the country, consumers began scouring the web for ways to drink it at home. Within a month, Ms. Chandran partnered with a boba supplier and launched the kits on the brand's website, myteadrop.com. The product contributed to strong direct-to-consumer sales growth, up 350% year-over-year.
"We sold millions of dollars in boba kits," Ms. Chandran said. "That was our hero product of 2020."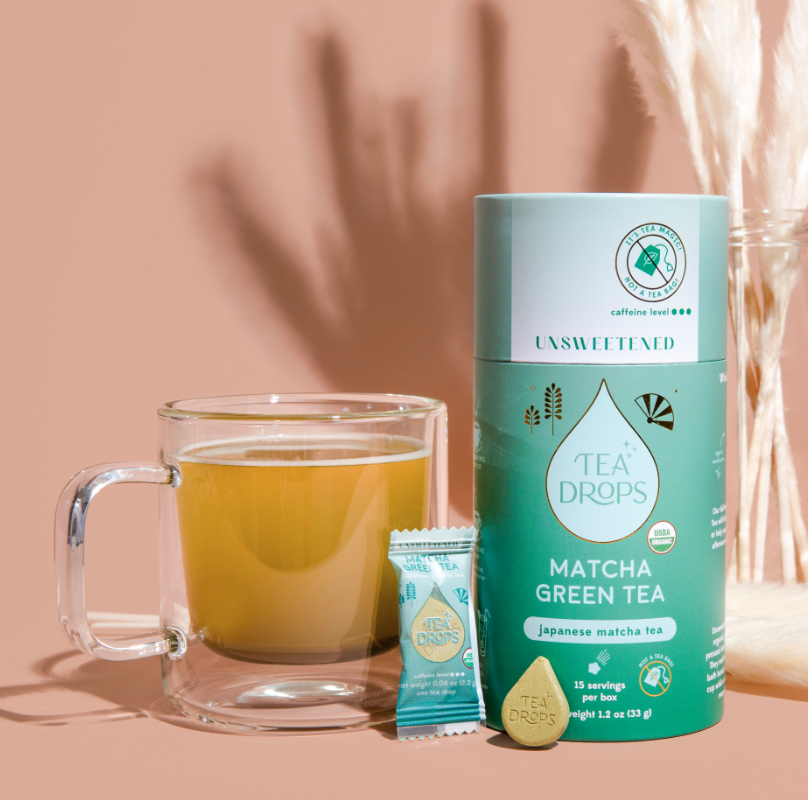 More recently, Tea Drops launched unsweetened tea varieties, an innovation several years in development, and plans to add a women's health range in the coming months.
Products are currently sold in about 2,000 retailers. Ms. Chandran said she will use the proceeds from the Series A funding round to expand the brand's retail footprint and support its fast-growing online business, which represents about 80% of revenue. She also sees significant opportunity in international markets, particularly in Asia and the United Kingdom, where tea consumption is robust.
"We are thrilled to continue pushing the boundaries of tea innovation and further our mission as a self-care first experiential brand," Ms. Chandran said. "With this new round of capital, we're bringing on an incredible first-class team of e-commerce and operational strategists in both BrandProject and Siddhi Capital. We are so grateful for the new partnerships and the continued support from our existing partners. Together, we are modernizing a sleepy category and making tea accessible and fun for all."