KANSAS CITY — Consumers, stuck at home with little opportunity for travel during COVID-19, have sought to experience the world through global snack flavors. Kimchi-infused chips are one example.
Consumers also are coping with anxiety brought on by the pandemic. They may find comfort in nostalgic sweet flavors in snacks, say, vanilla-flavored kettle corn.
Spicy exploration
Grand View Research, Inc., San Francisco, valued the North America savory snacks market at $36.89 billion in 2020 and forecast a compound annual growth rate of 6.1% in the category from 2021 to 2028. Spicy flavors should be the fastest-growing product segment over that time, according to Grand View.
PepsiCo's Frito-Lay US Snack Index, created through research conducted April 28-30 among a national sample of 2,199 adults, was released in May. It revealed 32% of Americans prefer new, spicy and bold flavors, which compared to 25% in 2020. Among millennials and Gen Z, 45% said they prefer new, spicy and bold flavors in 2021.
Those flavors come from various cultures and continents.
"We have seen a considerable increase in demand over the past few years for international snack flavors," said Doug Resh, director, commercial marketing for T. Hasegawa USA, Cerritos, Calif.
Asian flavors from Japan, South Korea, the Philippines and Thailand lead the way.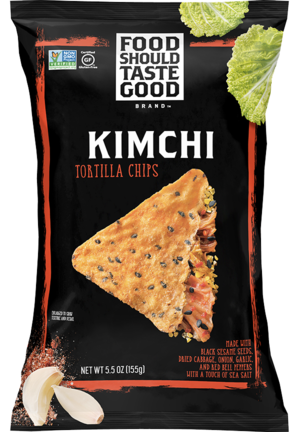 "Kimchi has grown in popularity in recent years as a new flavor in a wide variety of shelf-stable snacks such as crackers and chips," Mr. Resh said. "Adobo, a popular seasoning with origins in the Philippines, has elevated beyond its origins as a sauce or marinade as a growing flavor trend in nuts and salty packaged snacks. Perennial favorites like sesame and curry are increasingly part of flavor development for snack foods as well, such as bars, chips, nuts and other savory snack options."
Exotic flavors such as guajillo chili, baobab, baharat and maca are becoming part of snack innovations.
"It's no surprise that international flavors like these have grown in popularity over the past 12 to 18 months since they offer excitement to consumers who have been stuck at home during the pandemic and unable to enjoy experiences like travel or restaurant dining," Mr. Resh said. "The snack itself is usually a familiar staple comfort food like chips, crackers or popcorn, but the added flavor is where the opportunity for exploration and innovation exists."
Kimchi, a staple in Korean cuisine, is created with fermented vegetables and pairs the flavors of red chili flakes, onion, garlic, ginger and vinegar, said Courtney Schumacher, strategic marketing manager – snacks and bakery for Kerry, which has a US office in Beloit, Wis.
"The spicy and tangy profile of kimchi lends itself perfectly to the salty snack category and products like chips, nuts and snack mixes," she said. "Consumers of the salty snack category are very open to experimenting with flavors, and a globally inspired flavor like kimchi gives them the adventure they crave in their snacks."
Snack innovators are turning to bold and spicy flavors from Asia, Central America and North Africa, said Terry Miesle, master savory flavorist for Sensient Flavors & Extracts and based in Hoffman Estates, Ill.
"Generally, these are quite bold profiles with specific chili pepper profiles," he said. "Consumers of these cuisines know the chiles used — for example gochugaru in gochujang and ancho in mole sauce," he said. "Bright spices dominate this category as they do the dishes that inspire it: cilantro and garlic in a chimichurri, or Mediterranean herbs in a ras el hanout or za'atar seasoning."
Potato chips and extruded potato snacks, being neutral on their own in flavors, work well with the bold, international flavors, he said.
"We see pretty broad category uses in items like pita chips, corn chips, etc.," Mr. Miesle said. "Corn chips have a lot of flavor on their own, so bold profiles seem to fit well as do expected profiles like Mexican and other Central American cuisine."
Examples of Mexican influences in the snack category are street tacos, which feature a variety of peppers like chipotle and habanero, said Catherine Armstrong, brand ambassador for Comax Flavors, Melville, NY.
"These flavors are typically spicy and provide heat," she said. "We see that consumers are still craving hot and spicy flavors — the hotter the better."
The flavors work well in chip and crunch applications, she said. Comax also is seeing fruit flavors paired with heat such as habanero peach, and tropical flavors, including mango and guava.
"These tropical fruit flavors work well in snacks and are also popular for being exotic," Ms. Armstrong said. "Consumers are craving more unique and exotic flavor profiles even more since COVID because they have not been able to travel."
Sweet popcorn profiles
Kettle corn was an indulgent idea for the SkinnyPop brand even before COVID-19.
"Every year when we listen to people on social, or we ask our consumers in surveys, the No. 1 request they always have is, 'Can you launch a SkinnyPop kettle popcorn?'" said Kyle Banahan, vice president of marketing at Amplify Snacks, a subsidiary of The Hershey Co.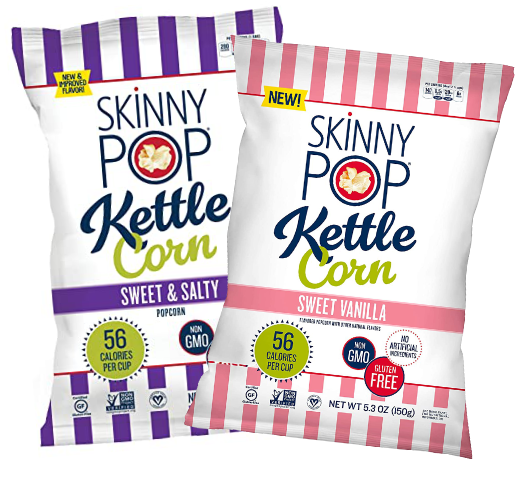 The SkinnyPop brand earlier this year introduced kettle corn in two varieties: sweet vanilla, and sweet and salty. Skinny Pop and Sam's Club collaborated on a third variety, cinnamon and sugar.
The sweet vanilla variety contains both vanilla bean and vanilla flour.
"By just using one or the other, you're not going to get that very fragrant, vanilla sweet flavor," Mr. Banahan said.
Mr. Miesle of Sensient said cinnamon, maple and ice cream-type flavors are appearing in snacks.
"Popcorn seems pretty natural for these profiles with the kettle corn glaze as well as sweet caramel corn-type products already established," he said. "I'd expect to see a lot more creativity with sweet profiles including fruity profiles on popcorn."
Ms. Schumacher of Kerry said nostalgic and dessert-inspired flavors like s'mores, peanut butter and jelly, cookie dough, and donut are found in products like popcorn, snack bars, confectionery items and nutritional bars.
Smoked salt versatility
Smoked salt may enhance the flavor in most snack categories, said Mark Zoske, founder and chief executive officer of SaltWorks, Inc., Woodinville, Wash. It often works best with a neutral flavor base such as plain popcorn or potato chips. The company's Perfect Smoke technology adds natural smoke flavor to any product.
"SaltWorks offers five smoked salts, each smoked with a different type of real wood, each lending themselves to certain flavor profiles," he said. "With no additives, artificial flavors or anti-caking agents, these salts are ideal for the clean label-conscious snack food manufacturers."
Smoked salts are found in different SaltWorks sea salt products, from Pure Ocean grain to Pacific Blue flake to Mini and Micro Flake. Smoked salt works in savory snacks as well as confectionery items.
"Durango Hickory smoked sea salt brings a sweet and smoky flavor synonymous with southern cooking that could elevate the flavor of BBQ potato chips or jerky while Fumée de Sel Chardonnay Oak smoked salt has a subtle smoke flavor, making it a great finishing salt for caramels and chocolates," Mr. Zoske said.