KANSAS CITY — Consumer demand is driving food and beverage manufacturer interest in labels promoting a product's environmentally sustainable attributes and for packaging options that enhance such attributes. Research by the consultancy Accenture indicates the pandemic has intensified interest in "conscious consumption," which is defined as those consumers who consider the environmental and societal impacts of their shopping choices. Meeting the needs of this group will challenge manufacturers and retailers to fundamentally rethink how they will cater to the pandemic-adapted consumer.
"The pandemic is making consumers think more about the impact their purchasing decisions are having on the environment and society at large," said Oliver Wright, senior managing director and global lead of Accenture's consumer goods industry group. "Consumers' focus on areas like the provenance of ingredients and raw materials, working practices, the environmental impact of finished products and packaging, calls for companies to ensure the agility and capability to be relevant to consumers and customers — with a portfolio of products and services that match shifting purchasing patterns — and to better collaborate with industry peers, just as they proved they could during the pandemic."
A consumer survey undertaken by Accenture highlights the opportunities and challenges companies face as they wade further into meeting the needs of conscious consumers. For example:
Half do not have a good understanding of which brands are sustainable/ethical, and which are not.
To help more easily understand how sustainable a product is, seven in 10 consumers would support a mandatory but simple labelling standard for products such as a traffic light indicator.
Two-thirds of consumers believe the government should introduce legislation to promote "conscious consumption", e.g. charging for plastic bags.
Sixty-nine percent of consumers believe consumer brands should do more to make it easier to consume more consciously.
A third of consumers admit they do not have a good understanding on what items they can and can't recycle.
"People's values are increasingly becoming infused in their shopping habits as consumers think more about balancing what they buy, and how they spend their time, with global issues of sustainability," said Jill Standish, senior managing director and head of Accenture's global retail industry group. "This calls for retailers to be authentic and to pay attention to what each community they serve really cares about. It is no longer enough for brands to just talk about responsibility, they need to adopt environmental, social and governance practices, harnessing technology to drive outcomes across their entire operations, from building more sustainable supply chains to equipping the workforce for a new environment."
Supporting Accenture's results were survey findings from the London-based market researcher GlobalData that said sustainability and reducing environmental impact are becoming ever more critical to consumers' perceptions of brands. In research released in December 2020, GlobalData said 41% of European consumers consider a reduced environmental footprint to be more important now than before the pandemic. In addition, 42% of European consumers said the COVID-19 pandemic has made ethical or sustainable production methods more important to them.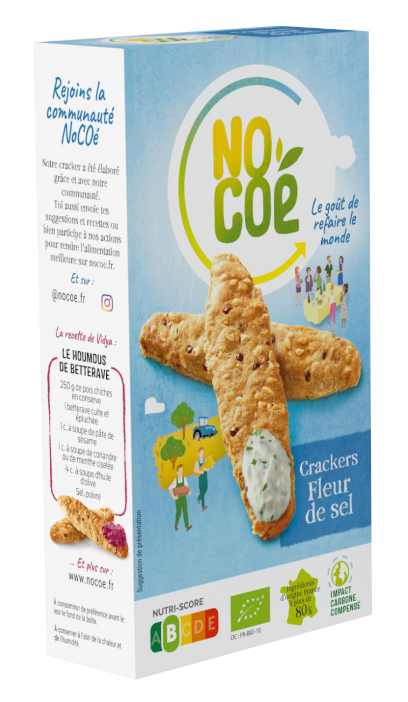 "Brands shouldn't dismiss the issue of CO2 emissions," said Ryan Whittaker, consumer analyst at GlobalData. "While Gen Xers and millennials worldwide reported the most interest in products that lower environmental footprints in the wake of the pandemic, it has grown as a priority for all age groups."
To illustrate his point, Mr. Whittaker used NoCoe, a snack product manufactured and marketed in France by Mondelez International's SnackFutures unit, as an example. The cracker brand is clean label and carbon neutral. Manufactured with more than 80% local ingredients and production, it has a shorter, more sustainable supply chain, according to the company.
"SnackFutures has designed this product to translate climate change into something with a real physical presence, something that empowers consumers to be able to proactively contribute toward environmental protection: by choosing products with sustainable, shorter supply chains and carbon neutrality credentials," Mr. Whittaker said.
Companies are acting. Maple Leaf Foods, Inc., Toronto, said it achieved carbon neutrality in 2019 and labels its Maple Leaf, Greenfield Natural Meat Co., Lightlife and Field Roast Grain Meat Co. brands as "carbon zero." The logo may be found on the front of all product packaging. Other food companies that have or are exploring the addition of carbon labels to products include Unilever, Upfield Group, Mondelez International, Quorn Foods and Oatly.
The search for alternatives
A survey of more than 15,000 consumers in Europe, North America and South America by Trivium Packaging and the Boston Consulting Group also identified a steady climb in younger consumers' dedication to sustainable living. Eighty-three percent of those age 44 and under were willing to pay more for sustainable packaging. The study showed younger consumers were 23% more inclined to pay for sustainable packaging than older generations, with no significant difference in income bracket or between millennials and Generation Zers.
The survey findings concluded that overall consumer demand for sustainable packaging remains high despite the impact COVID-19 had globally. Sixty-seven percent of consumers identified as environmentally aware. Additionally, 67% identified packaging that is recyclable as important, 64% identified packaging that contains recycled content as a priority in their buying decisions, and fewer than one in three consumers deprioritized sustainable packaging due to COVID-19.
"No event in recent memory has had as much impact on consumer behavior as COVID-19 yet the majority of consumers did not de-prioritize sustainability in the face of the pandemic, a true testament to the unwavering sustainability movement led by young consumers" said Michael Mapes, chief executive officer of Trivium Packaging.
Consumers were aligned across all regions on identifying plastic as the most unsustainable packaging material on the market. Survey respondents consistently associated plastic with undesirable attributes such as ocean pollution, harmful and wasteful.
The concern about plastic is translating into action, according to AMC Global, a market research company. A survey conducted by the company earlier this year showed people are trying to reduce their consumption of plastics. They are looking for alternatives to plastics that are recyclable, reasonably priced and reusable. And there is an expectation brands and packaging companies will share the expense of providing alternatives to plastic packaging.
Food and beverage companies are responding. This past February, The Coca-Cola Co. announced a limited trial this summer in Hungary of the company's paper bottle prototype. The new bottle consists of a paper shell with a recyclable plastic lining and cap. The technology is designed to create 100% recyclable bottles made of sustainably sourced wood with a bio-based material barrier capable of resisting liquids, CO2 and oxygen, and suitable for beverages, beauty products and other liquid goods. The ultimate goal is a bottle that can be recycled as paper.
"Our vision is to create a paper bottle that can be recycled like any other type of paper," said Stijn Franssen, research and development packaging innovation manager for the Coca-Cola Co. "A paper bottle opens up a whole new world of packaging possibilities, and we are convinced that paper packaging has a role to play in the future.
The trial will measure the package's performance and shopper response to the format, according to the company.
The market researcher GlobalData said Coca-Cola's paper bottle will attract the 43% of global consumers that stated how ethical or environmentally friendly a product is influences their product purchasing decisions. The move also is seen encouraging other companies to launch plastic packaging alternatives, and, in the long term, consumers should expect to see paper-based bottles appearing for other liquid products in the hospitality, restaurant and café segment and in other retail stores, ranging from beers to soft drinks, juices and ready-to-drink items.
"Coca-Cola's paper bottle will open up a whole new world of possibilities for beverage companies," said Arvind Kaila, head of consumer beverages for GlobalData. "With growing pressure from consumers and government bodies alike on sustainability initiatives, it is no surprise that there has been a surge in research and development into paper bottles."
GlobalData's survey also found 22% of global consumers now view recyclable or reusable packaging as significantly more important since the pandemic began, while 12% claimed it was their top priority.
"Consumers worldwide are increasingly expecting brands to develop and bring to market new and sustainable packaging innovations," Mr. Kaila said. "Sustainability and reducing environmental impact have become increasingly critical to consumers' brand perception in the pandemic because it has given consumers time to gain a new perspective on their environmental and social footprint."
Another company shifting away from plastic is Boxed Water is Better LLC. In 2020, Boxed Water became the most sustainable brand on the market, at 92% plant-based with its packaging and new plant-based, according to the company. All of the paper is sourced from trees in well-managed forests, where new trees continuously are planted to replace the ones harvested. They are shipped flat to reduce the number of trucks required for transportation. The company fills water close to the source and the consumer to reduce its carbon footprint.
Beyond beverages, Sacred Serve, a plant-based gelato brand, has transitioned to plastic-free, fully recyclable ice cream cartons.
"It has been my goal since day one to find a sustainable solution for Sacred Serve's packaging," said Kailey Donewald, founder. "As a young brand, it can be incredibly challenging to find a partner willing to work with you on an initiative such as this. Our mission has always been to change the landscape of food being offered to consumers. We're so excited to be able to do this from a nutritional as well as a sustainability standpoint. Packaging has been a major problem for the frozen set as a whole, and we're thrilled to introduce a solution that will help push the entire category forward."
Historically, to protect from moisture and withstand freezer temperatures, there's a plastic liner that lines the paperboard of every ice cream container. That liner limited the recyclability of the cartons.