CHICAGO — Consumers have been shunning the notion of three meals per day for longer than a decade, making snacking the most significant eating occasion for food and beverage formulators to target. When the pandemic hit, snacking became an all-day distraction, a way to calm fears and gratify desires.
Then the "quarantine 15" set in. Some consumers started making more mindful snacking decisions, fueling the development of better-for-you products, where the emphasis was on nutrient density of whole food ingredients, along with the reduction of added sugars and calories.
This is where we are in snack food innovation. Both sweet and salty snacks are receiving upgrades in terms of ingredient sourcing and nutrition profiles. It's important to note snacking drivers change throughout the day, as do snack formats and flavors. Morning snacks may be more about satiation and nourishment. An afternoon snack might be for energy or to satisfy a sweet craving. For the evening snack, maybe it's about relaxation and pleasure.
More like a mini meal
Savory snack foods, more so than sweet treats, benefited from a pandemic lift, according to The Future of Snacking report from The NPD Group, Chicago. This is likely due to protein content, which helps satiate, rather than the sugar rush from candy or cookies.
New better-for-you savory snacks often include whole food ingredients, such as legumes, nuts and seeds, as well as nutrient-dense grains, healthy oils, plant proteins, fruits and vegetables. Many are formulated for the numerous dietary lifestyles being followed, everything from gluten-free and vegan to keto and paleo, according to data from SPINS and New Hope Network, as presented at Natural Products Expo West Virtual Week, held May 24-27.
"You could literally follow just about any type of diet in existence, and you'd be able to purchase the corresponding snacks," said Adrienne Smith, senior food business reporter, New Hope Network, Boulder, Colo. "While diet-specific snacks are in general nothing new in the natural products industry, these and other types of snacks are being driven by a couple of overwhelming and overlapping trends."
The trends are reflected in label claims such as gluten-free, organic, non-GMO and vegan, along with cleaner labels that highlight allergen-free and high-protein ingredients, she said. Consumers also are seeking products free from artificial sweeteners and colors.
Responsible sourcing is another trend. Many of the most innovative brands are proactively sourcing ingredients and other inputs to have a positive effect on farmers, fishers, gatherers, importers and processors all along the way.
Upcycled ingredients is part of the responsible sourcing trend. Boston-based 88 Acres Foods, a plant-based food company, for example, has partnered with online grocer Misfits Market, Pennsauken Township, NJ, to produce and distribute Cinnamon Maple Edge'nola. The product is an upcycled snack made with the thousands of pounds of edge pieces that result from the production of 88 Acres Cinnamon & Oats Seed+Oat Bar Thins.
The edges are clusters of pumpkin, sunflower and flax seeds, along with gluten-free oats and organic cinnamon and maple. They come in 10-oz bags, which Misfits Market sells for $3.99.
While not a new player in the upcycled space, Dieffenbach's Snacks, Womelsdorf, Pa., believes that this past year, the concept of a sustainable food supply resonated with more consumers. Since 2017, the company has been producing Uglies Kettle Potato Chips, which are made with "ugly" potatoes deemed cosmetically challenged by today's produce standards.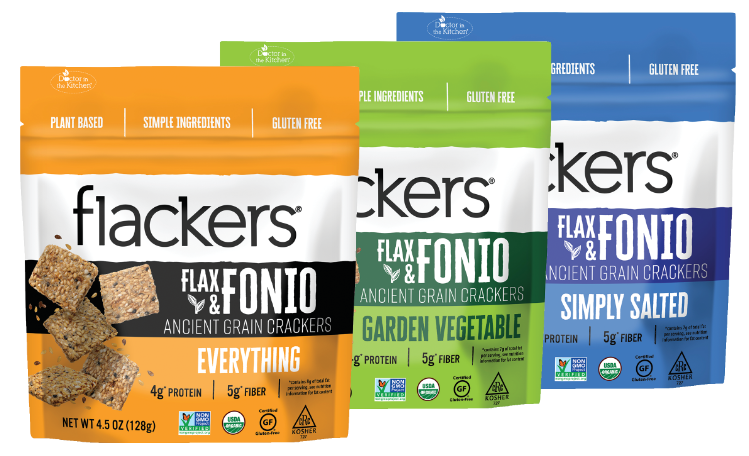 "Uglies chips promote environmentally friendly and sustainable food practices," said Dwight Zimmerman, vice president of sales and marketing. "We recognize our position in the movement to reduce food waste. We understand the predicament farmers are facing when imperfect, yet perfectly edible crops are being discarded as waste, and we are here to help."
Minneapolis-based Flackers is taking a different spin on responsible sourcing with its new Flax & Fonio Ancient Grain Crackers. Combined with the nutritional benefits of flax, the fonio-enhanced crackers come in everything, garden vegetable and sea salt varieties.
"We are excited to introduce the incredible benefits of fonio to a wider audience looking for true sustainability in their snacking," said Donn Kelly, president and co-founder. "It's snacking with a purpose."
Mr. Kelly and his team found fonio, a tiny ancient grain in the millet family, in West Africa. It is a resilient and renewable food source. Fonio thrives in acidic, dry soil with little water, making it tolerant of droughts and floods, and it grows well without any need for pesticides or fertilizers. Fonio is ready for harvest in 70 to 130 days — up to 3 times per year — and is pest-resistant in storage. Gluten-free, low-glycemic and nutritious, fonio is one of the world's most remarkable — yet unheard of — grains, Mr. Kelly said.
Fonio is a source of protein and dietary fiber and delivers all nine essential amino acids and minerals. The United Nations Food and Agriculture Organization suggests fonio has the highest calcium content of all grains and is an excellent source of B vitamins as well as iron, zinc, magnesium, phosphorus and copper. Fonio is a whole grain consumed in its entirety for optimal benefit, aiding blood sugar management with resistant starch.
Better than sliced potatoes
While potatoes remain the most popular vegetable to be sliced and fried until crispy and crunchy, it's not the only produce item to become a snack food. For the past 20 years, Terra Chips, a brand of The Hain Celestial Group Inc., Lake Success, NY, has been growing the number of whole root vegetables used to make its chips. Kabocha, for example, is also known as Japanese pumpkin. It has a strong yet sweet flavor, similar to butternut squash. The batata, or Cuban sweet potato, is light brown in color, also with a hint of sweet.
Until recently, the brand only offered two seasoned chips: barbecue and chipotle sweet potato. Otherwise, the root vegetable chips came slightly salted or unsalted. Recognizing the "mindful snacking" appeal of its chips, the company is introducing a medley of taro, sweet potato, batata, parsnip and beets in three flavors: sour cream and onion, sea salt and vinegar, and spicy.
Anything seems to go these days in the savory snack category. Earnest Eats, Solano Beach, Calif., has developed a way to make avocados into a crispy snack. The company freeze dries avocado slices and then flavors them with chipotle, sea salt or sea salt lime seasonings.
Go Wild, Boulder, Colo., developed nut and vegetable protein mixes featuring ingredients such as roasted corn kernels, plantain chips, nuts, legumes and quinoa sticks.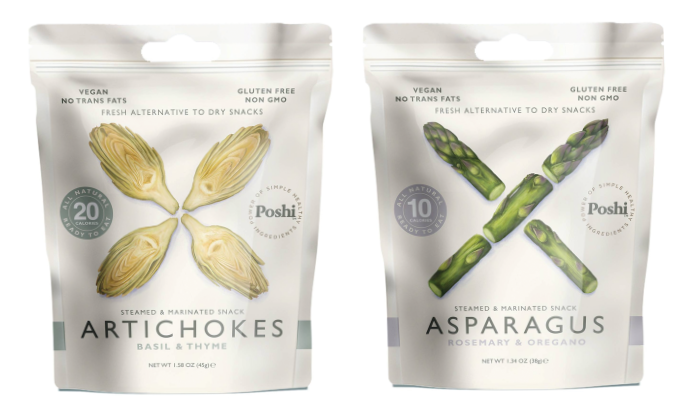 Sahale Snacks, a J.M. Smucker brand, is adding legumes to its dried nuts and fruit mixes, boosting the protein content while offering another layer of flavor and texture. The new Bean + Nut Snack Mixes come in four varieties. Creole combines roasted chickpeas and fava beans with pecans and peanuts, pepitas, brown rice and diced red bell pepper with Cajun seasonings for a touch of New Orleans heat. Asian features umami-seasoned roasted edamame, lentils and puffed brown rice with cashews, chickpeas and black sesame seeds. There's also similar bean and nut blends in white cheddar black pepper and sea salt flavors.
Miami-based Elma Farms is bringing a fresh alternative to dry snacks with its steamed and marinated Poshi brand. The shelf-stable single-serve snacks come in four varieties. They are artichokes with basil and thyme, asparagus with rosemary and oregano, cauliflower with lime and paprika, and green beans with lime and garlic. Elma Farms also makes olives a portable snack. Oloves is a line of single-serve packs of olives marinated in extra-virgin olive oil and varied seasonings.
On the sweeter side
Savory snacks may prevent sugar rushes, but consumers still have a sweet tooth. That's why a number of new sweet treats are focusing on reducing added sugars.
Piedmont Candy, Lexington, NC, is introducing Thinful, a low-sugar indulgent snack mix with 2 grams of sugar and 60 calories per half-cup serving. The company uses erythritol, stevia and a touch of sugar, along with chicory root fiber and soluble corn fiber, to keep sugar content low. The flavor is sweeter than table sugar and devoid of any aftertaste, said Mark Stephens, chief operating officer. The mix base contains popcorn, caramel corn, salty twist pretzels and waffle pretzels. This is flavored with either a sweet drizzle or sprinkled topping.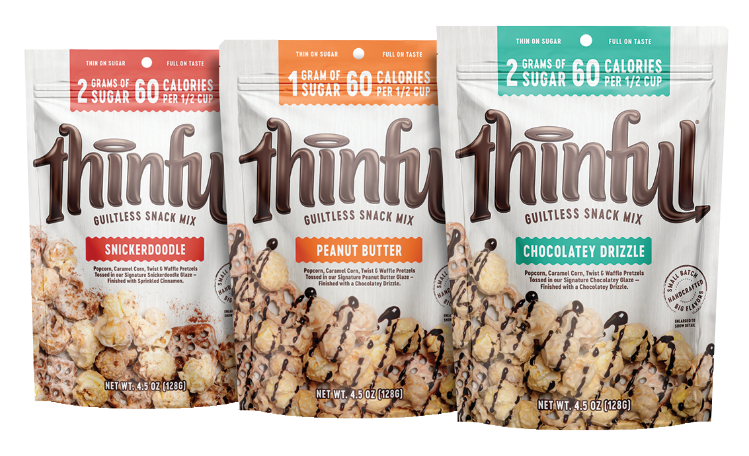 Russell Stover Chocolates, Kansas City, is using stevia to sweeten new Joy Bites, a collection of no-sugar-added chocolate bars made with select non-GMO and organic ingredients, as well as fair trade cocoa, which is part of the brand's sustainability story. Part of its commitment to sustainable practices includes wrapping the chocolate bars consisting of breakable bites in easy-to-use resealable packaging that is 100% recyclable with Forest Stewardship Council-certified outer sleeves.
Dr. Bronner's, Vista, Calif., which manufactures soap, is entering the sweet snack business with organic, fair trade and vegan chocolate. The treats are formulated with 70% dark chocolate from cocoa beans grown using regenerative practices and sweetened with lower-glycemic coconut sugar.
"When we learned that many of the 800 farmers who supply our regenerative organic certified serendipalm project (for soap making) in Ghana also grew cocoa, it was a perfect opportunity to grow our partnership with fair trade farmers by developing these cocoa beans and other ingredients … into a rich, delicious dark chocolate that elevates soil and community health, as well as quality of life for everyone in the supply chain," said David Bronner, engagement officer of Dr. Bronner's.
Go Wild lives up to its name with its sweet mixes referred to as deconstructed desserts. This is a concept that provides "snack-er-tainment," a way to provide some excitement to wearied pandemic consumers.
The non-GMO Project verified sweet treats focus on the inclusion of whole fruit ingredients. Blueberry cobbler, for example, features chocolate-covered blueberries mixed into a maple pecan granola, roasted pecans and pepita seeds blend. White chocolate raspberry cheesecake has whole dried raspberries.
Rind Snacks Inc., New York, turns fruit, including the peel, into a dried snack without all the sugars and additives often found in dried fruit products. The company uses a dehydration process to dry thin slices of upcycled fruit into a crispy shelf-stable snack. Fruit peels are recognized for containing more vitamins, antioxidants and fiber than the flesh. The company helped eliminate more than 120,000 lbs of edible fruit peels from being discarded in 2020, said Matt Weiss, founder and CEO.
"We view the fruit snack space as ripe for disruption," Mr. Weiss said.
Offerings include an orchard blend of persimmon, peach and apple; a tropical blend of orange, pineapple and kiwi; a mix of strawberry, bosc pear and apple; and a combination of coconut and watermelon. The company will be growing the line with chips, which are thinly sliced, skin-on fruit that is air-dried and has a crunchy texture. Varieties include apple, orange and kiwi, the latter two of which contain more than 200% and 100% of the daily value of vitamin C per bag, respectively, Mr. Weiss said.
"We are making these look, feel and crunch like a salty snack but have all the immunity and fiber benefits of fruit with the rind on," Mr. Weiss said. "What's important to us is they deliver on that classic 'craveable' crunch people like and want and seek out from favorite potato chips or grain-based snacks."