KANSAS CITY — Food and beverage founders seeking better ways of doing business are turning to B Lab.
The Berwyn, Pa.-based non-profit offers a framework for implementing and codifying sustainable business practices. To certify as a B Corporation, a company must achieve a minimum score of 80 out of 200 possible points on the B Impact Assessment, which analyzes how the day-to-day operations of a business support workers, the community and the environment. Just one in three brands that apply for certification make the cut.
More than 3,500 companies in 70 countries, including nearly 200 food and beverage makers in the United States, are Certified B Corps. Most are small- to medium-size businesses, but a growing number of larger companies also are joining the movement.
Despite the disparity in resources, startups and emerging brands may have an advantage over established companies with scale when it comes to gaining certification, said Veena Harbaugh, director of marketing and communications at B Lab.
"It is a rigorous process for all companies, but it can be a simpler process to assess and improve if the company is less complex," she said. "The other advantage startups and emerging brands have is in designing their governance structure. They have the opportunity to incorporate their company as a Benefit Corporation and attract aligned investors from the start."
Fixing flour
One Mighty Mill has baked B Corp principals into its business model since launching in 2018. The Lynn, Mass.-based startup grinds fresh flour from locally grown wheat to produce bagels, tortillas and pretzels. Co-founders Jon Olinto and Tony Rosenfeld created the company after learning how chemical farming and industrial milling contributed to a decades-long spiral in flour quality and nutrition.
"That sent us down a journey to learn about what flour should be if we approach it as a fresh, living product rather than just dead filler," Mr. Olinto said. "It's about restoring our relationship to one of our most basic and important foods."
The company believes the benefits of using fresh flour are numerous. Products baked with fresh flour taste better, delivering a nuttiness and sweetness not found with industrial flour, according to the company. One Mighty Mill said stone-milling preserves many of the vitamins and minerals in wheat, resulting in finished products with stronger nutritional profiles.
"One of our bagels has almost your whole recommended daily intake of whole grains," Mr. Olinto said. "Our fiber and protein are typically double what you see in food made with industrial flour."
On a more aspirational level, the startup is aiming to rebuild a supply chain centered on regenerative farms and local stone mills, a partnership that used to thrive in communities across the country pre-industrialization.
The community aspect is key to One Mighty Mill's mission. The company built its first mill in a neighborhood that lacks consistent access to healthy fresh foods, and it provides whole wheat bagels to local school districts at cost. It also supports communities by creating quality careers, with every team member becoming an owner after their first year.
B Corp certification has helped One Mighty Mill ensure it delivers on its mission to grow more organic wheat acreage, build more stone mills and support healthy communities. Those efforts earned it a B Impact Assessment Score of 81.5, 30 points higher than the average score across all applicants.
"For us, it was more of an audit than a strategic shift with massive changes for the company," Mr. Olinto said. "We had this clear mission already hardwired into our DNA, but I wanted B Lab to take a look and make sure we're as good as we think we are."
Manufacturing with a mission
Becoming a B Corp has helped Tribe 9 Foods, Madison, Wis., bolster its mission of improving lives through healthy foods. Chairman and chief executive officer Brian Durst launched the company four years ago as a platform for creating more nutritious products.
Tribe 9 offers a range of functional and better-for-you foods through its own portfolio of brands, which includes gluten-free and fresh pasta makers Taste Republic, RP's Pasta and Carla's Pasta, and nut butter brand Yumbutter. It also makes products for emerging brands in the natural foods space as a co-manufacturer.
"We're providing healthier alternatives, as well as food products that consumers might not otherwise be able to eat," Mr. Durst said.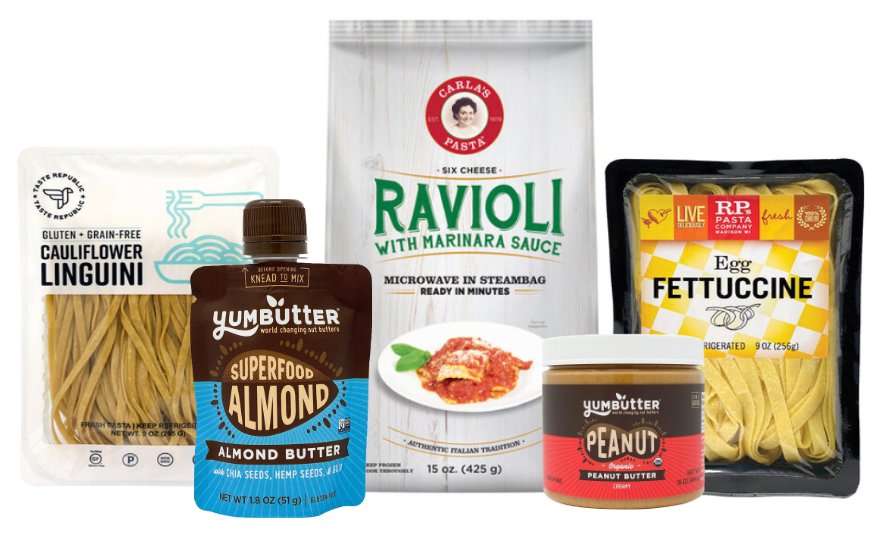 Creating healthier products is one part of Tribe 9's mission. It also aims to advance responsible and sustainable manufacturing by sourcing renewable energy at its facilities, donating meals to local families each year and ensuring all employees earn a livable wage, efforts that earned it a B Impact score of 80.8.
"The cool thing about the application process was that it became a helpful brainstorm for us," Mr. Durst said. "When you apply, you not only earn credits for the things you're already doing, but you discover new opportunities for channeling that positive intention into new programs and policies."
Finding ways to create a positive impact is a key component of the B Corp movement. B Lab regularly updates its impact assessment with revised criteria, and companies are required to recertify and provide additional documentation every three years.
"This process ensures that companies continue to engage in a high level of impact with their stakeholders, even as the business grows or changes," Ms. Harbaugh said. "Recertification gives companies the opportunity to set improvement goals against the most-up-to-date standards and benchmark their performance over time."
Tribe 9's initial application focused on what the company could do within its own four walls, but recertifying has pushed it to consider how it can create wider changes throughout the food system, Mr. Durst said.
"The bigger your business gets, the more you're able to influence your supply chain," he said. "If you can start to change some of your vendors' behaviors to be aligned with your B Corp principles, you might have a 200-to-1 impact versus what you can do within your own business."
B2B benefits
Consumers increasingly are looking to support brands that stand for sustainability and social issues, but companies that seek B Corp status simply as a marketing tool may be missing the point, Mr. Olinto and Mr. Durst said. Consumer awareness around B Corps remains low, they said, and the benefits primarily reside on the business-to-business side.
"I think where you might get more value is on the buyer side," Mr. Olinto said. "Everybody's looking for that point of differentiation, and while nobody is going to put you on the shelf just because you're a B Corp, it does add value and credibility to what you say when you're talking to buyers about sourcing, diversity, employees and other important issues."
Other benefits include attracting and retaining talent and connecting to B Lab's wider network of mission-driven businesses. Mr. Durst has looked to other B Corps to help guide Tribe 9's goal-setting and decision-making processes.
The company's B Corp status also makes it an attractive partner for emerging brands looking to engage with social and environmental causes, he said.
"The fact that it's a business model and not a charity model actually allows our impact to be much greater," Mr. Durst said. "A crucial part of that is the fact that the companies we're producing products for are aligned with making the world a better place."