LOS ANGELES — For most of his life, Alex Bayer did not enjoy coconut. Not even finely shredded and coated in chocolate. He especially detested its water, despite the purported health benefits.
"That's what's ironic about this entire story, that I grew up not liking coconut at all," said the former insurance agent. "It took me tasting coconut water and meat from a fresh cracked-open young coconut to realize how amazing it really is."
Mr. Bayer first sipped a whole coconut smoothie — blending the water and meat of the coconut — at a friend's house in 2013. The combination inspired him to launch Genius Juice, a brand of ready-to-drink beverages based on the water and meat of organic Thai coconuts and little else.
"I tasted it and thought, 'This is genius,'" Mr. Bayer said.
The recipes are simple, with no sweeteners, flavorings, preservatives, emulsifiers or stabilizers. The original coconut smoothie combines only coconut water and coconut meat. A vanilla cinnamon smoothie adds organic vanilla extract and cinnamon powder. A chocolate mocha smoothie also has organic cocoa powder and coffee extract, plus Himalayan pink salt.
"You have to be a coconut fan to buy the original," Mr. Bayer said. "But the mocha and vanilla cinnamon, even though they have whole coconut as a base, because they are being blended in with other organic ingredients, you don't really taste the coconut, but you get all the benefits."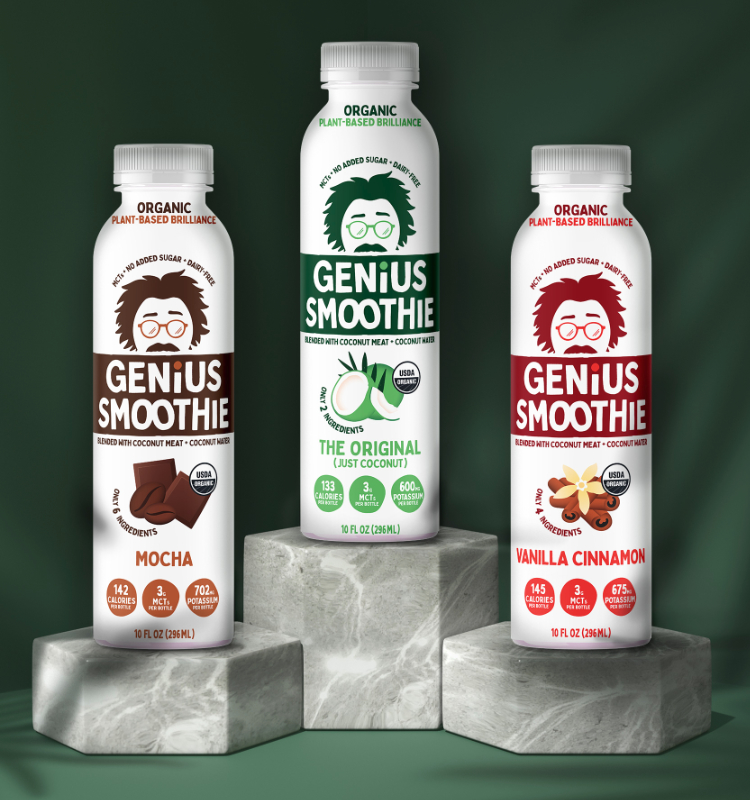 The coconut water in the beverages provides electrolytes, potassium and hydration, while the coconut meat offers protein, fiber, omega-3 fatty acids and medium-chain triglycerides, he said.
Genius smoothies are sold in nearly 4,000 stores nationwide including Whole Foods Market, Target, Costco and others, and the company is on track to surpass $12 million in revenue this year. After five years in the market, the brand that had previously favored natural and specialty retailers began expanding into conventional outlets.
"Our top selling SKU across the country is our original, which is literally coconut water and coconut meat," Mr. Bayer said. "It's only two ingredients. It's pretty amazing that such a simple product from nature, which is freshly cracked-open coconut, is our No. 1 seller."
A new protein smoothie range incorporates the brand's signature base, adding pea protein, coconut sugar and monk fruit extract, plus adaptogens including lion's mane and reishi mushrooms. The products debuted recently in Sprouts Farmers Market stores nationwide.
The brand also rolled out redesigned packaging to better communicate the ingredients and nutrition while paving the way for additional product lines.
"We didn't want to be pigeonholed as just a coconut-centric brand," Mr. Bayer said. "Because the biggest challenge we had was … someone would see 'whole coconut smoothie' on the product, and they would make an assumption, 'That's coconut water, and I'm going to hate it.'
"But when you try our mocha flavor, you don't taste the coconut. You taste the creaminess, the chocolate, the coffee, and you feel great. We didn't want to scare away consumers by just telling people it's coconut, because our product is so much more than a coconut beverage."
As part of the brand's zero-waste mission, coconut husks are used to generate alternative energy or produce coconut charcoal, often found in food and supplements.
"There are creative ways to use coconut, and we're always exploring ways with our partners so the coconut husks can be reutilized within our logistics and operations in different ways," he said.
Late last year, Genius launched a crowdfunding campaign on Republic.co to support production, sales and marketing, and retail and online expansion. So, far the company has raised more than $758,000. Previously the brand raised $1.1 million in a capital round. In an appearance on "Shark Tank" that aired early last year, Mr. Bayer accepted an offer from investors Barbara Corcoran and Mark Cuban, sparking a spike in online sales in the hours and days that followed.
"Trial is everything," Mr. Bayer said. "Getting people to try it for the first time is really important. With all these new partnerships, by having marketing dollars to do that, it's going to increase the chance of success for our product."