NEW YORK — The simmering controversy surrounding Goya Foods has sparked significant demand for a startup maker of Latin pantry staples.
Founded in 2017, New York-based Loisa offers organic seasoning and cooking sauce products developed in collaboration with high-profile chefs in the Hispanic community and sold mostly online. Co-founder Scott Hattis said the business experienced a "seismic impact" last summer as the Goya Foods leader's public praise of then-President Donald Trump incited a politically charged boycott of that company's products.
"It changed everything in a week," Mr. Hattis said. "We were always presenting a better choice, and the goal we had was to get that choice in front of people, and it came in one moment for a lot of people. It became not just a question of the ideals of the business, but it also had people paying attention to 'What are we actually eating here? What are we feeding ourselves and families?'"
The name Loisa pays homage to the Loisaida barrio on the lower east side of New York City, a nucleus of Latin culture and cuisine. Mr. Hattis, who has marketing and brand building experience, launched the company with Kenneth Luna, a data and operations professional of Dominican and Peruvian-American descent.
"Maybe there are a lot of people out there with similar backgrounds and connections to this culture who would feel similarly and would want something made with clean ingredients and really clean intentions." — Scott Hattis, Loisa
"My wife is Dominican, and we are all friends from college, from years ago," Mr. Hattis said. "We had a tradition of cooking meals for each other almost on a weekly basis, and as expected a lot of recipes from my wife's family and foods we cooked a lot at home came into those meals."
While seeking seasoning blends with premium ingredients, Mr. Hattis noticed many options in the marketplace contained artificial colors, flavors or fillers. Few, if any, brands authentically represented the heritage of so many consumers residing in the United States, he said.
"You go to a grocery store and walk up and down the aisles, and there are awesome products with well-intentioned businesses behind them, and we didn't have that when it came to traditional Latin foods and flavors," he said. "We said, maybe we can do that, and maybe there are a lot of people out there with similar backgrounds and connections to this culture who would feel similarly and would want something made with clean ingredients and really clean intentions."
Loisa initially debuted a pair of organic seasoning blends that may be used in a variety of dishes. The brand's organic sazón combines sea salt, achiote, cumin, coriander, garlic, oregano and black pepper. The brand's organic adobo features sea salt, garlic, turmeric, black pepper and oregano.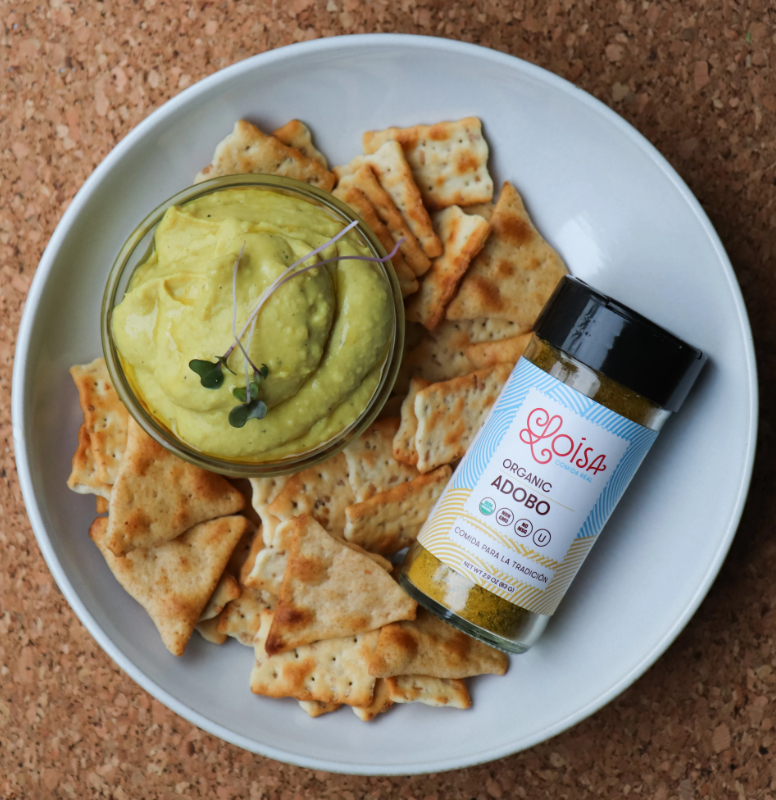 "I think people make assumptions about Latin-inspired cuisine that it's spicy, but these are really savory flavors," Mr. Hattis said. "So, we show them mixed with eggs in the morning or a tofu scramble. We have a recipe for adobo hummus on our site. These are versatile, and once you have them around you're going to use them a lot."
Earlier this year, Loisa added sofrito, which may be used as a cooking base for soups, stews, beans and rice. Created in partnership with Chef Yadira Garcia, who became an owner of the business, the product contains tomatoes, bell peppers, onions, lemon juice, ajicito dulce peppers, olive oil, cilantro, apple cider vinegar, sea salt, black pepper, oregano and turmeric.
"We are strong believers in the power of collaboration," Mr. Hattis said. "This is really a brand and business we hope is built by its community, and that community also includes people we can partner with and collaborate with. Our relationship with Yadira is foundational, but at the same time absolutely we see the idea of elevating voices and people in their work from our community that are likeminded in the ideals of business as core to how we want to grow."
As part of its 2% For Justice pledge, the brand supports non-profit organizations fighting for systemic change and equity in food and social justice.
Future launches will focus on flavor and may include additional sofrito variants or other traditional marinades and sauces, Mr. Hattis said. Much of Loisa's inspiration for product innovation is derived from consumer feedback and requests.
"I don't think much related to the Latin kitchen is out of bounds for what we could offer, as long as stick to the same ideals, which is a pure cooking experience that cares for heritage, that cares for tradition, both carried on from the past and created for the future, and maintaining conscious dialogue about where this culture is going and how it evolves here in the US," Mr. Hattis said.