NEW YORK — Bazooka Candy Brands, a division of The Topps Company, Inc., is tapping into consumer demand for fun and variety.
The company recently launched new Juicy Drop Gummy Dip N' Stix, which feature sweet gummy sticks and a sour gel for dipping. On tap for 2022 is Juicy Drop Re-Mix, which features sweet and sour coated chewy bites in a portable dual-compartment dispenser.
Available in Knockout Punch, Blue Rebel and Wild Cherry Berry flavors, the dual-compartment dispenser offers a new way for consumers to curate their own mix of sweet and sour flavors in each bite, said Elizabeth Mangold, senior director of innovation and e-commerce at Bazooka.
"Consumers like variety when it comes to non-chocolate candy," she said. "With Juicy Drop Remix, you can decide how much of the sweet and how much of the sour you want."
The interactive dispenser also adds an element of fun and entertainment, a core component of Bazooka's candies.
"We call our platform 'edible entertainment,'" Ms. Mangold said. "We want to take something that is a great tasting piece of candy and elevate it to be an entirely fun experience."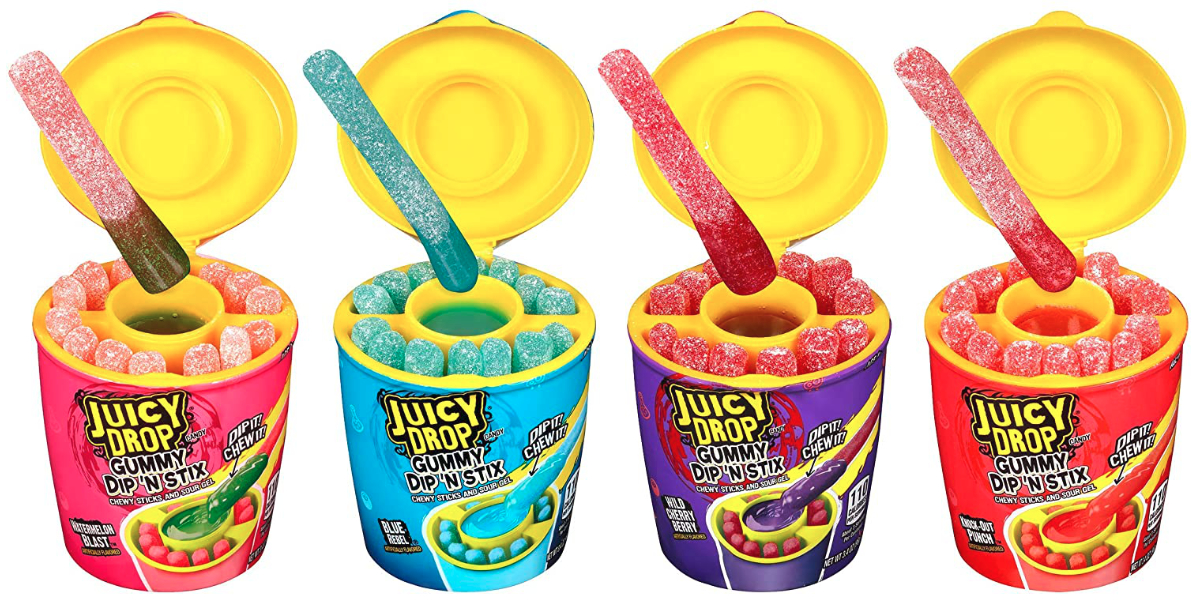 Edible entertainment has been a driving force behind many of Bazooka's brands. Push Pop lollipops, for example, feature unique packaging that allows consumers to eat now or save for later. Other versions of the product include Triple Power Push Pops, which feature sliders on the side that let consumers easily switch between three different flavors. Push Pop Flip-N-Dip and classic Baby Bottle Pops come with flavored powders that let consumers customize and amplify each lick, while gem-shaped Ring Pops serve as both a treat and a toy.
"There's a lot of different fun rituals across our candies," Ms. Mangold said. "We really try to bake that into our new innovations, because we know it's what our consumers want."
Introducing new interactive and customizable experiences is one way Bazooka aims to build on momentum in the non-chocolate candy segment. Non-chocolate candies generated $4.23 billion in 2020, up 10.8% from the year before, according to data from IRI. Segments that are performing best in the candy category include soft candies and gummies, Ms. Mangold said.
"We call our platform 'edible entertainment.' We want to take something that is a great tasting piece of candy and elevate it to be an entirely fun experience." — Elizabeth Mangold, Bazooka Candy Brands
"Both of them are up over 10%, and they're growing like crazy," she said. "Those tend to be consumer favorites, and that's where you see a lot of our innovation come from. Gummies have not stopped growing in years and we foresee that trend to continue."
Bazooka in 2020 brought Push Pops into the gummy category with the Push Pop Gummy Roll. The product comes in a dispenser that allows consumers to pull, press and push to get the ideal piece of sanded gummy candy. Last year also saw the launch of Totally Awesome, a new brand of dragon- and unicorn-shaped gummies. Before that Bazooka launched Ring Pop Gummy Gems, which feature sour gel on the inside and a sweet gummy on the outside.
Next year will see Bazooka push further into gummies with the Finders Keepers candy and toy surprise brand. Instead of the traditional chocolate egg, new Finders Keepers Gummies will combine licensed toys from popular television shows with gummy candies.