LOS ANGELES — That's It Nutrition LLC, maker of snacks with six or fewer ingredients, is launching a pair of keto-certified energy bars. The new products represent the latest step in the brand's evolution.
Available at thatsitfruit.com and Amazon.com, That's It Keto Kick offerings are formulated with all organic ingredients including dates, soluble tapioca fiber, garbanzo beans, single-source, fair trade Ethiopian coffee, and cacao powder or vanilla powder, plus sea salt. Each bar contains 5 grams of net carbohydrates and 95 mg of caffeine, which is the equivalent of a cup of coffee.
Founded in 2012, That's It is building a platform centered on transparency, plant-powered nutrition and functional benefits. Initial products included pressed fruit bars, pairing apple with blueberry, cherry or pear, as examples. The brand has since expanded its lineup while remaining true to its "snacks without secrets" ethos, said Lior Lewensztain, MD, founder and chief executive officer.
"Minimal ingredients, simplicity, transparency of ingredients," he said. "We like to keep everything premium. We don't try to cut corners or skirt the edges around that. We try to provide health and wellness especially through fruits, soon to be vegetables, in a format that's portable, that's clean, and where we find gaps in the market where we have an impact."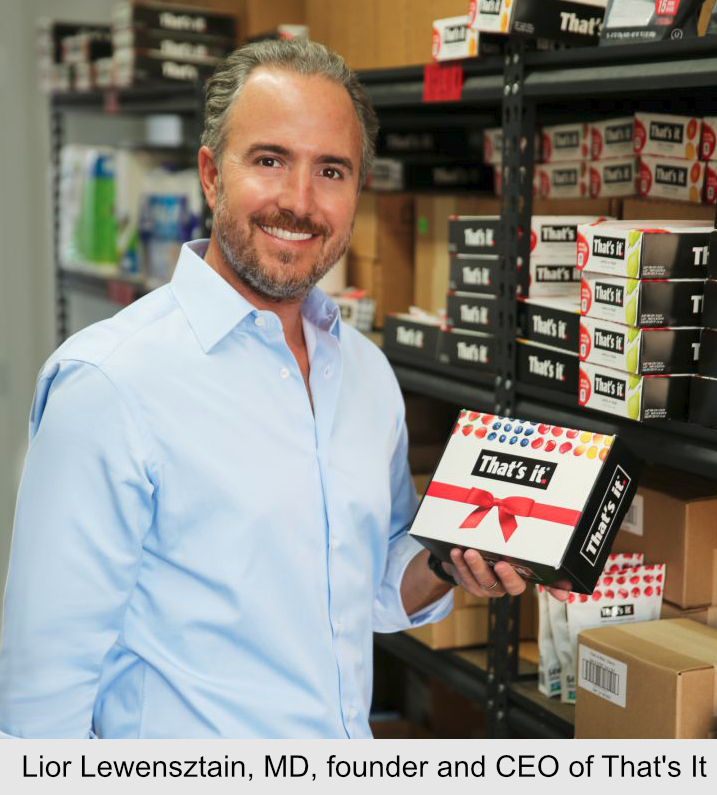 Recent additions have included fruit bars with added probiotics and a range of dark chocolate truffles made with figs, raisins, bananas or dates. The brand also debuted That's It Crunchables, which are dried apple bites packaged in lunchbox-ready pouches and positioned as a healthier alternative to conventional children's fruit snacks. Future product development will incorporate vegetables and legumes, he said.
"We've started venturing out into becoming a snackable, plant-based platform," Dr. Lewensztain said. "I think over the last 12 to 18 months that has started taking shape, and the more innovation we come out with, the more we feel like we can really start touching different categories within the store so that it's not just focused on bars. We were able to really gain some brand awareness with the fruit bars, but now we've been able to expand out into areas like confection, like functional probiotics, into the fruit snacks section for kids."
The latest introduction was inspired by consumer feedback and marketplace trends.
"Keto has been on our radar for quite some time," he said. "I think it's just starting to pick up speed and steam and kind of mass awareness. Energy was another focus we wanted to look into."
Many products developed for the ketogenic diet rely on synthetic sweeteners or sugar alcohols to reduce carbohydrates, Dr. Lewensztain said.
"It's very dirty, if you will," he said. "There's a laundry list of ingredients. It's been difficult for us to put together a keto product because fruit naturally doesn't really allow you to do so."
Additionally, he noted, energy bars tend to contain added caffeine and not real coffee. That's It is marketing its contribution to the category as a groundbreaking option, well-timed to a resurgence in on-the-go snacking and continued interest in health and wellness as pre-pandemic activities resume.
"We make it as easy as possible to consume not only fruit but these other types of functionalities, whether it's coffee, whether it's probiotics," Dr. Lewensztain said. "It's just much more convenient now."