TORONTO – Maple Leaf Foods, Inc. is Canada's largest meat processor, but the company is committed to being a leading competitor in the North American plant-based protein space and management is now guiding the business segment, which was launched through two acquisitions in 2017, will achieve profitability in 2023 or 2024.
The Plant Protein Group business unit, which consists of the Lightlife and Field Roast brands, generated C$211 million ($168 million) in sales in fiscal 2020, driven by pandemic-fueled purchasing patterns, and 20% higher than fiscal 2019 sales. Management was guiding an additional 30% sales growth in fiscal 2021 but backed off that commitment following the release of its second-quarter earnings on Aug. 5.
For the first six months of fiscal 2021, ended June 30, Plant Protein Group sales totaled $90.7 million. Sales during the second quarter fell 21% to C$48 million ($38 million). While the business segment won't achieve its full-year goal of 30% sales growth, management said it will achieve 30% growth during the second half of the year.
"We do expect sales growth in the back half of the year of at least 30%, excluding foreign exchange impact, and in line with our strategic target," said Geert Verellen, chief financial officer, during an Aug. 5 conference call with analysts. "While we see a gradual reopening of the economy in both key markets in North America, there's a lack of full visibility though on the potential impact of a fourth wave of COVID-19 on the recovery of the foodservice business."
Maple Leaf Foods will be "a player" in cell-based protein

When asked about his thoughts on cell-generated protein, Michael H. McCain, president and chief executive officer of Maple Leaf Foods, Inc., said, "we will participate in that over time."

 

Mr. McCain called the cell-based category "immature" and in an early "development cycle," but added that Canada's largest meat processor is watching the category.

 

"There's lots of different strategic pathways for Maple Leaf to participate, and cell-based meat is just another kind of source of protein," he said. "But suffice to say, it's immature.

 

"We will be participating in it over time. We've made small — very small — bets to keep our eyes, ears and learning on the table in that space. And as it develops, we will certainly be a player."
Maple Leaf's fresh plant-based meat alternatives, which primarily are sold in supermarket fresh meat cases, was the most impacted by the slow down, said Curtis Eugene Frank, president and chief operating officer.
"Our core portfolio, which consists of products traditionally found in the produce and frozen sections of the grocery store, continues to outperform the broader market," he said. "Over the last 12 weeks, we have gained market share in Lightlife Tempeh and in our Field Roast Chao cheese line. We continue to see both Tempeh and Chao cheese as long-term growth platforms that will benefit the health of our business. Importantly, throughout the quarter, we also continued to advance our strategic plan, and we remain confident that we have positioned the Greenleaf business for long-term success."
Michael H. McCain, president and chief executive officer, characterized Maple Leaf's past efforts to grow the Plant Protein Group as investments and not losses.
"That path to profitability we see as likely intersecting sometime in the 2023, 2024 zone and is going to be delivered on the back of growth," he said. "We need to restore that growth level, and we're confident that we will."
Plant Protein Group gross margin for the quarter was 0.6% compared to 13% in fiscal 2020.
"This decrease was mainly due to our strategic investments in capacity in anticipation of revenue growth, which has resulted in increased overhead and transitory costs," Mr. Verellen said. "Additionally, gross margin was impacted by low sales volume and higher trade expenditures."
Mr. McCain added there is some instability in Maple Leaf's plant-based operations, but that it will normalize.
"We are only concerned about delivering on the growth in the long term, not quarter-to-quarter, in the long term with the ambition that those lines will intersect on a path to profitability in 2023, 2024," he said.
Giving the company confidence in future sales growth is the steady rise in the number of points where the Plant Protein Group's products are sold.
"We have confirmed an increase in our total retail points of distribution by over 10% that will take hold in the back half of this year," Mr. Frank said. "This includes thousands of additional points of distribution added at large retailers, such as Walmart, Albertsons, Publix, Whole Foods, Kroger, Sprouts and many others.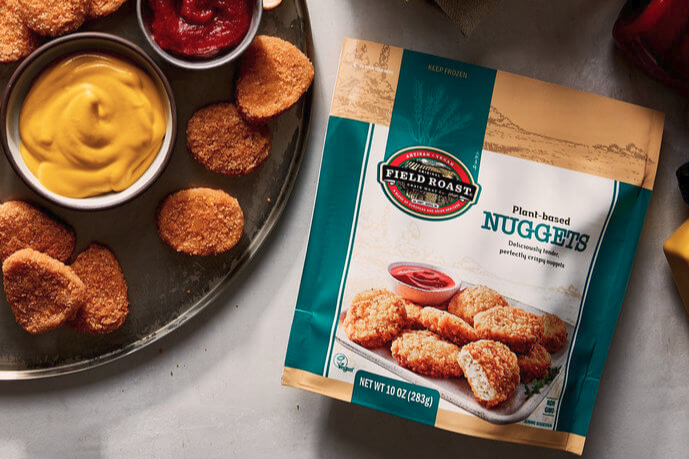 "On top of this, we've expanded our presence in the retail club channel, launching Field Roast plant-based nuggets at Costco stores in the Los Angeles region. We see this as a first step to potentially wider distribution of our products in the club channel."
The business unit also is making inroads into foodservice. Little Caesars is launching its Planteroni Pizza, which features Field Roast plant-based pepperoni in the United States.
For the second quarter of fiscal 2021, Maple Leaf Foods earned C$8.8 million, equal to C7¢ per share on the common stock, and a decline compared to the second quarter of fiscal 2020 when the company earned C$26 million, equal to C21¢ per share.
Sales for the quarter rose 6% to C$1.16 billion.